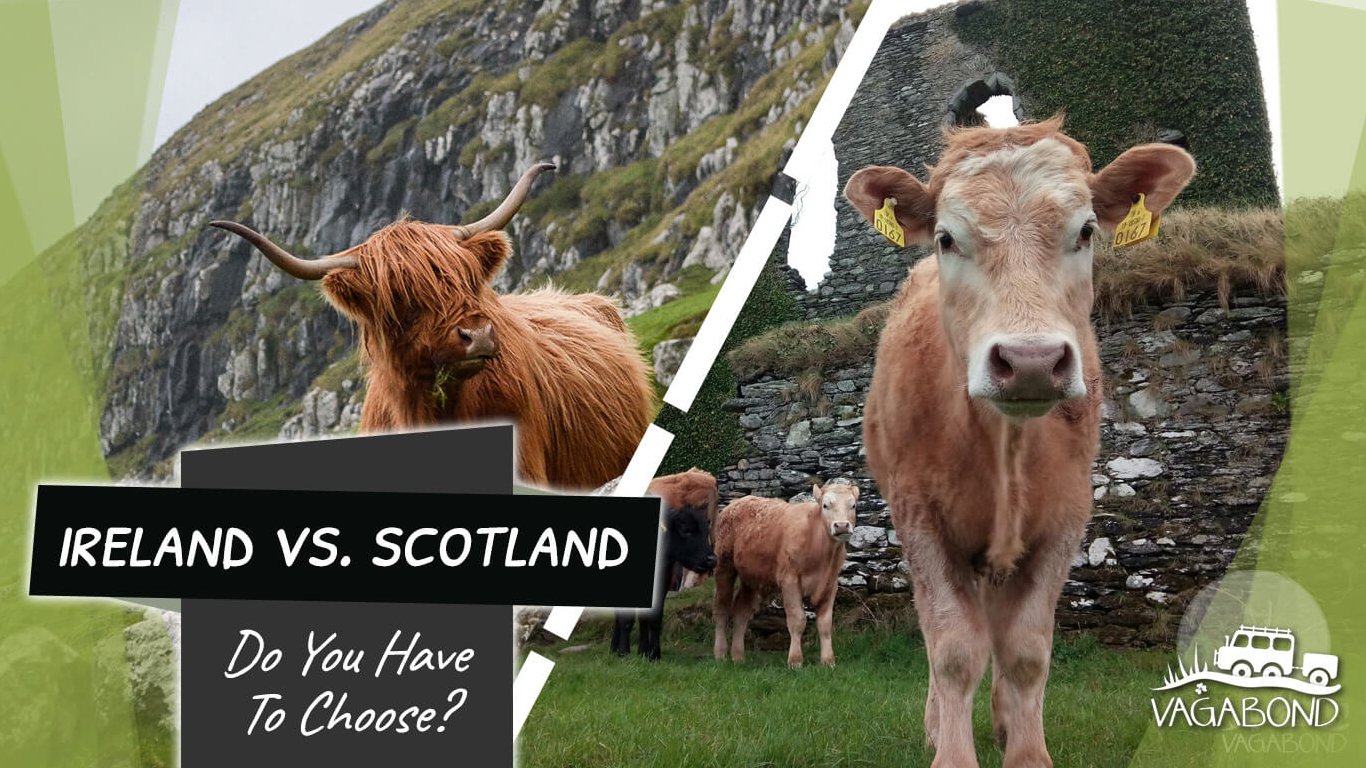 Where to go on vacation in Europe; Ireland or Scotland? Is it possible to combine Ireland and Scotland tours? These are questions that require serious consideration and rational advice.
That's why we consulted the experts — ourselves — to solve the Ireland vs Scotland riddle once and for all.
Are Ireland and Scotland Close?
Firstly, just where is Ireland in relation to Scotland? Are they located close to each other?
The answer is a resounding YES! The closest points between the two countries are only 12 miles (19km) apart.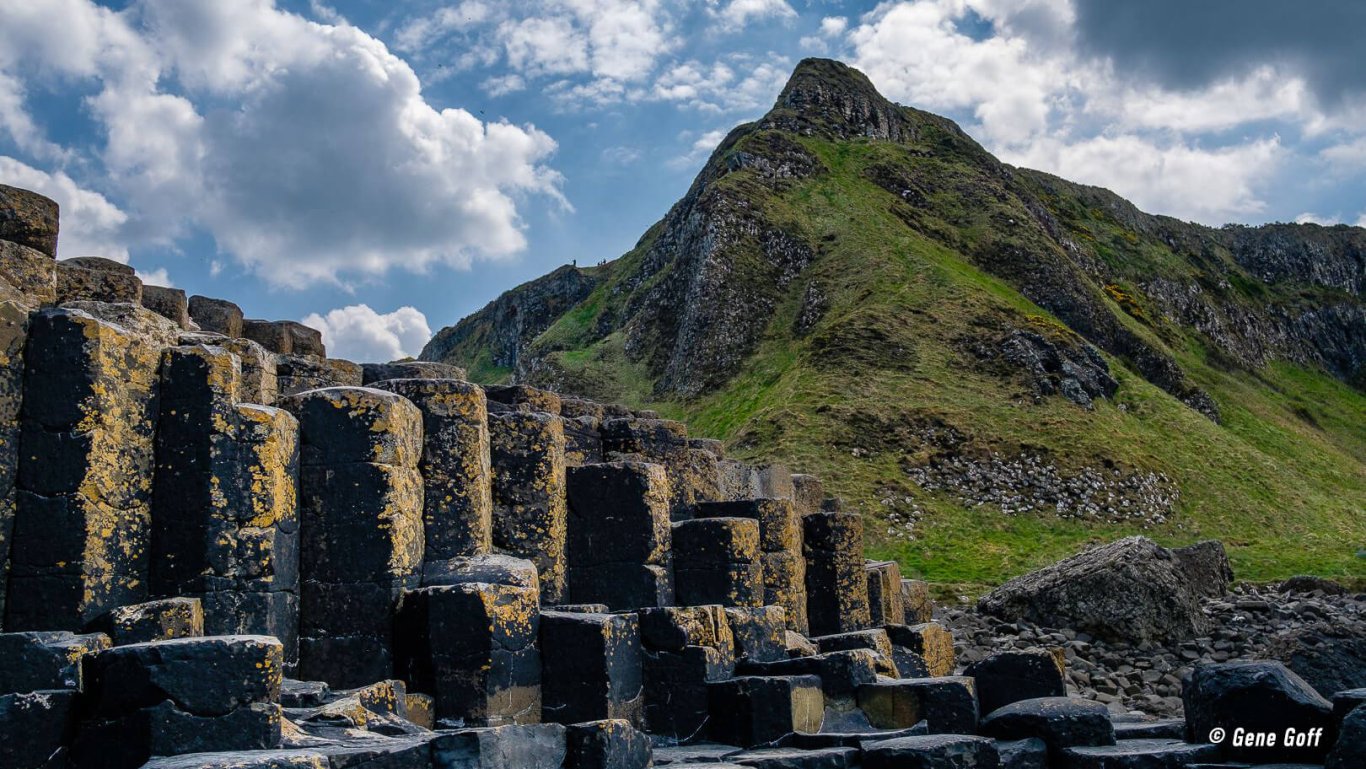 That 12 miles distance is ocean though, not land. But the good news is you can easily take a ferry between Northern Ireland and Scotland. Or you could jump on a flight from Dublin (Ireland) to Glasgow (Scotland). It takes less than 1 hour.
Ireland and Scotland - The Similarities
Because of this physical closeness, Ireland and Scotland share many characteristics...
🎻 Shared Gaelic Culture. Traditional music using instruments like fiddles and pipes is common.
👪 Very Similar Family Names. You'll meet lots of Mcs and Macs in both Ireland and Scotland.
☘️ Linguistic Roots. Irish (Gaelige) is very similar in sound and grammatic structure to Scots Gaelic
⛴️ Centuries of Movement. People from Ireland and Scotland have long migrated, intermarried and invaded each other (in both directions)
🏉 Rivalry With the English. Both countries were dominated by England in the past, though this rivalry is expressed mostly through sports these days
👩‍🦰 ...Those Precious Red Hair Genes!
The Differences...
🗣️ Accents. You might not notice immediately, but our Irish accents sound very different to our Scottish cousins.
💷 Currency. Scotland, like Northern Ireland, is part of the UK. The currency in Scotland is the £ pound sterling. But southern Ireland is part of the EU and uses the € euro currency.
🌳 Landscape & Climate. Ireland is lusher and greener in general. Scotland has higher mountains with colder, wilder, treeless highlands. The south of Scotland is more industrialised than anywhere in Ireland. And the southern half of Ireland has a much milder climate than Scotland.
🚐 Us! Only Ireland has Vagabond and Driftwood tours!
The Crux: Is Ireland Better Than Scotland?
Yes, we are possibly (slightly) biased. But we think Ireland wins this particular debate on the following points...
🦞 The Food. Delicious, hearty Irish stews and fresh seafood vs. Scottish deep-fried chocolate bars and pizza. There's simply no contest.
🍺 The Beer. Scottish beer is a by-product of the cattle-feed manufacturing process. And nothing compares to iconic Irish stout! Guinness really does taste a million times better in Ireland
🥃 The Whiskey. Scottish whiskey is rightly famous. But smoother, more mellow, triple distilled Irish whiskey now outsells its Scottish relation on the global stage.
🎸 The Rockers: As much as we loved the Bay City Rollers and The Proclaimers back in the 1970s and 80s, any country would find it hard to rival Ireland's most famous musical exports.
U2, Van Morrison, Thin Lizzy, The Pogues, Sinead O'Connor, The Cranberries, Snow Patrol, Hozier... The list could go on and on.
Another clear Irish winner.
🧚 Mythical Creatures. Ireland has leprechauns, warriors, fairies and pots of gold.
Scotland has ferocious monsters in lakes.
🎥 Sexy Actors. We boast the likes of Daniel Day-Lewis, Saoirse Ronan, Liam Neeson, Ruth Negga, Michael Fassbender, Victoria Smurfit, Jamie Dornan, Cillian Murphy, Pierce Brosnan and Colin Farrell.
Scotland has Shrek.
😇 Saints. Our patron saint, Patrick, is loved around the world. He banished snakes and adopted the shamrock as a symbol of Ireland.
Scotland's Saint Andrew is also the patron saint of gout and sore throats -- maybe related to the deep fried pizza?!
🍻 Pubs. You can't go to a Scottish pub in Azerbaijan, Ulaanbaatar or Zambia, can you? The Irish pub is the international quality standard for bars. We think there should be a Nobel Prize for the best pubs.
We'd win every year!
So there you have it, Ireland is also the clear winner in our debate over whether to choose Scotland or Ireland for your next trip.
A Scotsman Wrote This...
This post was written by a Scotsman who, like Saint Patrick, has been converted to Irishness after becoming enlightened early in life.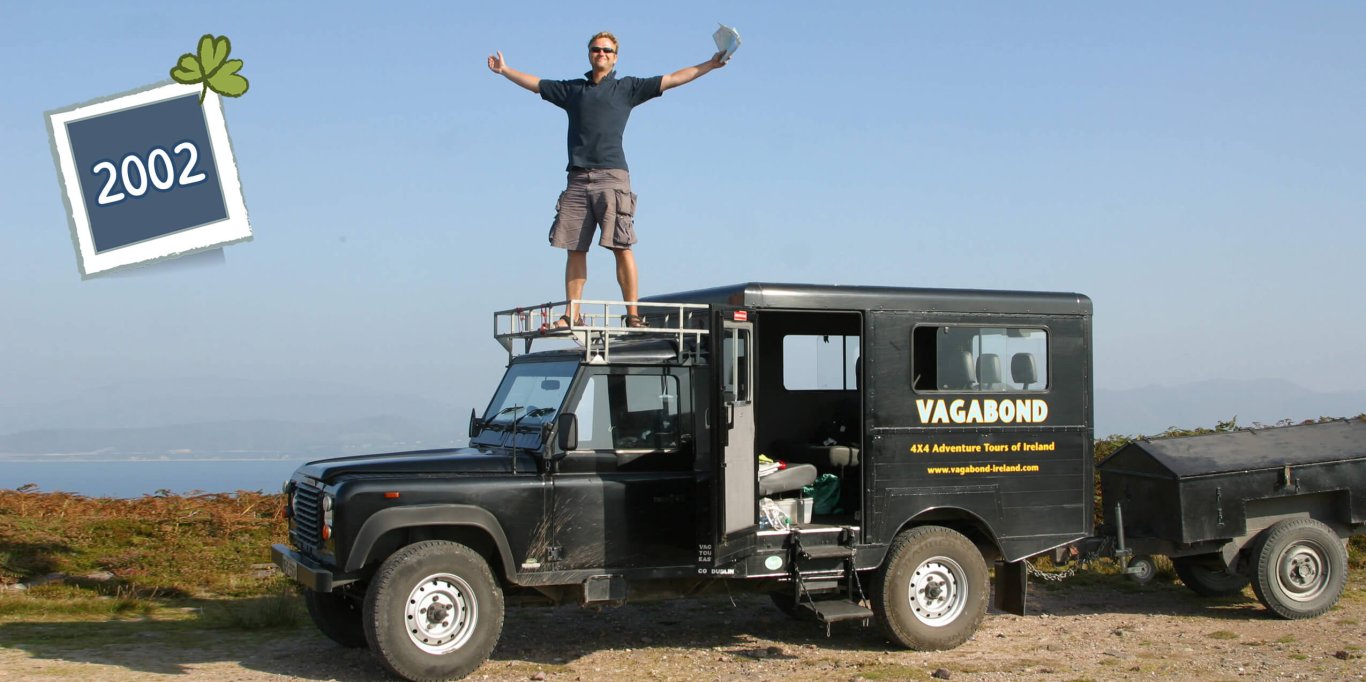 It was back in 2002 that I, Rob Rankin, founded Vagabond Tours. Since then I've made it my mission to show the magic of Ireland to the world.
Combining Ireland and Scotland Tours
If you'd still like to combine Ireland and Scotland tours, we can recommend our trusted partners at Best Scottish Tours.
Best Scottish Tours are a top-rated, award winning, small-group tour operator. In business for over 20 years, the team at Best Scottish Tours deliver personalised customer service with similarly high standards to ourselves.
If you're interested in combining Ireland and Scotland Tours, we heartily recommend that you read a little more about Best Scottish Tours on their website: www.best-scottish-tours.co.uk
Photo by Eric Welch on Unsplash