Our legendary VagaGuides are getting ready to lead amazing tours on our 22nd tour season.
Get yourself ready by reading the latest travel news about Ireland.
You'll also find info on requirements as well as changes we've made as a company to keep you secure.
Select the 'down arrow' or title to expand the answer to the any of the following questions.

What Should I Pack?

Travel light. But your Ireland trip will run smoother if you pack these essentials.
Footwear
Taking an active Vagabond tour? Comfortable trainers/sneakers are fine for our hikes. However, hiking boots are usually waterproof and offer improved grip over uneven ground.
Relaxed Driftwood tours don't require any specialised footwear. But make sure you pack shoes suitable for light walking. You'll enjoy lots of free time to stroll around towns and take guided tours.
Phone
We highly recommend you bring a WiFi-enabled mobile phone with you to Ireland. All of our hotels have WiFi so you can keep in touch with home.
A phone will also come in very handy if you are delayed or need to contact a local number while you are here, for any reason.
If you do plan on bringing a phone, please share your number with us before the trip.
Clothing
One of the things that makes Ireland so much fun is the unpredictable climate. Sun. Wind. Rain shower. Then sun again...
Pack a lightweight waterproof jacket and trousers. Beat those sudden rain showers by packing a lightweight waterproof and windproof shell jacket. Make sure you buy from a reputable brand. You'll thank yourself later!
Taking an active Vagabond tour? Lightweight waterproof trousers can be handy for our longer hikes. Quick dry walking trousers are another great option.
Wear light layers. We suggest wearing a combination of flexible light layers underneath your shell jacket.
Protect your skin with sunglasses and sun cream. Yes, it can be get very sunny in Ireland! What's more, if there's sun and wind combined, you may not notice your skin burning.
Towel: Taking an active Vagabond tour? Watersport options like sea kayaking or surfing will require a light towel. Towels are supplied by all our hotels but you may wish to bring your own.
Swimsuit/trunks: Pack a swimsuit/trunk for sea dips or a hotel swim where available. Handy also for wearing under wet suits if you are on a Vagabond tour.
Facecloths
You might think we are joking here. But a lot of hotels in Ireland do not provide face cloths. If you like to have a facecloth to hand, maybe bring one along!
Read our blog about packing for Ireland
What Day & Time Do Tours Depart?

One of the only non-flexible things about our tours are the departure days and times.
These are set in stone. So please, take note!
All of our tours depart from Dublin's Grand Canal Hotel on either Sundays, Mondays or Tuesdays.
Find a map of the Grand Canal Hotel location here
Here are the scheduled departure days for Vagabond and Driftwood tours:
Sundays at 8.10am
Sundays at 8.20am
Sundays at 8.30am
Mondays at 8.10am
Mondays at 8.20am
Tuesdays at 8.10am
Check return days and times for our tours
Are There Any Luggage Restrictions?

Yes we do operate a limit on luggage.
Owing to the compact nature of our small-group tour vehicles, your luggage limit is one suitcase per person (no bigger than 30" or 75cm along their longest side).
Travelling as a couple? You can bring along one large suitcase instead of two medium ones.
Soft-sided bags work even better than hard shell luggage.
Day Pack
Besides your larger bag, you can carry a small day pack on your Vagabond or Driftwood tour vehicle for those essentials.
Left Luggage
Staying in Ireland beyond our tours? Most Dublin hotels offer a left luggage service.
Laundry
Need to do laundry? We can organise laundry facilities for you on tour. Just ask your VagaGuide tour guide in advance.
Is Travel Insurance Required?

We strongly recommend that you purchase comprehensive travel insurance cover before your trip to Ireland.
Your policy should cover all medical costs, including any extra costs associated with one of your party contracting COVID-19 while in Ireland.
Ensure your policy also covers additional travel expenses such as:
Flight cancellation;
Personal accident cover;
Lost/stolen personal luggage;
Lost/stolen money;
Public liability.
The Small Print
Insurance is not a requirement of our tours. However, we strongly recommend that you purchase comprehensive travel insurance before your trip to Ireland. We accept no responsibility for loss or damage to personal belongings or liability for personal injury/death.
How Much Cash Should I Bring To Ireland?

We advise not bringing too much cash to Ireland.
Around €250 Euro is more than enough to get you through your first days in Dublin.
On tour, you can withdraw cash from cash machines/ATMs as you need it. You'll find ATMs in most towns and gas/service stations on tour.
Just ask your VagaGuide tour guide for advice on when and where is best to withdraw cash.
Remember that you'll need British pound sterling (£) in cash if your tour is visiting Northern Ireland:
These tours go to Northern Ireland and require British pound sterling (£):
💷 12 Day Vagabond Giant Irish Adventure
💷 11 Day Driftwood Discover Ireland Tour
💷 7 Day Vagabond Magnetic North Tour
💷 6 Day Driftwood Northern Island Tour
It's also important to let your bank know you are traveling before you leave. If you don't, some payments could be blocked.
If you're travelling with dollars, you can exchange them for Euro (€) or Pounds (£) at Dublin Airport or any Irish post office.
Please note that American Express (AMEX) and Discover are not widely accepted in Ireland. Our advice is stick to Visa or Mastercard, if possible.
Read our blog about money and credit cards in Ireland
or
Please take note of our health-themed FAQs below.

Do I Need To Be Vaccinated To Travel To Ireland?

Vaccines against COVID-19 are not required for travel to Ireland.
Ireland is open to travellers regardless of your vaccination status and whether your journey originates in the USA, Canada, Australia or elsewhere in the world.
Travellers to the Republic of Ireland are no longer required to show proof of vaccination, proof of recovery or a negative PCR test result upon arrival.
Do I Have To Wear Masks In Ireland?

You are not required to wear masks in public spaces in Ireland.
The exception is healthcare settings (this includes hospitals, doctor surgeries and pharmacies).
Masks are highly recommended while travelling on our tour vehicles.
However, they are not mandatory.
Do I Need A Test Before Coming To Ireland?

No.
All travellers — irrespective of vaccination status — are not required to show a negative Covid-19 test result before travelling to Ireland
Do I Need To Test Before Taking A Tour?

We do not require testing for COVID-19 before taking one of our small-group tours of Ireland.
However, we do require all guests to sign a pre-tour disclaimer affirming the lack of any COVID-19 symptoms.
If COVID-19 symptoms develop during a tour, we ask that guests take a test and inform their VagaGuide.
In the event of a negative antigen test result, the affected guest must wear a face mask on the tour vehicle for the remainder of the tour.
In the unfortunate event that the affected guest displays a positive antigen test result, they will be asked to leave the tour. This is in line with Irish government guidance, requiring 7 days of self-isolation in the event of a positive test (Learn More).
We take care of any guest affected by a positive COVID-19 test result. Our professional team offers a personalised service with well-developed procedures to support, inform and help affected guests until they return safely home.
Guests also benefit from medical services and logistical support from our affiliated partners, if required.
Our No.1 aim is for our guests to enjoy Ireland to the absolute maximum. We also have a duty of care to protect our own team and our community
Find out how we've made changes to our tour experience and health and safety measures in the answers below.

Health & Safety Measures On Tour

The welfare of our guests, as well as that of our staff and the communities we visit, will always be paramount.
Here are some steps we have taken to make you be safer in 2023:
😷 Wearing of masks on Vagabond tour vehicles is no longer mandatory. However, we strongly recommend you continue to wear masks to protect yourself, your fellow guests and your VagaGuide. You are not required to wear masks in public spaces except healthcare settings (including pharmacies).
🧴 Hand sanitising is strongly advised before entering Vagabond and Driftwood tour vehicles and all public indoor settings.
🧼 We continue to actively review our standard operating procedures, updating them to ensure the highest standards of cleaning and hygiene in and around our vehicles.
🏨 We are in constant contact with our hotel destinations, activity suppliers and other partners to ensure compliance with the latest safety guidelines.
🦠 Our VagaGuide tour guide team have received additional training to minimise the risk of contamination or spread of infection.
🎓 All staff have been trained to comply with Ireland's Covid-19 Safety Charter standard for tourism businesses.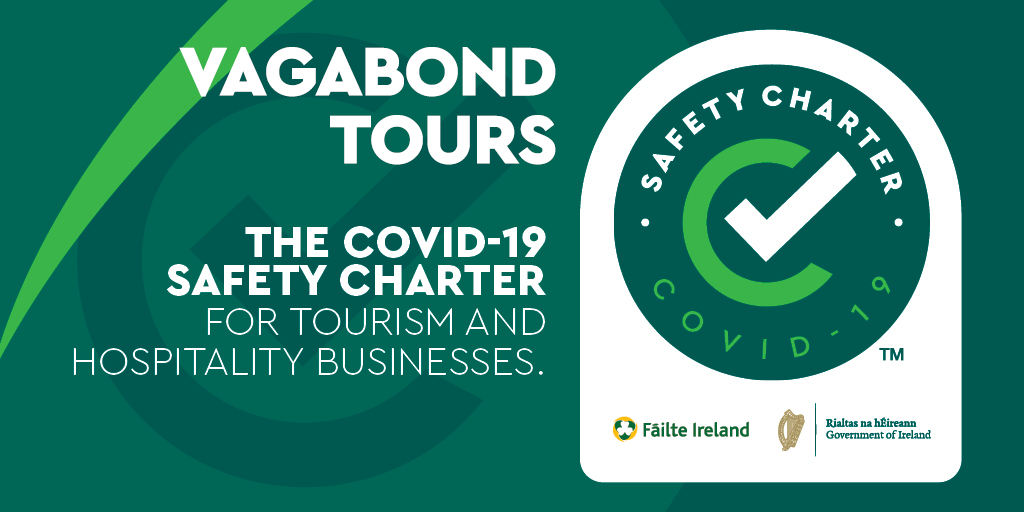 Will I Have To Wear Masks On The Tour Vehicle?

Wearing of masks on Vagabond tour vehicles is not mandatory.
However, we strongly recommend that you wear a mask to protect yourself, your fellow guests and your VagaGuide.
We polled Vagabond & Driftwood guests on the subject in February 2023. 100% of respondents agreed that we should leave the decision to wear masks up to individuals.
In Ireland generally, you are not required to wear masks in public spaces except healthcare settings (including pharmacies).
How To Contact Us
If you have any concerns about your upcoming tour, please do not hesitate to contact us.
☎️ By Telephone
From Ireland: +353 (0) 1 563 4358
From USA (Toll Free): 833 230 0288
From CA (Toll Free): 833 681 6903
📨 By Email: enquiries@vagabond.ie
PLEASE NOTE: Our office hours are MONDAY TO FRIDAY 9.30am-5.30pm GMT.
Our phone numbers divert to Ireland so 'your' time might be the middle of the night for us. Please leave a message and we'll get straight back to you.
The whole team are excited to be welcoming you to Ireland soon!