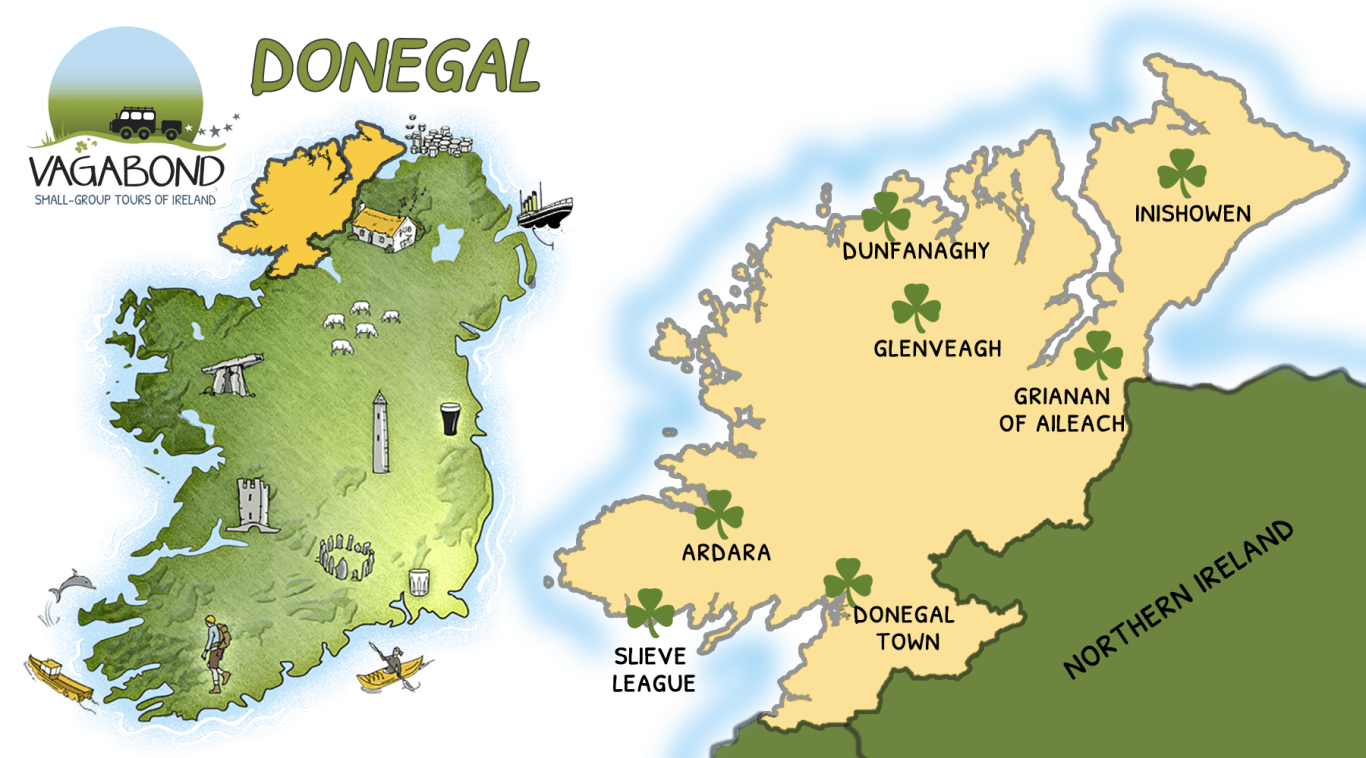 From Europe's highest accessible sea cliffs to wild moorland and endless white sand beaches; from castles and forts to ancient sites bursting with history, Donegal is truly an untouched and beautiful part of Ireland. It's just waiting to be discovered!
Where is Donegal?
First things first, where is Donegal located in Ireland?
Donegal is the most northerly county in Ireland. It is also the most northwesterly county in the province of Ulster. Donegal is a remote location with few major transport links.
Is Donegal in Northern Ireland? You might think that the northernmost county in Ireland resides in Northern Ireland. But you'd be wrong! Donegal borders Derry, which is part of Northern Ireland. Donegal itself is part of the Republic of Ireland.
What is Donegal Famous For?
Every county in Ireland boasts magical aspects that make them unique. Here's what we think you'll love about Donegal...
The Donegal Accent
Donegal natives speak in a unique way. The Donegal accent is "soft" when compared to the way that some other Irish people talk. It's certainly noticeable to first-time visitors.
You'll hear lots of words like 'wee' (meaning small) scattered into everyday speech. If you can't understand, don't be embarrassed to ask locals to repeat themselves!
Donegal Tweed
The traditional art of weaving is associated with Donegal. It's hard to visit the county without stumbling across beautiful, handwoven wool and tweed products.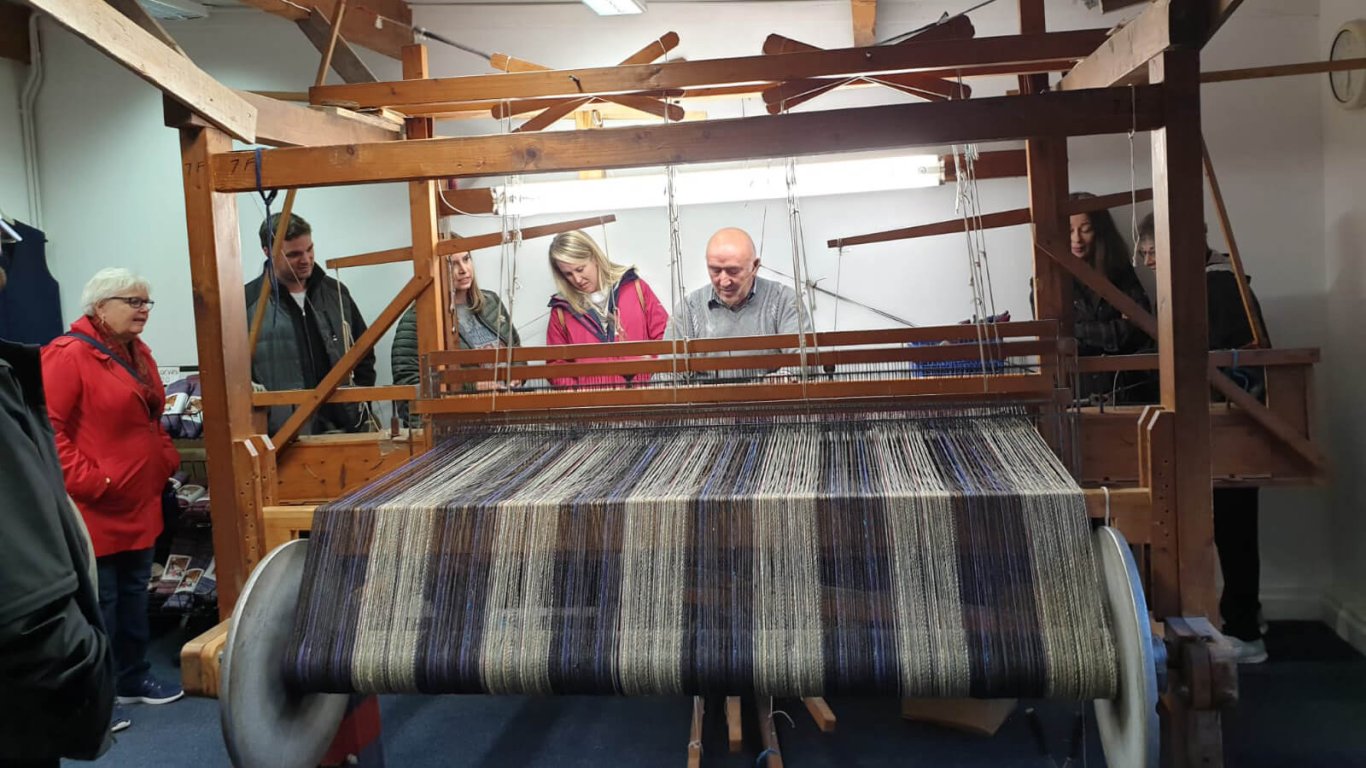 There are excellent woollen shops and craft studios to be found in towns like Bundoran, Ardara and in Donegal town itself.
Donegal GAA
Donegal is famous for the historic strength of its Gaelic Football teams. It last won the All-Ireland championship in 2012 and regularly competes for the Ulster championship.
Famous soccer players with links to Donegal GAA include Packie Bonner, Seamus Coleman and Shay Given.
Try and catch a game if you're visiting!
What To See In Donegal
Donegal is blessed with everything the traveller could wish for. Look forward to gorgeous scenery, delicious fresh food, a rich history and authentic Irish cultural experiences.
Slieve League Sea Cliffs
Ireland is blessed with many beautiful coastlines. The Atlantic, western edge of our island is particularly marked by jagged bays and spectacular cliffs.
Nowhere is this more true than in Donegal. Slieve League Cliffs are the highest accessible sea cliffs in Europe. Not only can you take a boat trip under these amazing cliffs, you can also hike to their summit.
Glenveagh National Park
Justifiably claiming to be one of Ireland's most scenic spots, Glenveagh is the second largest national park in Ireland.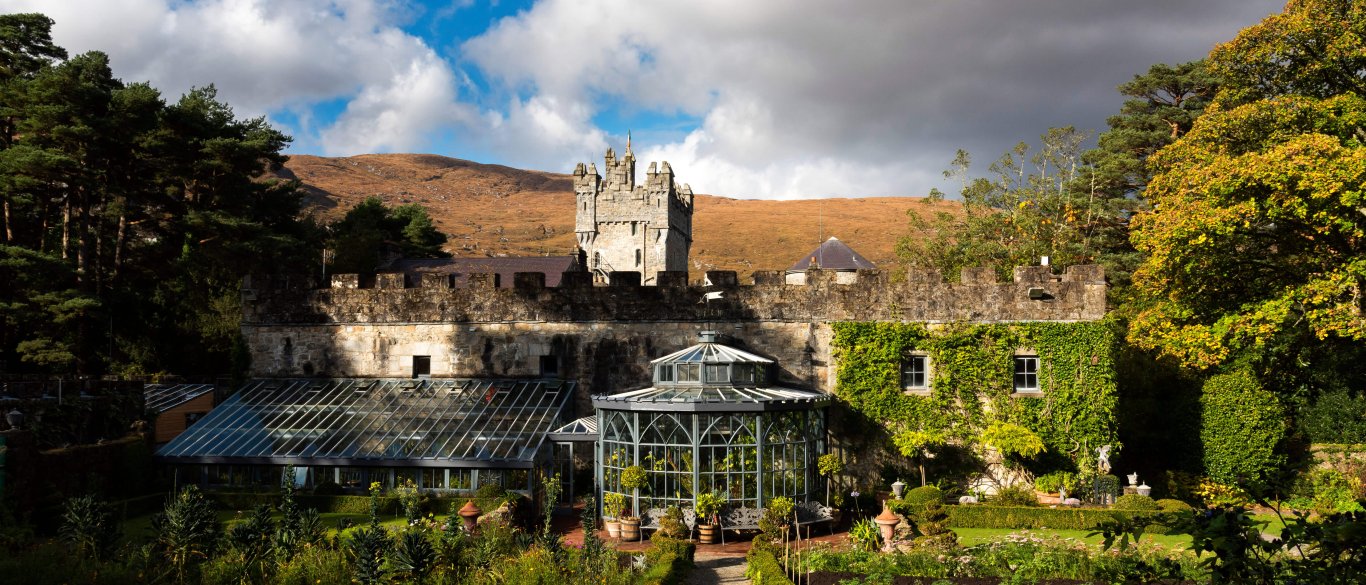 The epicentre of the park is its castle and formal gardens. Heather-emblazoned mountains serve as the backdrop to 19th century Glenveagh Castle, sitting proudly on the shores of Lough Veagh.
We like to cycle or hike along the shoreline to the castle when to visit. Be sure to check out the beautiful walled gardens.
Don't forget to look up! Golden Eagles have been sucessfully re-introduced to the area in recent years.
Glenveagh is truly an untouched gem in the heart of Donegal.
We recently wrote this handy guide to Ireland's 6 National Parks
Ardara
Located in the southwest of the county, Ardara is a small town with genuine country charm.
Ardara is associated with woollen goods and weaving. We love to bring our guests to Eddie Doherty's traditional handweaving studio while visiting Ardara.
The Skeskinmore Nature Reserve is one of the most important nature reserves in Ireland, and perfect day trip for nature enthusiasts visiting Ardara.
Depending on the time of year, you could be treated to snow drops, dandelions, native Irish orchids or sea pinks.
Discover more about the different seasonal flowers from the Friends of Sheskinmore
Dunfanaghy
Dunfanaghy is situated on the shores of Sheephaven Bay in the foothills of the majestic Derryveagh Mountains.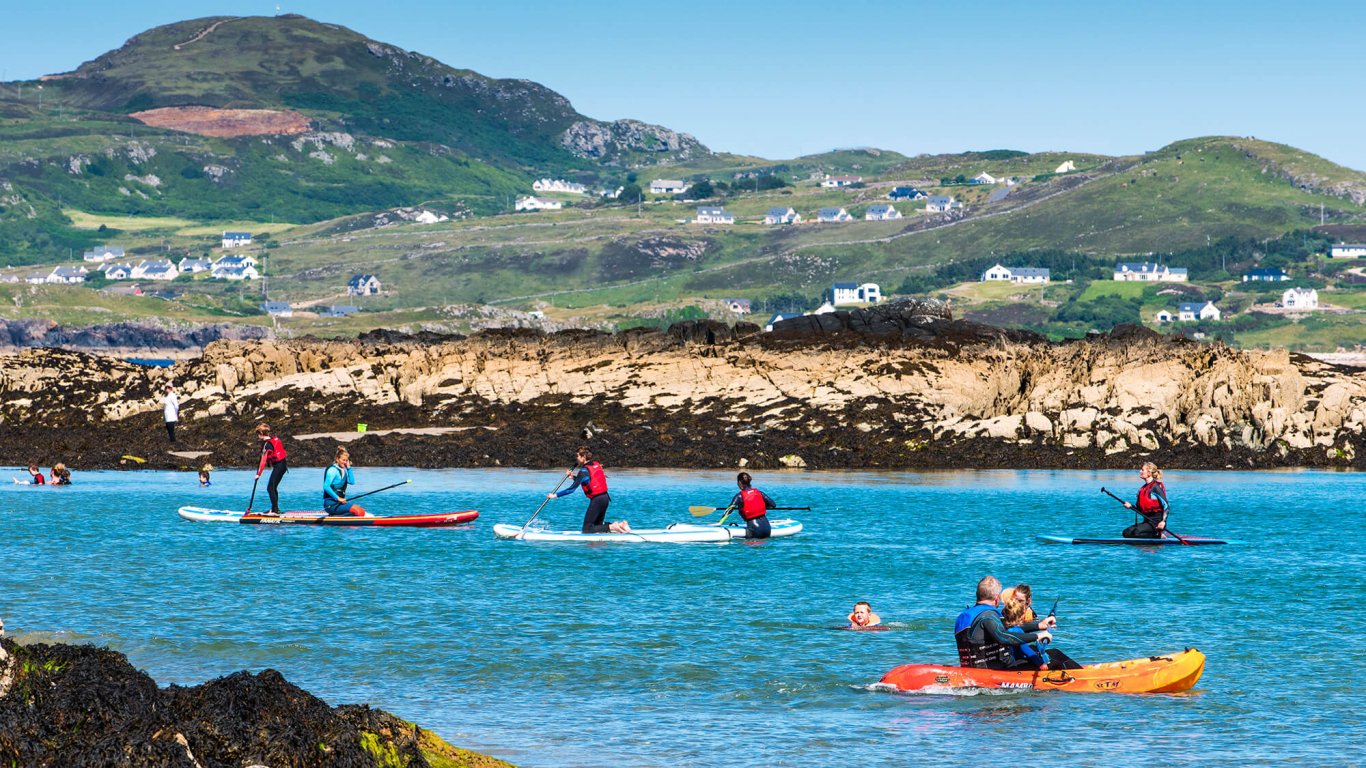 This small town has a friendly, relaxed vibe. Traditional Irish pubs sit next to cool cafés and pizzerias. We sometimes call it 'The Dingle Of The North'.
What better way to embrace this stunning part of the Wild Atlantic Way than from the sea? Dunfanaghy is a hub for surfing and sea-kayaking. You can also go horseback-riding along one of the area's beautiful sandy beaches.
More of a culture vulture? Not far from Dunfanaghy on the shores of Sheephaven Bay lies Doe Castle. This stunning fortress was once the stronghold of the MacSweeneys. In its off the beaten path location, you're unlikely to find lots of people here.
Get to know Dunfanaghy on our 7 Day Vagabond Magnetic North Adventure Tour
Inishowen Peninsula
Malin Head on the Inishowen Peninsula is famous in Ireland as being the island's most northerly point.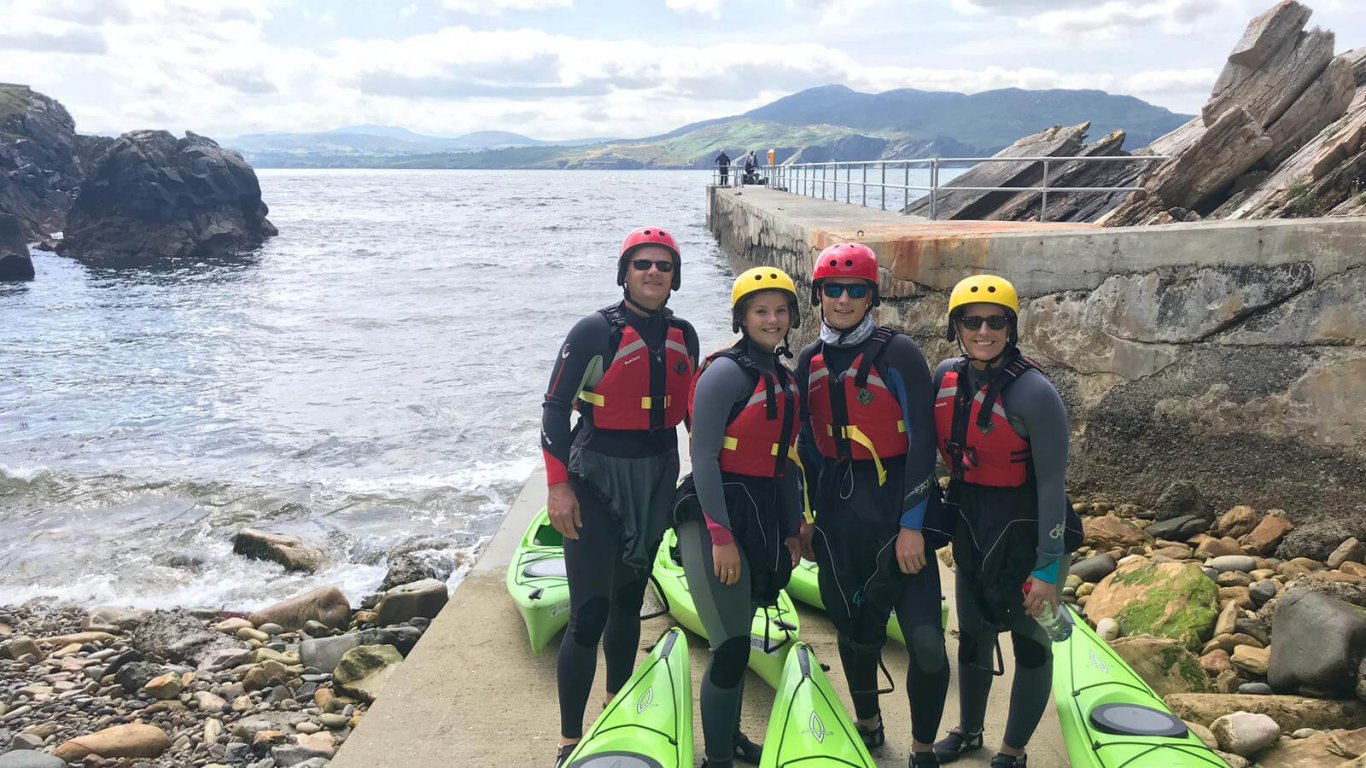 The coastline of this gorgeous region is dotted with rocky outcrops, rolling grassy hills and sandy beaches. If you can, make sure to catch a sunset from Inishown. Watching the sun sink over the seemingly endless Atlantic horizon is pure magic.
For even more stupendous vistas, visit the Grianan of Aileach ring fort. The hilltop location of this ancient fortress offered strategic defence against invaders. Nowadays, you can not only gaze across Inishowen but into three counties (Donegal, Derry and Tyrone).
Grianan of Aileach was built around 600AD. Some say the site dates back even further, to 1,700BC. Local legend says that if you tell a secret with the fort walls, everyone will find out!
How do you pronounce Grianan of Aileach? GREE-NAWN OF AWE-UL-YOK. The name is a mix of English and Irish.
Where To Eat in Donegal
The Rusty Oven in Dunfanaghy
Sometimes, only pizza will do. Tucked away behind Patsy Dan's pub is Dunfanaghy's one-and-only pizzeria. The Rusty Oven serves thin and crispy, Romantic-style, wood-fired pizzas. Magic!
Charlie's West End Café in Ardara
It might not look like much. This local 'chipper' has a dishevelled exterior. There is no silverware and no delusions of grandeur. But if you're a fish and chips fan, you won't leave disappointed. Charlie's fish is landed locally and arrives as fresh as can be. You can even ask for your fillet to be cooked without the normal breadcrumbs.
What Tours Visit Donegal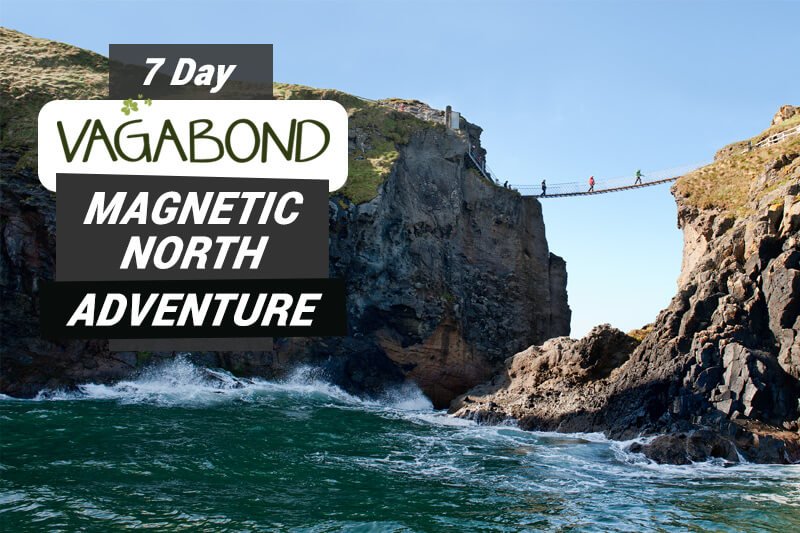 Visit beautiful Donegal on our 7 Day Vagabond Magnetic North Adventure Tour