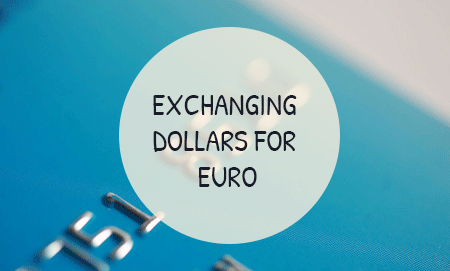 If you're flying to Ireland from the U.S.A., Canada or Australia, you'll need to consider how best to manage and exchange your currency. To help you, we at Vagabond have compiled a quick reference guide:
Best Way to Get Euro in Ireland
The best way to get Euro in Ireland is from ATM's. They're pretty ubiquitous, even in small towns. You'll find them on main streets, outside banks and in grocery, convenience stores and services stations. Just ask a local if you're stuck.

When Taking Euro Out From ATMs
It is best to take out a couple of hundred Euro at a time. Although Irish ATMs may not charge you, your bank probably will, for every transaction, and that can add up. You would be wise to ask your bank in advance what exactly these charges will be.
Notify Your Bank Before You Go!
Don't get caught out on this one. It is important to tell your bank and/or credit card company where you'll be and to do it several days before you depart. Otherwise, you might be walking away from your first trip to an ATM in Dublin, empty handed! It's all about combating fraud, so give them a call before you go.
If Northern Ireland is Part of Your Itinerary

If you're going to Northern Ireland on a: 12 Day Giant Irish Adventure Tour, 11 Day Discover Ireland Tour, 7 Day Magnetic North Adventure Tour or 6 Day Northern Island Tour, you'll need to tell them you'll also be in the UK, as well as Ireland. Otherwise, you may have card issues.
Side Note: Northern Ireland use Sterling, so you'll need that currency as well as Euro if your tour visits there.
Should I Bring Cash to Ireland?
You should bring at least a few Euros to Ireland. Just in case you've issues with your credit card or bank when you arrive. It should be enough to get you by the first few days at least.
Bringing Dollars to Ireland
If you bring over dollars to exchange, you have a few options to choose from.
Banks
There are Bureaux de Changes in most banks. Banks in Ireland generally are open 10:00 am- 4 pm Monday to Friday. With the exception of a few public holidays throughout the year.
Currency Exchanges
At Dublin airport you can also avail of the No.1 Currency Exchange, the Foreign Currency Exchange International and Arc Services.  
Post Office
Post offices roughly open from 9:00 am to 5:30 pm. With some closed for lunch in the afternoon. You'll find them all over the country.
Avoid the airport and hotel exchanges, as their rates are usually not great.
To Be Aware Of When Exchanging Currency
When exchanging money be mindful that you'll never be sold the mid-market rate. So claims of 0% commission sound great, but be warned that the exchange rate might not be so good!
Also, try and avoid taking out more than you'll spend. As you get hit with the exchange charge twice if you try and change it back to the original currency.
Can I use US money in Ireland?
No, only Euros are accepted in the Republic of Ireland and British Pound Sterling in Northern Ireland.
Type of Bank Cards Accepted
MasterCard and Visa are taken in most places, American Express isn't as widely accepted. If you have a MasterCard you'll need to find an ATM that accepts it or get a withdrawal from a bank.
Budgeting For Your Ireland Trip
If you wondering how much to set aside for your Ireland vacation, we've already compiled a blog to help with your budgeting – How Much Money to Bring to Ireland