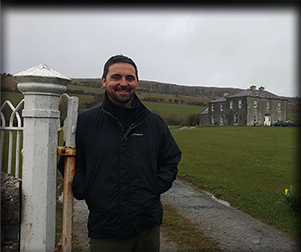 Irish food in a nutshell: keep your tea strong, your butter pure, and have dinner for breakfast!
One of our amazing VagaGuides, John, navigates your path through the rules of eating in Ireland.

Full Irish Breakfast
What is a Full Irish Breakfast? Possibly the greatest meal in the world. A veritable feast. It will fill you up until dinner time. And is not for the faint hearted (literally).
You'll find different versions of an Irish breakfast as you travel around Ireland. An Ulster Fry includes potato bread and farls (a fluffy flatbread). A breakfast roll is served in a crispy baguette.
Generally, a Full Irish Breakfast will include at least the following:
Rashers (this is back bacon – like Canadian bacon)
Pork sausages
Black pudding (sausages mixed with oats, herbs and pork blood – trust me, it's delicious)
White pudding (same as above, minus the blood)
Grilled mushrooms
Grilled tomatoes
Eggs (scrambled, fried or poached)
As we say in Ireland, 'savage'.
🛑 The Rule: Never ask for the calorie count!

Bread
With as many variations as there are Irish mothers, Irish bread is like nothing else on earth.
Soda bread. Soda farls. Brown bread. White pan. Batch. Potato bread. Rolls. Blaas. Barmbrack. Scones.
I don't know how they make it. I don't know how it fills you with such a glowing feeling of satisfaction. I don't know why it's so good. It just is. Yes, it's that good.
🛑 The Rule: Don't leave Ireland without trying them all!

Butter
Melted on toast. Smeared over brown bread. Oozing on salmon. Swirling in spuds. Lavished on digestive biscuits. Wait, what!? Yep, whatever way you like it, there really is no other butter.
As Pat from Wisconsin said after a recent tour of Ireland with his family…
'The butter alone is worth the journey'
🛑 The Rule: No margarine. No olive spreads. Full fat. Grass fed. All the time.

Chowder
Irish chowder is no watery broth with a bit of fish waved at it from a distance. This is thick, creamy goodness. Heaven. A veritable meal in itself, packed with oodles of freshly caught fish.
Picture a succulent mix of cod, salmon, hake, mussels, and even crab; with cream and herbs, and served up to you in a cosy Irish pub along the Wild Atlantic Way.
🛑 The Rule: Don't expect American-style chowder…
Irish chowder comes in bowls, not cups (which, please note, are non-edible). And it's cream-based. We don't generally add tomatoes or clams, like some places in the USA!

Potatoes
Potatoes are known in Ireland as 'spuds' (as derived from the word 'spade', used to dig up the spuds).
Roasted; mashed; fried; baked; boiled; in croquettes, rosti or boxty/potato bread; red roosters or Wexford queens; we Irish know how to cook a good spud!
Today the potato remains a cornerstone of Irish traditional cuisine. But did you know that the spud is itself an import? First brought to Ireland in the 16th century from the Americas, the humble potato loved Ireland's climate and fertile soil so much, it decided to stay!
🛑 The Rule: Don't be surprised when served three forms of potato in the same dish. Yes, this happens.

Guinness
We know. Technically it's not a food. But a pint of creamy, dark-coloured Guinness contains B vitamins, iron, antioxidants and other nutritional goodness. It's also surprisingly low in calories. Basically, it's a health drink.
Guinness served in a pub in Ireland is just about as good as it gets. Sure, you can get Guinness all over the world. But none of it tastes quite like Guinness from a pub in Ireland.
Some say it's the way they pour it. Others credit the water. Maybe it's just the atmosphere and the craic. Nobody really knows. But there's only one way to test it…
And test it…
And test it again.
🛑 The Rule: Only Put Guinness In Your Guinness
In Ireland, it's generally frowned upon to mix your Guinness with anything else (e.g. blackcurrant, mint liqeur etc.).
Also, don't order Guinness in Cork – ask for a Murphy's instead; it's the local dark stout.
What's more, we have a whole set of rules related to pub etiquette here in Ireland.

Tea
"Go on. Go on. Ya will… Have a cup of tea."
We love our tea. Most Irish people will happily drink a cup of tea with breakfast, lunch, dinner, or even before bed. In fact, Ireland is ranked third globally for the most tea drunk, per capita.
Tea sometimes seems like it's the answer to all of Ireland's problems; as lampooned by 90s sitcom Father Ted:
As for which is the best Irish tea brand? It's an eternal debate here in Ireland. Barry's vs Lyons is our version of Coke vs Pepsi. You'll just have to try them both and see.
🛑 The Rule: Make your tea right!
Irish people like their tea dark and strong. We pre-heat the cup or teapot before soaking a teabag in boiling water for 2-5 minutes, stirring, then squishing the teabag (for extra strength!), and adding milk.
Many people also add sugar. No lemons or Earl Grey here!
Cheese and Onion Crisps
We call them 'crisps'. You might call them chips. But the classic 'Cheese and Onion' flavour is unmistakably Irish and extremely popular here as a snack.
The original cheese and onion was brought to you by an Irish man – Joe ' Spud' Murphy, who set up Tayto Crisps in Dublin back in 1954.
Today, you'll notice the iconic red and blue Tayto Cheese and Onion bags being sold everywhere in Ireland; from petrol stations, to pubs, to every local shop in even the smallest village.
When polled, 65% of Irish emigrants said Tayto Cheese and Onion was the thing they missed the most! If you ask nicely, your VagaGuide might just buy you a packet.
🛑 The Rule: Don't call them chips!
Speaking of which…

Fish'n'Chips
Whether eaten in a fancy gourmet restaurant, or out of newspaper at 2am, there is nothing quite like Irish fish and chips.
One Vagabond guest is rumored to have eaten it eight days in a row! After such extensive research I had to find out which was his favourite. Between you and me, he named McCarthy's Pub in Kenmare as his number one. Tell no-one.
🛑 The Rule: For the full experience, douse your bag of fish and chips in salt and malt vinegar.

The Sunday Roast
Arguably, Ireland was built on Sunday roasts. It's a feast. An occasion. An event. A cultural institution.
Gravy. It's pretty much just gravy and some other stuff. Perhaps succulent roast lamb or chicken or beef… And gravy.
Roast potatoes, baked potatoes… And gravy. Peas, carrots… And gravy.  Just gravy. Just drink a small jug of gravy while surrounded by your family and the dog, and you'll understand.
🛑 The Rule: Under no circumstances are you permitted to eat a Sunday Roast without gravy.
At Vagabond we have decided to blend food and adventure with our new 7 Day Epic Irish Food Adventure Tour….