I came to Ireland almost on a whim. My friend Nancy - we are both retired teachers from Ontario, Canada - had done all the research and organizing with another friend of hers before choosing to go with the 7 Day Driftwood Treasure Ireland Tour.
Unfortunately, Nancy's travelling companion backed out a few weeks before the tour due to unforeseen circumstances, and Nancy asked if I would come in her friend's place.
Ireland was not even on my radar at that time. I was thinking that Italy and France would be on the list for my next European destinations. Let me say from the outset, that I have absolutely no regrets that chance and luck brought me to Ireland. It was without a doubt the trip of a lifetime!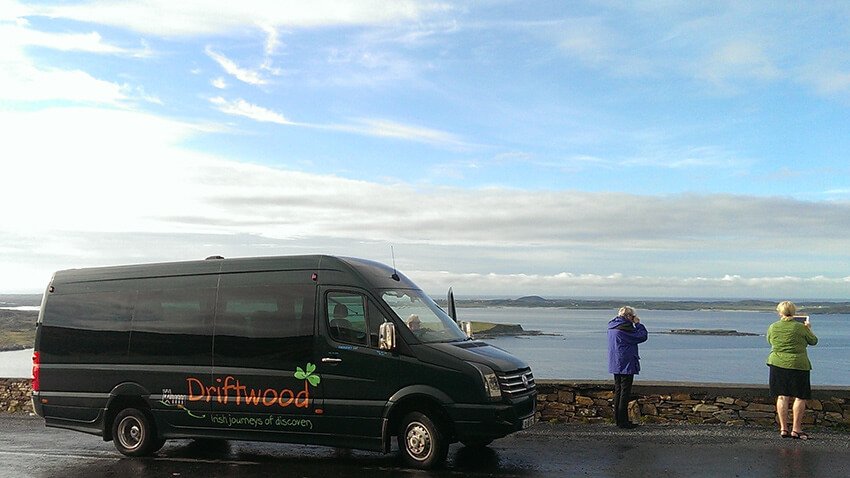 One of the greatest benefits of the Driftwood 7 day tour of Ireland was the size of the bus. The Drifter was more like a glorified van, and fitted a maximum of only fifteen people. This allowed for two things:
1. We were able to take some of the back roads and access sites that an enormous tour bus wouldn't have been able to get to.
2. Because of the lower body count, we were able to easily interact with our tour mates and make friends on the journey.
Maybe other tour groups haven't been as fortunate as ours. I can honestly say that our little gang hit it off splendidly, right from the beginning.
Our Happy Driftwooder Gang
Nancy and I were the only Canadians on the 7 day tour of Ireland. The remaining thirteen were American, a mixture of three married couples, a mom with her twin daughters celebrating their 30th birthday, and a group of sorority sisters from the Southern US, one of whom had her darling mom along with her.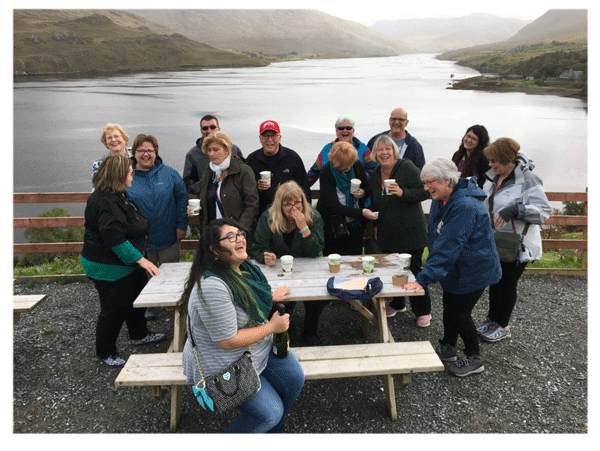 The "Americans Plus Two Canadians" had a lot of fun sharing this adventure together. Our happy group is pictured above. This photo was snapped right after the picnic table tipped, baptizing all of us with birthday champagne. We had just finished watching a remarkable sheepdog demonstration at a working sheep farm. Poor farmer, having to wake up to that view every day
Before we parted ways, we created a Facebook group. New pictures of the 7 day tour of Ireland are still popping up! Sharing photographs has been a special part of our connection. We all visited the same places and supposedly had the same experiences, but the photographs reveal different angles, perspectives, and often times, little details that I never noticed at all. With the group's permission, I am including some of the Facebook group photographs in this blog.
Our Amazing VagaGuides
A note about our tour drivers. We had Mia to start, and then she had to leave the tour because she'd met her maximum quota of days according to Irish driving laws. We were then joined by Denise to continue on and finish the tour. Both guides were engaging in their commentary and obviously passionate about Ireland and its history. Each were fearless, competent drivers. I never had a moment's worry on the road with either of these two ladies.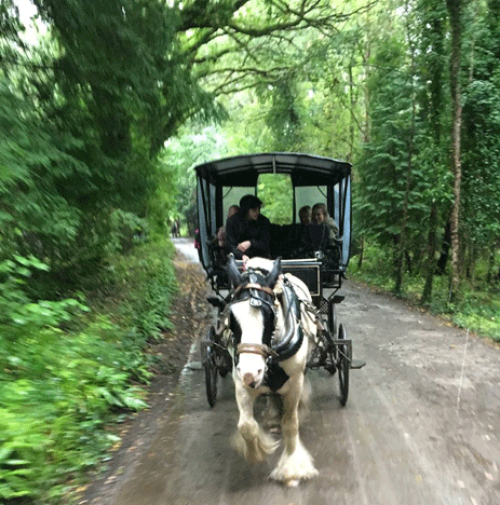 As a writer of fiction, it naturally follows that I am an enthused fan of anything in "ruins." Roofless abbeys. Towering castles. Ancient stone circles. Cemeteries with blackened stone markers. All the history and tragedy fills my imagination with scenarios and characters.
My 7 day tour of Ireland gave me several opportunities to not only see these ruins, but to explore them. The ruins were above and beyond my favourite experiences in Ireland. I would have been content to explore abbeys and castles and stone circles day in and out.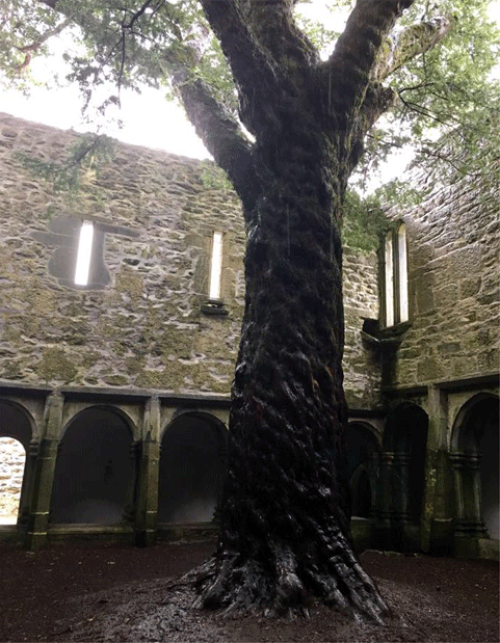 A particular highlight for me was at Muckross Abbey in Killarney National Park. I was wandering through the ruins of the abbey only to stumble upon this 600 year old ancient yew (pictured above). The tree was still thriving at the centre of a cloistered courtyard long after its surroundings had gone into ruin. The yew was dripping with rain and almost seemed as though it were crying. I later bought myself a silver yew necklace to commemorate this special moment on the tour.
A Well Balanced 7 Day Tour of Ireland
However, a tour has to cater to the interests of several people. Driftwood did a spectacular job of ensuring that a good balance of sights and activities was available to the group. As there are so many things to do and see while in Ireland, the tour had to pick and choose from many options. The sights and opportunities they organized gave us a real taste of Ireland and its history. We had a whole lot of fun too!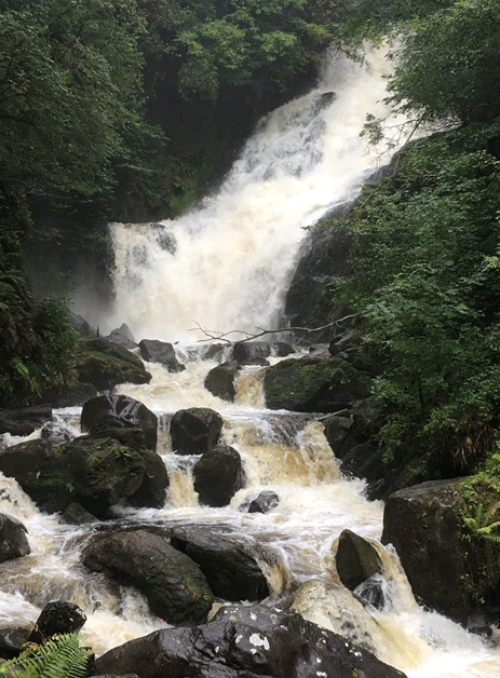 For the more urban-minded traveller, there are plenty of stops along the way in towns. Dingle is a charming little harbour town with quaint shops to explore and several pubs for some evening thirst-quenching. We had two days there mid-tour.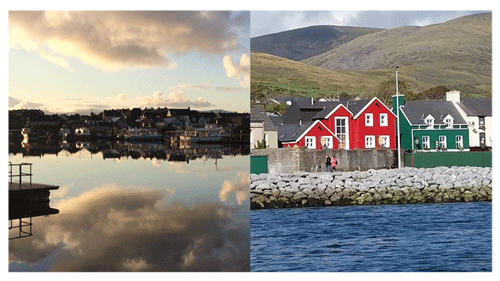 We also had an afternoon in bustling Galway city. We saw street performers, parades, oyster bars and crowded pubs. Ballyvaughan was another lovely little village quiet and rustic, with ponies hanging their heads over fences and a few nice restaurants to choose from when looking for a hot supper.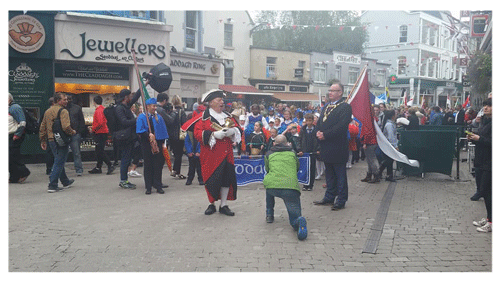 Food for Hobbits!
Speaking of supper, many people have asked me about my opinion of the food in Ireland. Every meal we had was top-rate. A lot of fresh seafood was available. But many other options were too. Soups and chowders were excellent. And the Irish brown soda bread was so delicious; I came home and started straight-away experimenting with recipes.
See our recipe for authentic Irish soda bread here.
Breakfasts were all included with the tour. Typically, a cold buffet of fruit, yogurt, cereals, breads, cheeses and juices was offered at breakfast time. Once youd helped yourself to that, a server would come and ask what youd like for hot breakfast. You could choose from porridge made with cream and fruit, the full Irish breakfast, or a mini version (fried egg, Irish bacon, sausage, grilled tomato, black pudding (no thanks!) and potatoes, or pancakes, omelettes, etc.
I think its possible that Hobbits might have roots in Ireland - Second Breakfast arrives even before First Breakfast is over!
Beyond breakfast, we had to budget for lunch and dinner. It was obvious that great care was taken by Driftwood in choosing pubs and restaurants for us. When we were on our own for a meal, our tour guide was at the ready with helpful suggestions.
Find out more about the full Irish breakfast here.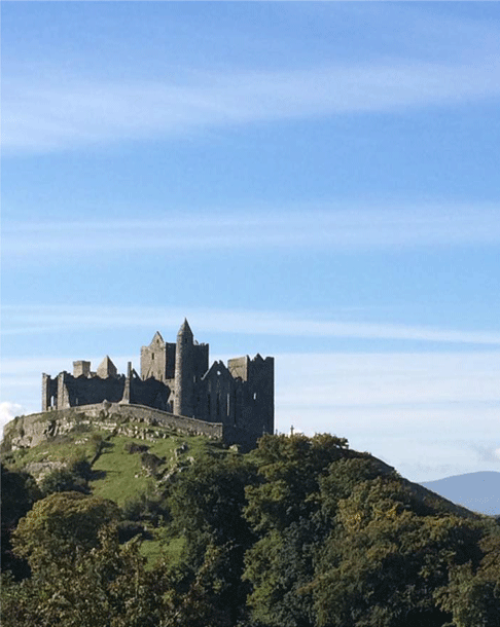 A Little About Our Hotels
Hotels were chosen for our optimum comfort. Not all were fancy. But the accommodations were all clean and comfortable. To our surprise, several provided facecloths, which is generally something you dont find in European hotels.
Our 7 day tour of Ireland gave us the opportunity to stay in two very special hotel locations. As previously mentioned, our first night was spent in the lovely Gougane Barra Hotel.
Our last evenings stay was the crown jewel of the tours accommodations: Abbeyglen Castle Hotel. Yes, we stayed in an ACTUAL castle that last night. This included a champagne welcome reception, a discounted covered-dish dinner, and some open mic singing afterwards in the piano bar - I braced myself for my castle debut with a Jameson whiskey and ginger!
Abbeyglen Castle Hotel was recently built than the other castles we saw in Ireland (circa 1850s). A definite historical atmosphere was present, but with modern comforts and beautiful grounds for strolling.
Ireland is so breathtakingly rugged and beautiful that driving to an attraction is not always necessary. Sometimes, attractions just happen while you are sitting on the bus. Or the boat.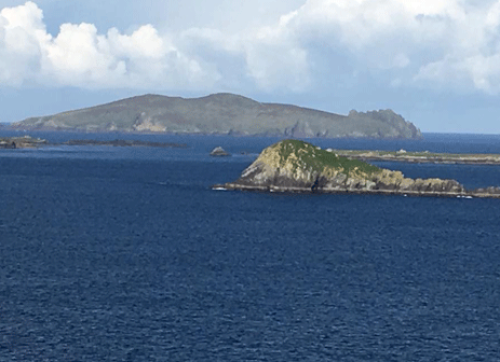 Reflecting On My 7 Day Tour of Ireland
Since my return to Canada, I have been busy on the TripAdvisor website, reviewing many of the sites we visited while on the tour. Ive noticed that other reviewers who explored Ireland without the benefit of a guided tour recorded difficulties in finding some of the more out-of-the-way attractions.
Being on a tour took those challenges right out of the equation. We spent no time getting lost, backtracking, fumbling with Google Maps, or asking for directions. Our expert drivers knew exactly where they were going and the entrance fees were built into the price of the tour (for the most part), allowing us to simply step off the bus and go in.
It wasnt until I came home and started blogging that I realized how much we actually fit into our 7 day tour of Ireland. For example, on the first day, we drove out from Dublin to explore the magnificent Rock of Cashel - a windswept abbey ruin perched on a rugged hill - then drove on to County Cork to see Blarney Castle and the surrounding gardens.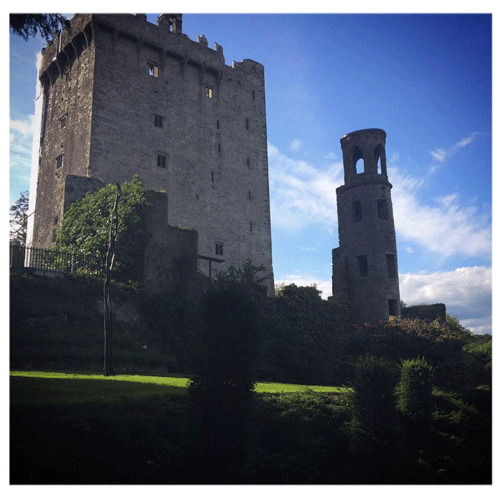 At Blarney, I had no intention of climbing all the way to the top, getting onto my back, and wriggling deep down into a hole to kiss the Blarney Stone; but ended up doing just that! The climb is precarious, but as long as you hold the bars and take your time, you will survive your visit. If you kiss the stone, you may walk away with the gift of the gab! Go ahead I dare you!
Still on the same, first day, we then drove out to lovely and remote Gougane Barra for our first nights stay. Here we enjoyed spectacular views over the hills and lake, a first-evening-on-tour toast in the hotel bar, and a dinner of delectable local cuisine. Every day on our 7 day tour of Ireland was packed with adventures like these. Yet almost miraculously, there was time enough to look around, take pictures, and to just enjoy the experience.
Would I Go Back?
I would take another tour with Driftwood in a heartbeat! But I will need to replenish my poor savings account first... My sights are turned towards the 6 Day Driftwood Ancient Ireland Tour next time around.
Would you like to read more from Corrinna?
Read about my Ireland experience in further detail - check out the Ireland entries on my personal blog
If perchance you would like to read even more words by me, I hope you will check out my book Corners.