---
This spectacular touring route hugs the dramatic and rugged coastline of Northern Ireland.
Uninterrupted views of dramatic sea cliffs and beautiful islands await you on the Causeway Coastal Route.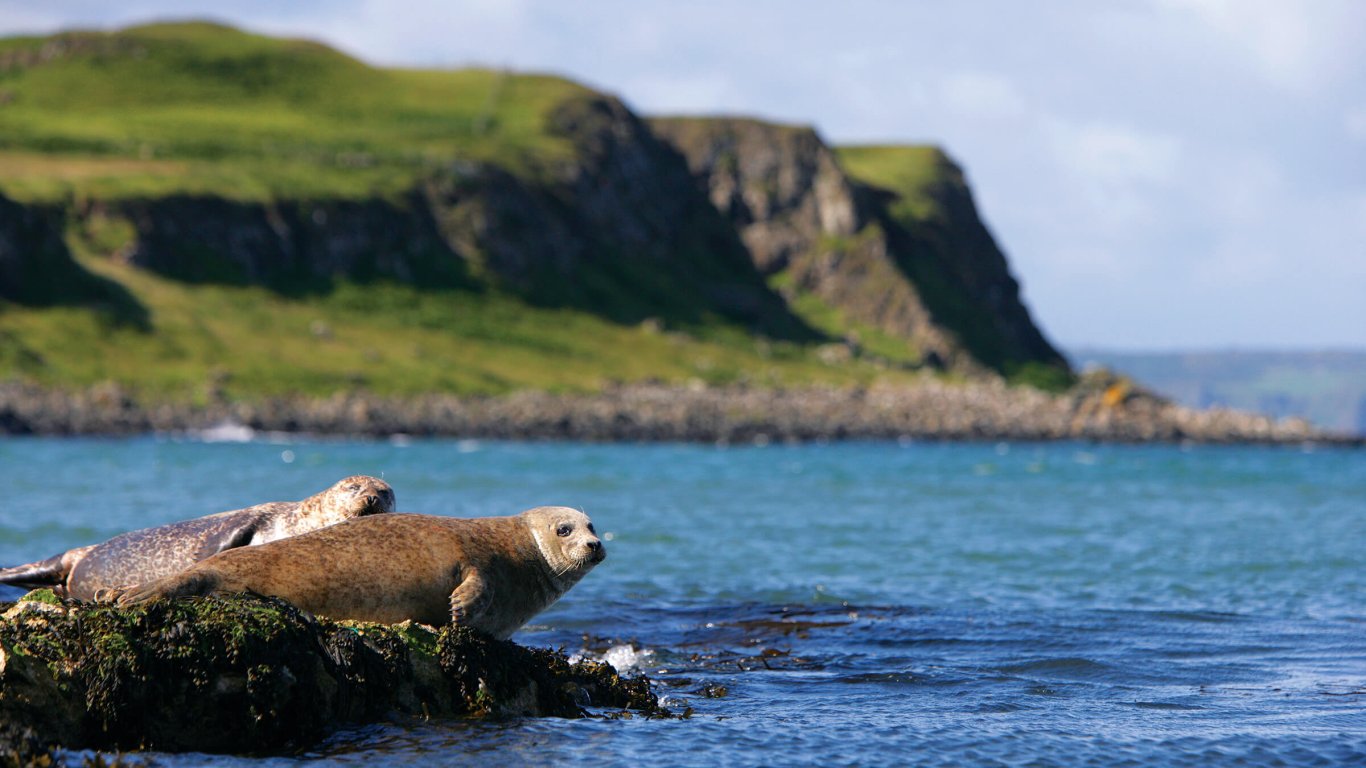 Touring Northern Ireland us, you'll hug this coastline.
On active Vagabond Cultural Adventures, we'll take time to explore dramatic cliff trails by foot, hiking to amazing sights like the Giant's Causeway.
With Driftwood Journeys of Discovery, the pace is more relaxed. We'll stroll barefoot along empty beaches and experience all the wildlife and spectacular vistas.
Northern Ireland's UNESCO World Heritage Site is the dramatic Giant's Causeway.
You can actually step onto this geological wonder; hop and jump from basalt column to column as you contemplate the violence of its volcanic origins, many millions of years ago.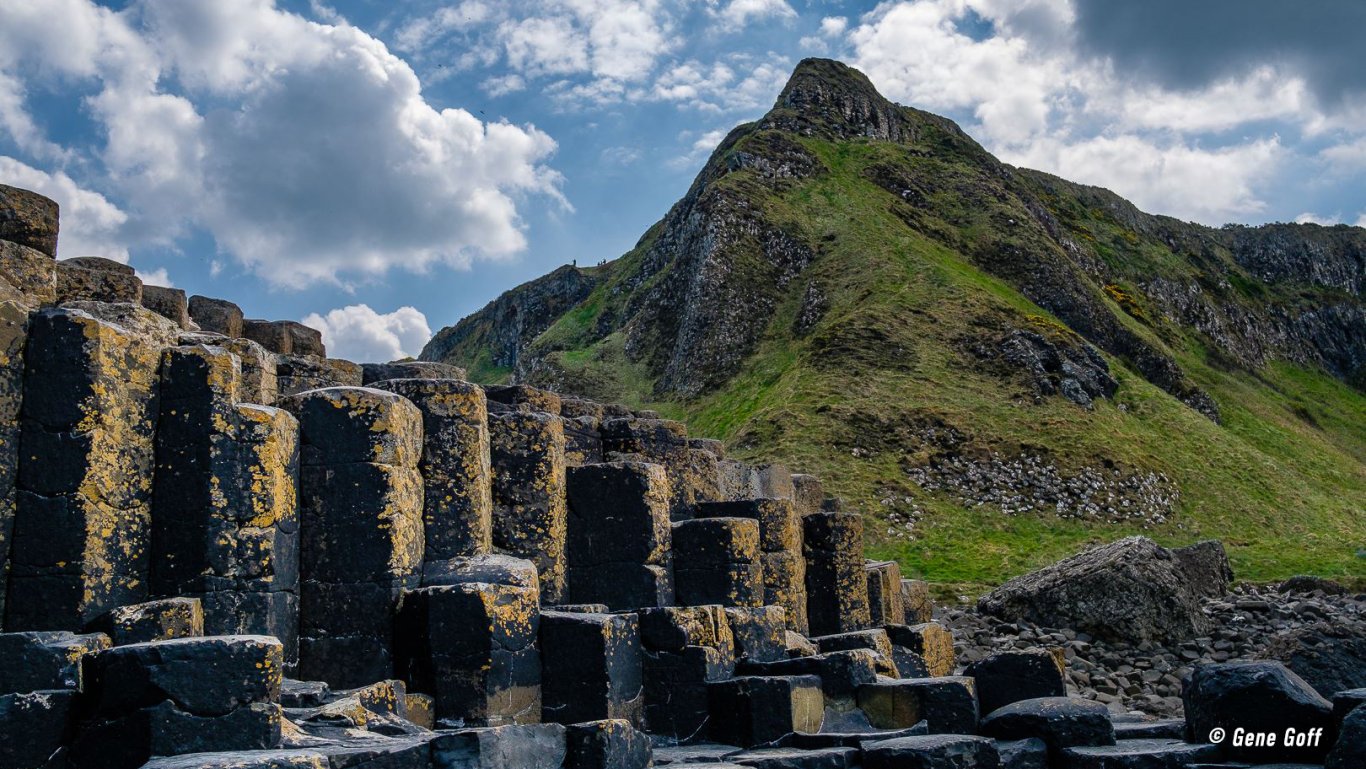 The Causeway is steeped in Irish myth and legend. A traditional explanation of its formation holds that the Irish giant, Fionn McCool, built it to visit Scotland and defeat a rival in a duel.
Whether you believe the geology or the mythology, the Giant's Causeway is a must-see on any Northern Ireland tour.
Irish people are known worldwide for their friendliness and jovial nature. Nowhere is this more noticeable than when touring Northern Ireland.
You'll meet real people with Vagabond and Driftwood. Locals go out of their way to ensure you have the time of your life during your Ireland trip.
Step through the doorways of local bars and cafés, shops and visitor centres. You'll be met with a special Northern Irish welcome. See if you can understand their unique accent - think Liam Neeson or Jamie Dornan.
Watch the video below for your very own private lesson with Jamie...
Ever stayed the night in a haunted castle? Now you can.
Ballygally Castle Hotel on the Antrim coast has become a firm guest favourite on relaxed Driftwood Tours.
Its 17th century tower house is reputedly haunted by a friendly ghost. Spooky!
Northern Ireland as a whole is steeped in thousand years of history. Ancient stone forts, Norman towers and Gaelic forts will all feature on your tour at some point.
Perhaps none are more dramatic than the mighty Dunluce Castle.
These crumbling ruins gaze out across the northern reaches of the Causeway coast. But don't worry, it's perfectly safe to explore!
Northern Ireland is perfectly placed to test the phrase: Life begins outside of your comfort zone.
Climb Slieve Gullion in Armagh to visit an ancient passage tomb steeped in Irish mythology.
Hike the dramatic cliffs at Dunseverick along the Causeway Coast.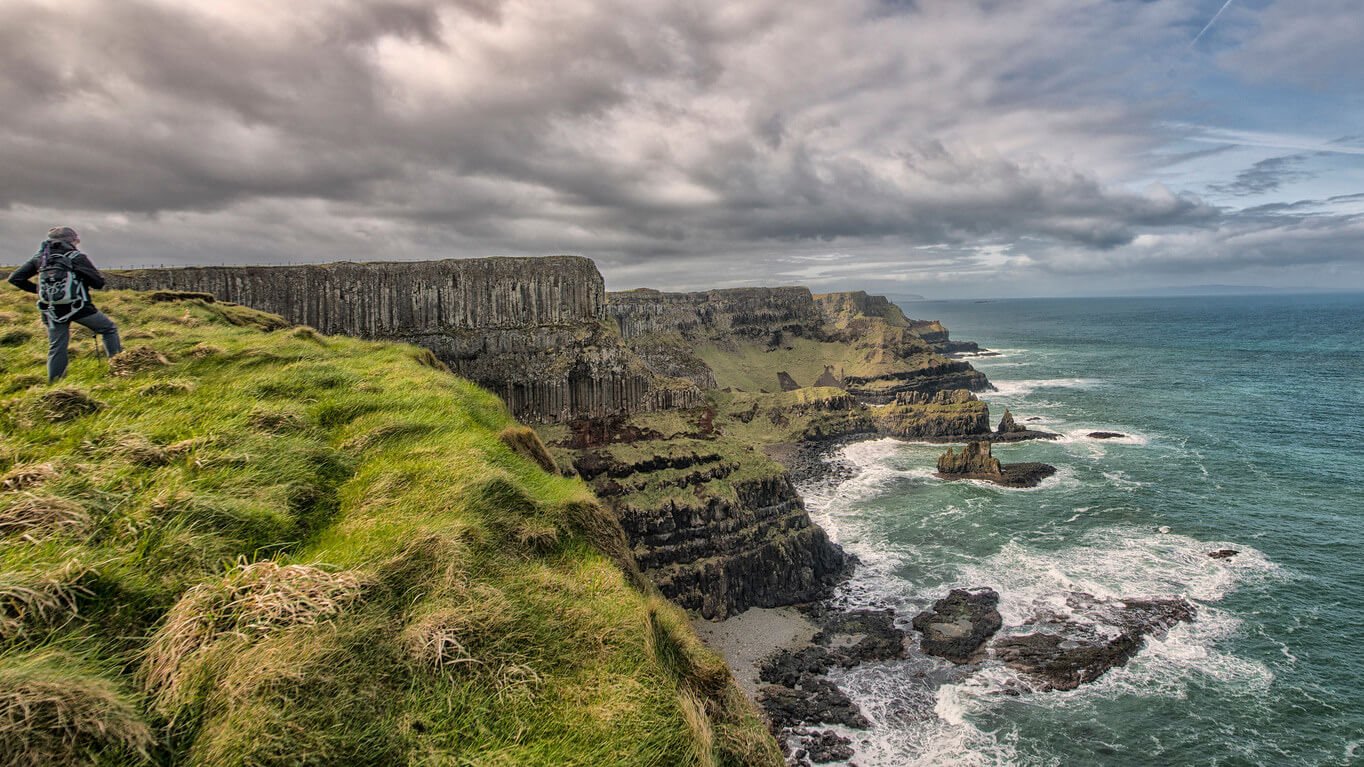 The best way to achieve all this?
Our 7 Day Vagabond Magnetic North Adventure Tour features all these adventure activities and more.
Are you a superfan who has watched all 8 seasons of GoT?
Or can you not tell a Stark from a Lannister?
Either way, you'll be amazed and charmed in equal measure by the filming locations used to create HBO's iconic TV series.
Game of Thrones film locations that we often visit include Ballintoy Harbour and spectacular Dunluce Castle.
Find a wonderful, carved Game of Thrones-themed door at Ballygally Castle Hotel.
In Belfast, our guests are always begging us to stay for longer.
That's because Northern Ireland's biggest city is bursting with amazing attractions.
😊 Take A Famous Black Cab Tour of Belfast
Going local and getting to know real people is the best way to experience any destination, in our experience.
That's why the Black Cab Tour of Belfast is the ultimate in real travel experiences.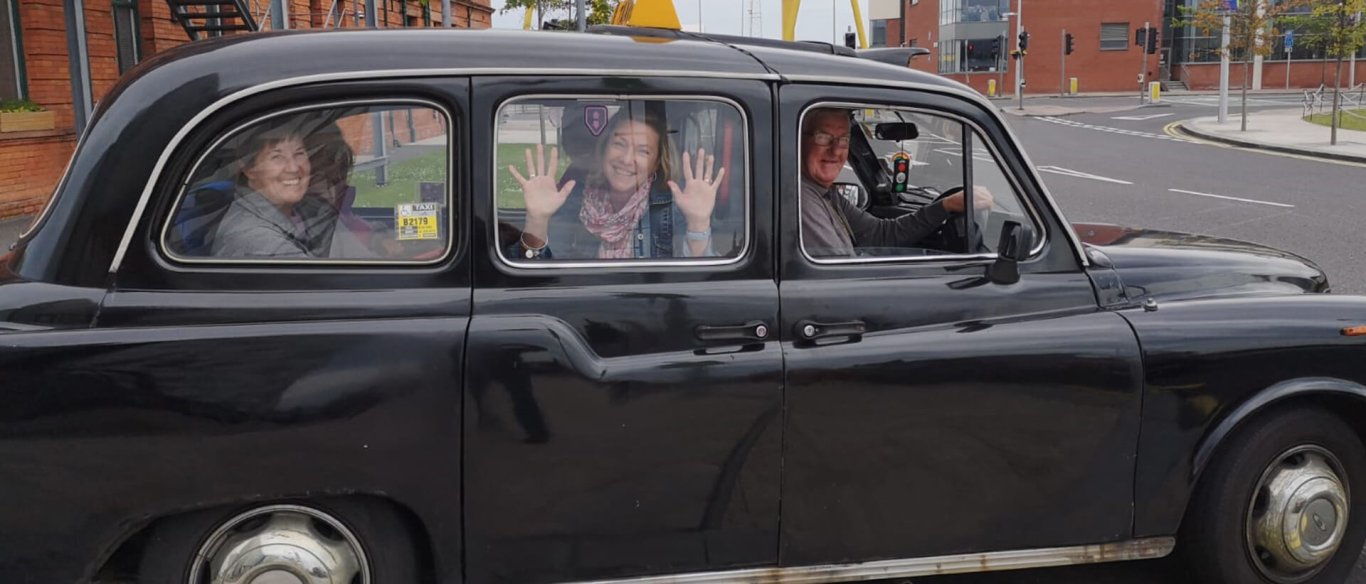 With 'Big E' (Eamonn) leading your tour, you get first-hand knowledge about Belfast and it's unique history.
Eamonn was born in Belfast in 1967. He will bring you on an incredible tour of the political murals and important sites of Belfast.
Taking a Black Cab Tour is a truly a special opportunity to understand the complex history of Northern Ireland but in a friendly and accessible way.
Come and see for yourself where the amazing story of the Titanic began. The shipyards of Belfast Lough were the birthplace of the historic ship. Now this area showcases a new and vibrant capital city with the Titanic Quarter showing the world the very best of what Northern Ireland has to offer.
Take an award-winning tour of the Titanic Museum or see the actual dock where the Titanic was launched. Want to step onto a real boat? Stroll around the deck of the SS Nomadic, a former tender used to ship passengers to the Titanic.
Emerging from a dramatic 20th century history is Derry/Londondery, a city reborn in recent decades with vibrant nightlife, stunning street art and amazing cultural attractions.
We love visiting Derry/Londonderry!
When our tour guests look out from the city's 400-year-old stone walls it's easy to imagine the historic sieges and battles that have shaped Derry/Londonderry.
The political murals of the Bogside are visible from one side. From the other, the wide Foyle estuary and the Peace Bridge serve as a dramatic backdrop.
But there's another, surprising side to Northern Ireland's second city.
Check out the award-winning comedy Derry Girls on Netflix for a taste of that uniquely Northern Irish sense of humour.
Touring Northern Ireland with us means sampling the very best in food and drink.
Taste the freshest fish and chips, traditional Irish stew, local cheeses, and creamy butter from this rich and rare land. All washed down in the evening with a local brew.
Then there's breakfast.
The full Irish breakfast is one thing. The the full English breakfast is another. To top it all off, Northern Ireland gave the world the Ulster Fry.
Similar in many ways to the full Irish breakfast, the Ulster Fry is unique because of the myriad of local bread varieties.
Delicious wheaten, soda and potato breads all help set you up for days full with adventure and sightseeing.
And with Vagabond Tours, all your hot and filling breakfasts are included.
Happy days!
Music has played a vital role in the history of Northern Ireland and remains an integral part of its culture and identity.
With a total population of just 1.5 million people, Northern Ireland really punches above its weight when it comes to musical talent.
Van Morrison (Belfast), Phil Coulter (Derry), Garry Lightbody of Snow Patrol (County Down), Brian Kennedy (Belfast) and Paul Brady (Strabane) are all natives of this 'wee country'.
That's not even mentioning the important role that Northern Ireland played in the punk movement. The Undertones and Stiff Little Fingers both had hits in the 70s.
'New York has the Haircuts; London has the trousers and Belfast has the reason."
Terri Hooley, punk icon and founder of the Good Vibrations record label, speaking about Northern Ireland's unique musical heritage.
Did you know that Led Zepellin's Stairway to Heaven was first played live in the Ulster Hall in Belfast in 1971?
Just like Paul Brady sings...
I want to take you to the island...
Hear the Top 10 songs from Northern Ireland
It's time to celebrate…
The really great thing about taking one of our tours to the northern half of Ireland is that you get to visit two countries during a single tour.
We travel into Northern Ireland which is part of the United Kingdom (UK).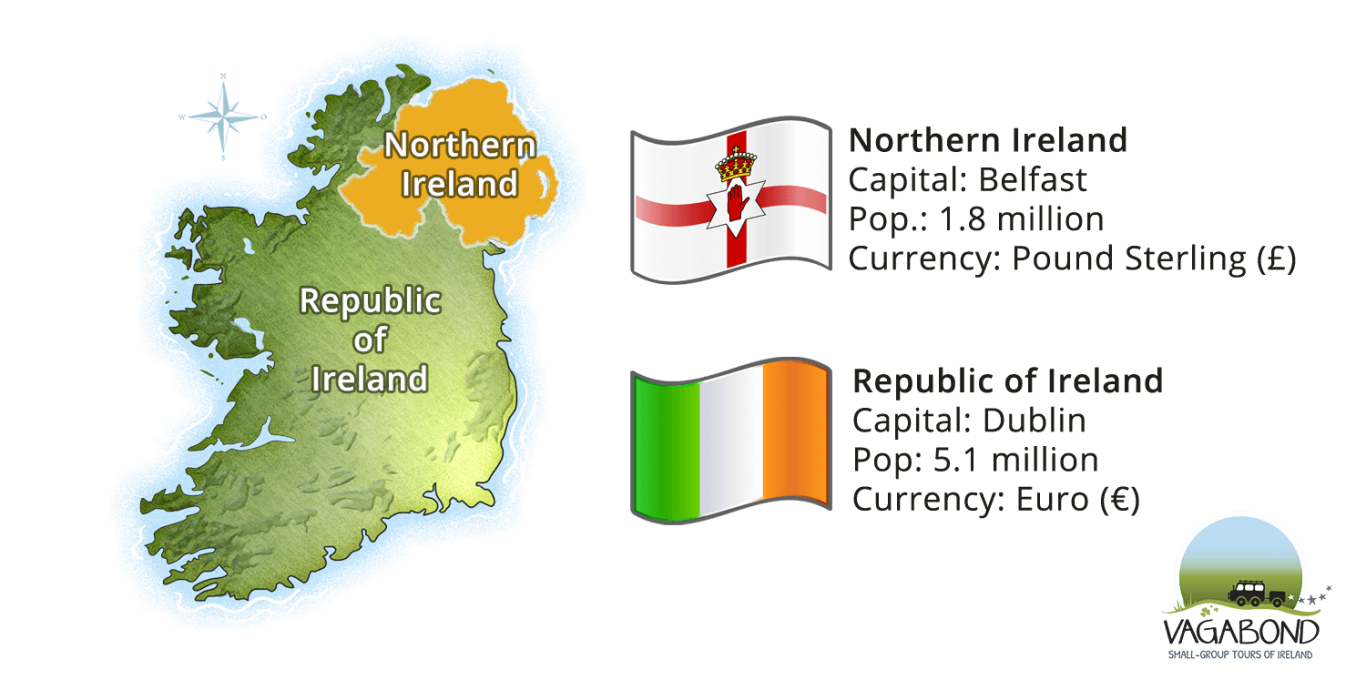 But you'll also travel around the north west corner of Ireland, part of in the Republic of Ireland.
You'll hear different accents and get to compare cultures and histories.
You'll experience the unique stories of both countries, side-by-side.
Isn't that the essence of travel?
Learn more about the differences between the Republic of Ireland and Northern Ireland
🛶 Active Vagabond Tours of Northern Ireland
For the active and adventurous among you, check out our 7 Day Vagabond Magnetic North Adventure Tour
Our 12 Day Giant Irish Adventure Vagabond Tour spends 2 nights and days exploring Northern Ireland.
🏰 Relaxed Driftwood Tours of Northern Ireland
Rather take it easy? Enjoy a relaxing 6 days on our Driftwood Northern Island Tour
Or you can see it all on our incredible 11 Day Driftwood Discover Ireland Tour which includes the wonders of Northern Ireland's coast and cities on it's full circuit of the island.