Is it easy to self-drive in Ireland?
If you're considering renting a car to see Ireland in 2022 or 2023, look no further!
We've compared the pros and cons of car rental in Ireland by comparing it with real guest experiences on our small-group tours.
Don't take our word for it though! We asked past guests to pitch in with their opinions too.
Now read, intrepid vagabond, to answer all of your concerns about self-drive in Ireland!
💰 How Much Is Car Rental In Ireland?
We hate to start things out with money, money, money.
But in 2022, it's kinda unavoidable.
We reckon predictable costs are the main advantage taking a tour holds over self-driving in Ireland.
📈 Car Rental Prices Are Only Going One Way
We're not sure if you've checked car rental prices in Ireland recently.
If not, you may be in for a shock...
Car shortage = crazy car rental costs in Ireland this summer. This is for less than a week. pic.twitter.com/PL6DJuWTH5

— Donie O'Sullivan (@donie) May 19, 2022
A shortage of suitable rental cars has led to spiralling prices.
We've seen some crazy quotes!
🤯 How Much Does Gas Cost In Ireland?
We hope you're sitting down for this one...
The cost of gas — we call it petrol and diesel here in Ireland — is rapidly climbing.
Unleaded petrol recently hit €2 per litre in Ireland.
That's at least $8 per gallon at current exchange rates.
You better get saving!
💸 Other Self-Drive Costs
Combine gas and car rental fees with the unknown quantities of...
Insurance
GPS rental
Other, often hidden, rental fees
Self-drive is not the budget option it once was.
😎 Great Value Tours
Yes, we are biased.
But compare this situation with touring.
Our small-group tours offer...
Guaranteed departures
Fixed, transparent pricing
Free 7-day seat holds
Low, flat-rate deposits
Personalised guide service
Full days on tour
Accommodation, admission fees and breakfasts included
In other words, superb value for money.
---
If you're quick, you can still pay 2019 prices for 2023 tour bookings. Learn More
---
📸 Another Key Advantage Of Tours Vs. Self-Drive
If you take away only one reason to take a guided tour over a self-drive vacation to Ireland, it's this:
We guarantee you'll see MORE on your Vagabond or Driftwood tour than you will do with a rental car (and a pile of maps).
Seeing everything you want to see: it's the main challenge facing all tourists.
Cliffs of Moher. Giant's Causeway. Blarney. Galway. Dingle.
With us, you'll hit all the must-see sights of Ireland on your Vagabond or Driftwood Tour. But by timing visits outside peak hours, our amazing VagaGuides will ensure you miss the crowds and see these major attractions at their very best.
Aside from the headliners, we'll also take you off the beaten track to places that would be hard to find on a self-drive vacation to Ireland.
We've been refining our itineraries FOR 20 YEARS!
Since 2002, we've been finding the best lodgings, the absolute can-not-miss beaches and trails, the best local characters to meet, the best things to do and the most delicious little spots to eat in.
No need for long hours of research on your part. Trust us to deliver!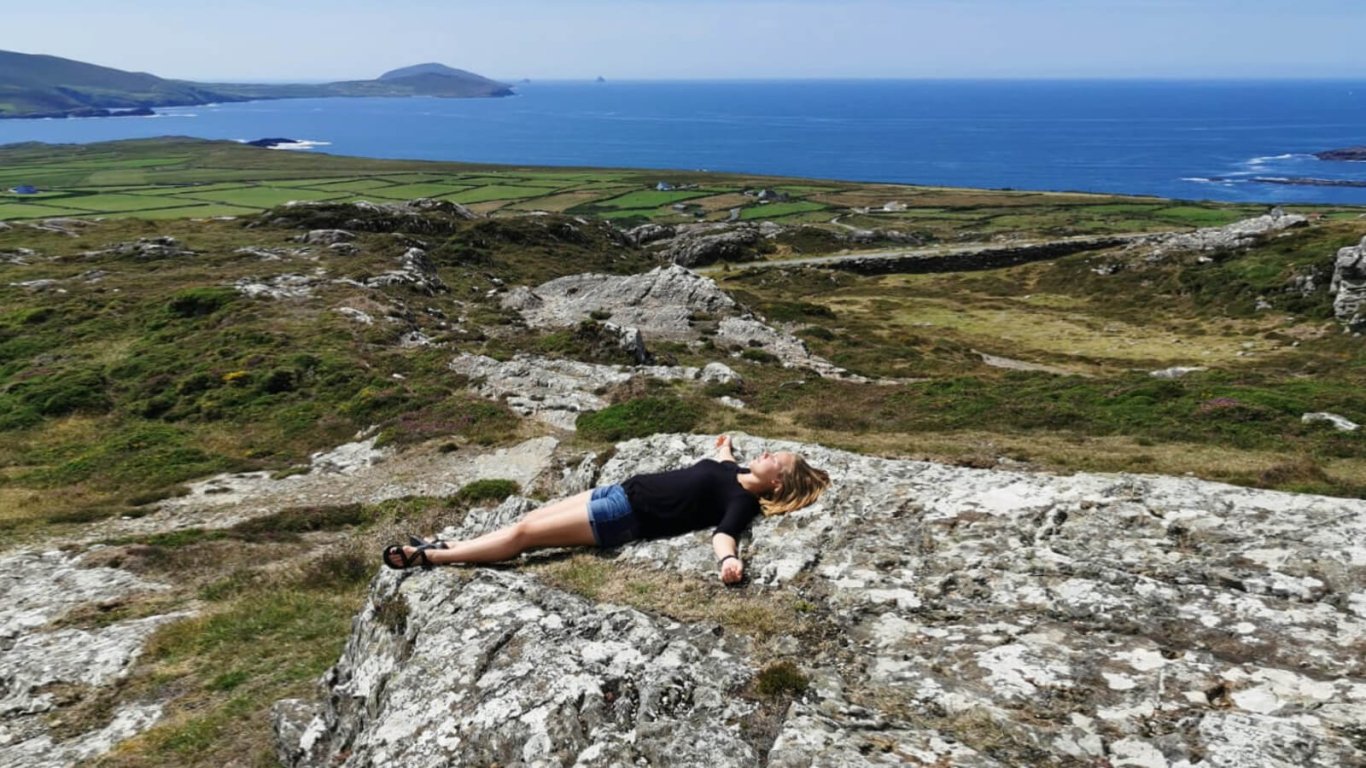 How Flexible Are Guided Tours?
Flexibility. Independence.
Two big concerns which might tempt you towards self-drive in Ireland over guided tours.
The good news is that all Vagabond and Driftwood tour itineraries have flexibility baked-in. No two tours are ever the same.
While our scheduled tours follow set itineraries; the routes and attractions are by no means written in stone.
At the outset of each tour, your VagaGuide will listen to what each guest wants to do and see. This information helps our expert tour guides tailor sights and activities to your group.
Just as if you were self-driving!
How do we manage to do this? Our tour groups are small.
There's a maximum of 15 guests on the more relaxed-pace of Driftwood Journeys of Discovery.
And no more than 13 on active Vagabond Cultural Adventures.
The small-group size of our tours gives us — and YOU! — this flexibility.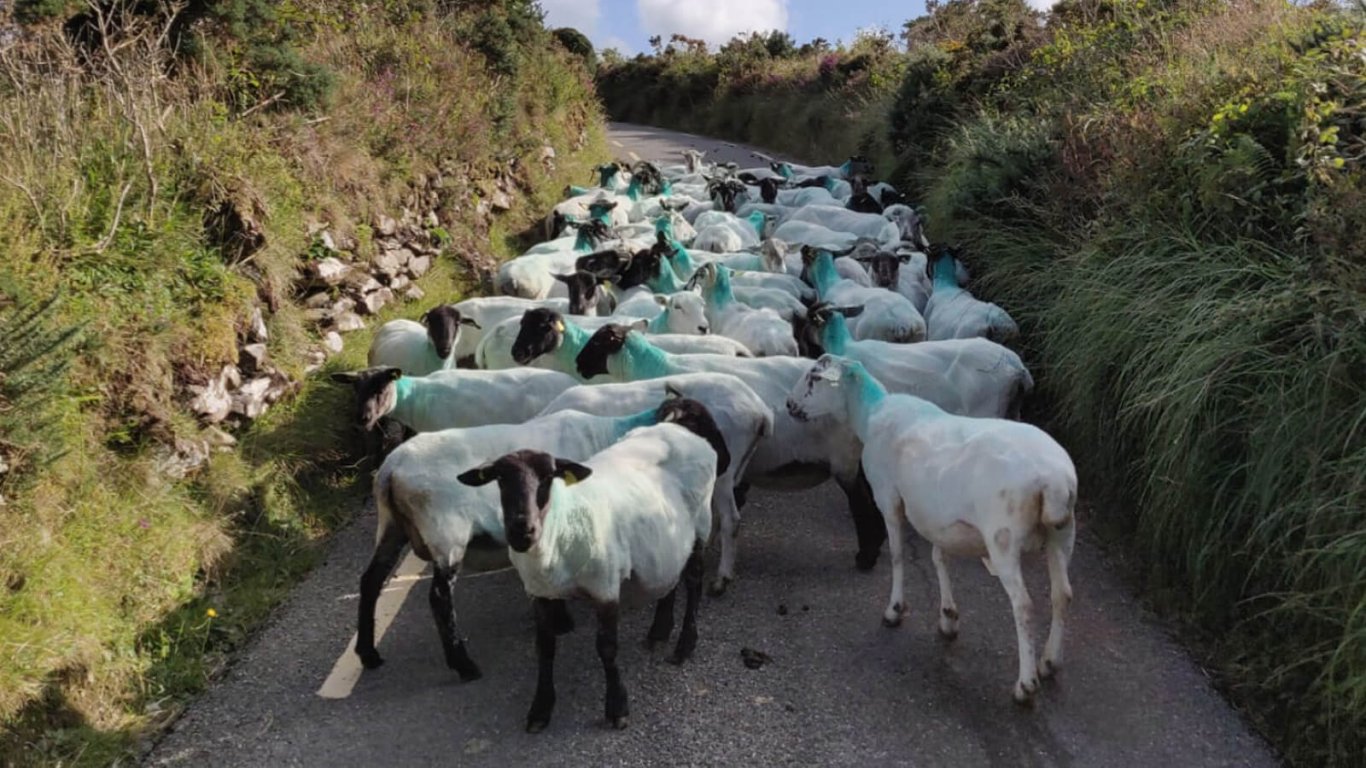 🚗 How Difficult Is Driving in Ireland?
Driving in Ireland may look similar to back home. But there are some key differences.
🤞 Difference #1: Narrow Irish Roads
Irish roads can be nerve wracking to drive but beautiful to look at. Narrow winding lanes with stone walls on either side makes for picture postcard images. But if you are not accustomed to driving on roads with limited space, a guided tour could be the best option.
⚙️ Difference #2: Driving Stick
Irish rental cars tend to have manual transmission. If you're used to driving automatic at home, make sure you rent an automatic.
👈 Difference #3: Driving on the Left
We drive on the left in Ireland. That means Irish cars are right hand drive (steering wheel and controls on the right).
🛑 Difference #4: Speeds in Kilometres
In Ireland, speedometers display speeds in kilometres per hour. Speed limits and distances on road signs are also in kilometres.
♻️ Difference #5: Different Road Layout
Road layouts are different in Ireland too.
Where you might find a crossroads in North America, you'll most likely find a roundabout in Ireland.
What the dickens is a roundabout?
A roundabout is a circular road junction. Cars, buses and trucks flow onto the road in turn.
When entering a roundabout, you give way to traffic from the right.
We ❤️ roundabouts!
Dan told us why he opted to tour for his first visit to Ireland:
It was my first time out of the states, and my first trip to Ireland. I was also doing the trip solo. Several factors such as driving, possibly getting lost, created some anxiety about being out in Ireland all by myself.

I knew I did not want a normal bus full of people tour. Vagabond offered activities and a small group. Also the tour visited many of the sites I wanted to see, especially the Skelligs. Loved that we hiked, kayaked, etc.

This tour gave me the confidence to go back to Ireland and do a self drive trip. Could not have done that without this first tour.
🤔 Is Navigating In Ireland Hard?
Ireland may not look like a big place.
(It's about the same size as New York state).
However, navigating around the countryside in Ireland is deceptively hard.
Irish roads are predominantly single lane. Large motorways and expressways are clustered around large cities.
Did you know there are no freeways in Donegal, for example?
What's more, phone and GPS signal can be unreliable in off the beaten track locations.
What's the alternative?
Simple! Take one of our guided tours.
But don't take it from us...
"We saw things we never would have known to visit had we gone off on our own.

And we never had to worry about a thing-they took care of every detail, especially the driving!!"
Yes, that's a real TripAdvisor review from one of our happy Vagabonds (August 2019).
And we're delighted to say it's typical.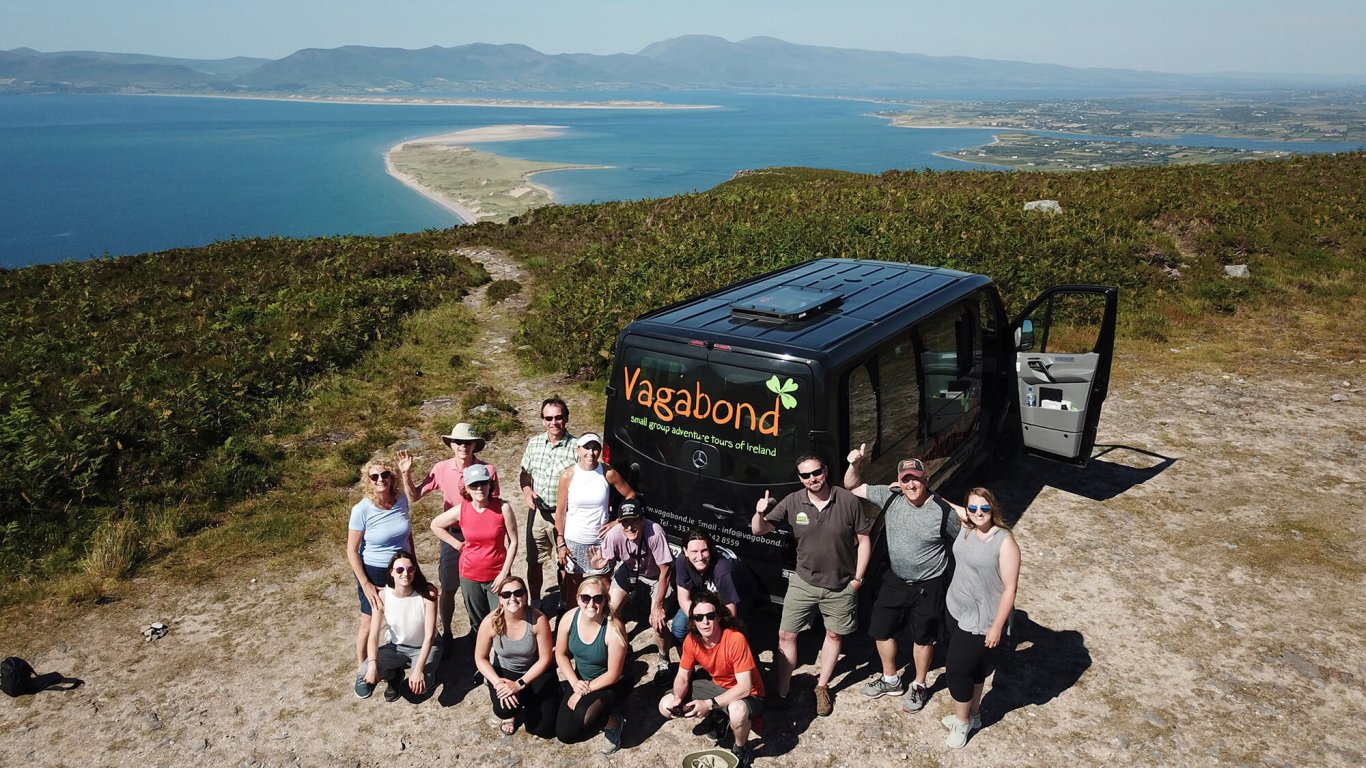 Guided Tours Are More Sociable
There's no doubt that our guests bond.
"We made numerous friends along the way, including fellow passengers, local artisans, and the occasional sheep or horse!"
(Yes, this is a real, live TripAdvisor review from September 2019).
Although Irish people are famously friendly, making real connections and friendships can be challenging when you travel independently. But this happens again and again for our Vagabond and Driftwood Tours guests.
It's one of the most rewarding parts of taking a guided tour of Ireland.
Past guest Elizabeth told us that:
"Since my husband doesn't want to travel abroad any more, I would be the only one driving. We previously visited many European destinations and always rented a car. I never thought I would go on a tour; I always wanted to travel independently.

But I longed to visit Ireland again, and since I was traveling solo, I began researching tours. I'm so very happy I took the plunge and booked with Vagabond Tours.

The connection with my fellow travelers and the tour guide (Damien) added so much to my trip. Best travel decision I've made in recent years. I especially appreciated the small group size and Damien's stories, jokes, and the background info he provided."
As you can see, our guests get to know each other and their tour guide very well. We make fun and laughter a top priority. Our cultural stops and optional activities will help everyone onboard bond.
Perfect if you're travelling solo.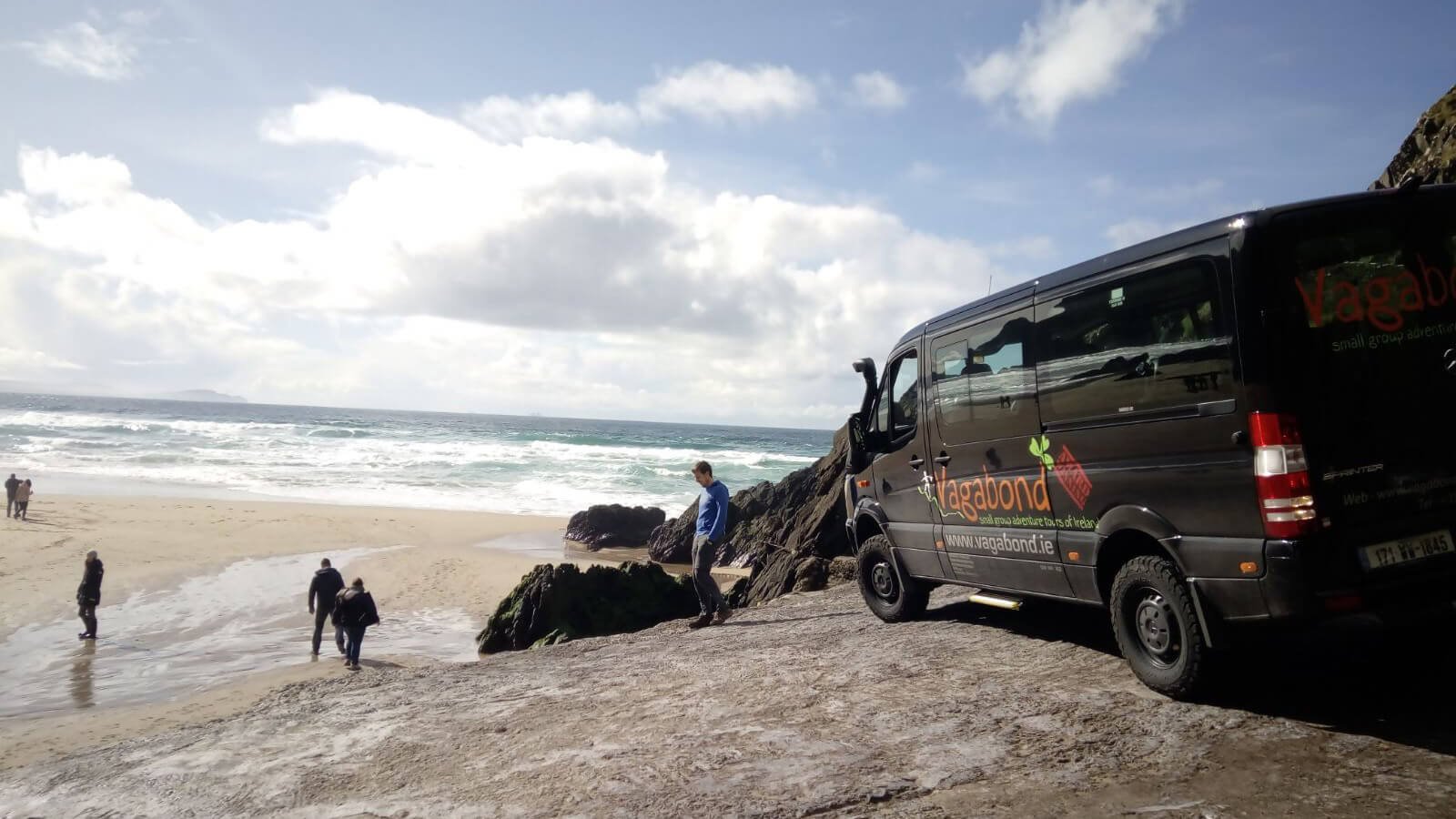 Did you know? Many of our past VagAlumni keep in contact long after their tour through our Vagabond & Driftwood Facebook group.
Get to Know Your Guide
The small-group nature of our tours holds another advantage: not only will your friendly VagaGuide tour guide be on first name terms with you, they'll get to know you properly, and vice versa.
Our compact tour vehicles mean that you won't have to shout to get your tour guide's attention!
Driftwooder Kathleen summed up her feelings about self-drive vs. touring in Ireland for us on Facebook brilliantly:
You can enjoy every moment as someone else is driving.
You can have that Bushmills or Writer's Tears or Kilbeggan with lunch (or breakfast, poured over oatmeal porridge at Ballygally Castle) because someone else is driving.
The someone else who's driving may be a witty raconteur and delightful singer like Driftwood guide Mark Doherty. How Can I Experience The Real Ireland?
💚 Experiencing The REAL Ireland
We hate to be the bearers of bad news, but you may find it hard to see non-touristy things in Ireland on a self-drive vacation.
Our VagaGuides are all local and 110% expert in Irish culture, history, songs and jokes).
They pride themselves on the best insider knowledge of hidden gems all over our beautiful island.
Since Rob led his first Vagabond tour back in 2002, we've built strong relationships with local suppliers and residents of the towns and villages we visit.
This means that you, as our guest, will receive an authentic Irish experience.
We'll introduce you to our friends. Hear their stories, ask them questions and get a feel for what life is really like in Ireland.
Katy and Neil are typical of the characters you'll meet on a Vagabond or Driftwood tour.
They're the hoteliers at the family-owned Gougane Barra Hotel.
This spectacular location lies far off the beaten path in West Cork. Even most Irish people don't know it!
When your tour arrives , Neil will be there to welcome you with a few words in Irish - this is the Irish-speaking Gaeltacht area after all!
He'll explain the evening menu in-person before serving you a welcome drink at the bar.
Needless to say, the homemade food at Gougane Barra is locally-sourced, incredibly delicious and cooked by Katy herself.
In the morning, Neil and Katy are often there to bid you farewell.
How's that for personal service?!
Like to know more? Email us your questions on enquiries@vagabond.ie.
Added to all of the above, remember that Irish people giving directions have a uniquely poetic style.
Watch this comedy video to get a flavour:
If this all seems like too much to figure out, leave the roundabouts to our expert VagaGuide driver guides.