👋 Hi, I'm Rob
I'm the co-founder of Vagabond and Driftwood Tours.
To make planning a trip to Ireland easier for you, we've created a new set of simplified terms which are more worry-free than ever before.
For now, Covid-19 restrictions are still causing uncertainty for travellers around the world. We appreciate that decision-making around vacations is tough now.
Keep reading to find out about our new €100 deposit and other new flexible booking terms.
💰 1. Book Your Tour With A €100 Deposit
Sometimes the best ideas are the most simple ones.
To help you plan your next vacation, we've lowered our booking deposit to the low rate of €100 per person.
That's right. You can now book your Vagabond Cultural Adventures or Driftwood Journeys of Discovery for just €100 per person.
You are then free to pay off the balance of your tour in bitesize chunks.
Simple.
🔒 2. Prices Locked for 2021 AND 2022
We racked our brains to come up with even better value. Then it hit us: lock down our pricing!
Any tour package booked for 2021 or 2022 will cost you the same as it would have done back in 2019.
We want as many people as possible to realise their dream of booking a small-group Ireland tour. Affordability is key. So we're committed to maintaining current pricing.
Fair's fair.
🔄 3. Unlimited Changes + 60 30 Day Deadline
These days, it can sometimes seem like nothing is 100% certain.
But if plans for your Ireland trip happen to change before your departure date, please don't worry!
With Vagabond, you enjoy the freedom to make unlimited alterations to your booking up to 30 days before you start your adventure.
Earlier this year, for your convenience, we cut our final payment deadline in half.
That means that, after booking, you can continue to make changes up to 30 days before departure at no extra cost.
💺 4. Reserve Your Seat For Free
Are you not ready to decide a travel date yet? That's no problem at all.
With our free seat hold, there's no pressure to commit for 7 days. Just tell our friendly team about the dates you'd like to travel.
Ciara or Gillian will then lock down your seat on our tour vehicles for up to a week.
There's absolutely no charge and no obligation to buy, leaving you space and time for a final decision.
☘️ Some Things Never Change (Thankfully!)
We have always been committed to fairness, openness and responsible tourism. Thankfully, nothing has changed there.
Our fantastic personalised customer service remains the same.
Ireland itself remains a beautiful, fascinating and friendly destination.
And of course, the Guinness still tastes better in Ireland...
🗓️ 18 Years Touring Ireland
Years (and years and years) of experience has gone into every single Vagabond and Driftwood tour itinerary. 18 years, to be exact!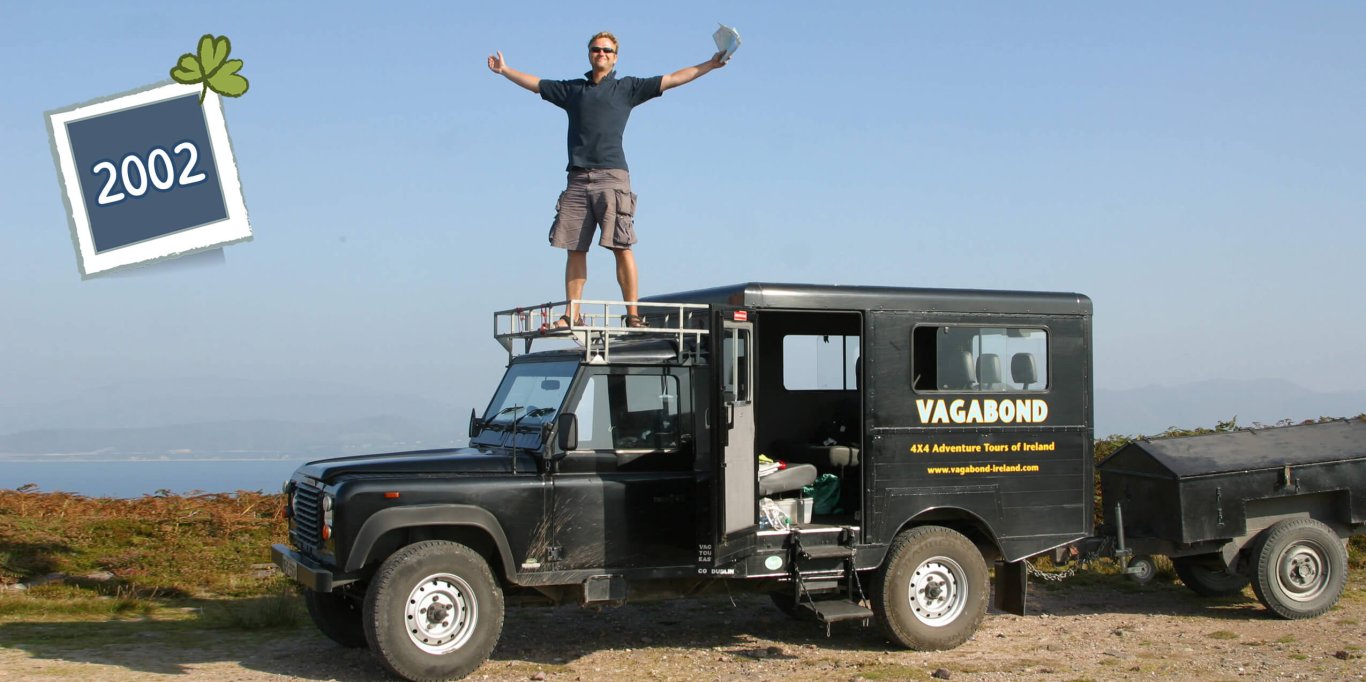 I established Vagabond Tours with my wife, Amy, back in 2002. Together, we've been obsessing over how to deliver the best customer experience ever since.
Expect exceptional quality as standard. We spare no expense when investing in top class people, the very latest training and our Mercedes tour vehicle fleet.
Find out more about the culture of Vagabond Tours
🧑‍🤝‍🧑 Small-Group Tour Size
The whole team is extremely proud of our small-group tour philosophy.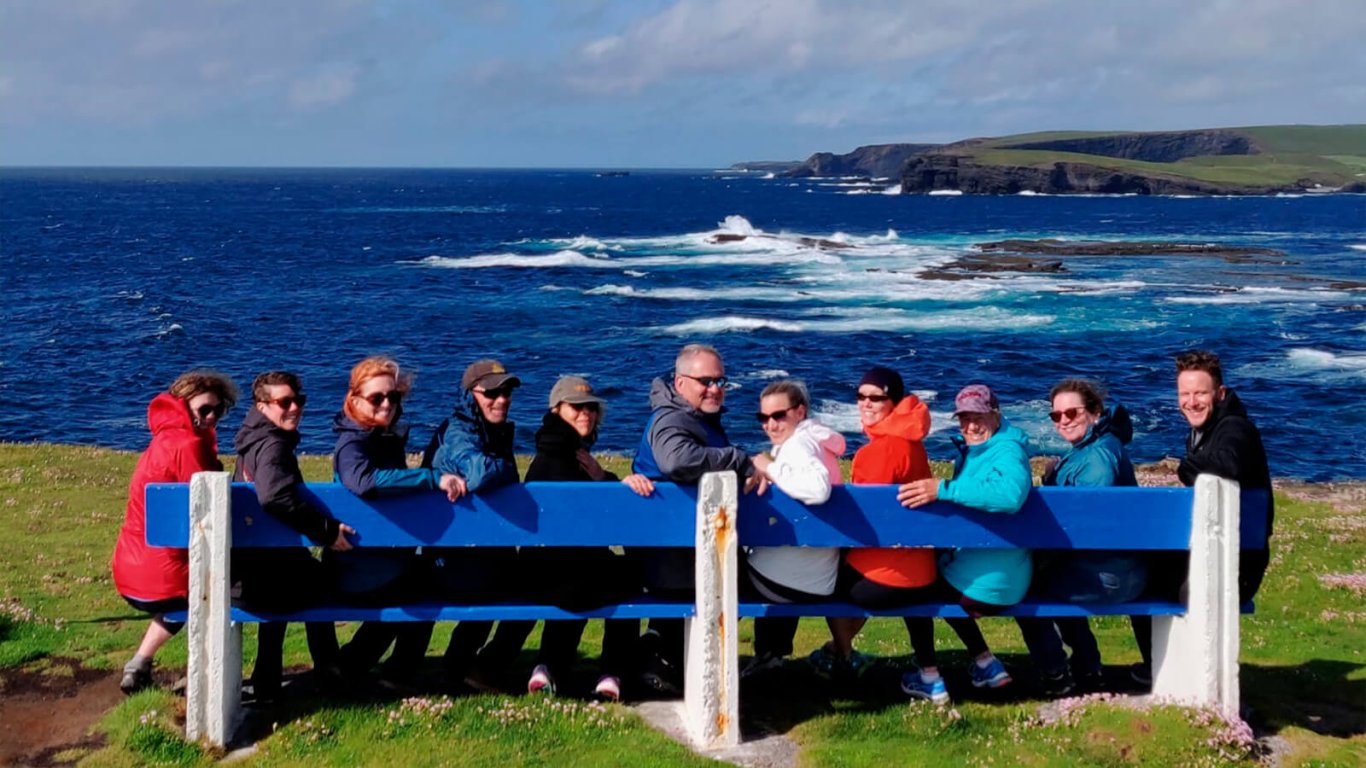 You will meet a maximum of 14 other guests on your relaxed Driftwood tour. On our active and adventurous Vagabond Tours, the maximum number of guests (besides yourself) is 12. Often, this figure is even lower.
This small group approach helps us deliver a personal and flexible service. Not only that, but our guests form friendships that often last beyond the end of their tour.
Your friendly VagaGuide tour guide will be able to answer any questions or requests as they arise. Our vehicles are more compact than normal tour buses. This allows your tour to escape freeways and major routes.
On Ireland's byways, you'll meet friendly Irish people and experience the country's secret treasures.
🕗 Full Days on Tour
We deliver full days on tour. When we say a 7 day tour of Ireland, we mean it!
We understand that your vacation time is precious and limited. We do everything to maximise the short time you have.
What does that mean? Other operators will advertise an 8 day tour. But on many of these tours, you will begin your first day in the afternoon and finish your last day in the morning, curtailing the entire experience.
All Vagabond and Driftwood tours kick off bright and early, at 8am on the first day. Set your alarm clock!
You won't return to Dublin until the early evening on your last day.
🛫 Is 2021 Too Early To Travel To Ireland?
You may be wondering, is 2021 a good time for an Ireland trip?
That's the type of question we're hearing lots of these days. Risk and uncertainty is on everyone's minds at the moment.
We don't have a crystal ball, unfortunately.
What we can tell you with confidence is that we are ready and waiting to welcome you to Ireland in 2021.
Another certainty: airlines that fly from North America to Ireland — such as Aer Lingus — will be offering fantastic deals on cheap flights next year.
💶 Is It A Good Time To Buy Euros With Dollars?
Don't forget that the US dollar continues to command strong exchange rates against the euro - one dollar will buy you €0.85c, at the time of writing.
What does the strong US dollar mean for your Vagabond or Driftwood tour?
It means savings. For you.
All of our tours of Ireland are listed in euros. When the dollar goes up versus the euro, our prices effectively go down. You win!
Our 11 Day Driftwood Discover Ireland Tour, for example, retails at €2,479.50. Compare this currency rate with February 2018, when a US dollar bought you less than 0.80c.
That tour price would have cost you $3,099 in dollars. Today, the very same tour will cost you only $2,930. That's a $169 saving!
☘️ There's No Better Place To Escape To Than Ireland...
There's no better way to see it than on a Vagabond or Driftwood experience.
And, we think, there's no better time to start planning that special Ireland vacation than RIGHT NOW.
Still Not Sure?
Let Ciara and Emma here at VagaHQ help you. They're experts in answering all types of Ireland-related questions.
Please don't hesitate to Contact Us 😄