Dublin Literary Pub Crawl
http://www.dublinpubcrawl.com/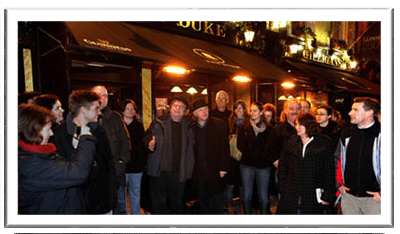 Exploring Dublin's literary heritage, and how various pubs in the capital influenced its writers. The guides are full of stories and songs that you're not likely to hear on a normal tour. From Joyce and Beckett to Oscar Wilde and more. You'll learn about the writer's backgrounds and famous works. The tour spends a short time in several pubs that were the scenes of many musings. If Parisian writers have their cafes, Dublin writers undoubtedly have their pubs.
Find out more about our favourite Dublin pubs here.
Ghost Bus Tour
Looking for a scare and some good laughs? This is the tour for you. Discover Dublin's gruesome past, all led by a guide who is also a professional actor. Spine-chilling stories of body snatching, devil worship & serial killers will be told. Time will be spent off the bus too, visiting graveyards and Cathedrals. Including a stop into Christ Church Cathedrals crypt. Did you know that Draculas was created by author Bram Stoker was a Dublin writer? A great fun experience all round.
1916 Freedom Bus Tour
http://www.1916tour.ie/1916-tour.html
Immerse yourself back in back in time, and travel around in a military-style vehicle of the day. A fun and informative tour, where both guide and driver are dressed in period costume. The small size of the tour allows passengers to interact and ask questions. There are even replica weapons, props and audio clips from the time to add to the authentic feel.
1916 Rebellion Walking Tour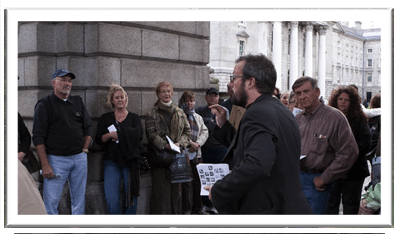 An excellent walking tour that starts at the International Bar on Wicklow Street (not far from the Westbury Hotel). Led by informative and passionate guides. They give the 1916 Rising context, by highlighting the various attempts for independence over the centuries. You'll explore significant locations of the Rising, and even check out bullet holes still visible to this day.
Viking Splash Tours
Travel around in WWII amphibious vehicles. Stick on a Viking helmet and roar at unsuspecting tourists. If you're looking for fun tour and not an in-depth history lesson, this could be the tour for you. The guides though will keep you entertained with their antics, funny stories and one-liners. While still getting an over the idea of Dublin's historic past.
Traditional Irish Music Pub Crawl
http://www.discoverdublin.ie/musical-pub-crawl/
For those looking to learn about traditional Irish music, and to tap their toes to a tune or two. This is the tour for you. Led by two professional musicians, they'll take you through the history and culture of Irish music. The guides are full of fun stories, and interesting facts, such as how Irish music influenced contemporary music. Visiting famous pubs in the Temple Bar area, that are privately booked in advance.
Dublin Bus Tour
https://www.dublinsightseeing.ie/citytour.aspx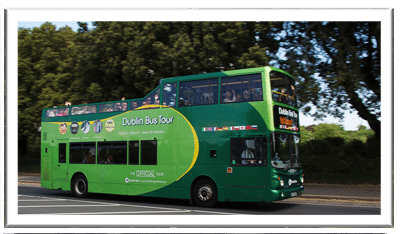 A great way and effective way of hitting all the major highlights in the city. From Dublin Zoo, the National Gallery to Dublinia and more. Dublin Hop-On Hop-Off Bus Tour has been running for over 28 years. Whether you have an afternoon or two days in Dublin. Live commentary from Failte Ireland qualified guides that narrate the history & landmarks as you go. Youll even get discounts on some of the major attractions along the way too.
Pat Liddy's Walking Tours of Dublin
http://www.walkingtours.ie/en_GB/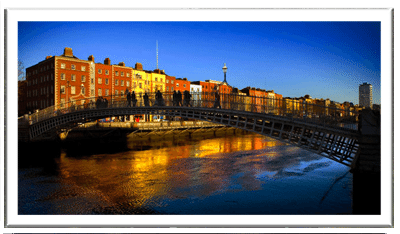 Walk off the jet lag with this tour of Dublin. They offer two English speaking tour: Dublins Highlights and Hidden Corner Tour as well as a Best of Dublin Tour. There is also a German-speaking tour available. Lasting 2.5 hours, there isn't a dull moment. The guides are known for their knowledge and great humour. Overall it will give you a great sense of Irish history and some laughs along the way.
Find about more about Irelands best cities.