The basic decisions you make early on while planning a trip to Ireland are some of the most important.
Our 7 day tour itineraries are our most popular. They pack a lot into a week and — we think — they're superb value for money.
Page between our 7 Day tours of Ireland using these quick links:
Read on, intrepid traveller, to understand the key differences between our 7 day tours of Ireland.
First Things First...
It's important to understand the key difference between our two tour styles.
On Vagabond Cultural Adventures, we'll get your heart pumping.
Your adventure will not only feature fun, history and culture but will have an upbeat tour pace. You will be able to choose from a menu of adventure activities like hiking, biking, horseback-riding and sea-kayaking.
With Driftwood Journeys of Discovery, we've dialled down the pace to give you more quality time.
You are still guaranteed laughter and relaxation, just in a more chilled style. We'll focus your experience on quaint towns, great food, traditional Irish culture, crafts and music.
You can compare our two tour styles in more detail here
So, without further ado, here are our active 7 day tours of Ireland first: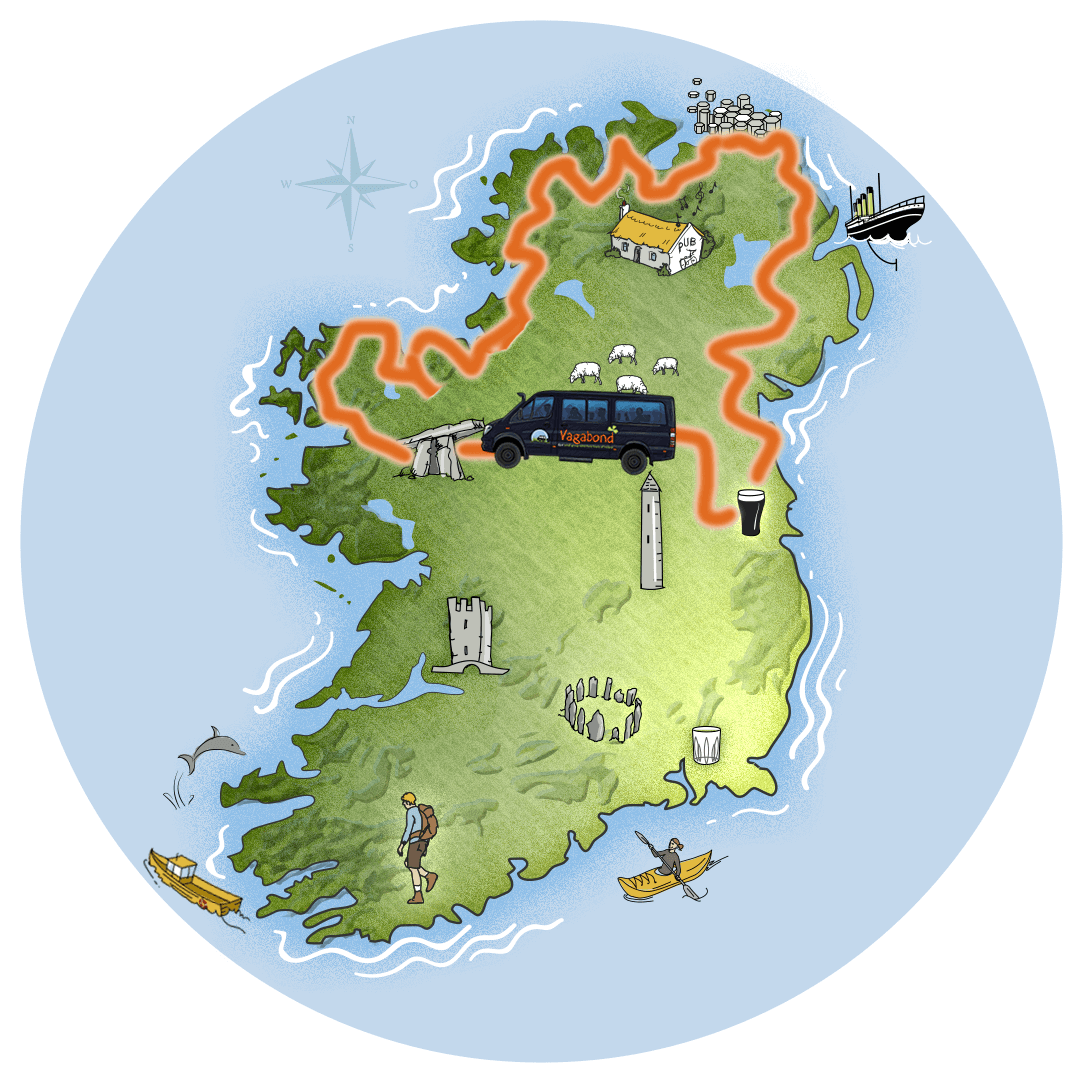 What's It Like?
Experience an in-depth north-western and Northern Ireland tour with plenty of adventure activities thrown in for good measure!
Visit Belfast and Derry/Londonderry, the twin cities located at opposite ends of Northern Ireland. Learn their history and meet their warm, friendly people.
Drive the breathtaking Causeway Coastal Route. This route through Antrim cuts into the ragged cliffs on the north of Ireland. It's equally as impressive as Italy's Amalfi Coast!
Walk on the Giant's Causeway - hear the geological story of this fascinating UNESCO World Heritage Site and the tales of Finn McCool, the legendary Irish giant, who folk tales say formed it.
Sea kayak around the Inishowen peninsula or hike across the impressive Horn Head, both in wildest Donegal.
Dive into a multitude of adventure options: horse-ride on an Irish beach in Sligo or bike the Great Western Greenway trail in Mayo.
Stand in awe at the unforgettable views at Slieve League, the highest accessible sea cliffs in Europe.
You'll Love This 7 Day Tour of Ireland If...
You enjoy travelling to less-famous, less-obvious destinations
You're fit and ready for activities
You're interested in the roots of Irish history
You'd like to see Northern Ireland
Tour Price From €1,525.50
(Single Supplement From €211.50)
Read full tour details on the 7 Day Vagabond Magnetic North Tour Page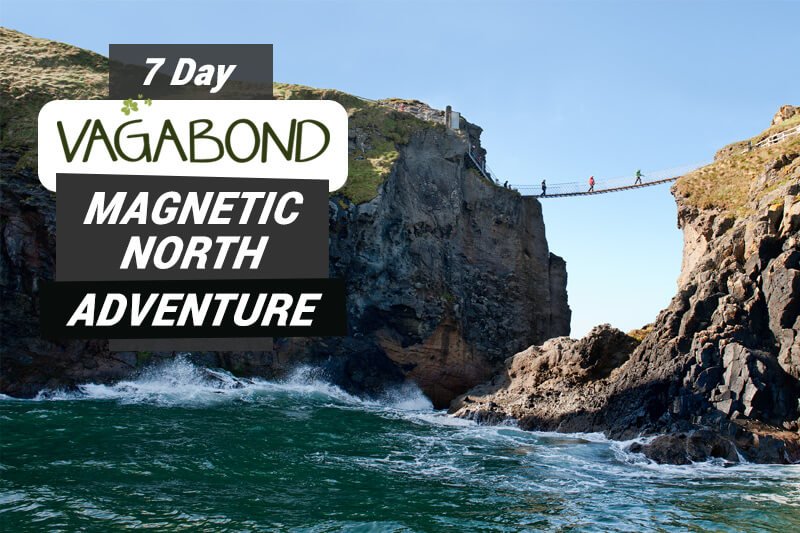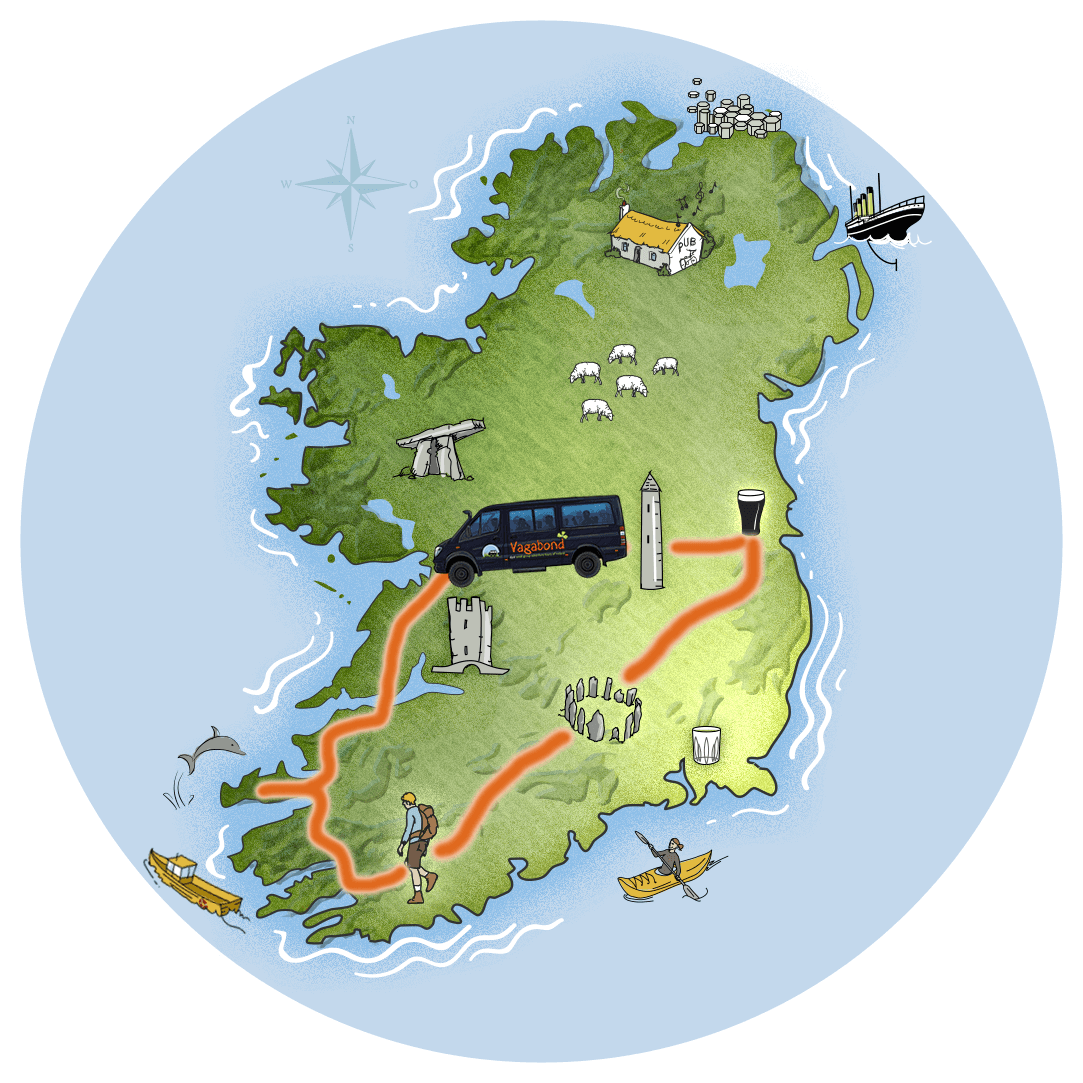 What's It Like?
This is a compact Ireland adventure tour featuring highlights from the famous Wild Atlantic Way, along with some special hidden gems in the southwest.
Explore dramatic coastal scenery – not least the majestic Cliffs of Moher.
Spend quality time in Kerry, with 2 fun nights in Dingle.
Exciting adventure options like a guided bike tour of Killarney National Park or sea kayaking in Dingle Bay.
Hop on a boat tour around the spectacular Skellig Islands.
See Ireland bucket list destinations, like Blarney Castle and the Rock Of Cashel.
Read a day-by-day tour diary for the 7 Day World Tour of Ireland
You'll Love This 7 Day Tour of Ireland If...
You've got a bucket list of top Irish sights
You're fit and ready for activities
Spectacular natural scenery is high on your priorities
Tour Price €1,525.50
(Single Supplement From €211.50)
Read full tour details on the 7 Day Vagabond World Tour of Ireland Page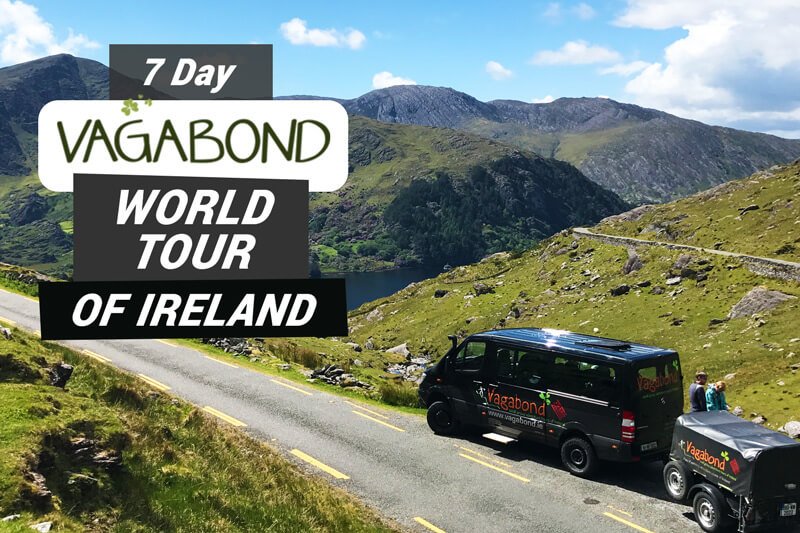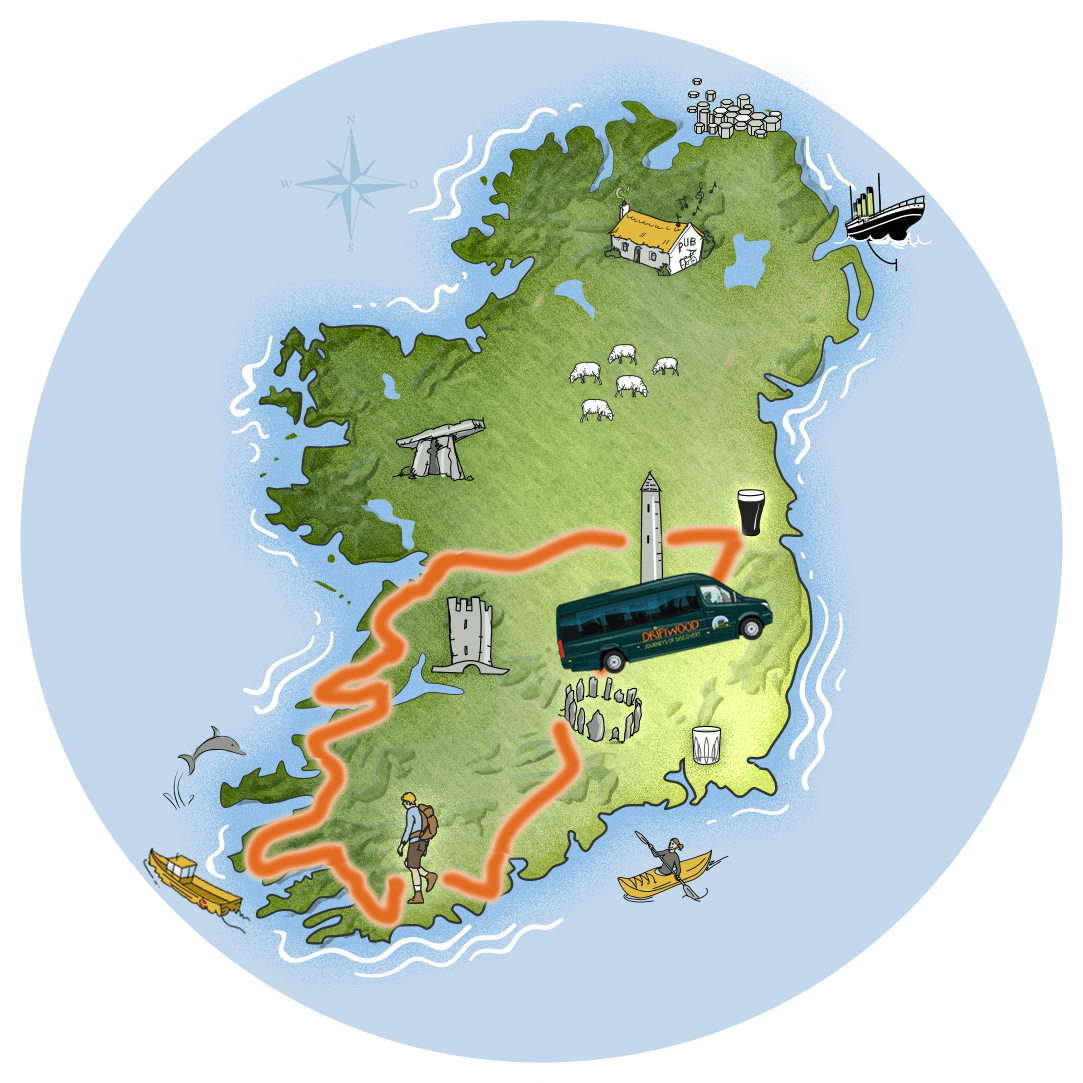 What's It Like?
Experience amazing Irish culture, ancient castles, and beautiful islands on a relaxing jaunt along Ireland's southwestern Wild Atlantic Way.
Stay in a historic Irish castle hotel
Feel the magic and see stunning sights on the world-famous Ring of Kerry.
Walk along the spectacular Cliffs of Moher.
Kiss the Blarney Stone at the elegant Blarney Castle and Gardens.
Explore delicious Irish food in Kinsale, lreland's gourmet capital.
Take a boat trip around the amazing Skellig Islands.
You'll Love This 7 Day Tour Of Ireland If...
You've dreamed of spending a night in a real castle
You want to see the famous Ring of Kerry
You'd like to stroll around quaint Irish towns and villages
You love boat trips and exploring islands
Tour Price €1,615.50
(Single Supplement From €283.50)
Read full tour details on the 7 Day Driftwood Castles & Kingdoms Tour Page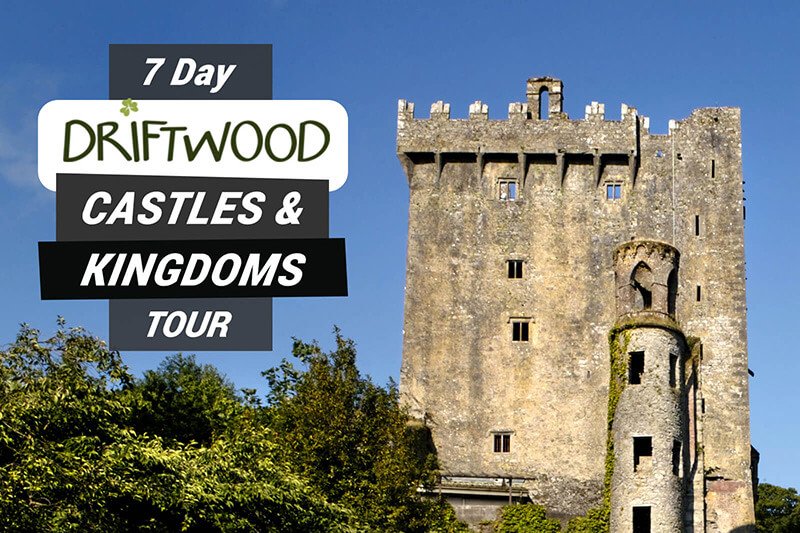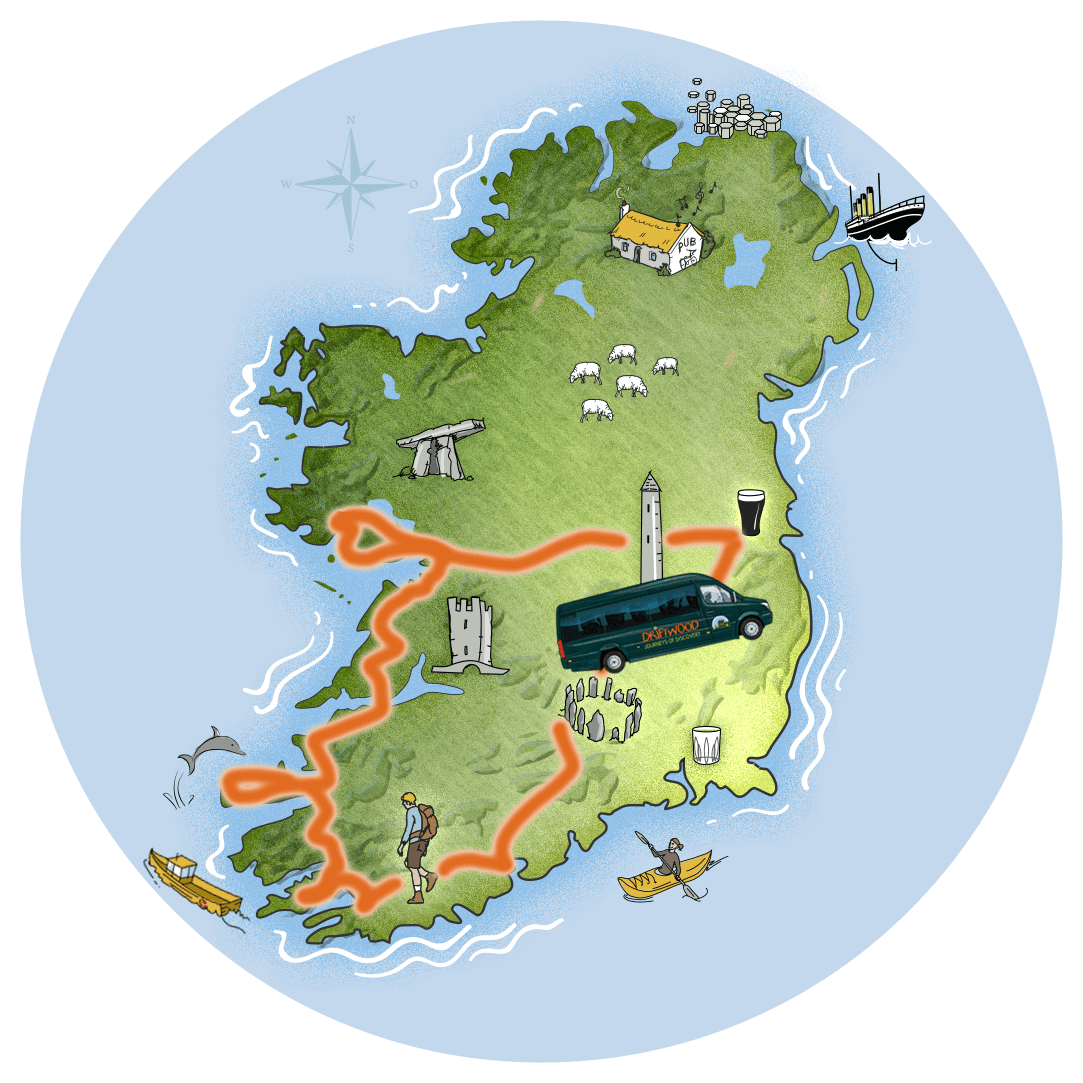 What's It Like?
See the Wild Atlantic Way and southwestern Ireland in a week, meeting friendly locals, natural scenery and Irish culture at every step.
Experience the world famous Cliffs of Moher.
Stay overnight in a Connemara castle hotel,.
Kiss the Blarney Stone to gain the "gift of the gab" - speaking as freely and eloquently as the locals!
Discover Irish crafts and "the craic" in Dingle, a harbour town of great charm and superb traditional pubs.
Enjoy a sheepdog demo on a working Irish sheep farm.
Stroll around Ireland's historic houses and quaint villages.
You'll Love This 7 Day Tour Of Ireland iIf...
You'd like to see Ireland's top sights
You dream of fantastic Irish scenery and landscapes
You'd love to sit back and relax on tour
Tour Price €1,615.50
(Single Supplement From €283.50)
Read the full details on the 7 Day Driftwood Treasure Ireland Tour Page