Who doesn't love a family vacation!?
I can still remember our family holidays from back in the day. The west of Ireland was our destination. My parents and siblings still talk about them fondly, to this day.
These types of family holiday trips are the stuff dreams are made of; where a lifetime of memories are forged.
In my former life as a VagaGuide — that's tour guide, driver guide and superhero rolled into one — I was lucky enough to be a part of some truly epic family tours of Ireland.
Ireland offers the ultimate playground to spend precious downtime with your loved ones and new-found friends.
This is the story of one such tour...
Back in the summer of 2018, I welcomed not one, but two, very special families for a 7 Day World Tour of Ireland.
☀️ Forecast: Heatwave
Apart from the families involved, this particular tour promised to be extraordinary because of one factor — admittedly, quite an important one — the weather.
Ireland happened to be simmering in its hottest spell of sunshine for 75 years. Weeks of cloudless skies had followed weeks of cloudless skies.
Temperatures were holding steady each day in the high 20s °C (low 80s °F).
(In case you didn't know, under normal circumstances, us Irish break out the beach towels whenever temperatures hit the mid-60s).
And I had a large tub of Factor 50 sunblock packed (for myself).
🚦 Ready, Steady, GO!!
Come hither, intrepid traveller.
Step aboard our rugged VagaTron tour vehicle to join the best family tour of Ireland ever.
Get ready to go — take a deep breath! — horse-riding, kayaking, dancing, singing, drinking, laughing, jumping, swimming, sightseeing, offroading and eating our way around the wonderful island of Ireland.
🌊 Day 1 - Clare and The Cliffs of Moher
The first morning of any family tour of Ireland is busy.
At the Grand Canal Hotel in Dublin, we meet our guests, load luggage, carry out safety checks and get everyone settled in.
As I greeted the Berry and Wright families, something just felt Berry Wright (sorry, I couldn't resist).
Jerry and Chris Berry were chaperoned by their three children, Katie, Megan and Rachel.
Tim and Beth Wright brought along their three kids, Max, Sam and Cate.
Along for the 7 day road trip of Ireland were one lucky couple, Missy and Pat, as well as Mark, a solo traveler.
From the get-go, conversation was flowing.
The craic was 90, as we say here in Ireland.
Without further ado, we set off and headed west...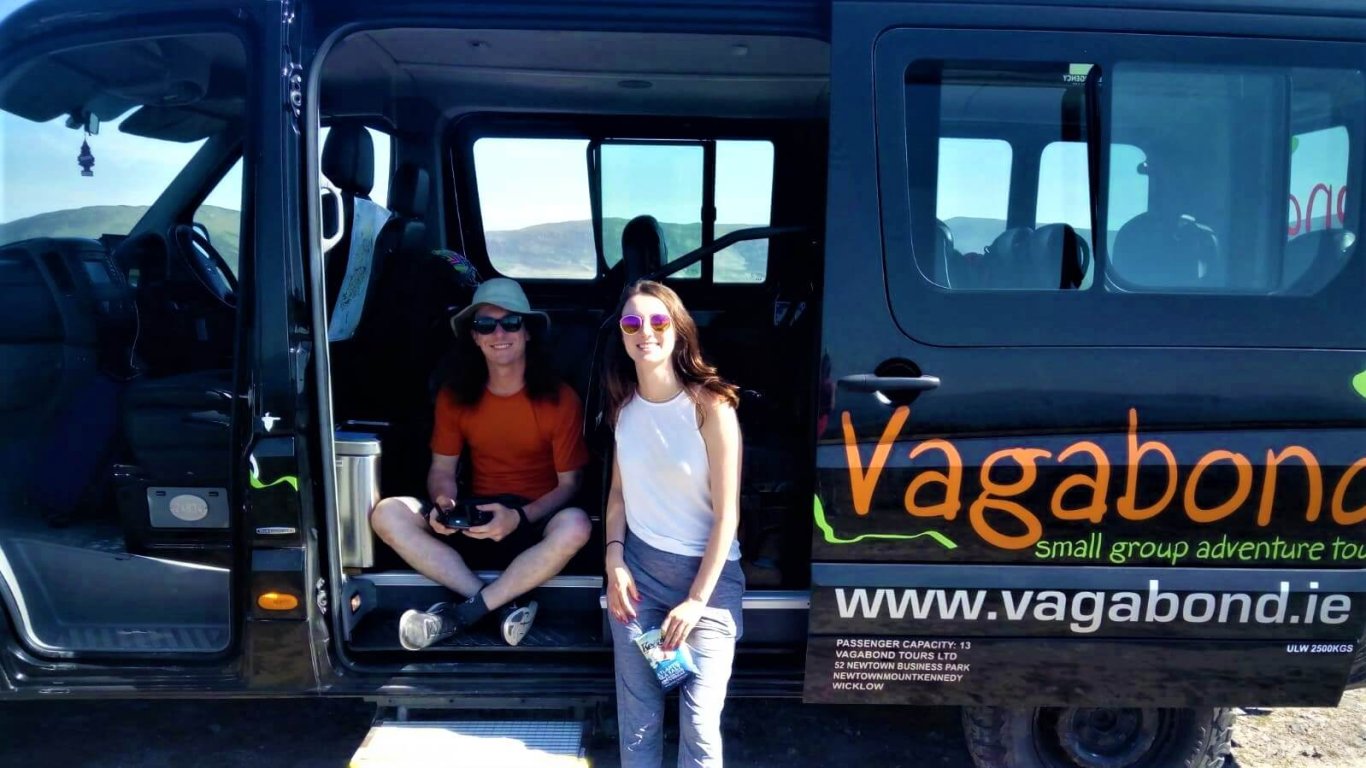 Lunch was set amid the bohemian magic of Galway city.
We circled Galway Bay to reach the ancient landscape of the Burren, before crowning a busy first day gazing out from the mighty Cliffs of Moher.
By the time we had reached our first night's accommodation at Spanish Point, our VagaTron contained one big happy (and hungry) family.
🤐 Day 2 - Secret Cliffs and Fun Hikes Down To Dingle
Each and every morning, Spanish Point House lays out what is arguably one of the best breakfasts in Ireland.
Nay, the world!
With a long and busy second day stretching out ahead of us, we made sure to fill up before hitting the road.
First stop was one of my favourite scenic spots along the Wild Atlantic Way. The heavenly Kilkee Cliffs are unbothered by the regular tourist trail — tell no-one! — and so perfect for a coastal hike on a beautiful morning.
Continuing to wind south, we stopped off in historic Tralee for lunch. That was the prelude to another hike, this time in the verdant, virgin valley of Annascaul.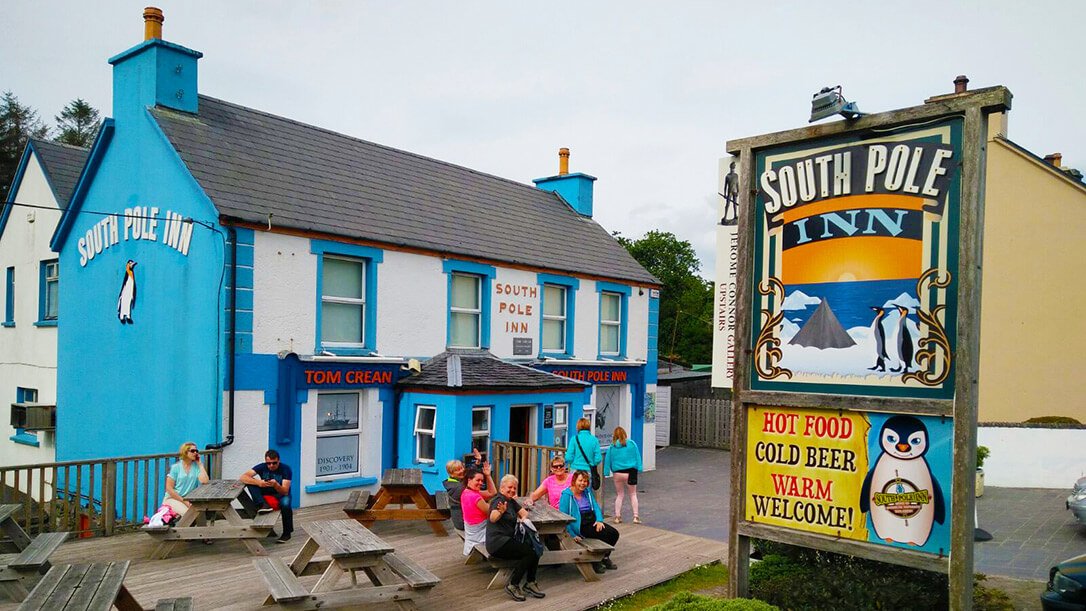 As a professional tour guide, and given we were in the midst of a heatwave, I allowed plenty of time for my guests to rehydrate.
That this hydration came in the form of ice cold beers at the South Pole Inn is of no import!
Feeling refreshed and inspired by the day's wandering, we headed to Dingle.
Dingle is a fun town in the western part of Kerry, renowned for its fun atmosphere, traditional music scene and amazing Irish pubs.
🛶 Day 3 - Epic Things To Do In Dingle For Families
Sea kayaking and horseback riding.
Pubs and great food and music and having the craic.
Blazing sunshine. And all on the spectacular Dingle Peninsula.
Sure, where else would you get it?
Dingle is one of the absolute best regions for any family tour of Ireland. The peninsula is far enough from Ireland's cities to feel wild and untamed.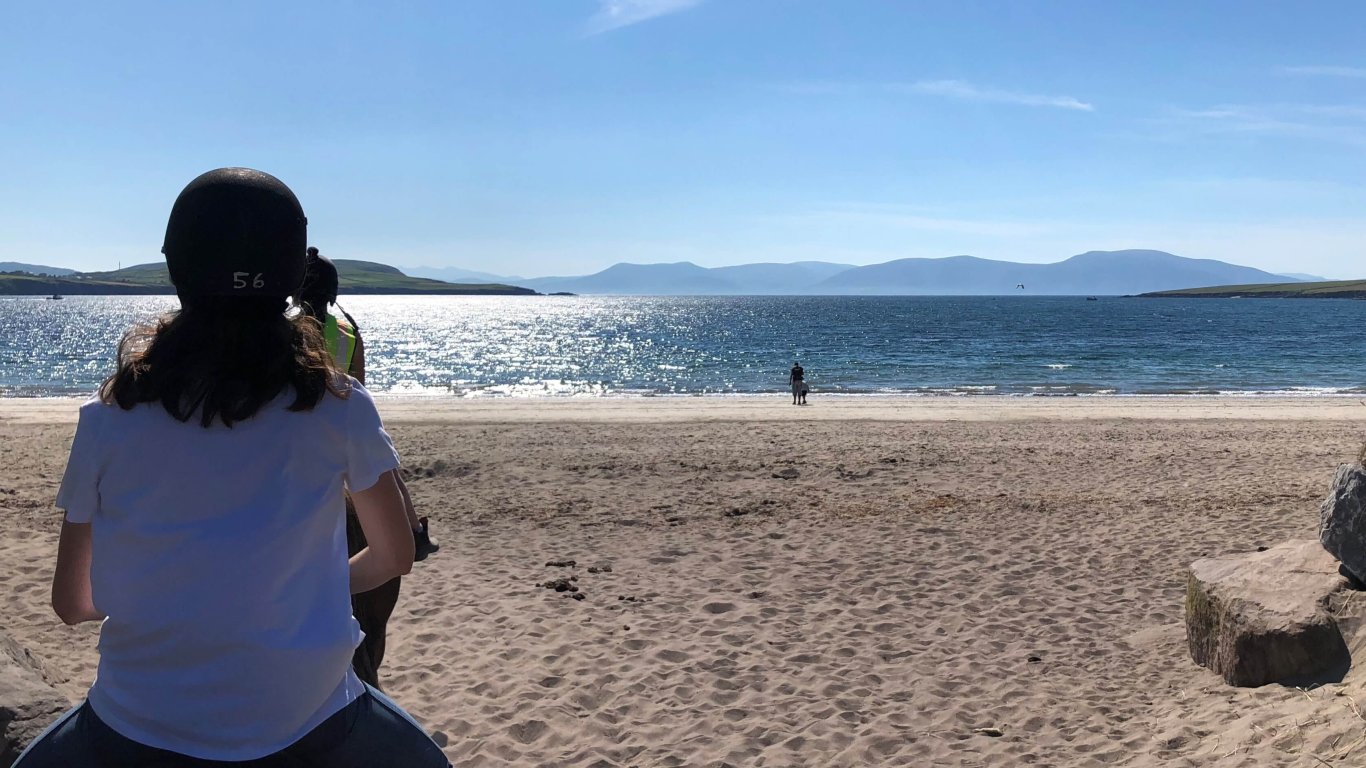 Yet the compact town centre offers civilisation in spades.
There are restaurants to suit all budgets and tastes. You'll find wine bars and craft studios and book shops. And not a chain store or franchise to be seen. Dingle even has its own small-but-perfectly-formed aquarium.
Then there are the pubs...
Dingle is overflowing with legendary drinking holes. Evenings in a real Irish pub are golden. Musicians strike up a tune. Stories and friendship flow as smoothly as the stout.
Run out of cement? No problem! Drop into Foxy Johns, a traditional Irish pub housed in a still-functioning hardware store.
Brown bread gelato anyone? How about a cone of Dingle Gin or Irish Orange Marmalade ice cream?
Indulging in a creamy Murphy's ice cream (or two) is basically compulsory when down this neck of the woods. Our family group followed that particular rule to the letter!
Remember to fit in time for Dingle Bay. This beautiful stretch of water gives Dingle that maritime X factor. You can hop on a tour of the bay by boat or take a sea kayaking lesson to watch the sun sinking over the horizon. It's heaven!
After two nights in Dingle, this was shaping up to be the best family tour of Ireland ever!
All bathed in glorious sunshine. In IRELAND?!
Dreams really do come true.
🚵‍♀️ Day 4 - Biking, Off-Roading and Ancient Stone Forts
Day 4 and it's time to burn off some of that delicious, calorific Irish food.
We hopped, skipped, and jumped over to Killarney National Park for a guided bike tour.
This easy-going experience takes up to three hours, with plenty of stops to explore waterfalls, discuss wildlife, learn about the wonders of mosses and even dive into a limestone cave or two.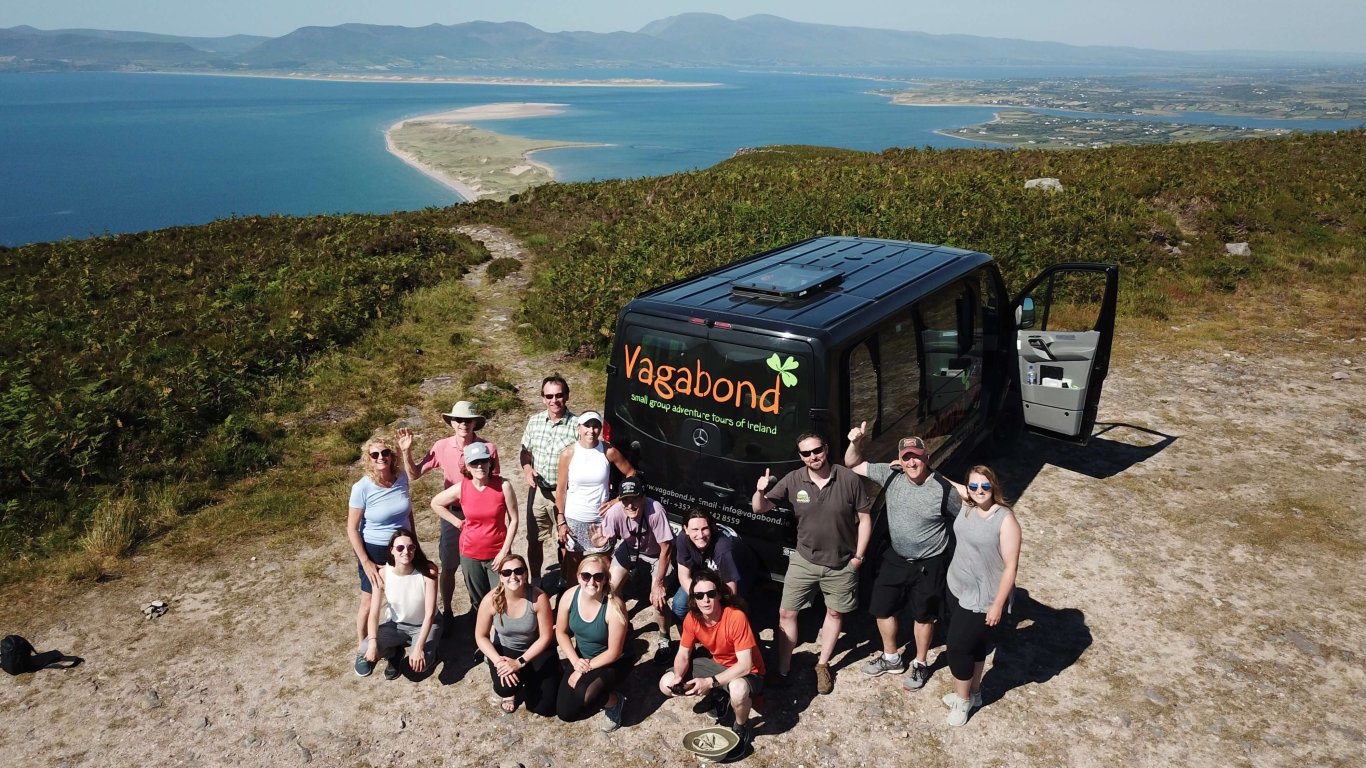 After lunch, we headed out onto the famous Ring of Kerry touring route. To avoid the big bus tour traffic, I led our group on a detour to a spectacular viewpoint. F
orget your tour itinerary for this one! The location is a closely-guarded VagaSecret...
After testing out the off-roading abilities of our VagaTron 4x4 tour vehicle, we soaked up what must be some of the best scenic vistas in Ireland. Max Wright got his drone in the air and the results can be seen above.
On then to Cahergall.
This is a well-preserved, 7th century stone fortress located right on the Wild Atlantic Way. A heavenly day reached its conclusion in the idyllic fishing village of Portmagee, a perfect venue for some Jedi-spotting.
🥾 Day 5 - Family Fun On The Ring of Kerry
Could this family tour of Ireland get any better? Day 5 answered with a resounding YES!
This morning, we arranged for half the group to visit the mind-blowing Skellig Islands. This bucket-list experience is not on the standard 7 Day World Tour of Ireland of Ireland itinerary.
But, hey, we are a famously flexible tour operator and always aim to please.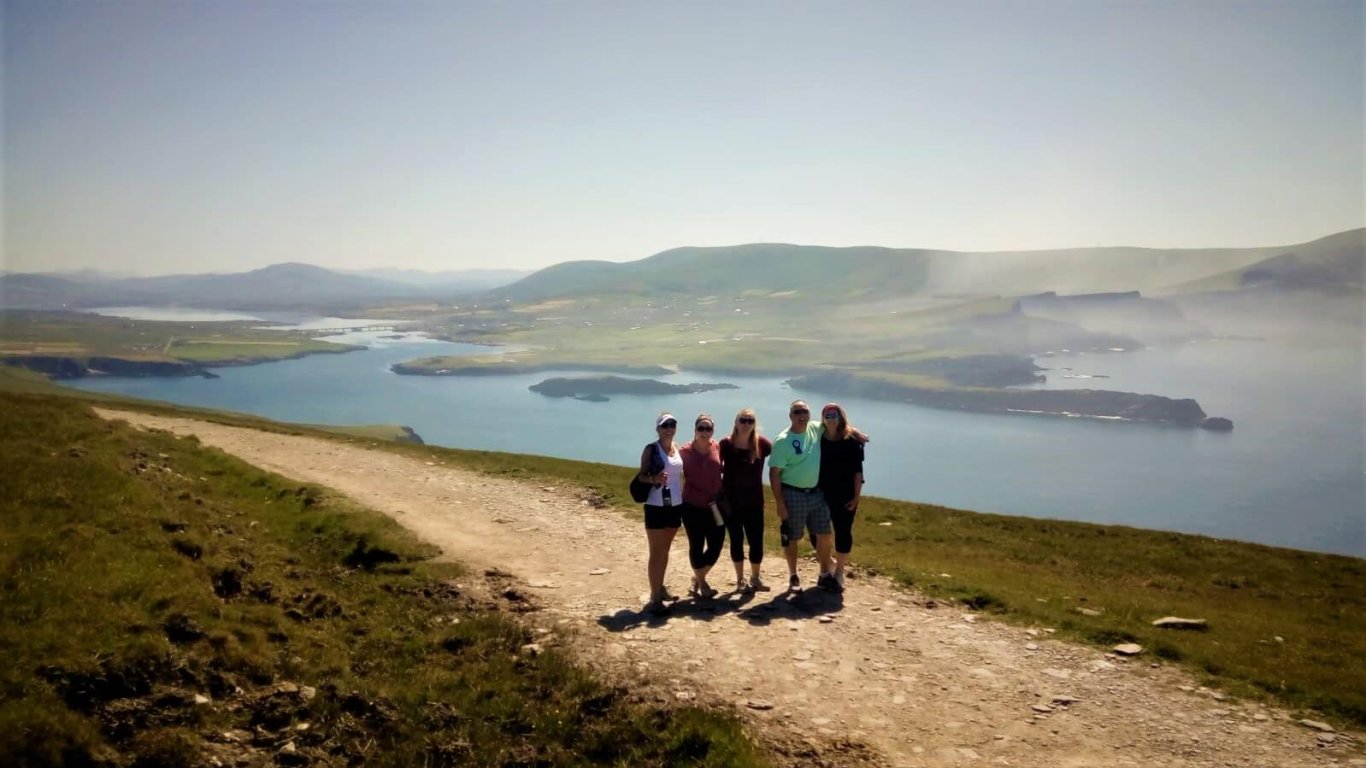 For the rest of the gang, the alternative was no less appealing.
We took an incredible hike across to the ocean-facing side of Valentia Island to feast our eyes on another unfathomably lovely view.
After soaking up some more of the sun's precious rays, we headed back through the epic scenery, chatting up some local cows along the way.
On then for a picnic lunch before dipping our toes in the Atlantic Ocean at the tropical Derrynane beach.
🏞️ Day 6 - Dancing Down The Beara
Day 6 dawns on possibly the greatest family tour of Ireland known to humanity.
What else would you find yourself doing other than dancing around a stone-age monument, hidden in the rugged hills of Kerry, first thing in the morning?
Welcome to Uragh Stone Circle.
This thing is crazy old. Over 4000 years at the last count.
It's also teeming with mysterious pagan vibes. No one really knows what it's for, not even the experts.
It just felt right to honour our Celtic ancestors with an impromptu jig; a solemn moment captured on camera for all eternity by Max's drone.
Awestruck, we had only recovered somewhat before heading out onto the Beara peninsula.
This rocky, raw and beautiful peninsula straddles Kerry and Cork at the very western edges of Europe on the southern end of the Wild Atlantic Way.
💋 Day 7 - Goodbye Kisses
What? Day 7 already? How did that happen?
We ended our trip at a guest favourite: Gougane Barra.
This serene valley lies deep in the hills of West Cork.
The family-owned and operated Gougane Barra Hotel is a perfect example of everything we look for in our accommodation options: a glowing welcome, traditional comfort and a delicious, locally-sourced, home-cooked menu.
The scenery ain't bad either.
Max Wright flew his drone again to shoot the beautiful footage above. Thanks Max!
A family tour of Ireland just wouldn't be complete without a smooch at the Blarney Stone. It's de rigueur.
After that bucket-list experience, we turned north for Dublin, gracing the mighty Rock of Cashel with our presence en route back to Ireland's capital.
The miles fell away as our gang shared memories, limericks, and jokes all the way.
The craic and laughter was still going right up to the steps of the Grand Canal Hotel, where it had all began so many good moons ago.
☘️ ...But Don't Take Our Word For It!
What did Beth Wright think of her family trip to Ireland?
"We look back at our 'Ireland Adventure' as one of the best trips ever! We did so much and everything we did was wonderful. It was perfect for our family, physically active with a focus on the natural beauty of Ireland"

"What impressed me with was how 'un-touristy' the tour felt. The tucked-away hiking spots, the uncrowded parks, and the sweet inns and hotels. The size of the group made it special and we had great trip mates!"

"We had fantastic weather which didn't hurt. Okay it was a heatwave!
Friendships were forged. Memories were made. Dreams came true. This had truly been a spectacular week exploring a magical land. I felt honoured to have been a part of such an expedition.
It really had been a Berry good week where everything went Wright!
Maybe the best aspect of taking a family tour of Ireland is the fact that we take care of everything.
After you've chosen which Vagabond Cultural Adventure is for you, all that's left for you and your family to do is sit back and enjoy.
Planning a special Ireland trip? Learn more about our private and family tour options