Hello there, I'm Priscilla 👋
This 7 day tour of Ireland was my second time travelling with Driftwood, following my 11 Day tour back in 2019.
In this day-by-day diary, it's just like you're on tour with me!
Like our group, you'll find out lots of insider travel tips and fascinating historical nuggets about Ireland.
Discover why Kerry is called 'The Kingdom' and Galway is known as the 'City of the Tribes'.
On our route through southwestern Ireland, prepare to be amazed by the landscapes, the cliffs and the natural friendliness of local people.
Now, join me as we embark on 7 full days of fun, laughter, companionship, history, amazingly small roads and magnificent scenery!
Cliffs of Moher, The Burren & Galway City - Day 1
Pulling away from the tour pick-up point at the Grand Canal Hotel in central Dublin, we get to know our driver guide.
Ed the Red — yep, you guessed it, she sports red hair — will combine the skills of driver, tour guide and storyteller-in-chief for the next 7 days...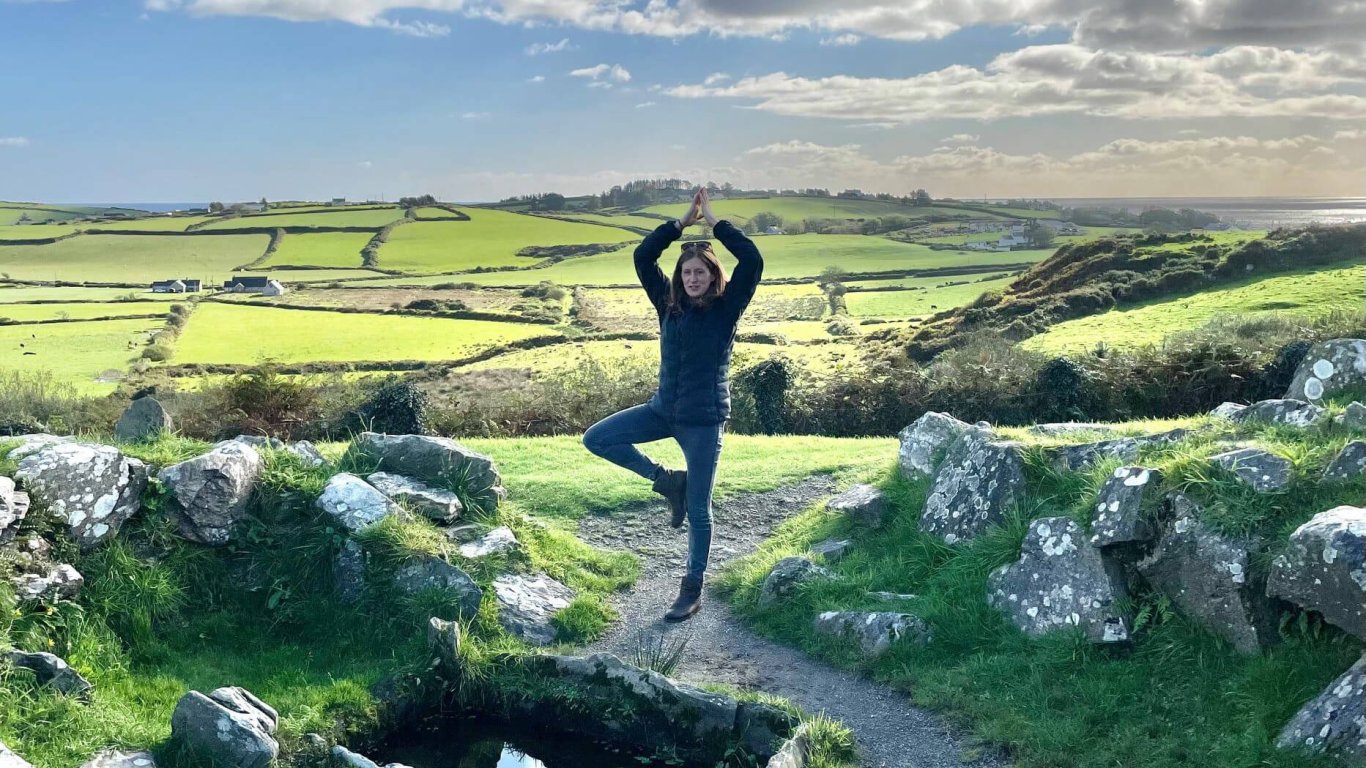 Along our winding route through western and southwestern Ireland, we'll be travelling on a comfortable 15-seater Mercedes tour vehicle.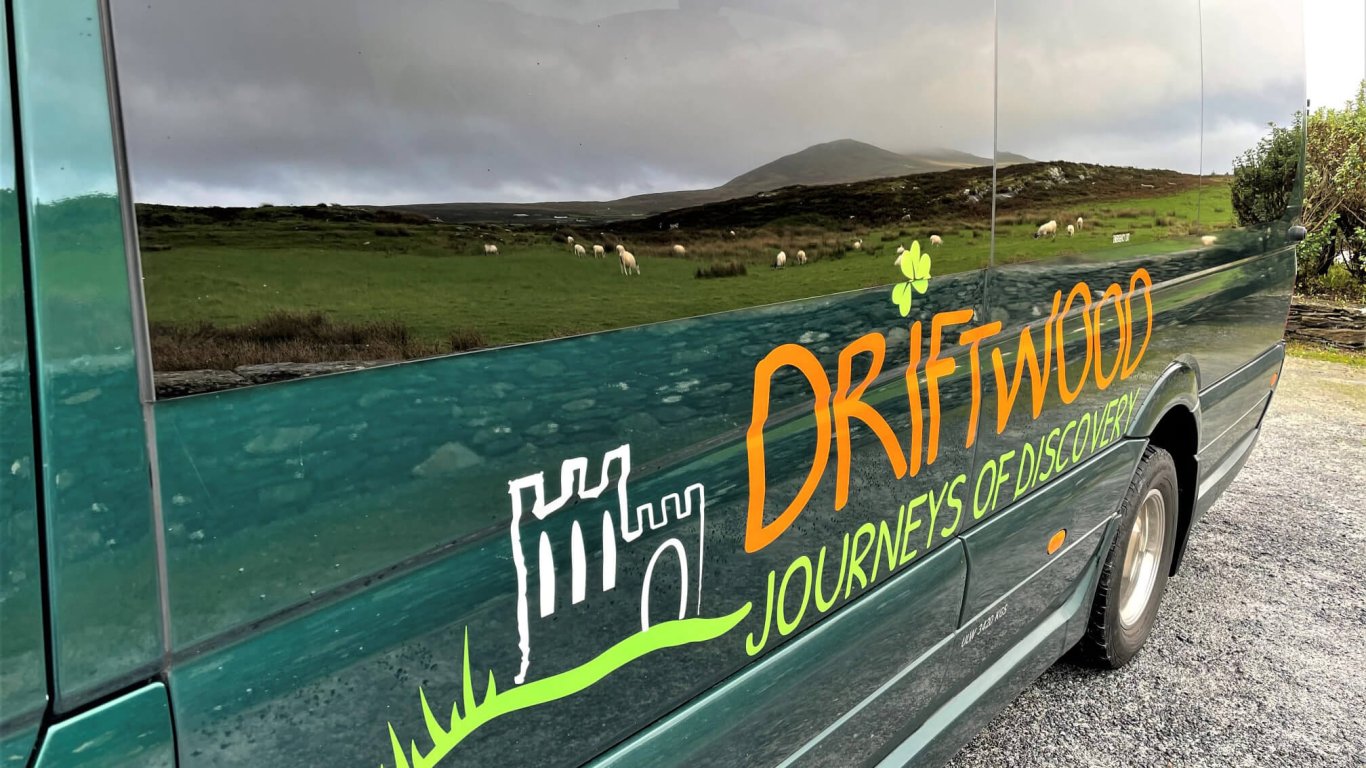 Ed has the western city of Galway in our sights; a smooth 3 hour drive away.
Top Priority... An Irish Pub!
Midway between Dublin and Galway, we make a quick stop at Sean's Bar, located in the town of Athlone.
Sean's Bar is not just any old Irish pub.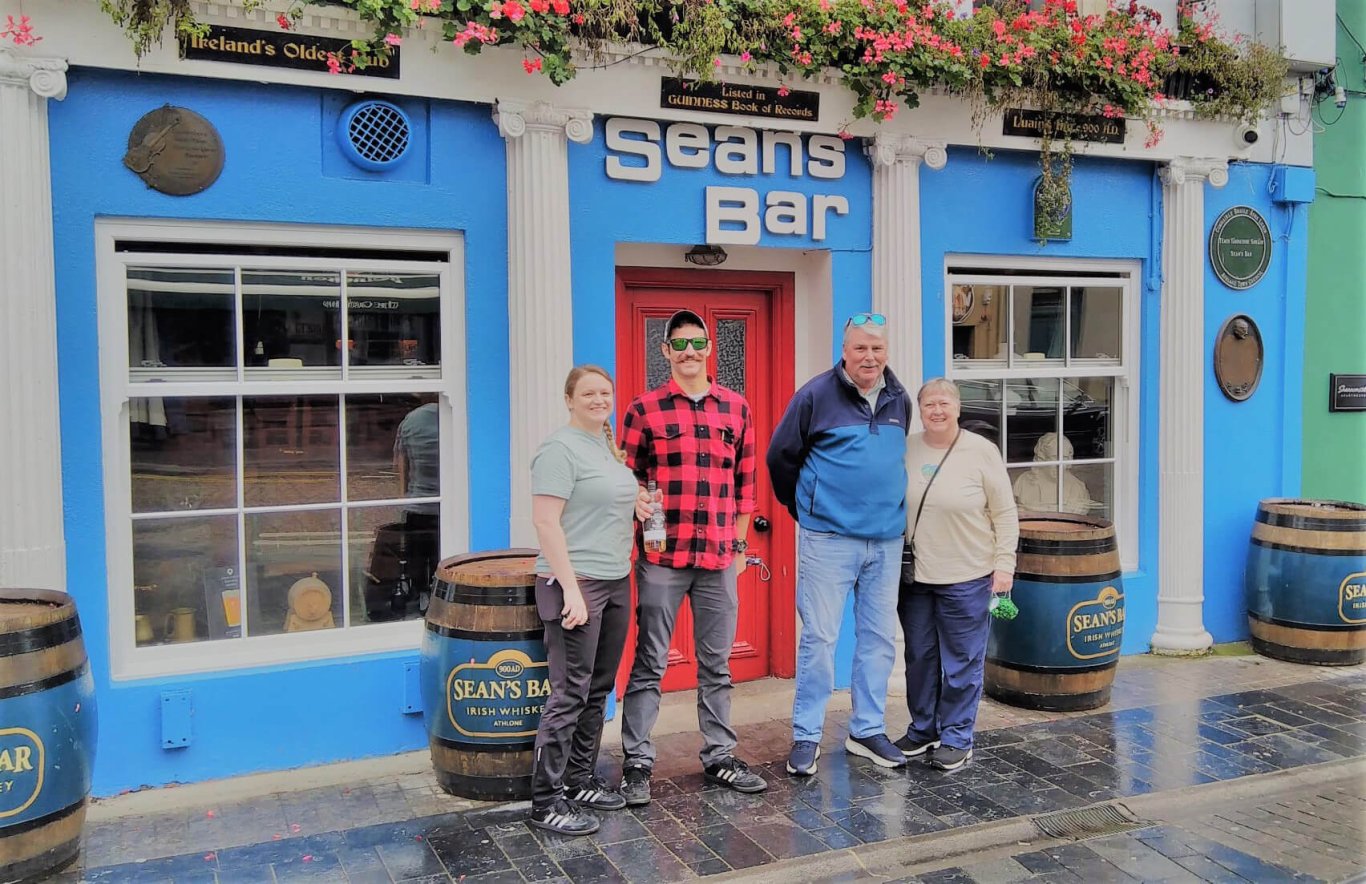 Its proprietors claim it to be the oldest pub in Europe and, quite possibly — if Sean's website is to be believed — the world!
Unfortunately, our luck is out and it's too early on a Sunday morning for this traditional Irish pub to be open.
But we snapped a cool photo and got back on the road!
What We Did In Galway
We arrive in Galway just in time for lunch.
Our first impression is that Galway is a compact, but funky, city.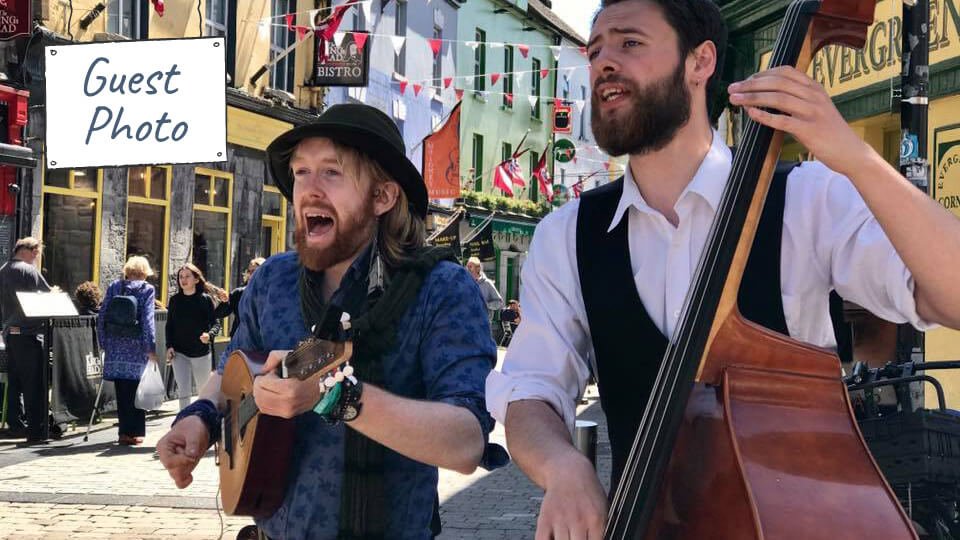 Buskers play music on Shop Street. There are food markets and craft shops; genuine bohemian vibes!
For lunch, we grabbed outdoor seating at a nice pub.
Galway is a great place to indulge in some people-watching, while enjoying a pint and some pub grub.
Why Is Galway The City Of The Tribes?
Ed tells us that Galway is known as the 'City of the Tribes'.
The story goes that the area was controlled by several merchant families in the 17th century.
Around this time, infamous English ruler, Oliver Cromwell, invaded with a massive military force.
Cromwell wrongly assumed he was insulting the merchant families by labeling them 'the tribes'. But instead of being offended, they embraced the title.
The rest, as they say, is history!
Castles, Castles Everywhere
Speaking of history, you better get used to exploring castles.
The small towns and countryside of Ireland is full of living historical gems!
Leaving Galway and heading south around Galway Bay, we enjoyed a quick photo stop at Dunguaire Castle.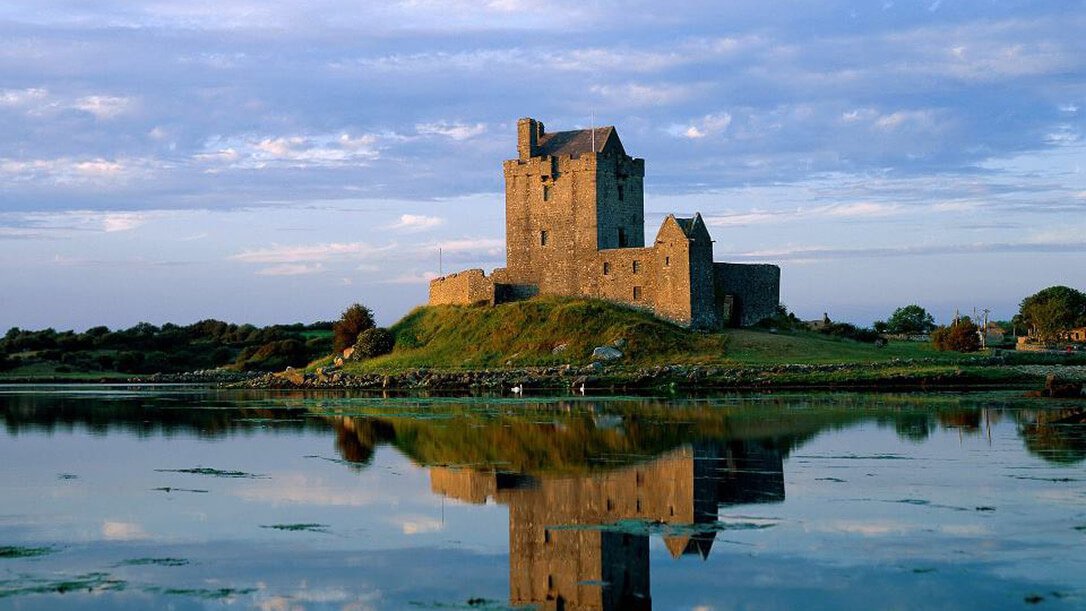 This impressive 16th century tower house castle was viewable only from outside but it was still well worth the stop.
Dunguaire Castle strategically guards the sea approaches to the small harbour town of Kinvara.
The Burren
Shortly afterwards, we arrive on the fringes of the Burren region.
You will be able to tell when you are in the Burren because the landscape changes so dramatically.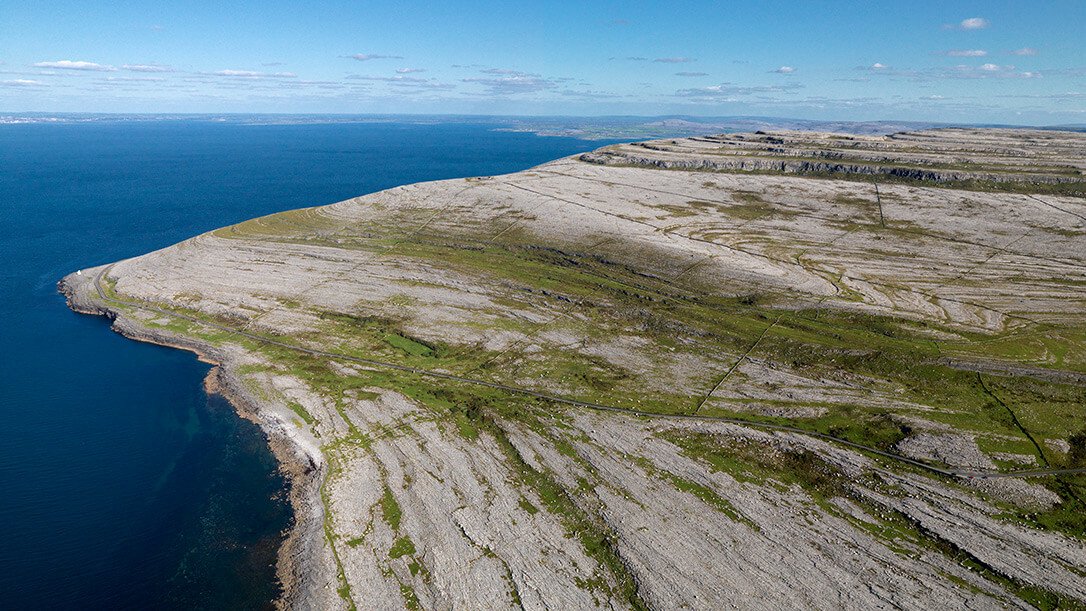 This vast, rocky limestone area looks barren. In contrast with neighbouring areas, the Burren has very little vegetation or trees. Yet it is a rich habitat, home to many animals and flowers.
Burren, or boireann, means 'rocky land' in the Irish language. The clue is in the name!
One Reason Irish Butter Tastes So Good
One of Cromwell's scouts — yes, him again! — reported of the Burren that,
"There isn't a tree to hang a man, water to drown a man, nor soil to bury a man, yet the cows are fat."
The treelessnee of the Burren is still true today.
But so is the part about the cows! Cattle who are lucky enough to live in the Burren are naturally healthy and well-fattened.
This is because the lower, seaside parts of the Burren region are frost-free.
Grass grows all winter and the cows don't need to be housed inside or fed with substitutes, as is the case with most modern farms.
So go ahead and have another slice of hot-buttered soda bread to celebrate!
Poulnabrone Dolmen
Archaeologists have learned much about ancient Irish society from the burial customs and bones enshrined at portal tombs, of which there are over 200 in Ireland.
The Burren is home to one such amazing ancient wonder; the Poulnabrone Dolmen.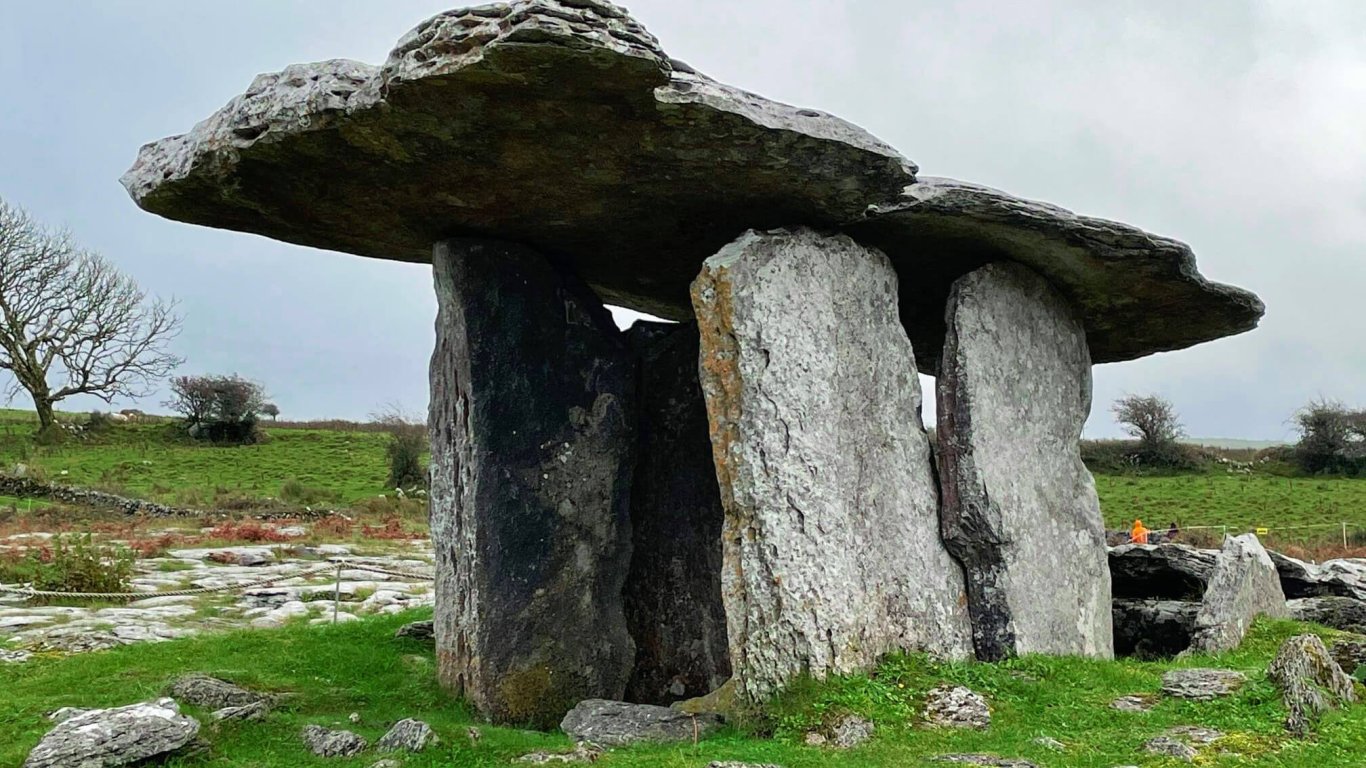 This ancient portal tomb dates back to the New Stone Age (Neolithic) era, 2,500-2,000 BC.
That's over 4000 years ago!
Poulnabrone stands at a high point in the Burren and the landscape around it is bleakly beautiful.
The Cliffs of Moher
Back on our Drifter — that's what Ed calls the Mercedes van we're travelling on — we continue west.
This is the very edge of Clare, where the mighty Atlantic Ocean encounters the jagged western coast of Ireland.
Of course, this is where we come upon the iconic Cliffs of Moher.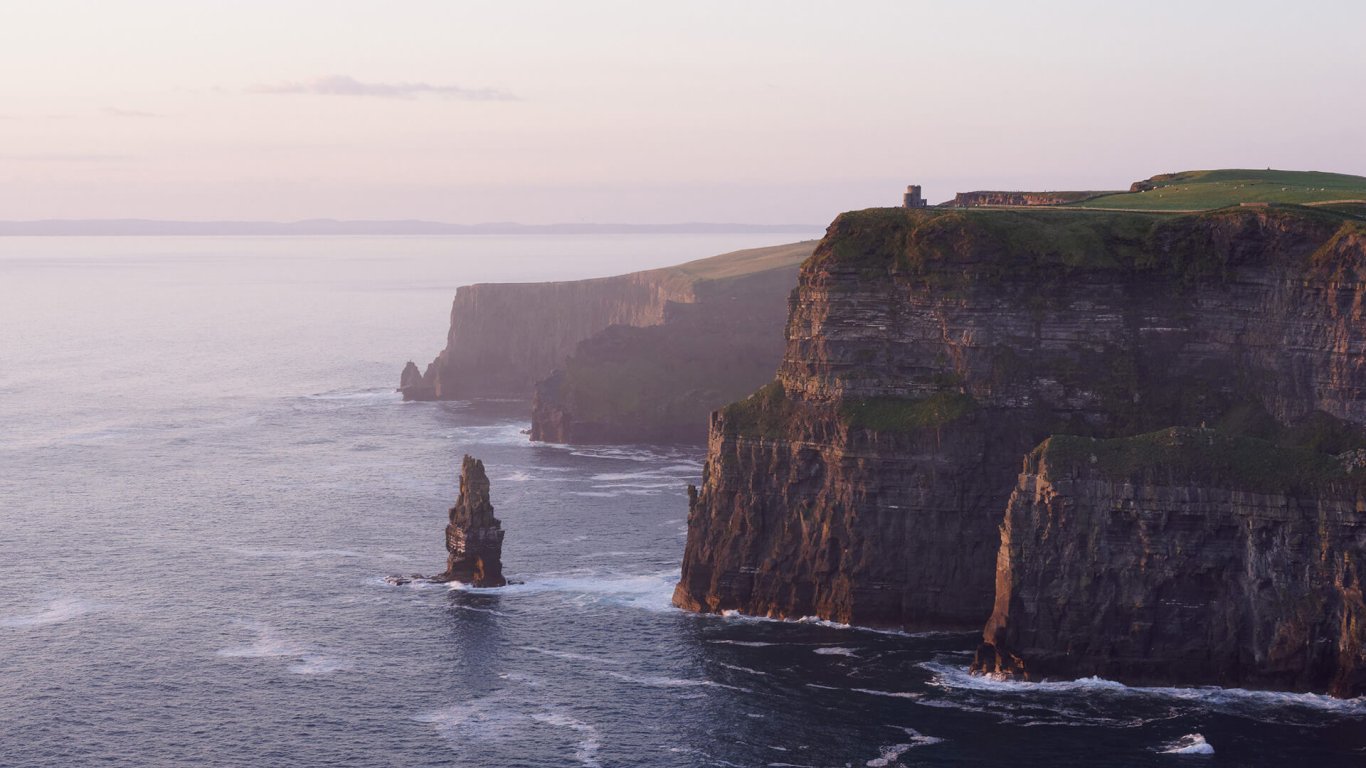 Rising 702 feet (213 metres) out of the waves, these sea cliffs create a dramatic contrast between land and ocean.
Spanish Point
It's the end of day 1. A quick drive that skirts the coast south of the Cliffs of Moher brings us to the nearby village of Spanish Point and the Armada Hotel.
What a beautiful place to relax and enjoy a wonderful view!
We get fed and rest up, with more Irish scenery and adventures on the menu tomorrow.
Castle Stay, Sheep Farm Tour & Boat Trip - It's Day 2!
We start our morning with a great breakfast and an even better view!!
The Armada Hotel is located right on the ocean. Their dining room had such a nice view that it was hard to tear ourselves away.
But tear ourselves away, we did!
Ed, our VagaGuide, led us further south along the coast of Clare this morning.
At the Cliffs of Kilkee, we stopped to, in Ed's words, "stretch our legs."
We took a short hike up to the top of this bluff where we could look back and see how the ocean had cut into the land, forming these dramatic cliffs.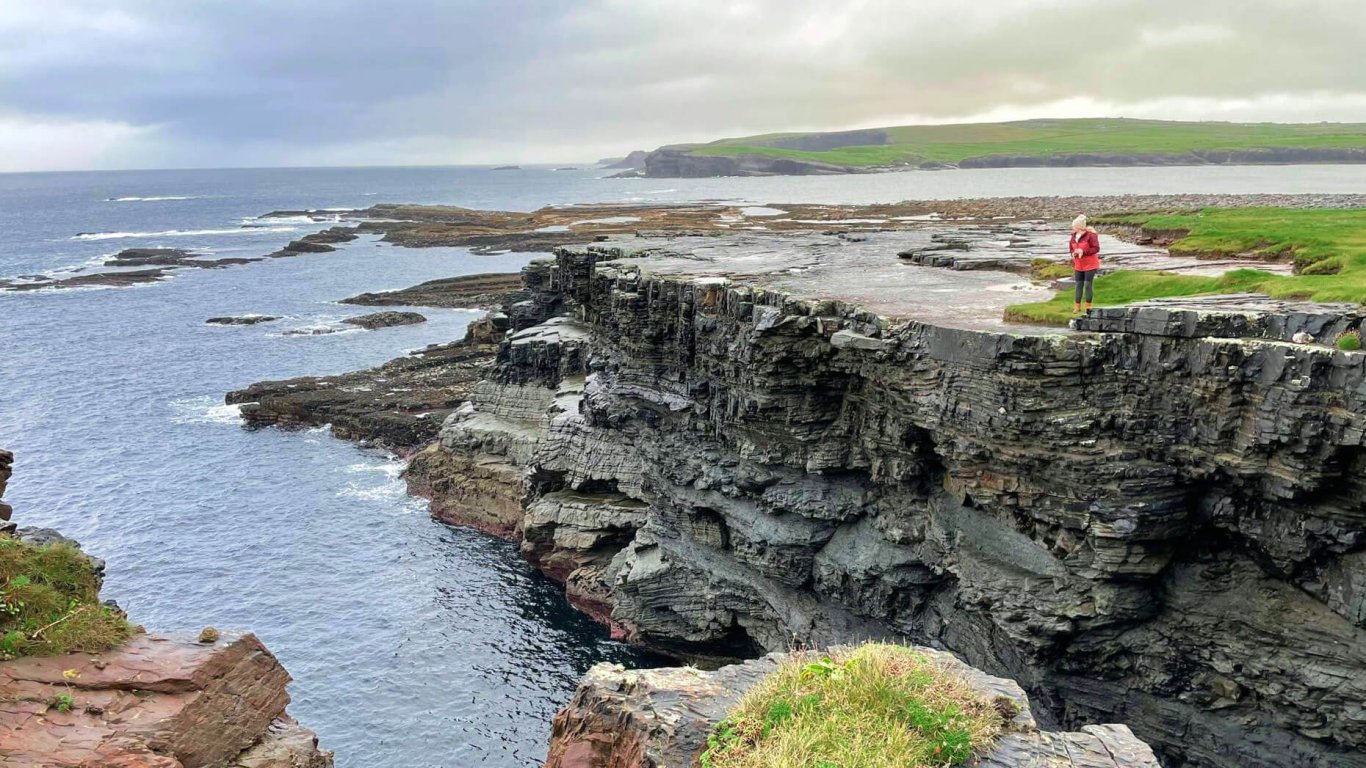 The Ferry To Kerry
Crossing the River Shannon was next on the car ferry.
It was a windy day. The breeze 'restyled our hair' (for free!) as we climbed to the top deck of the ferry to take in the view.
After a 20 minute ride, we arrived in the "Kingdom" of County Kerry.
The Kingdom!
The historic region of Kerry has been known as "The Kingdom" in Ireland since the first century when the O'Connor clan took control locally.
It's said in Kerry that,
"There are only two kingdoms, the Kingdom of God and the Kingdom of Kerry."
Our first Kerry stop was in Tralee. This town is the home to the traditional "beauty" pageant, The Rose of Tralee.
Originally, only women from Tralee were able to participate. These days, the Rose of Tralee can be any woman with Irish birth or ancestry from around the world.
You may have heard the song, Rose of Tralee.
In downtown Tralee, there is a nice park with a very large rose garden that we walked around after lunch in town.
Touring in October at the time of our visit, most of the roses were gone.
However, we did enjoy the beautiful hydrangeas and some fall foliage.
Irish Sheep Farm Tour
Next stop, West Kerry Sheep Farm!
On this beautiful farm, you will meet Seamus and Bridget with their multitude of sheep, border collies and many other animals.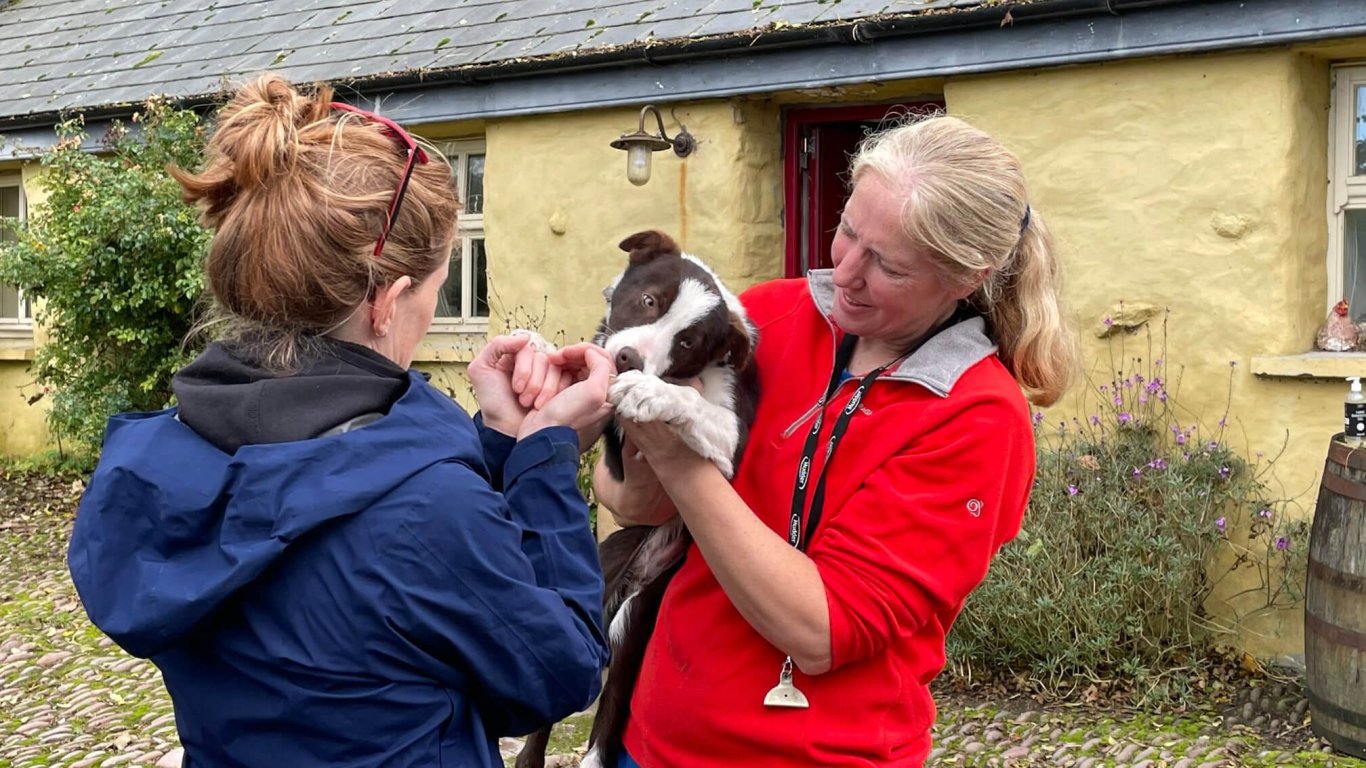 The two owners each have a favorite dog that they have expertly trained. These amazing dogs help them get the sheep back down from the mountainside up to three times a year!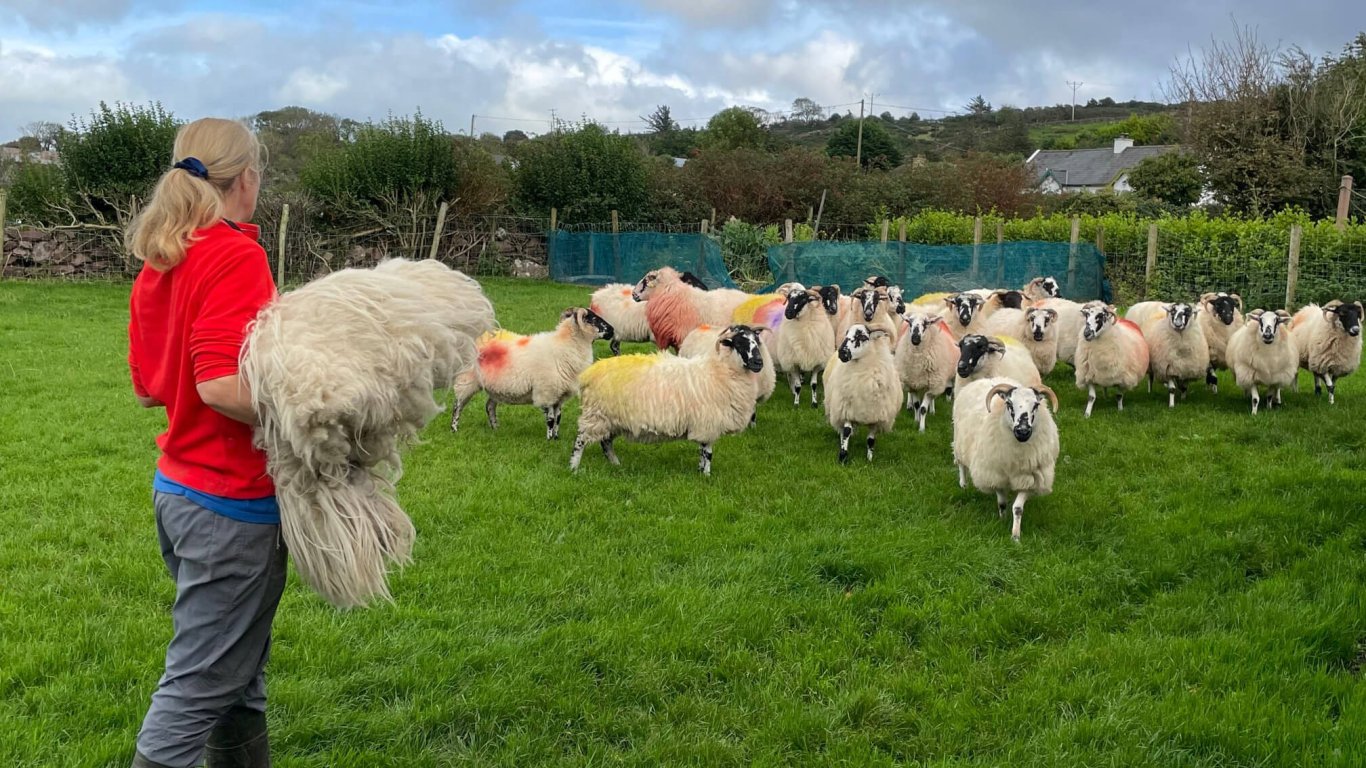 The love of Seamus and Bridget for their animals is heartwarming.
We loved feeding the sheep, as well as their demonstration of herding and the sheep-shearing process.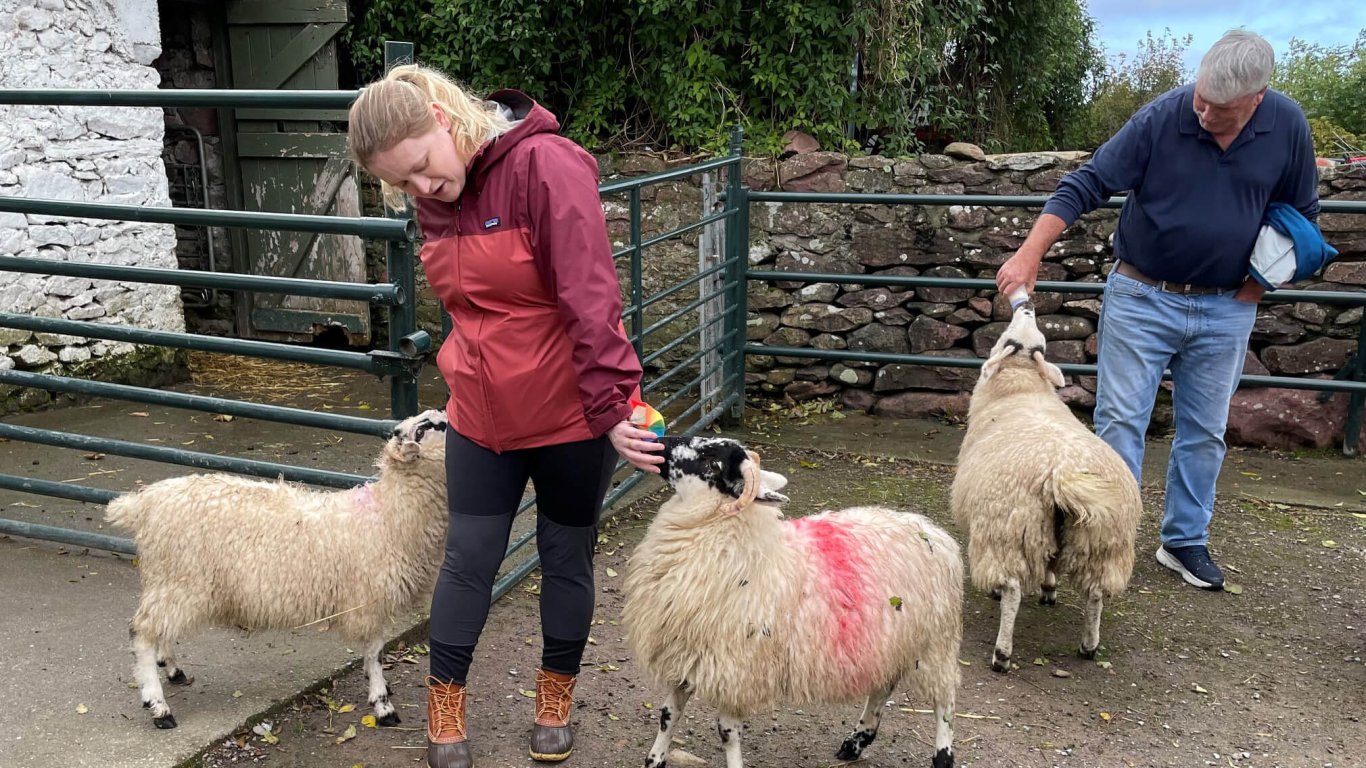 South Pole Inn
Next stop was South Pole Inn, a pub that was started by an Irish hero, Tom Crean.
His story is told in the book, Unsung Hero.
Tom Crean was an intrepid and hardy member of three Antarctic expeditions in the early 20th century.
He finally returned home to Annascaul where he opened this very pub; the South Pole Inn.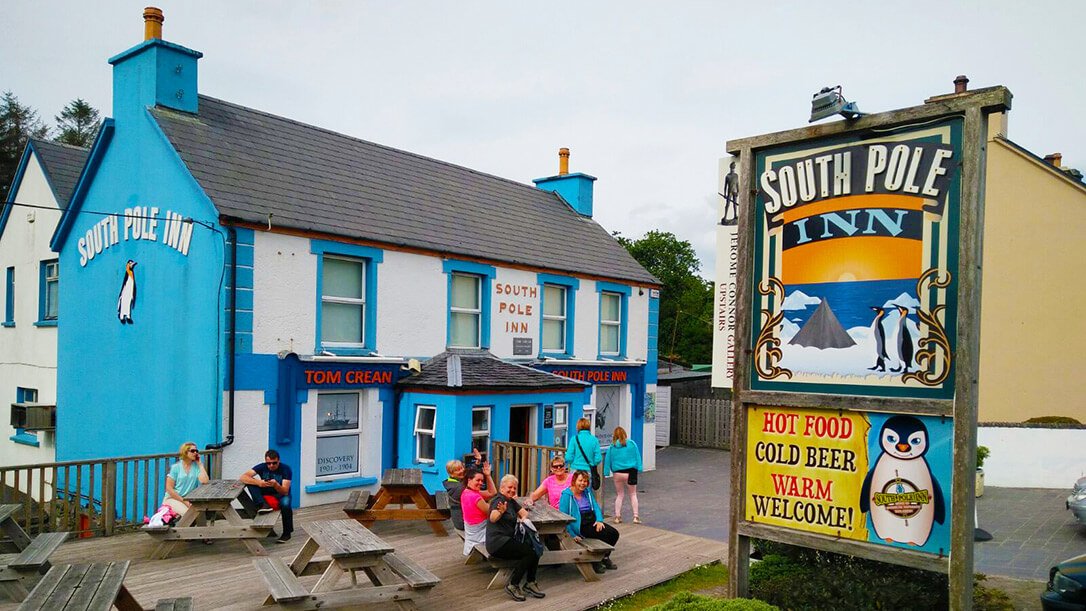 We were able to go inside the pub and enjoy a pint in honour of this Irish hero.
A quick stop at Inch Beach allowed us adventurous ladies — the men were too chicken — to dip our feet in the bay.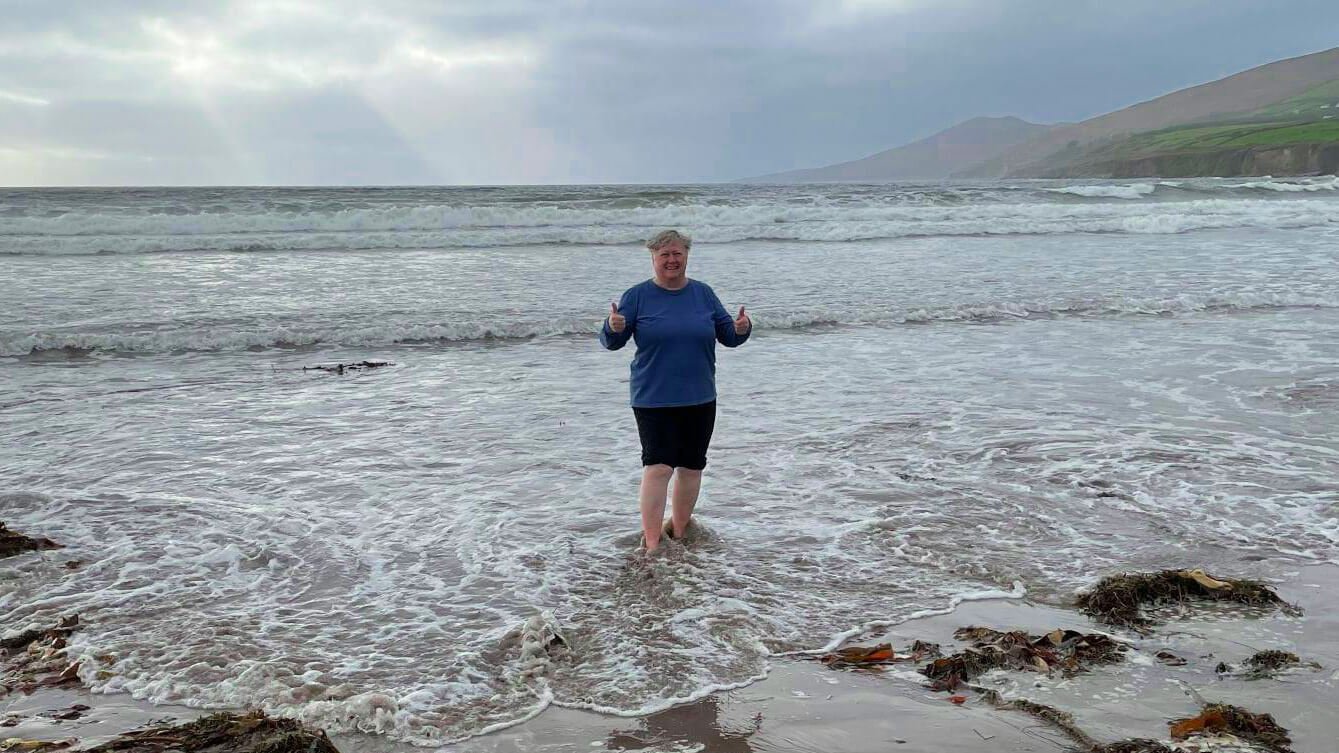 What temperature is Irish seawater in October?
Definitely not as cold as the ocean in Maine in the summer; I speak from experience!
Castle Hotel Stay In Ireland
We overnighted on Day 2 at one of Ireland's most romantic hotels, Ballyseede Castle.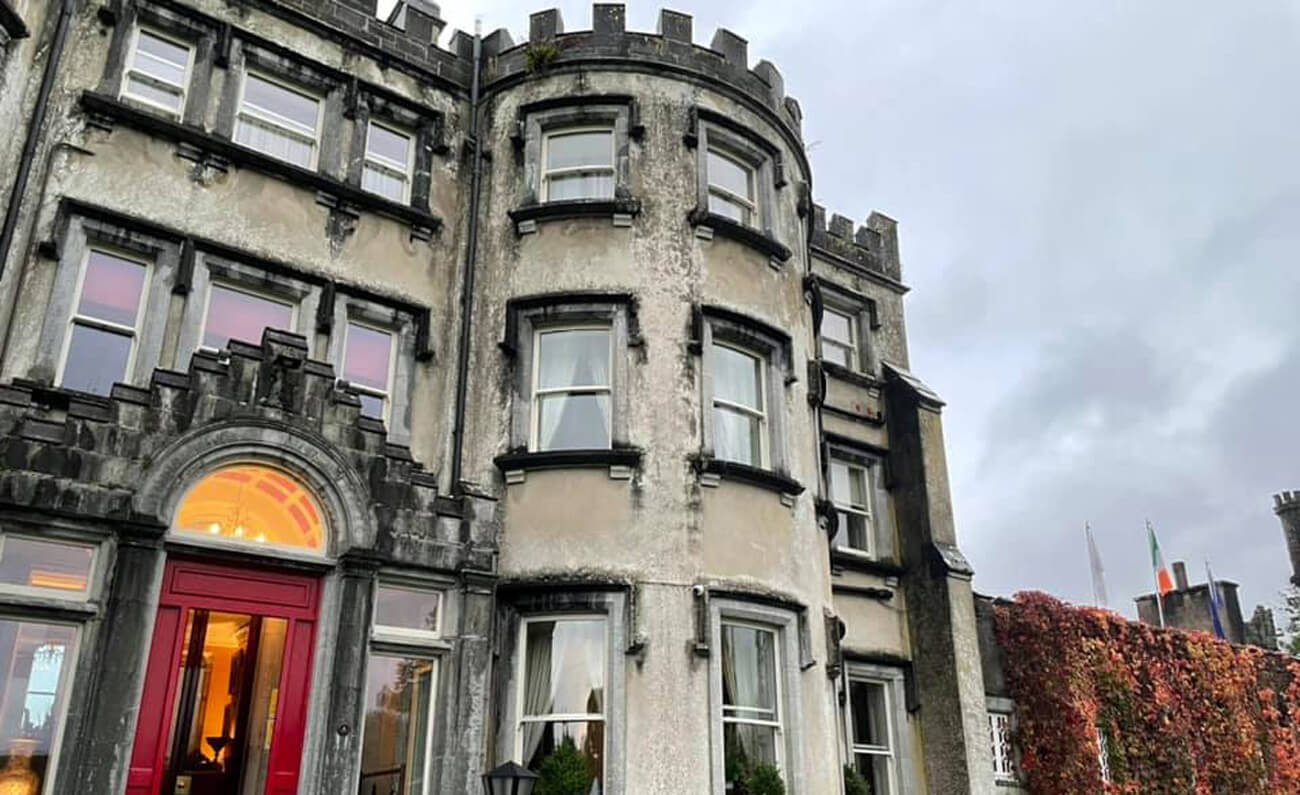 Your castle stay at this atmospheric venue comes complete with a resident ghost called Hilda!
We sprung for the 5-course dinner in the formal dining room after a fun round of cocktails in the bar with our touring group.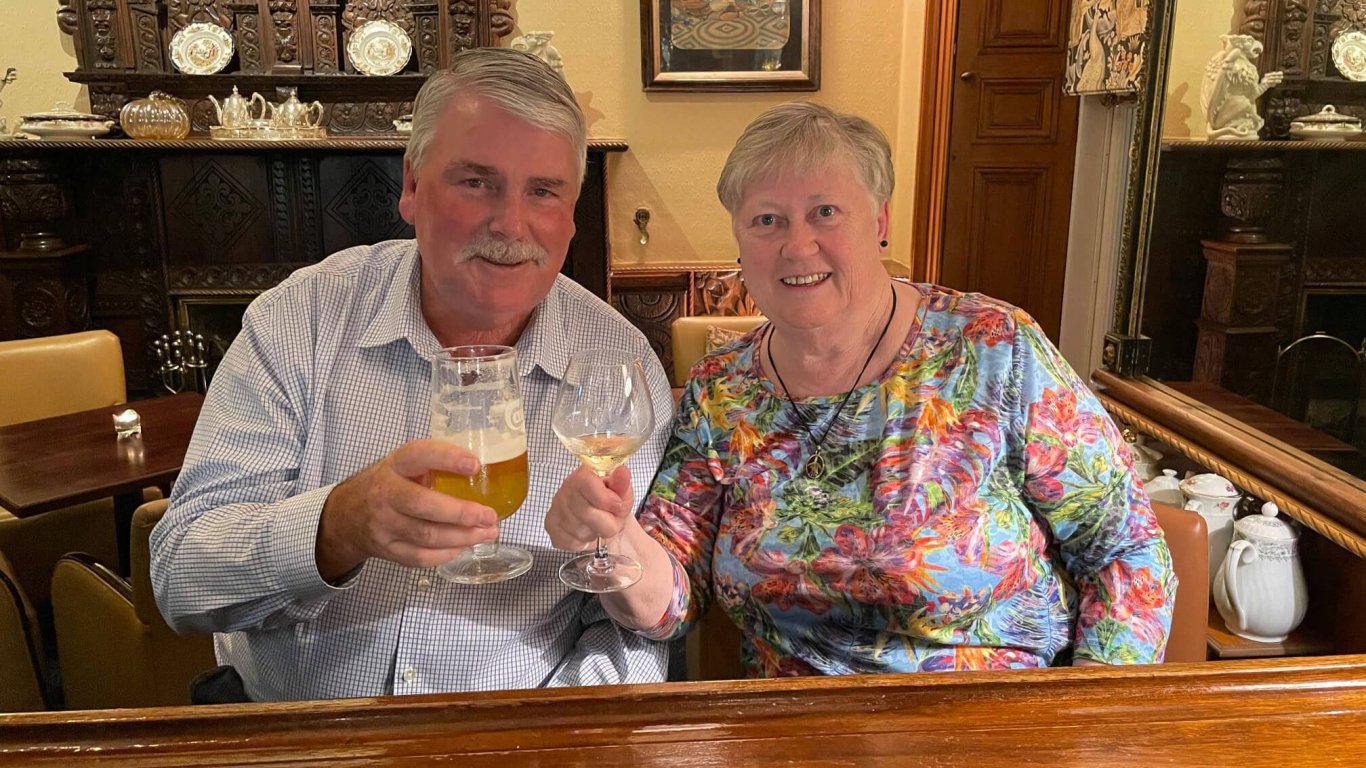 Ending the evening with yummy desserts made for a wonderful second day's touring.
That night, my husband insisted he heard the ghost, Hilda, opening and closing doors.
I think it was the wine talking!
Touring Ring of Kerry, Valentia & Skellig Islands - Day 3
Visiting an ancient stone fort in Ireland should be exciting enough.
But when the weather is misty, the experience becomes extra magical!
We climbed to the top of Cahergall Stone Fort to take in some amazing views of the countryside.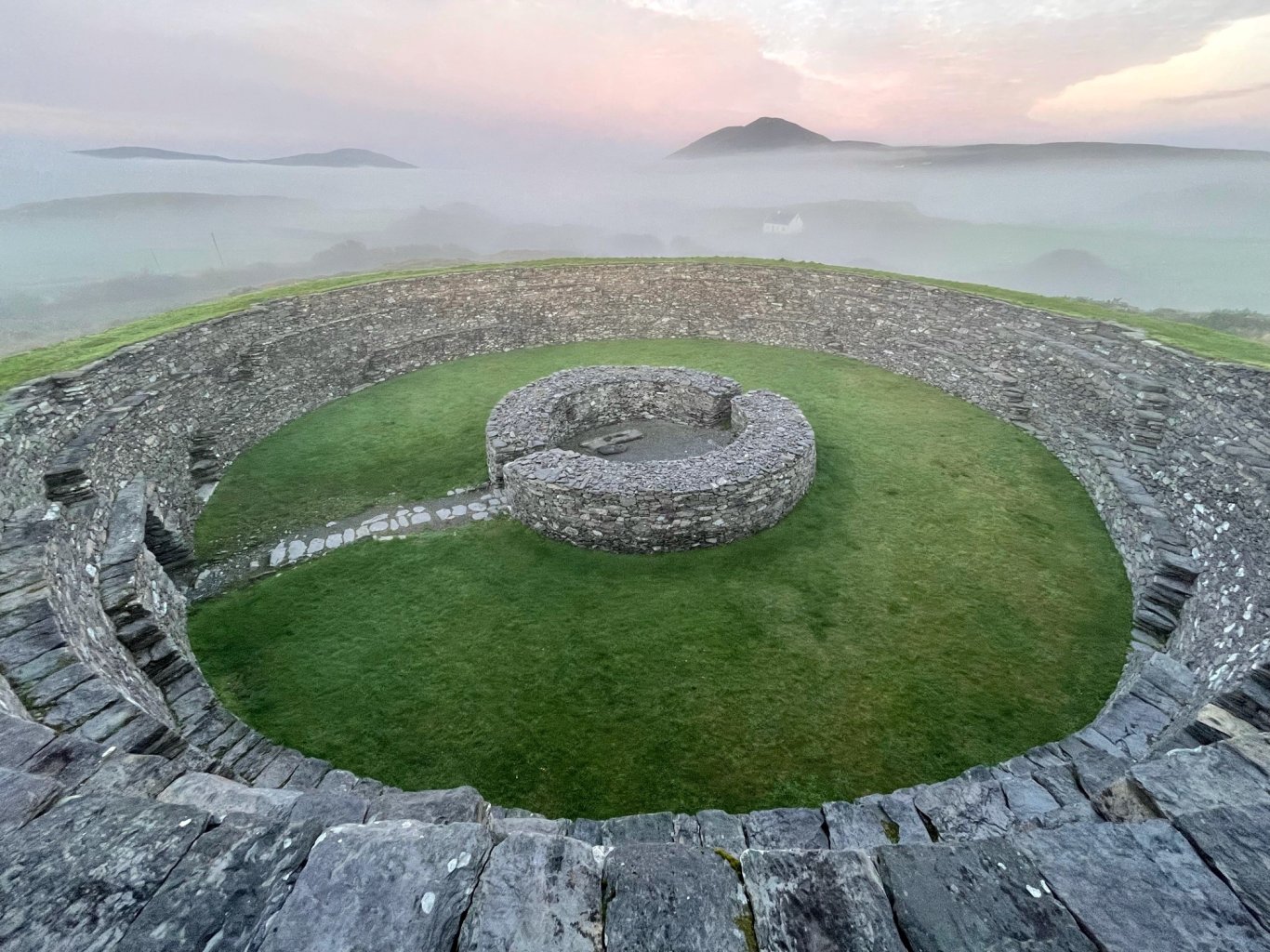 These types of stone forts were built as enclosed farmsteads.
The walls were a defensive feature, normally protecting a house inside, as well as the residents and animals.
Not too far away, the towering remains of Ballycarbery Castle were visible in the distance.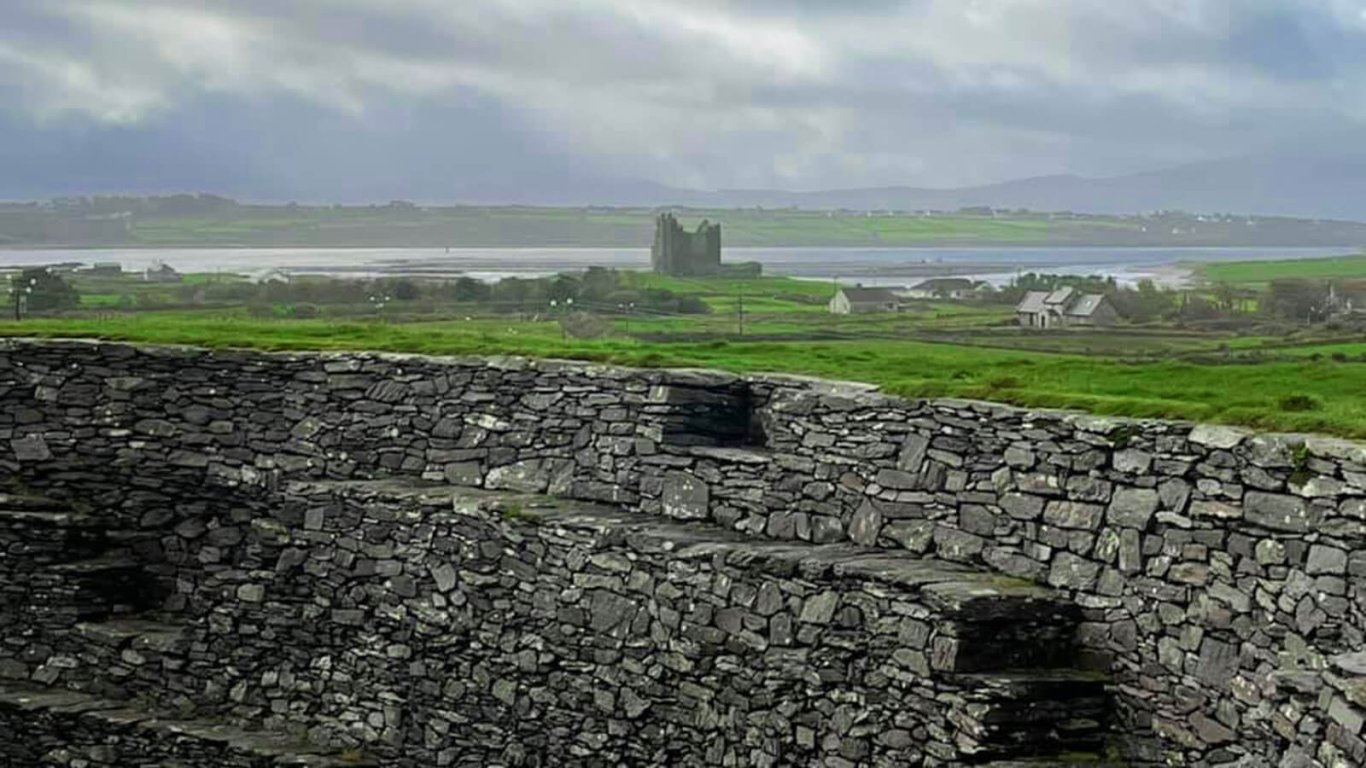 Comparing Castles in Ireland
Ballycarbery is from a different era entirely to Cahergall.
While Cahergall dates to circa 600AD, 15th century Ballycarbery Castle is a tower house (like Dunguaire, from Day 1).
It looks like more of a 'classic' medieval castle than Cahergall.
The Gaelic McCarthy clan controlled Ballycarbery for many years.
Our brave leader, Ed drove us up close to see the castle in more detail.
The extensive ivy on the exterior wall appears to be holding the structure together!
Skellig Experience
More showers and fog followed us down the peninsula on our way to visit the Skellig Experience Center.
The Skellig Islands are two jagged, treeless islands located 12km off Kerry.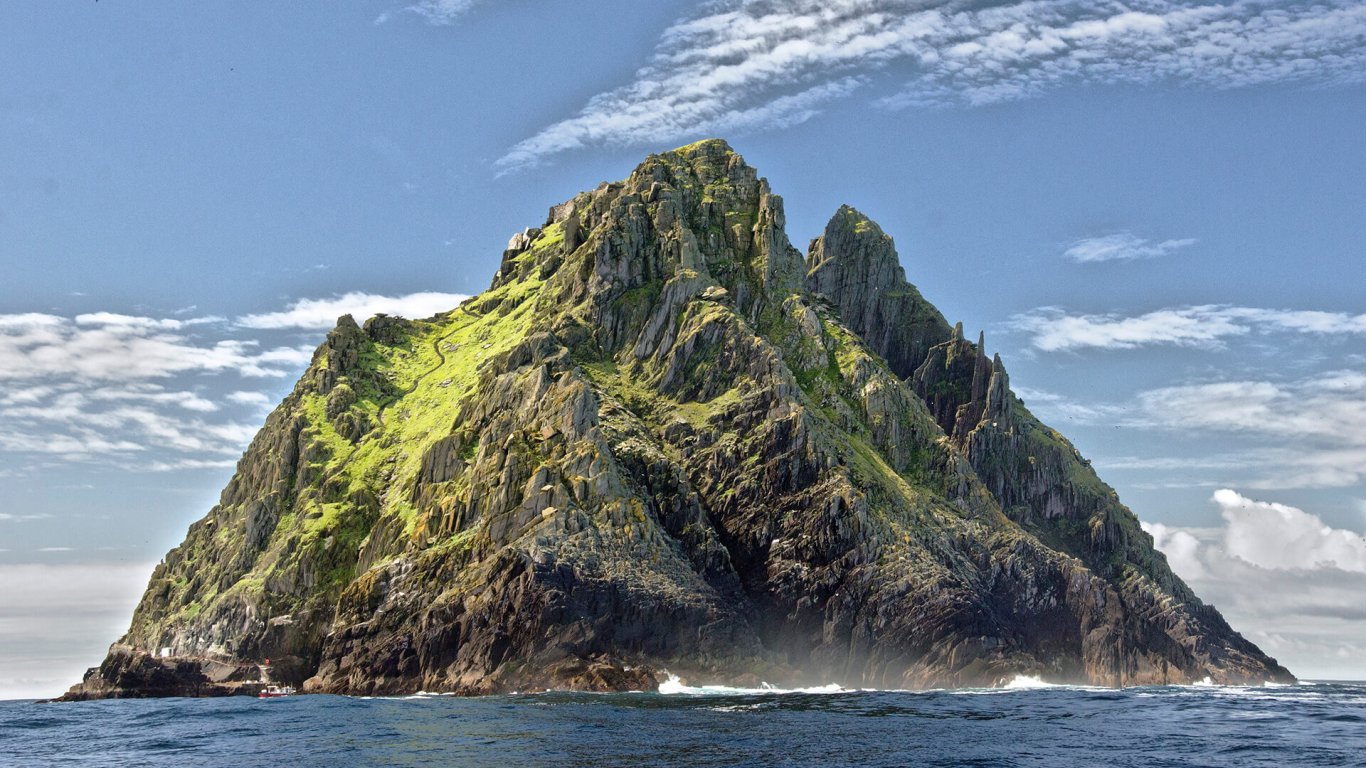 The larger one - Skellig Michael - was the site of a Gaelic monastery, built around the 7th century.
The monks had to carve stairs from bare rock to reach the summit! Once there, they somehow managed to build stone beehive-shaped huts in which to eke out an extreme existence.
Skellig Michael has become more famous in recent times as the filming locations for two Star Wars movies, The Force Awakens and The Last Jedi.
At the Skellig Experience Centre, a documentary explained the history, which is good because I doubt we will ever visit there.
The Ring of Kerry
Lunch on Day 3 was in the small seaside town of Waterville, a favorite town of Charlie Chaplin's. Of course, we had seafood chowder.
Then it was on to visit the Derrynane House, the historic home of Daniel O'Connell.
O'Connell was called The Liberator as he worked in the British parliament to restore rights to the Catholic population in the 1800s.
After visiting the house and learning about O'Connell, we had time to walk the beautiful grounds of Derrynane.
As we headed out, the fog and mist had rolled in off the ocean, so many of the overlooks were not so scenic.
That is Ireland weather for you. Unpredictable!
The small but bustling town of Kenmare was our home for the night.
A Magic Circle & A Horse Carriage Ride - Day 4
From the hotel in Kenmare, we strolled over to the Kenmare Druid Stone Circle.
Stone circles are plentiful in this area of Ireland. They date back to the Bronze Age (2,200-500 BC). They are all at least 1500 years old and some are up to 4200 years old. Older than Stonehenge and the Pyramids!
Irish Stone Circles always have an odd number of stones, never even. They were most likely built for rituals and ceremonial purposes.
If you have seen Outlander, you know how they work!
A feature of Kenmare Stone Circle is the large burial stone in the middle, surrounded by smaller stones.
Historic Scenery in Kerry
Our next drive brought our tour vehicle to some higher elevations.
We crossed over a scenic outlook at Moll's Gap. This area was named after Moll Kissane, a landlady of an infamous shebeen. Translation = unlicensed pub!
A little further, we stopped to take pictures at Ladies' View. This lookout boasts spectacular views down over lakes of Killarney.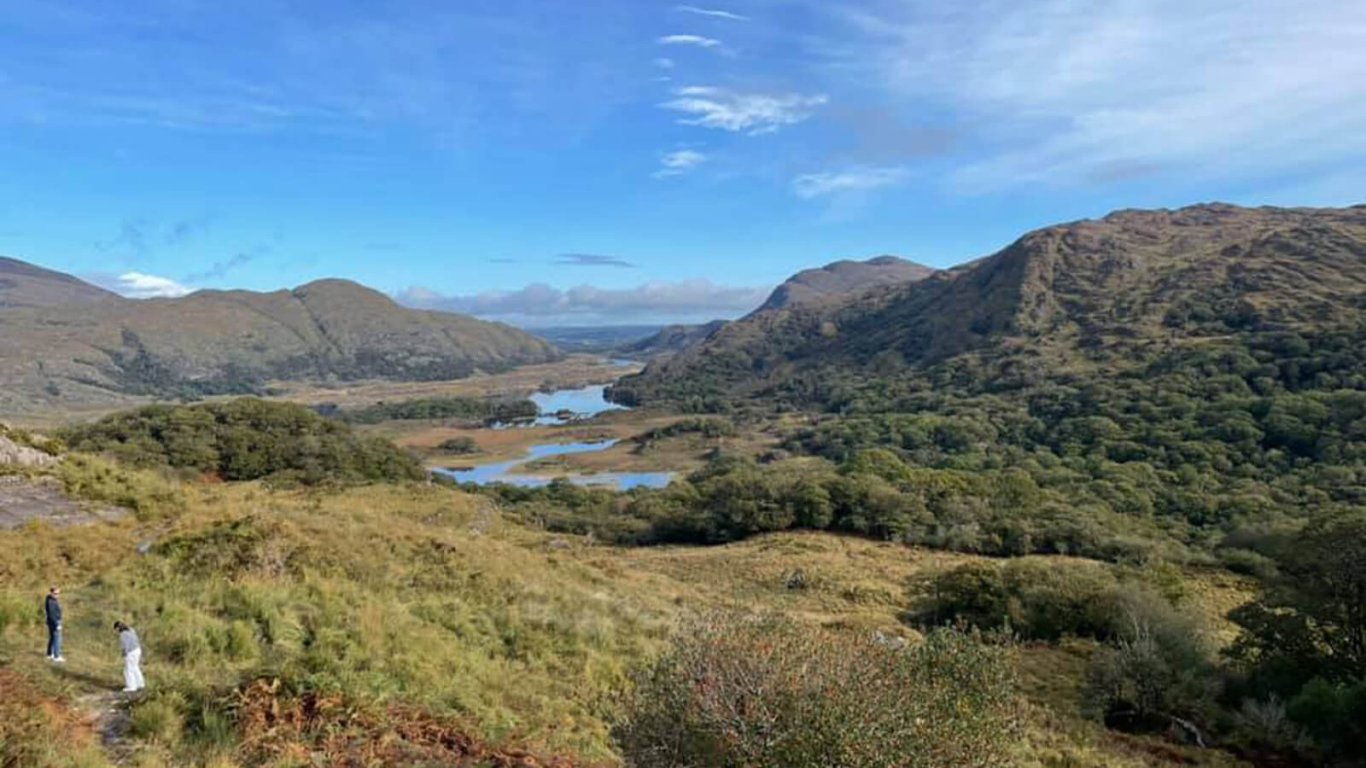 Interestingly, Ladies View was named for Queen Victoria's ladies-in-waiting. They were most taken with the beautiful vista during the English queen's visit in 1861.
Unlike our last visit — because of no rain or fog — we actually got a great view this time too.
Killarney National Park
Arriving in Killarney National Park, a short hike brought us to Torc Falls.
The previous night's rainfall meant an amazing amount of water was cascading down from the mountain.
Spectacular!
Muckross House
Our fellow travellers opted for the jaunting car (horse and cart) ride. This is a fun, guided tour of the park. For anyone who loves horses, it's a must.
We had enjoyed jaunting on our last tour, so we chose to tour nearby Muckross House instead.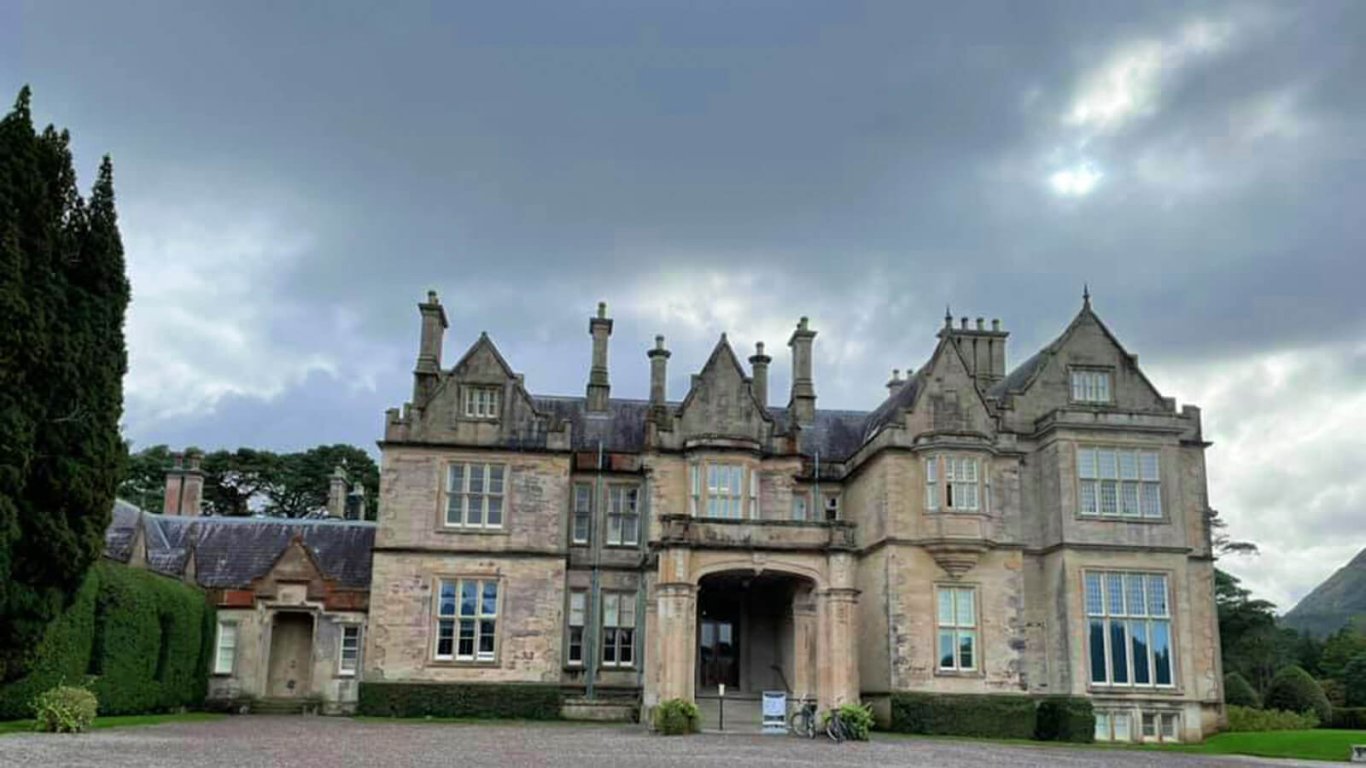 This imposing mansion was originally built in 1843.
Over the years, it was occupied by several families until 1932, when it was gifted to the people of Ireland, becoming the heart of Ireland's first national park.
Gougane Barra
Our hotel on Day 4 is in the wonderful valley of Gougane Barra.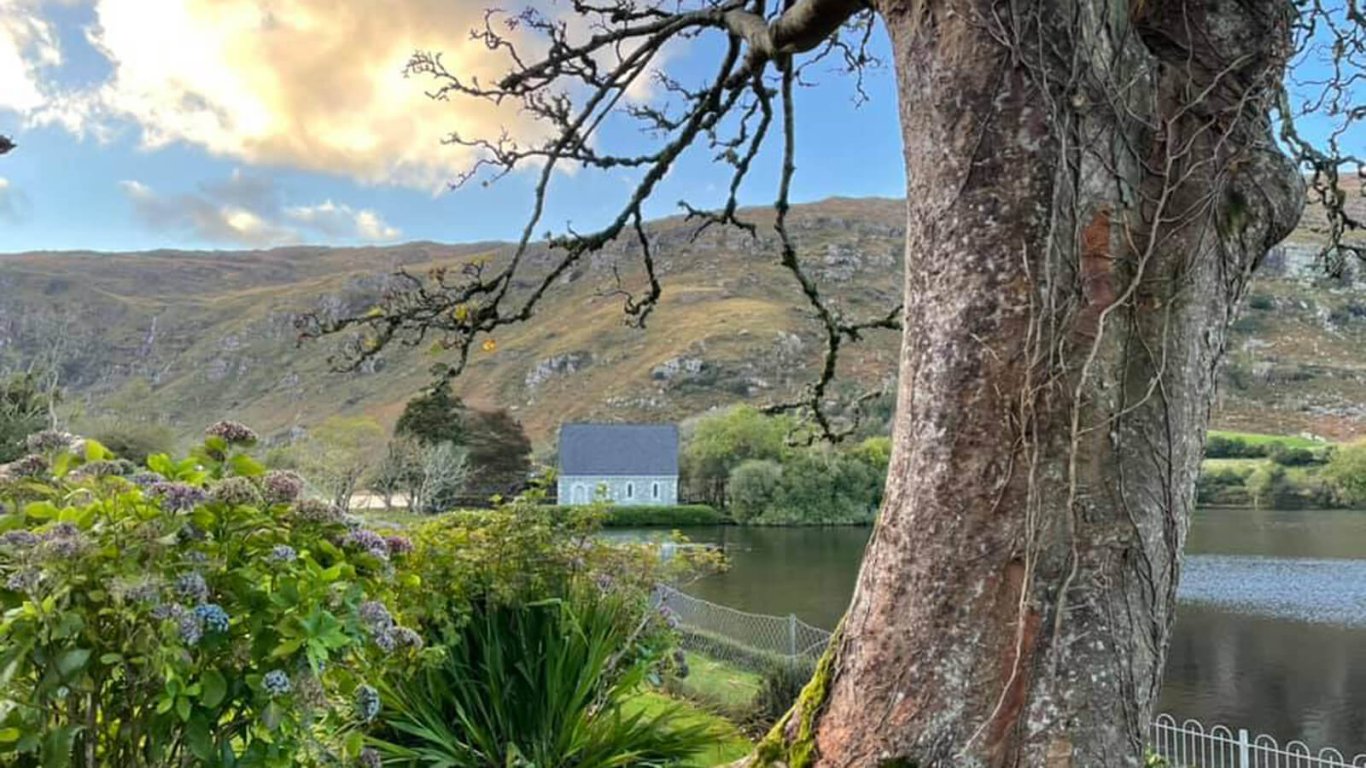 The natural setting of Gougane Barra is unbelievably beautiful!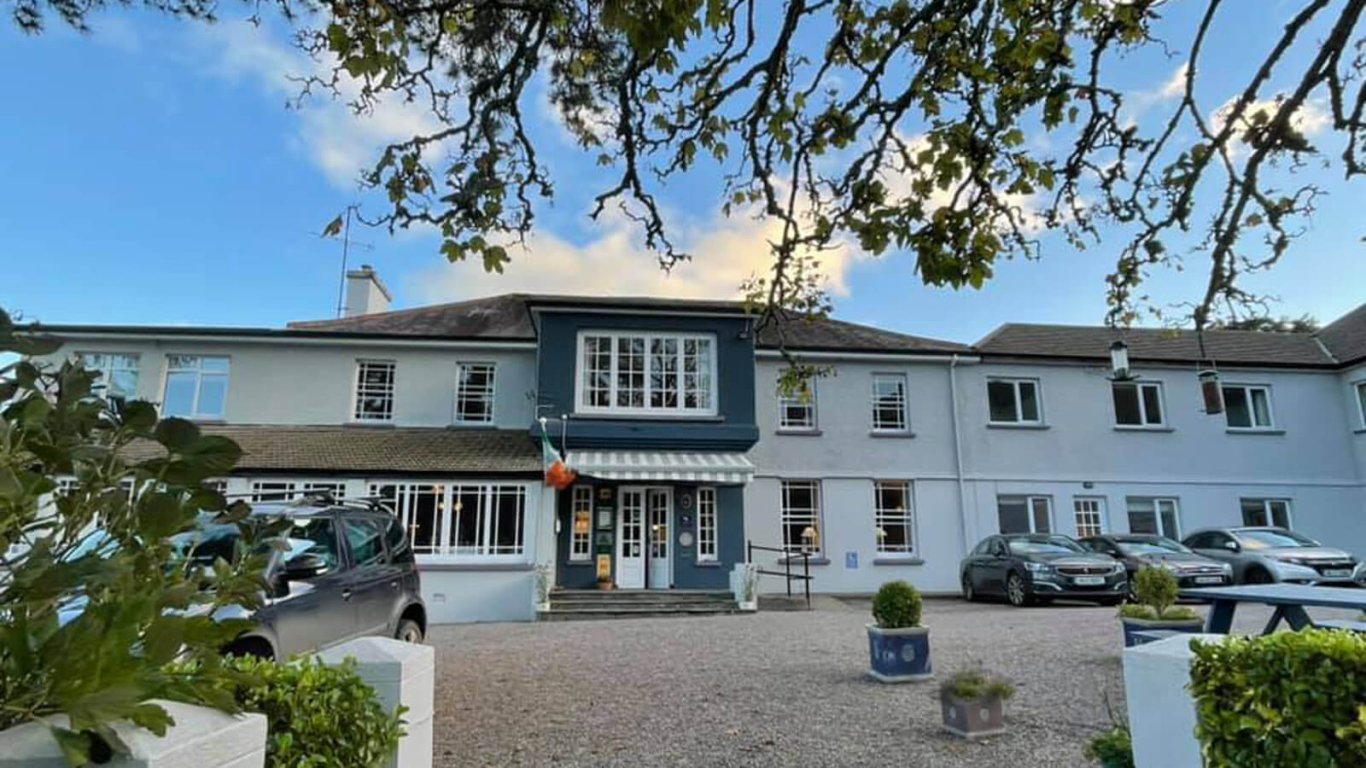 Nestled in the valley with a pretty lake and a small church out on a peninsula, it makes for a picture-perfect postcard setting!
Historic House Tour & Ancient Monuments - Day 5
Our departure from the beautiful setting of Gougane Barra this morning was tinged with sadness.
But we were both happy to get started on Day 5 of our Castles & Kingdoms tour.
Bantry House
First off, we headed to Bantry House. The White family are the Earls of Bantry and have owned this grand Irish home since the 18th century.
Bantry House sits elegantly above Bantry Bay and is surrounded by magnificent gardens.
While visiting, you can climb 100 steps for a magnificent view of the mansion and bay. Be aware that there's no hand rail!
I managed to climb halfway up and the view was well worth it! We were lucky to have a wonderfully sunny day.
Alternatively, stroll through the gardens after taking the historic tour of Bantry House.
Learning About The Irish Famine
The Skibbereen Heritage Centre was our next stop. Here, we learned more about the Irish Famine of the 1840s.
The tragedy of the Irish people during these sad times was told through exhibits and videos. The famine hit Skibbereen and the West Cork region pretty hard.
Abbeystrowry Cemetery just outside town is a mass grave site from the Famine era.
People were starving so quickly in the 1840s that there were not enough people left to give them a proper burial.
Up to 10,000 people were buried at Abbeystrowry without coffins nor ceremony. A memorial at the cemetery pays tribute to them.
Standing there, learning this tragic history, I felt sadness for these poor souls.
Magic Stones & Magic People
Heading out into the countryside after lunch in Skibbereen, Edwina led us to Drombeg Stone Circle. This is also known as The Druid's Altar.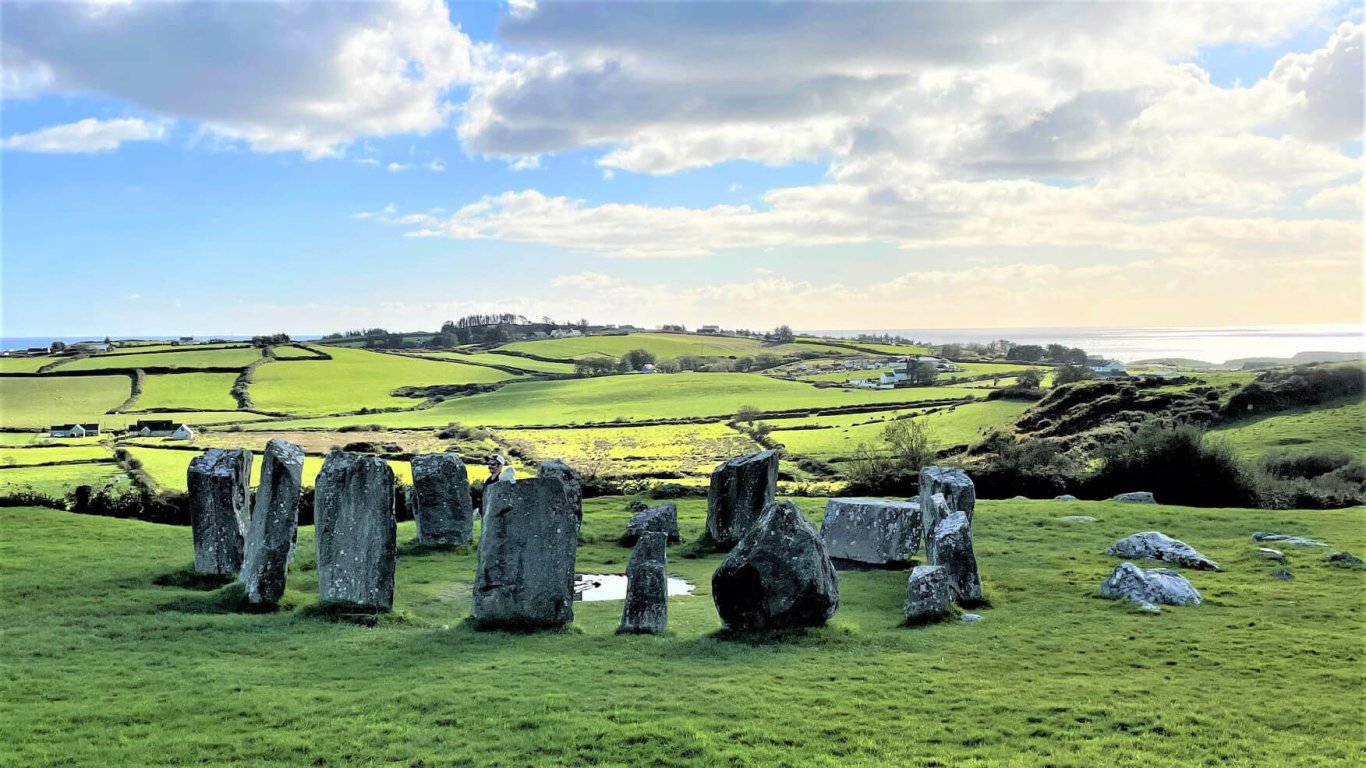 During an excavation in 1958, cremated remains of an adolescent were found in a pot in the circle's centre.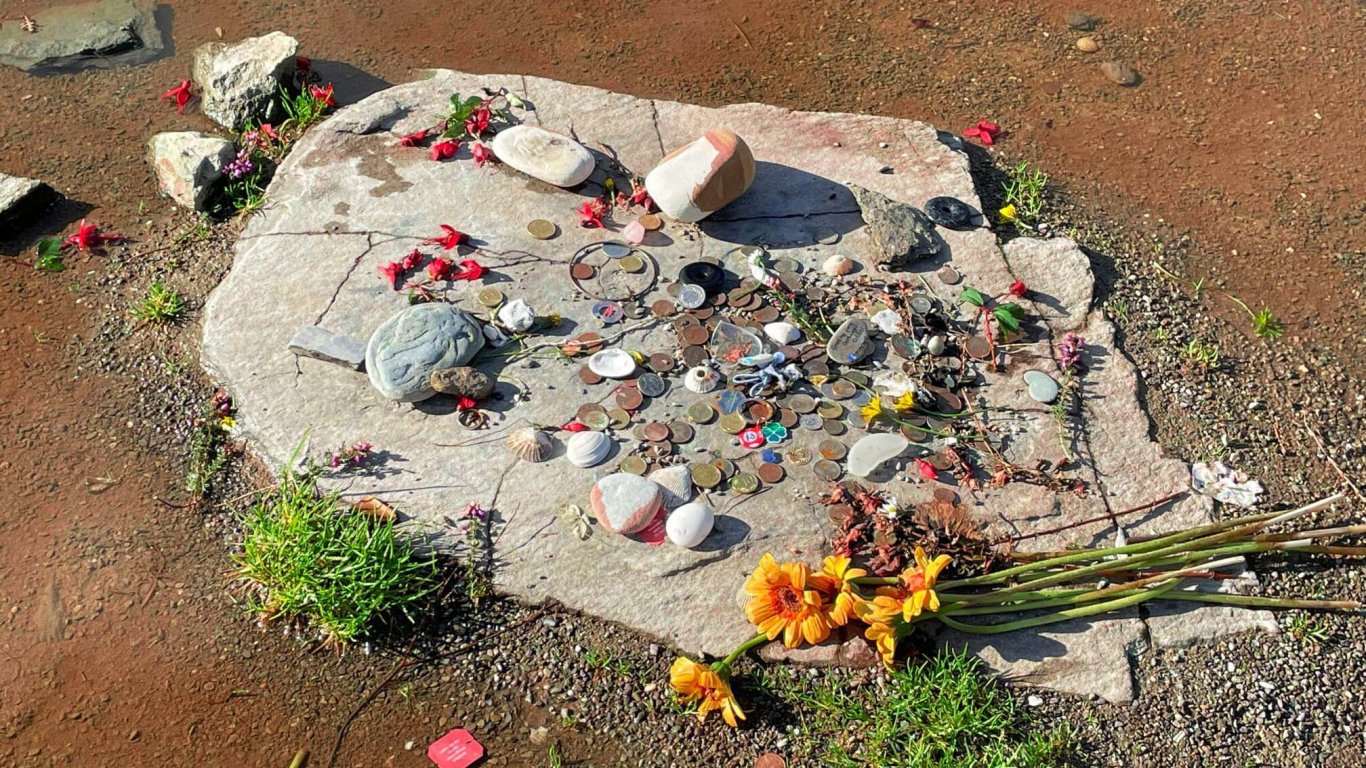 The night before our visit there had been a full moon. We found "offerings", clearly left behind by people — Druids? Witches?! — visiting during the night.
Timoleague Friary
Coming into the small town of Timoleague, we made a stop at another ancient ruin; Timoleague Abbey.
This medieval Franciscan friary was founded in 1240 on the site of an even older monastic settlement.
It is now in ruins but has become a burial ground for the locals.
Moving on, the seaside town of Kinsale is our home for the next two nights.
Tomorrow Edwina will enjoy a rest day and we will once again meet the tour guide from our previous tour, Michael.
Why the rest? In the interest of safety and wellbeing, guides at Vagabond Tours can only drive so many days in a row before a rest.
Or maybe Ed is just tired of us!?
Meeting Michael, Exploring Kinsale & West Cork - Day 6
Michael met us in front of our hotel this morning.
We first headed out of town toward the Old Head of Kinsale. This headland, or peninsula, is the home to an exclusive golf course, a signal tower and the remains of an old castle.
The golf course is the most expensive golf course in the world, according to some. It sits at the end of a spectacular headland with commanding views of the cliffs and ocean.
The castle on Old Head was built by the Norman de Courcey family in the 13th century. It sits at the narrowest point on the headland. Nearby is a large signal tower, one of 81 towers built along the coast in response to the threat of French invasion.
The RMS Lusitania was sunk just off the coast here in 1915 by a German U-boat. Only 761 people survived out of 1,266 passengers and 796 crew members. With Michael, we viewed a beautiful memorial to those lost during this disaster.
Drifting Along The Cork Coast
Michael then brought us further along the rocky Cork coast, where we came across beaches as well as a jagged coastline.
Next stop was Ringfinnan, Garden of Remembrance, the memorial for the 343 New York firefighters who died in 9/11.
Kathleen Murphy had worked in New York for over 30 years, admiring the work of these dedicated men and women. The NYFD chaplain, Father Michael Judge, was a personal friend of hers.
When she returned to her home in Kinsale after 9/11, she planted a tree for every firefighter that had passed away.
People come to pay their respects, walk among the trees, read the names and remember the sacrifice made on that horrible day.
The trees carry the names of those lost and we agreed it was pretty sobering walking among them.
Charles Fort In Kinsale
Later that morning, we visited Charles Fort.
This is a unique fortress; a huge star-shaped bastion fort. Bastions are outcroppings used to eliminate blind spots and allow fire in several directions.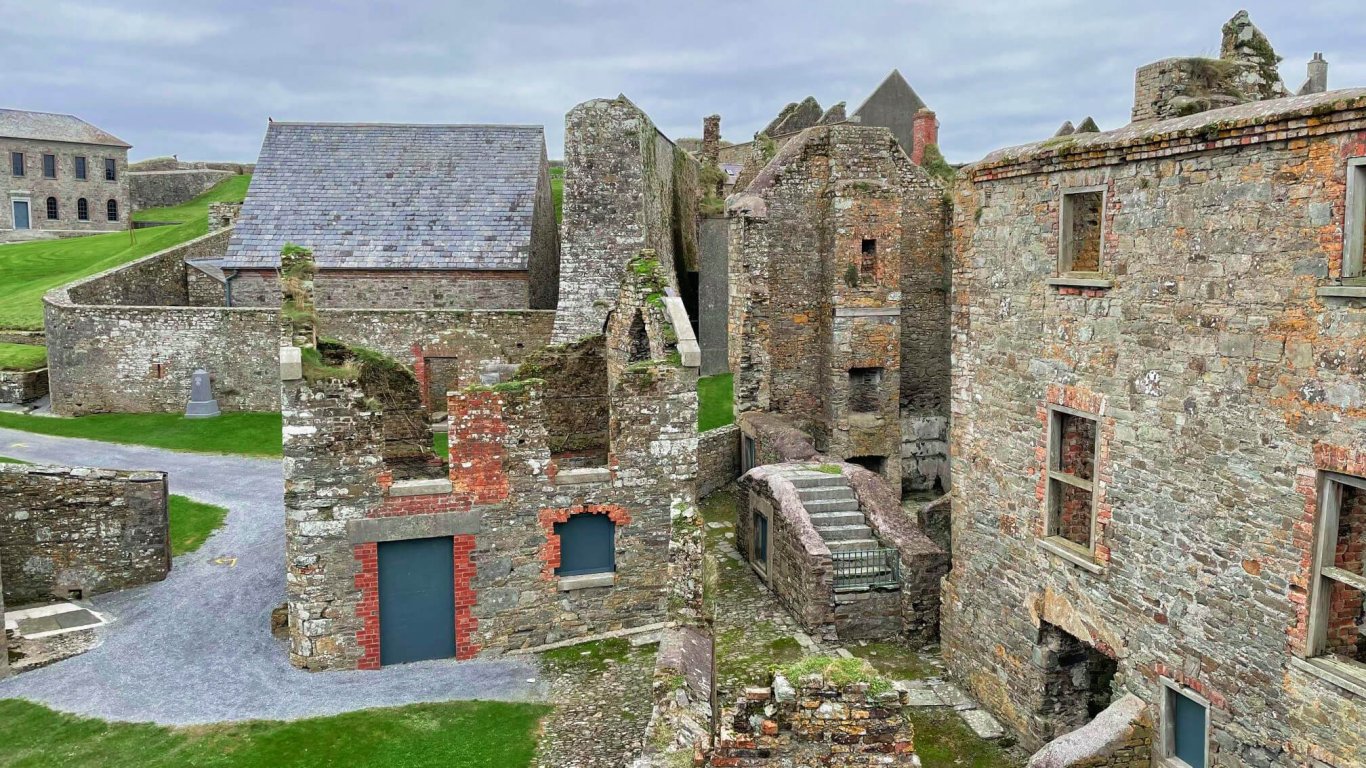 Charles Fort was built in the 1670s by the English to protect Kinsale harbour. Learning about its history was my husband's favorite stop of the whole tour!!
Guided Mead Tasting Tour
It was then time to bid Michael farewell and greet Edwina after her rest day. Ed was clearly well-rested as she announced we were walking to the next destination.
Turns out, it was all uphill!
We finally made it to the top of the hill to arrive at the Kinsale Mead Company for a private guided tour and tasting.
We learned that mead is said to be the world's oldest alcoholic beverage. It is made from fermented honey and water and can also include fruits, spices, grains and hops.
Different honeys from different blossoms can give mead diverses character. On the tour, we were able to taste four kinds of mead. I enjoyed the experience and was surprised at how different each one tasted.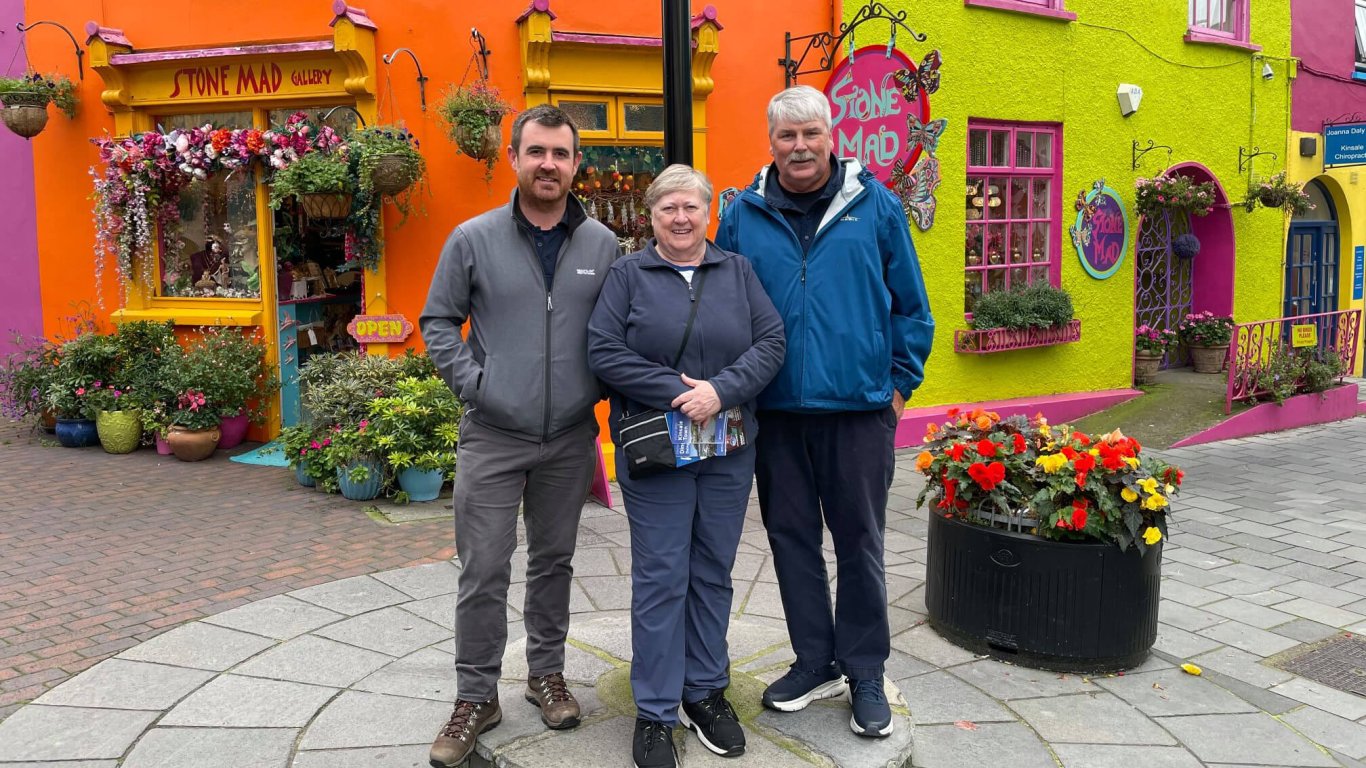 Kinsale is a very pretty town with so much to see! I can see why Vagabond gives everyone on the 7 Day Castles & Kingdoms Tour two days here.
There are lots of shops and gorgeous, brightly-colored buildings, all nestled on a beautiful harbor.
Talkin' Blarney & Stormin' Cahir Castle - Day 7
Heading back to Dublin on our final morning, our first stop was Blarney Castle.
Like many Irish castles, the current building at Blarney, is not the original. This version of Blarney, though impressive, was rebuilt in 1446 by Dermot McCarthy, then King of Munster.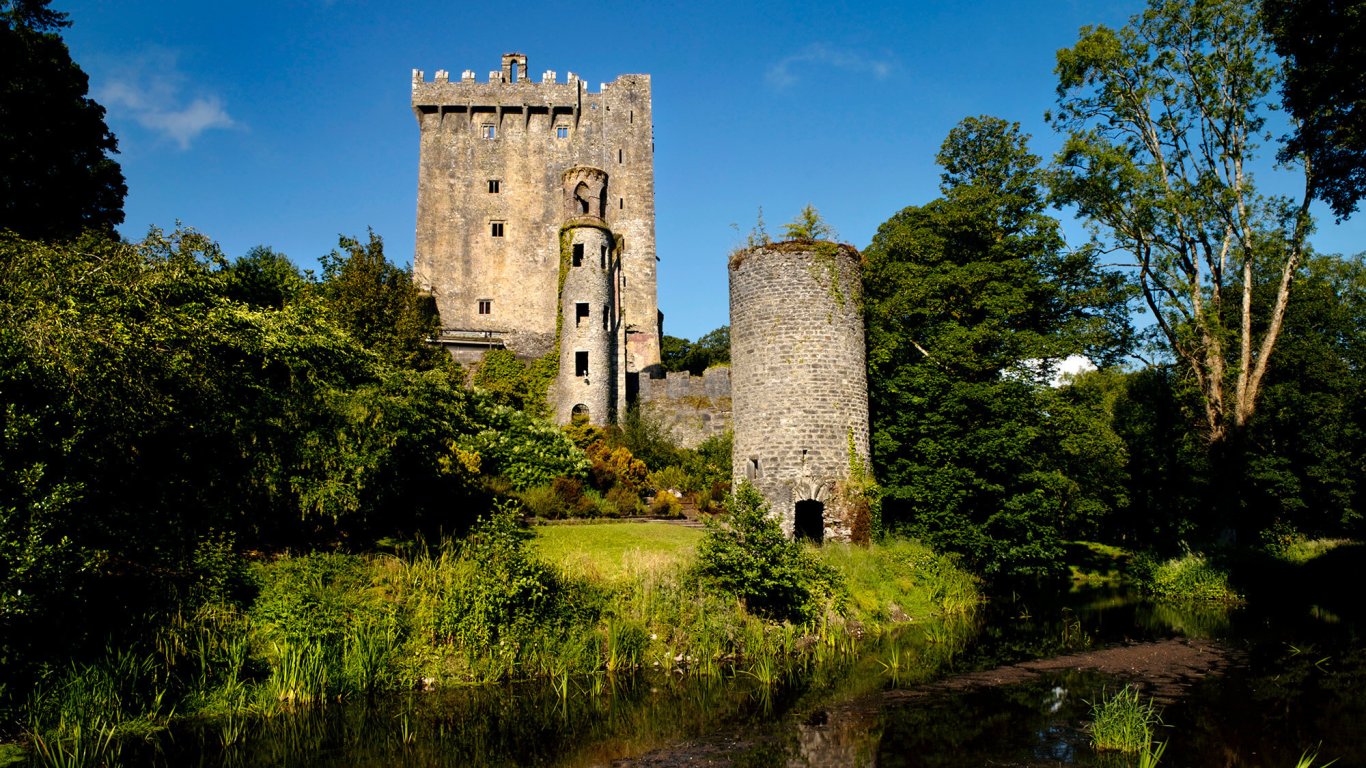 Most people have heard something about kissing the Blarney Stone. Legend says that if you kiss the stone you are bestowed with the 'gift of gab'.
Last time we visited Blarney in 2019, we spent over an hour waiting. We stood in line, inching up the 127 steps to the top of the castle where the "magical" stone is.
My husband said that I did not need any more gifts in the gab department, so we decided to walk the grounds taking in the gardens and beautiful landscaping.

There are 60 acres of gardens and paths to explore in Blarney. We really only got to see about a third of the grounds. That means we need to come back, I guess!
Near the end of one of our pathways, we came across the spectacular Blarney House. This is privately owned. It was built in 1874 in the style of a Scottish mansion. Closed at the time, we could only view it from the outside.
Cahir Castle, Tipperary
After grabbing a sandwich in Blarney, we hopped back on our tour vehicle and headed to our last excursion for the day, Cahir Castle, in Tipperary.
Now this was a castle!!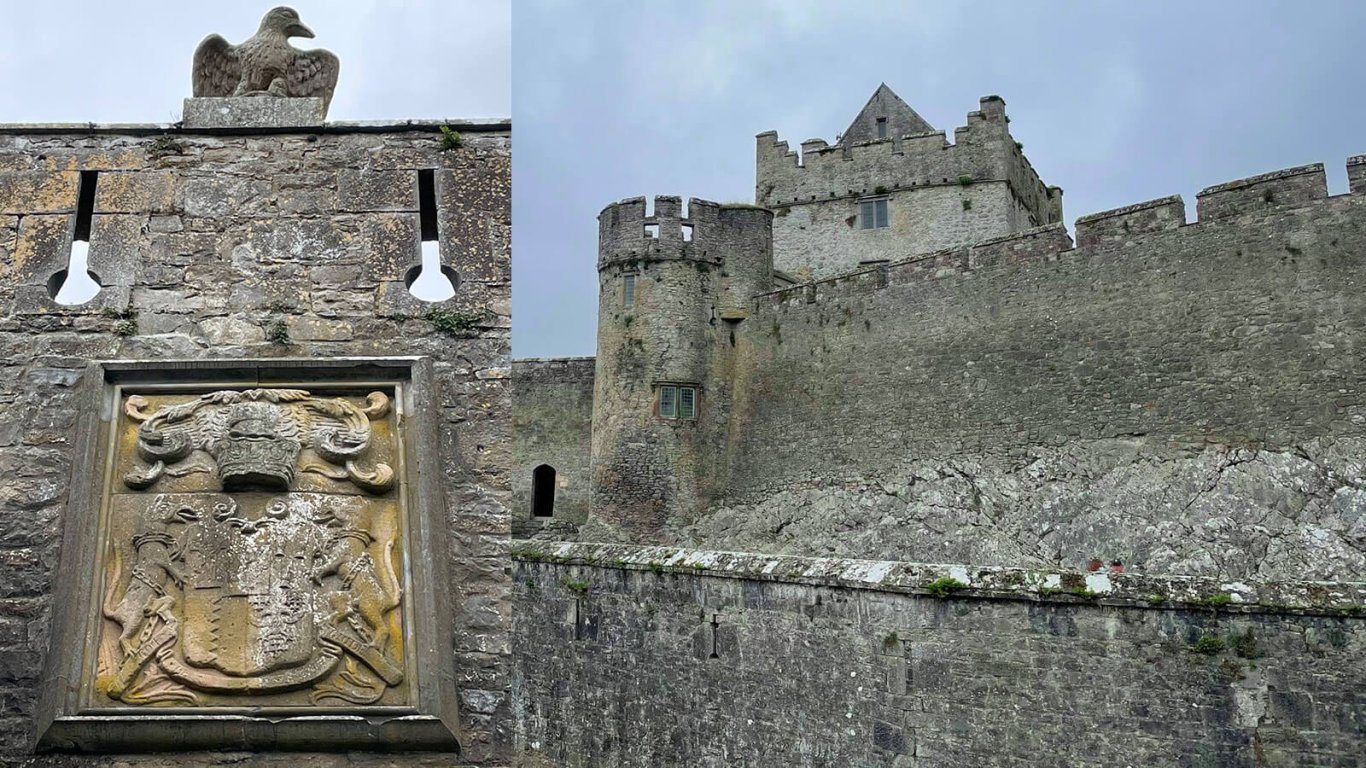 It is said to be the safest castle in Ireland. Dating back to the 13th century, much of the original structure remains. Situated on a rocky island in the middle of the River Suir, it had no need for a moat.
One of the unique features of Cahir Castle is its barbican, sometimes known as a 'Death Trap'.
If the enemy managed to cross the river and penetrate the outer wall, they would then be faced with an opening bearing spikes at the top.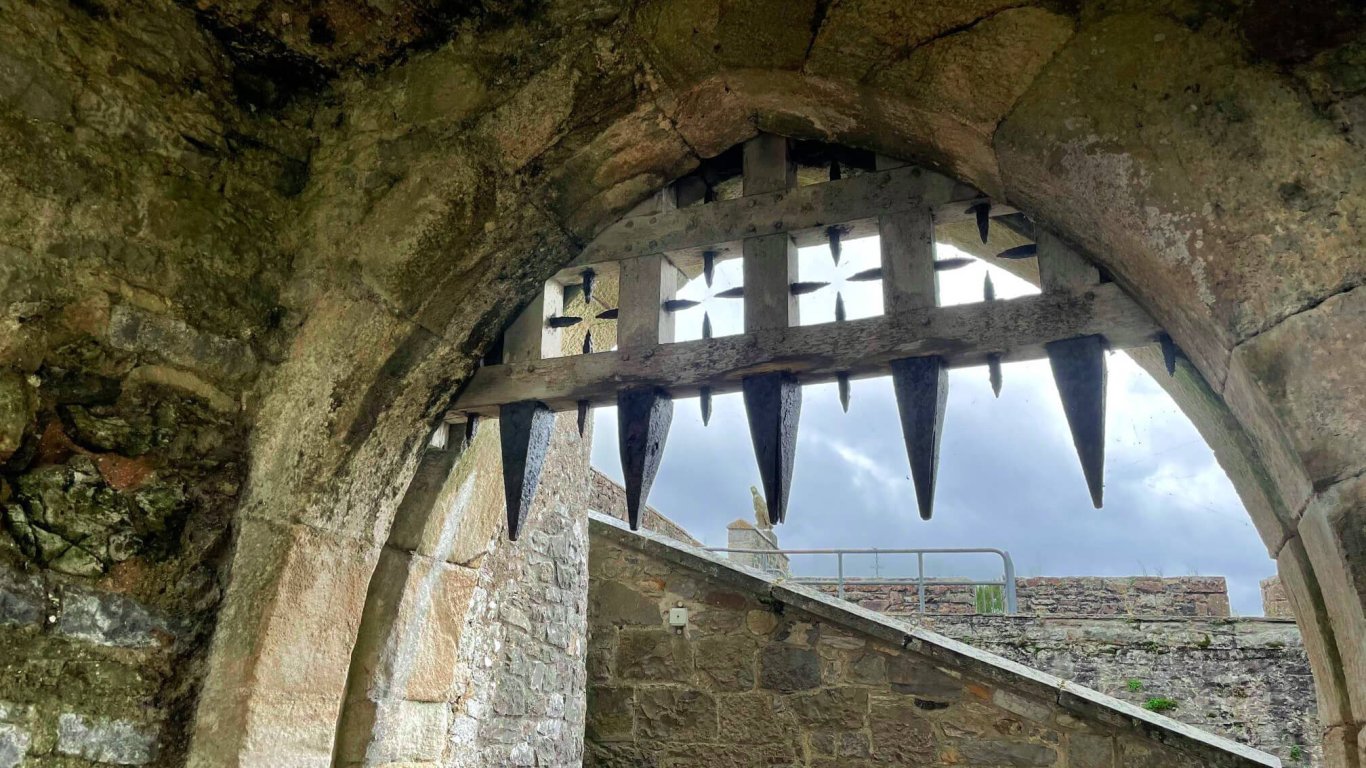 If they then managed to get past the dropping spikes (the Porticullis), they were trapped in a small vestibule. This made them an easy target for arrows, stones and hot oil being dropped from above. Pretty cool!
It was cold and windy at Cahir Castle. Having a guide with a sense of humor really helped.
It's said Cahir Castle is the most filmed location in Ireland. It has been used in films and TV including Excalibur, The Tudors and, most recently, the Last Duel starring Matt Damon and Ben Affleck.
Our guide made sure to tell us to look for the fireplace in the movie!
Once back aboard, we completed our final lap to Dublin. There, Ed dropped us off for the final time at the Grand Canal Hotel.
Summarising Our Tour
Once again, Vagabond delivered an amazing tour of Ireland for us.
We have taken many tours across Europe. Vagabond is way beyond all of them, across all areas.
The VagaGuides are well-versed in Irish history and culture, with a great sense of humour and an appetite for sometimes mischievous adventure.
The accommodations are great; many of them family-run, a castle or an original Irish hotel, steeped in history.
We traveled in a comfortable Mercedes van with a maximum passenger load of 15. So there was no waiting for 40 (or more) people to unload and reload at each stop.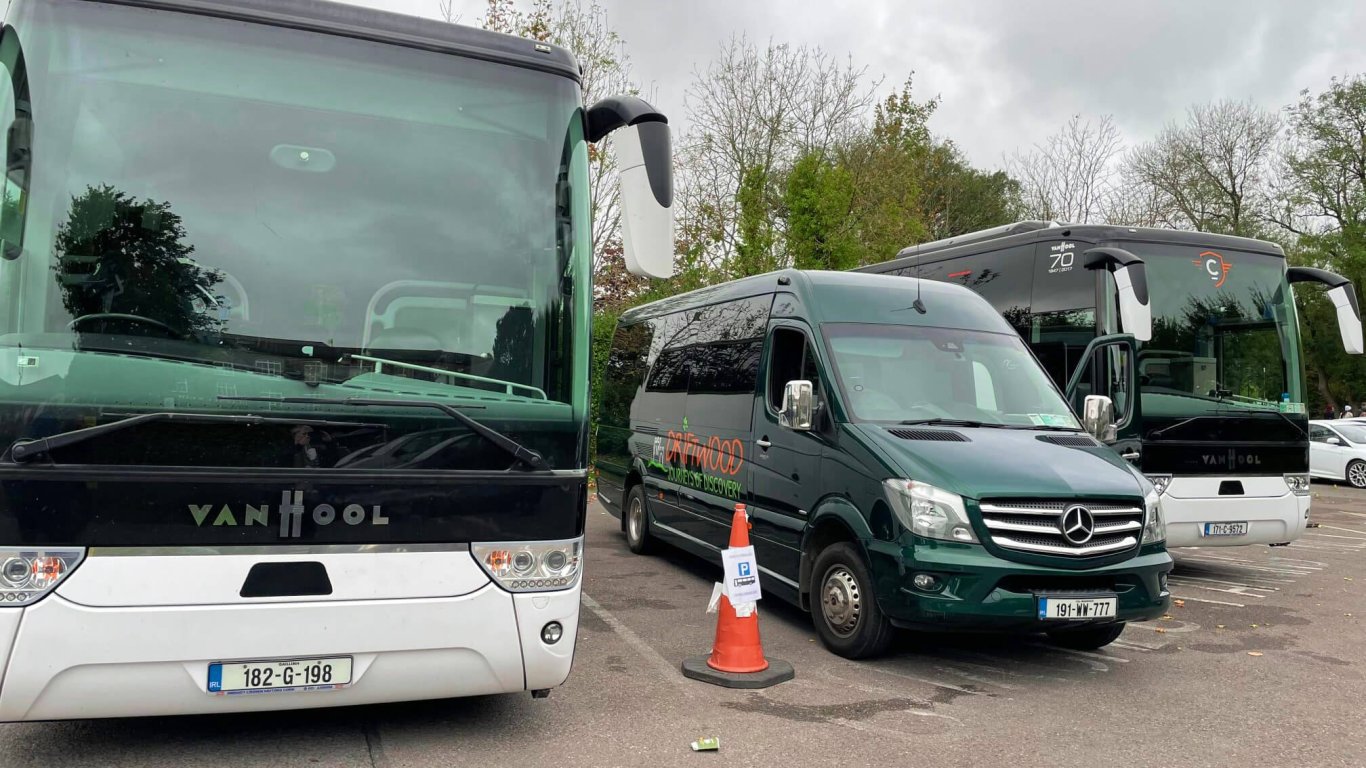 So much is packed into each day on tour. I would not do Ireland any other way; if I could give them 10 stars, I would!!
Whether you fancy learning about castles or not, the 7 Day Castles & Kingdoms Tour provides so much more.
So many miles, so many smiles and lots of craic!
We will come back and when we do, it will be with Vagabond.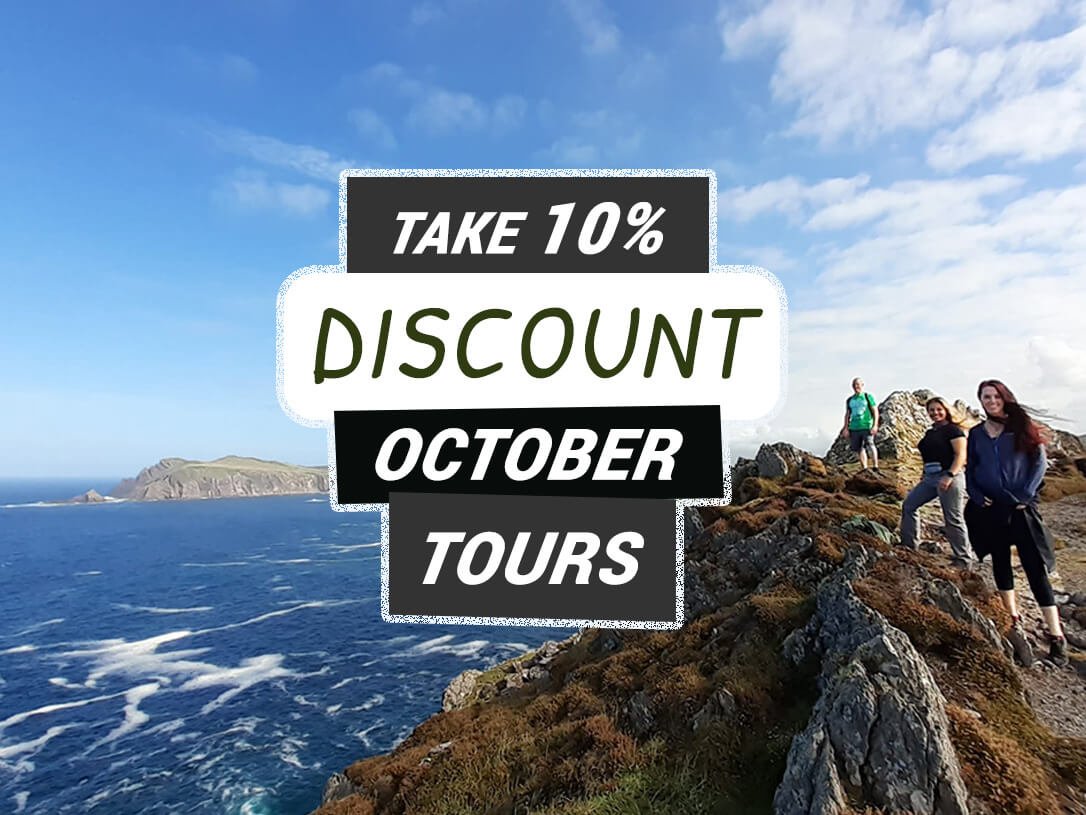 ---
Travelling in October, I benefited from Vagabond's 10% October discount