Where can I experience traditional Irish music and famous songs from Ireland?
I've heard this question many times from our tour guests.
But you don't need to take us up on our special October Tour Deal to feel the magic — you can do it right here!
For each classic Irish folk song I've listed a favourite traditional pub for listening to live Irish music.
Are your dancing shoes tightly strapped?
Is the volume turned up to 11?
Well, here we go...
🦪 Molly Malone
This is the ultimate Irish sing-along song.
Most will recognise this classic Dubliners version.
The subject of Molly Malone is a Dublin fishmonger who — let's just say — may have sold more than just cockles and mussels.
This Dublin anthem was most likely written sometime in the late 19th century. But Molly Malone is still sung in pubs, living rooms and showers across Ireland (and beyond).
Molly Malone touches on the heart of the city. Street sellers are a rare sight nowadays, but before supermarkets, people like Molly would have been an important source of food for Dubliners.
Add O'Donoghue's To Your Ireland Pub and Music Tour Route
If you happen to be admiring the buxom statue of Molly Malone in Dublin city centre, make a detour to O'Donoghues pub.
O'Donoghue's is a truly legendary venue. Located 10-15 minutes walk away from the Molly Malone statue, it was here that the Dubliners group first got together to perform.
In Dublin's fair city,
Where the girls are so pretty...
---
---
🎶 The Fields of Athenry
The Fields of Athenry is Ireland's unofficial national anthem.
On any major sporting occasion involving an Irish team, The Fields of Athenry is sung loud and proud by the Ireland fans.
During the 2012 European soccer championships, the Irish team were losing 0-4 against world champions Spain.
Instead of complaining, 1000s of Ireland fans joined together in song for one of the all time great renditions of The Fields of Athenry.
To let the music shine, the German TV commentators in this clip simply stopped talking:
Spine-tingling. That's what sport should be all about.
Add The Crane Bar To Your Ireland Pub and Music Tour Route
Athenry is located in Galway, a county you can explore on one of our Ireland pub and music tours.
If you're in Galway city, I love Taaffes Bar and The Crane Bar; both perfect settings for a Fields of Athenry sing-song.
The lyrics capture the tragedy of the Great Famine and the spirit of the Irish:
Low lie, The Fields Of Athenry / Where once we watched the small free birds fly.

Our love was on the wing / We had dreams and songs to sing.
If you're considering a pub and music tour of Ireland, this is undoubtedly one of the most famous Irish songs of all time
🌄 Wild Mountain Thyme
This classic folk song has stood the test of time, recently resurfacing in the eponymous Hollywood movie and also in a cover by Ed Sheeran.
Its roots lie outside Ireland, surprisingly. It was in Scotland that the McPeake family created the modern version.
Later, in the 1960s, Wild Mountain Thyme was covered by the Clancy Brothers.
Wild Mountain Thyme has enjoyed enormous popularity ever since, becoming indelibly associated with Ireland.
Add The South Pole Inn To Your Ireland Pub and Music Tour Route
Our tours visit lots of wild mountains... But where's a good pub to celebrate this classic song?
I reckon the South Pole Inn near Annascaul in Kerry is a good bet.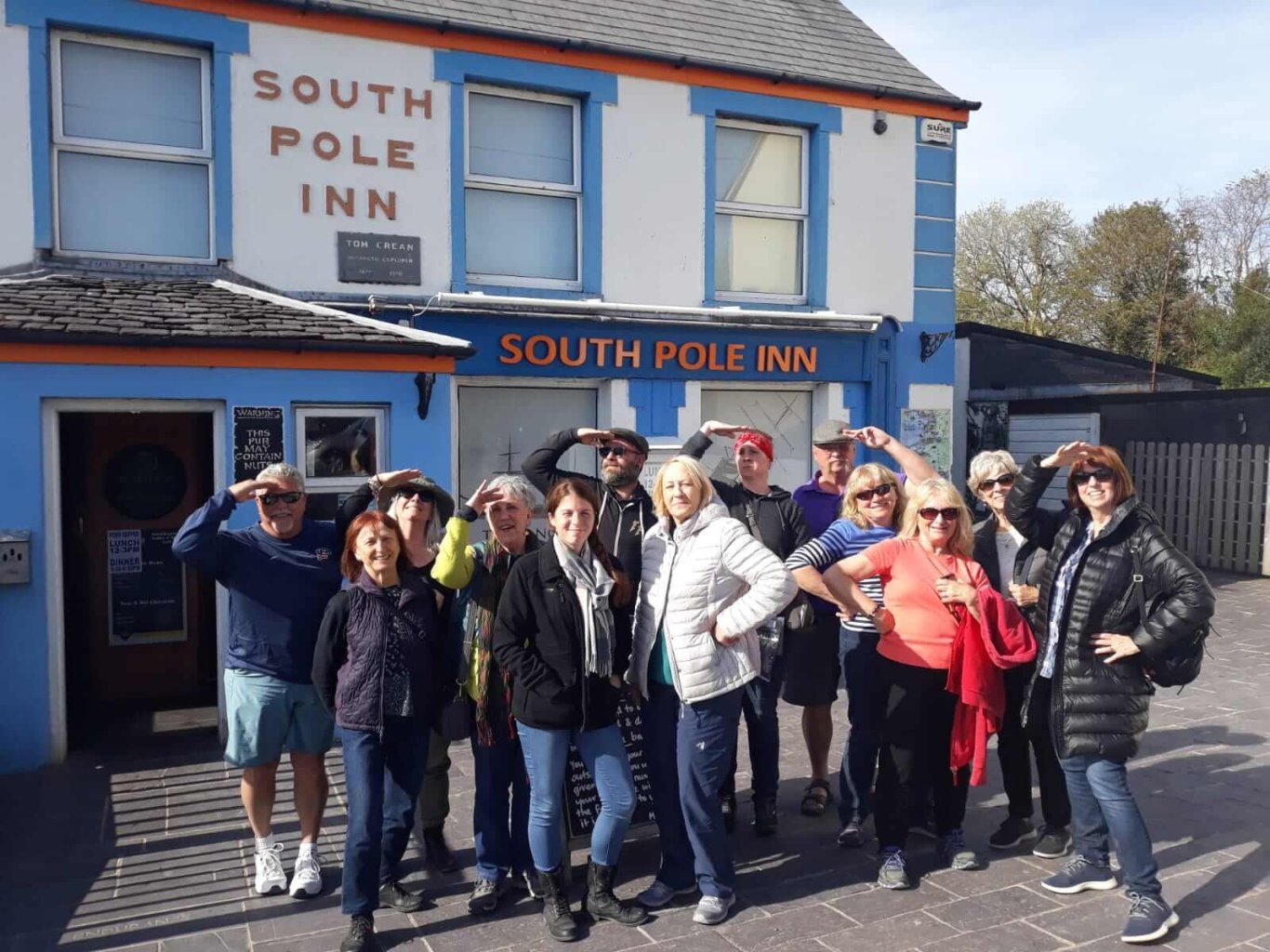 Not only do we land back here after hiking in the hills nearby.
But this historic pub was once owned by none other than Tom Crean. Crean was a heroic presence on three Antarctic expeditions in the early 20th century.
A true wild man!
---
---
💕 Raglan Road
Perhaps this is the most romantic of all Irish songs?
Poet Patrick Kavanagh wrote the lyrics:
On Raglan Road on an autumn day

I saw her first and knew

That her dark hair would weave a snare

That I might one day rue
Raglan Road was brought to life when Kavanagh met Luke Kelly one evening in the Bailey Bar in Dublin.
Kelly, seen by many as Irelands greatest singer, set the poem to the air of another traditional Irish song 'The Dawning of the Day'.
His version of Raglan Road remains definitive:
There is a depth and resonance to Luke Kelly's voice that still holds true today.
It would bring a tear to a glass eye, as they say.
Add The Bailey Bar To Your Ireland Pub and Music Tour Route
The Bailey Bar is still there, just off Grafton Steet on Dublin's southside.
Make sure you include it on the itinerary for your Ireland pub and music tour.
The Bailey is the perfect place to grab a glass of whatever-tickles-your-fancy and reflect on this historic Irish song.
🔺 The Auld Triangle
The Auld Triangle first appeared at the opening of a 20th century play, The Quare Fellow .
Many attribute the playwright, Brendan Behan, with writing the song's lyrics:
"A hungry feeling, came o'er me stealing
And the mice were squealing in my prison cell
And the auld triangle, went jingle jangle
All along the banks of the Royal Canal"
Behan himself had first-hand experience of prison, having spent time behind bars for his involvement with the IRA.
A heavy drinker from a young age, Behan described himself as 'a drinker with a writing problem'.
Here's a special 2014 rendition of the song:
Add The Cobblestone To Your Ireland Pub and Music Tour Route
Even though there's an actual pub called the Auld Triangle in Dublin, located very close to where Brendan Behan was imprisoned, that's not the pub I'd recommend.
Instead, try the Cobblestone pub in Dublin. There's live traditional music performed here every night of the week.
You can even join in if you can play an instrument or sing!
Before visiting, consider taking a trip over the river to Kilmainham Gaol Museum. It's a brilliant visitor experience; one that our tour guests rate as a Dublin highlight again and again.
🎻 The Wild Rover
A classic.
This is an Irish drinking song about temperance!
The Wild Rover tells the story about a wayward son spending all his money on whiskey and beer but then promising to return home only to repent his wild ways. Sound familiar!?
And it's no, nay, never
No, nay, never, no more
And I'll play the wild rover
No never, no more
The source of this Irish song remains unknown. Some claim it to be over 400 years old. More recent versions date it to the mid-1800s.
Most popular is the Dubliners version of the song released in 1964.
We loved this song so much we named our 8 Day Wild Irish Rover Adventure after it!
It's the perfect tour of Irish pubs, music and culture with a generous helping of spectacular scenery, active hikes and bike trails.
Add Foxy John's To Your Ireland Pub and Music Tour Route
A truly great Irish pub you'll visit along the route of the tour is Foxy John's in Dingle.
Believe it or not, this place is half-pub, half-hardware store.
Live music is played here regularly and I personally guarantee you'll never leave without a smile on your face!
💎 Black Velvet Band
Prison seems to be a recurring theme here, doesn't it?
Black Velvet Band tells the story of a man led astray by a woman. He ends up a prisoner Down Under, in Tasmania.
Her eyes they shone like the diamonds
You'd think she was queen of the land
And her hair hung over her shoulders
Tied up with a black velvet band
In a neat little town they called Belfast
Apprentice to trade I was bound
And many an hour o' sweet happiness
I spent in that neat little town
Some versions refer to Belfast. But many singers of Black Velvet Band — myself included — have adopted the location to suit their own audience.
The song's writer remain a mystery. Despite this, the tune is one of the most popular folk songs — indeed, one of the most popular Irish songs outright — and a stalwart of many a pub singsong.
Add The Crown Bar To Your Ireland Pub and Music Tour Route
Since you're asking, I reckon the Crown Bar in central Belfast is the perfect pub to rehearse your acapella version of Black Velvet Band.
It's one of the oldest pubs in Ireland and has a beautifully maintained Victorian interior.
Check which of our Ireland pub and music tours visit Belfast and Northern Ireland
😢 The Town I Loved So Well
This is a more recent Irish folk classic.
The topic is home life during the Troubles era in Derry/Londonderry, Northern Ireland.
We hear about a simple childhood followed by the search for wife and family. Derry/Londonderry is then transformed by the 'armoured cars and bombed-out bars'.
The fifth and final verse includes a message of hope for a 'bright, brand new day', continuing,
'They will not forget but their hearts are set

On tomorrow and peace once again.'
This is one of the most emotive Irish songs ever written. Its lyrics will speak to anyone who has experienced society in an era of upheaval.
Here's a more recent version, featuring writer Phil Coulter on the piano, joined by Nathan Carter on vocals:
Add Bennigan's To Your Ireland Pub and Music Tour Route
Derry/Londonderry is a fantastic destination in Northern Ireland if you are looking for traditional music.
And even if you're not, Bennigan's in the city centre will have something to suit everyone's tastes.
There's a folk club on Sundays as well as open mic nights and the regular jazz gigs that Bennigan's is famous for.
☘️ Song for Ireland
Written by folk singer Phil Colclough after his first trip to the Dingle Peninsula, I think this song captures the magic of Ireland for visitors perfectly:
'Living on your western shore,

Saw summer sunsets asked for more.

I stood by your Atlantic sea

And sang a song for Ireland.'
A Song For Ireland is the perfect soundtrack to your Ireland pub and music tour!
It references many of the sites along the Wild Atlantic Way.
From the wilderness of Burren to the rugged beauty of Donegal.
Add Friels To Your Ireland Pub And Music Tour Route
While we're on the topic of The Burren, why not visit Friels pub in Miltown Malbay if you're passing through.
It's a traditional drinking hole with regular live music.
Miltown Malbay itself plays host to the annual Willie Clancy Irish music festival.
👦🏼 Danny Boy
One of the most famous Irish songs ever. Simple as that.
The song has become profoundly identified with Ireland and the global Irish diaspora in particular.
But the history of Danny Boy is far from simple.
Surprisingly, the lyrics to Danny Boy — this most familiar of Irish songs — were written by an English barrister, Frederick Weatherly, in 1912:
Oh Danny boy, the pipes,
The pipes are calling
From glen to glen,
And down the mountain side.
The song was first made famous during the First World War by singer Elsie Griffin.
However, some connect its original composition to Rory Dall O'Cahan, a 17th century Irish harpist.
Add Peadar O'Donnell's To Your Ireland Pub and Music Tour Route
Danny Boy was originally known as the Londonderry Air/Derry Air.
Because of this, we'd recommend the final stop on your Ireland pub and music tour to be somewhere close to Derry/Londonderry once again.
Try Peadar O'Donnell's, located right in the centre of town, on Waterloo Street. A great spot for a session!
In 1990, a jazzy interpretation of Danny Boy was featured in Hollywood movie, Memphis Belle. This Harry Connick Jr. version remains one of my favorites:.
Want More Irish Pubs?
Read about our favourite musical pubs in the following locations:
🌅 Dingle
💙 Dublin
Or learn essential Irish pub etiquette.
Need More Irish Songs?
You're in luck!
Due to popular demand, I've dug even deeper into my record collection...
🎻 10 More Irish Songs You Need to Know
☘️ 9 Incredible Irish Songs You've Probably Never Heard Before
🎵 My Top 10 Northern Irish Songs
My colleague (and all-round hero), Bébhinn, wrote about how important Irish music is to her:
🪕 Traditional Irish Music In My Life
Need even more? Dive into my extensive Spotify playlist of traditional and not-so-traditional Irish music...