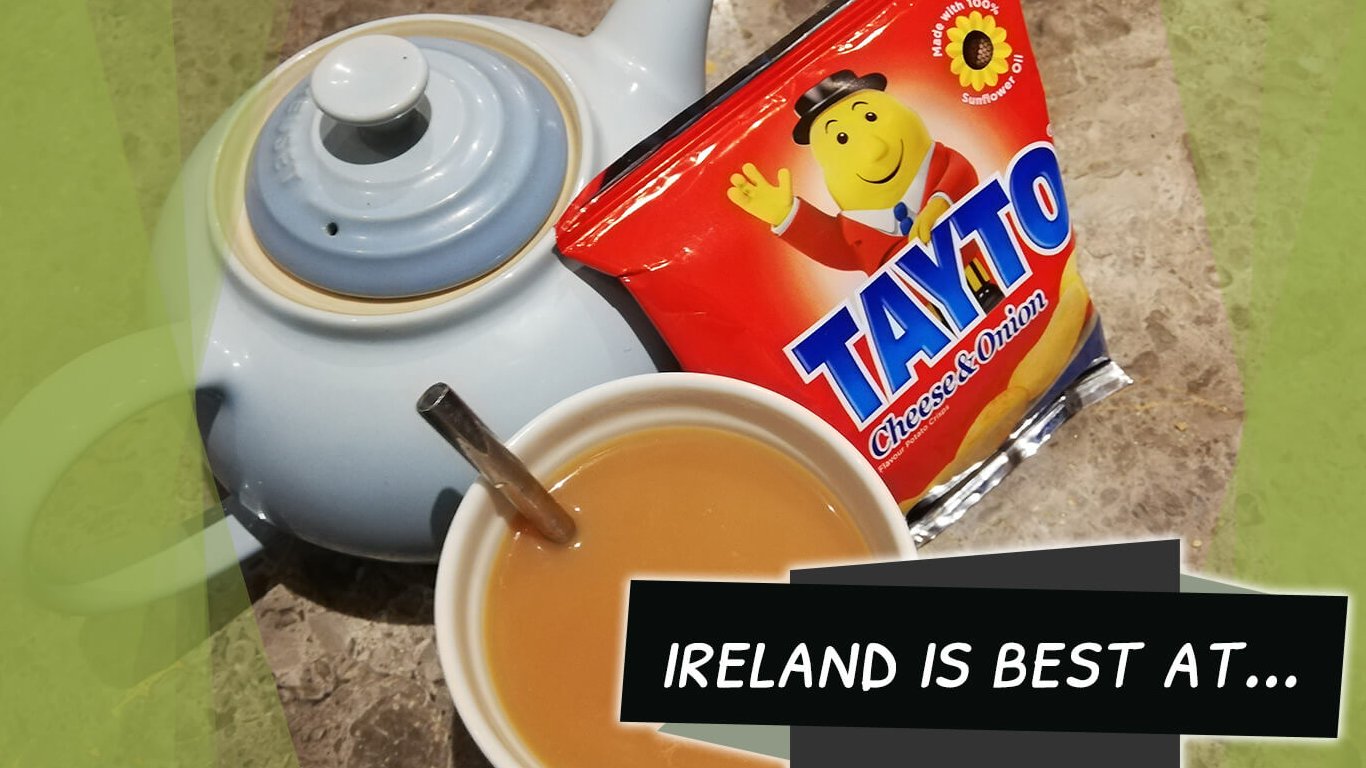 "Things The Irish Do Best? Tea and Tayto Crisps"
Rob Rankin - Managing Director and the Elon Musk of Irish Tourism
I have realised during the current lockdown that there are two things Irish people could not live without. Luckily, these are also two of the things the Irish are world-beaters at: tea and Tayto crisps.
Tea is an absolute staple for all Irish people. Some Irish people with notions of grandeur drink coffee. The rest of us tea drinkers are standing firm.
Barry's or Lyons? The most popular tea brands in Ireland can define you as a tea drinker – but that's a whole other story.
Tayto crisps are the most famous Irish crisp brand. Crisps (what you might call potato chips) are wafer-thin potato slices, deep fried and salted. The most popular variety is flavoured with cheese and onion. Let's face it… these are vegetables! One of your five-a-day.
You heard it here first folks...Tea and Tayto will see you through!
"Irish TV and Movies"
Derry - Digital Marketing and Media Genius
We Irish are famed for being great entertainers, actors and directors. I simply type 'Ireland' or 'Irish' into Netflix or Amazon Prime (or any other streaming service) and I'm served up a great selection of entertainment all about Ireland.
Some of my favourite Irish shows: the hilarious comedy, Derry Girls (no relation!), set in Northern Ireland; the equally funny Young Offenders, set in Cork, in the southwest corner of Ireland. Or have you seen the excellent drama series Jack Taylor, set in the western city of Galway?
A wide variety of Irish movies are available too. Check out I Am Patrick, about the life of our patron saint. Or watch an Irish documentary; the brilliant Katie tells the tale of Irish boxing legend Katie Taylor.
Pop the kettle on, open a bag of Tayto, sit back and enjoy.
"Irish Nature and Wildlife"
Henry - Vagaguide and Happy Horticulturist
I am passionate about nature and wildlife in Ireland. Taking a small-group tour of Ireland with me means soaking up the natural beauty of Ireland. For such a small island, Ireland is surprisingly wild. You are never too far from spectacular scenery or wild animals here.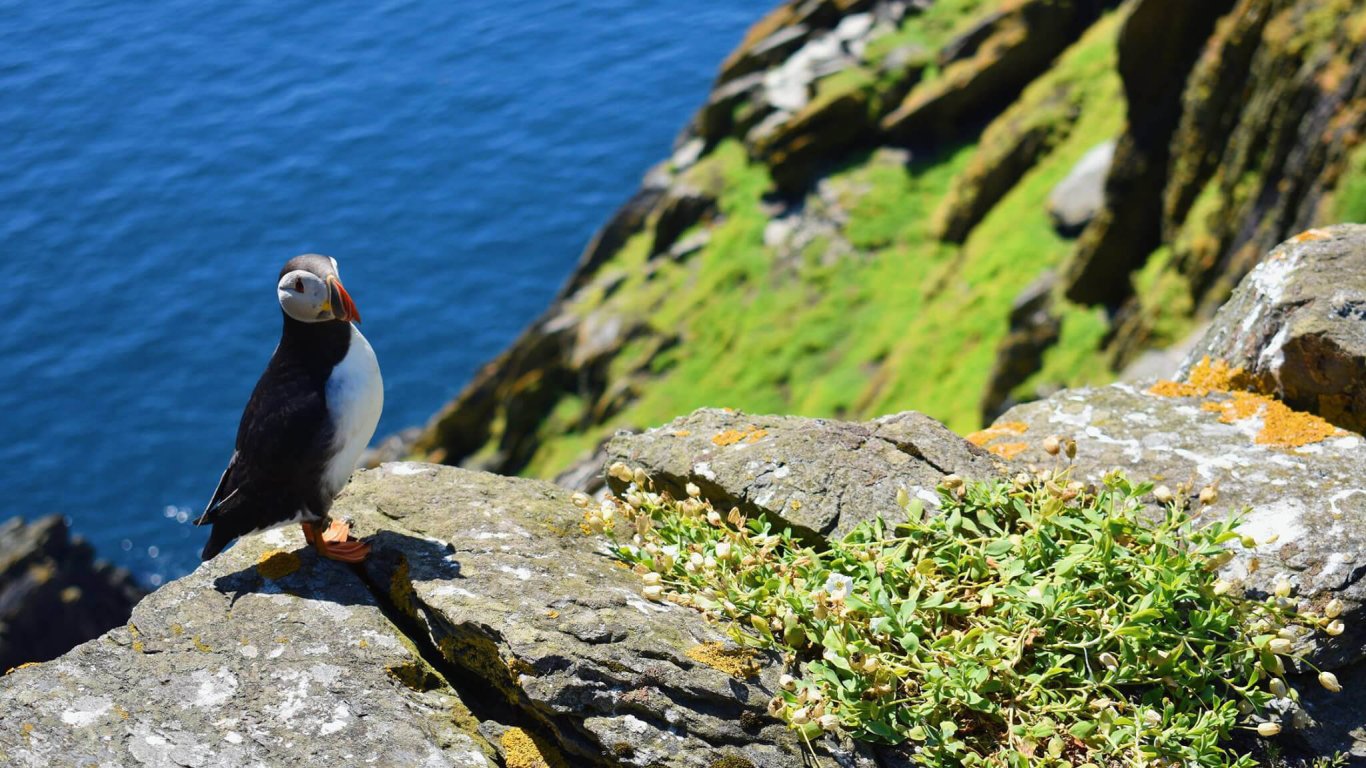 Highlights? Ireland's Wild Atlantic Way winds along 2500km of stunning coastline, hugging the ocean; check out our Wild Atlantic Way tours. Any tour of Northern Ireland or Ireland's Ancient East is guaranteed to feature epic mountains, roaring rivers, empty beaches and magical forests.
Over the coming weeks, we will be sharing images and footage from around our favourite parts of this beautiful place. Even if Coronavirus has delayed your Ireland trip, you still get to see Ireland from the comfort of your own home.
I look forward to showing you around.
"The Irish Do The Best Comfort Food"
Deirdre - Sales & Marketing Manager... and closet masterchef!
I love to cook. I'm no masterchef but my kids tend to eat well. I must be doing something right!
Now that the world is self-isolating, comfort food is the order of the day. It's the perfect opportunity to take to the kitchen with our favourite Irish recipes.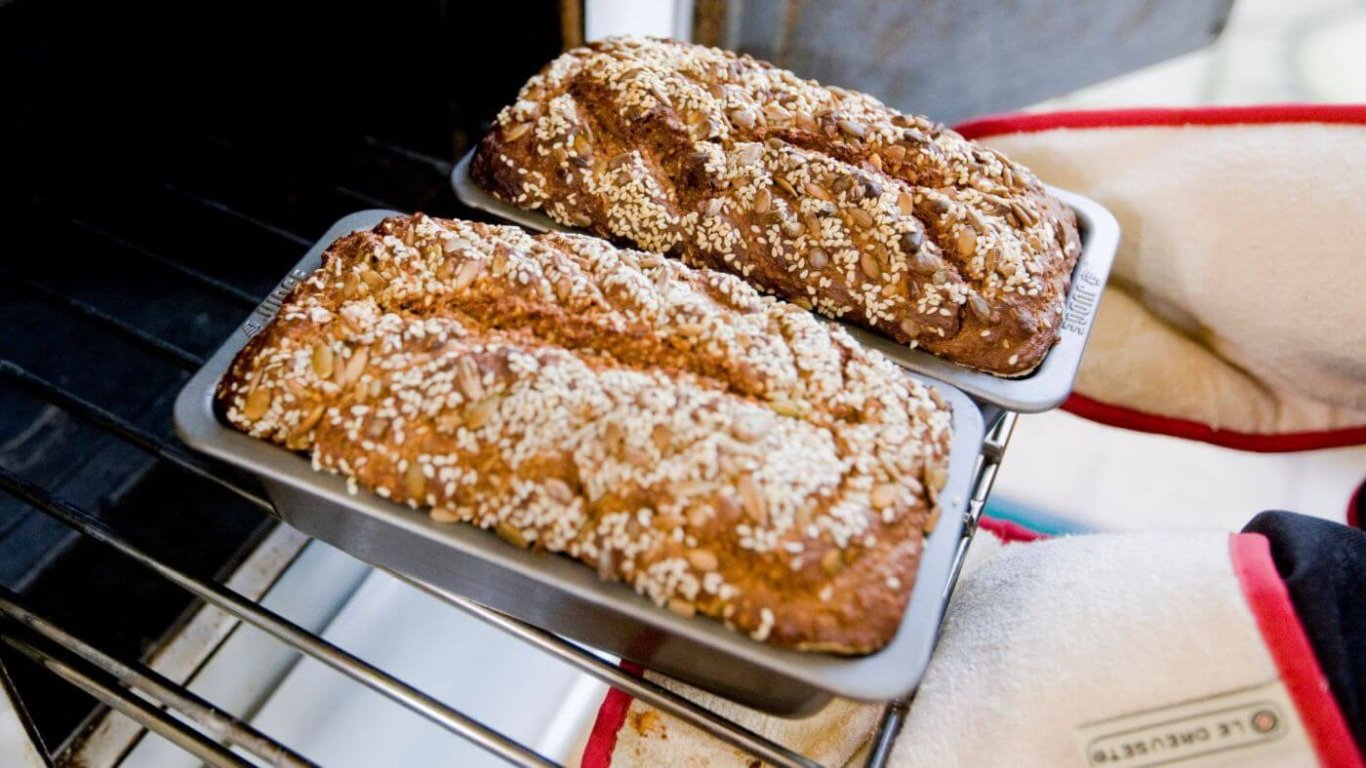 You could try your hand at a super-simple Irish soda bread recipe. Only 4 ingredients!
Or how about a warming and naturally sweet Apple Crumble?
Last year, we ran our first ever food tour with great success. We took the best of Ireland's foodie experiences and packaged them up into 6 days of mouth-watering fun along the Wild Atlantic Way.
"Ireland Does The Best Irish Dancing"
Ciara - Sales & Reservations Legend
I like to exercise and keep healthy. But the gym is not for me. Instead, I like Irish dance. Dancing gets my heart rate going and is a lot of fun.
Have you ever wanted to learn Irish dancing? Of course you have! Now is the time. Clear space in the living room, move any breakables to a safe distance and get ready to hop to an Irish jig. Feel the magic of the beat and the thrill of the dance. Impress all your friends, get your family involved and (- why not?) - make your very own Riverdance video.
Check out Stravos Flatley for some tips on how it's done!
When you visit Ireland, you might be lucky enough to get the chance to dance around an ancient stone circle. I am always here at the end of the phone if you're interested in a tour – or just want some tips on Irish dancing!
"Ireland Does The Best Irish Sports"
Vagaguide Damo – a real life Cúchulainn (Mythical Irish Hero)
Irish sports means Gaelic Games. But what are Gaelic Games? The national sports of Ireland are Gaelic football, hurling, camogie and handball. They date back centuries and are integral to understanding Irish culture and society.
Today, at least one of these ancient sports are played in almost every town and village across Ireland. The Gaelic Athletic Association (GAA) is one of the largest amatuer sporting organisations in the world. The championship season reaches a crescendo in September with the All-Ireland Finals in Dublin –- a bucket-list experience of noise and colour, if you ever get the chance.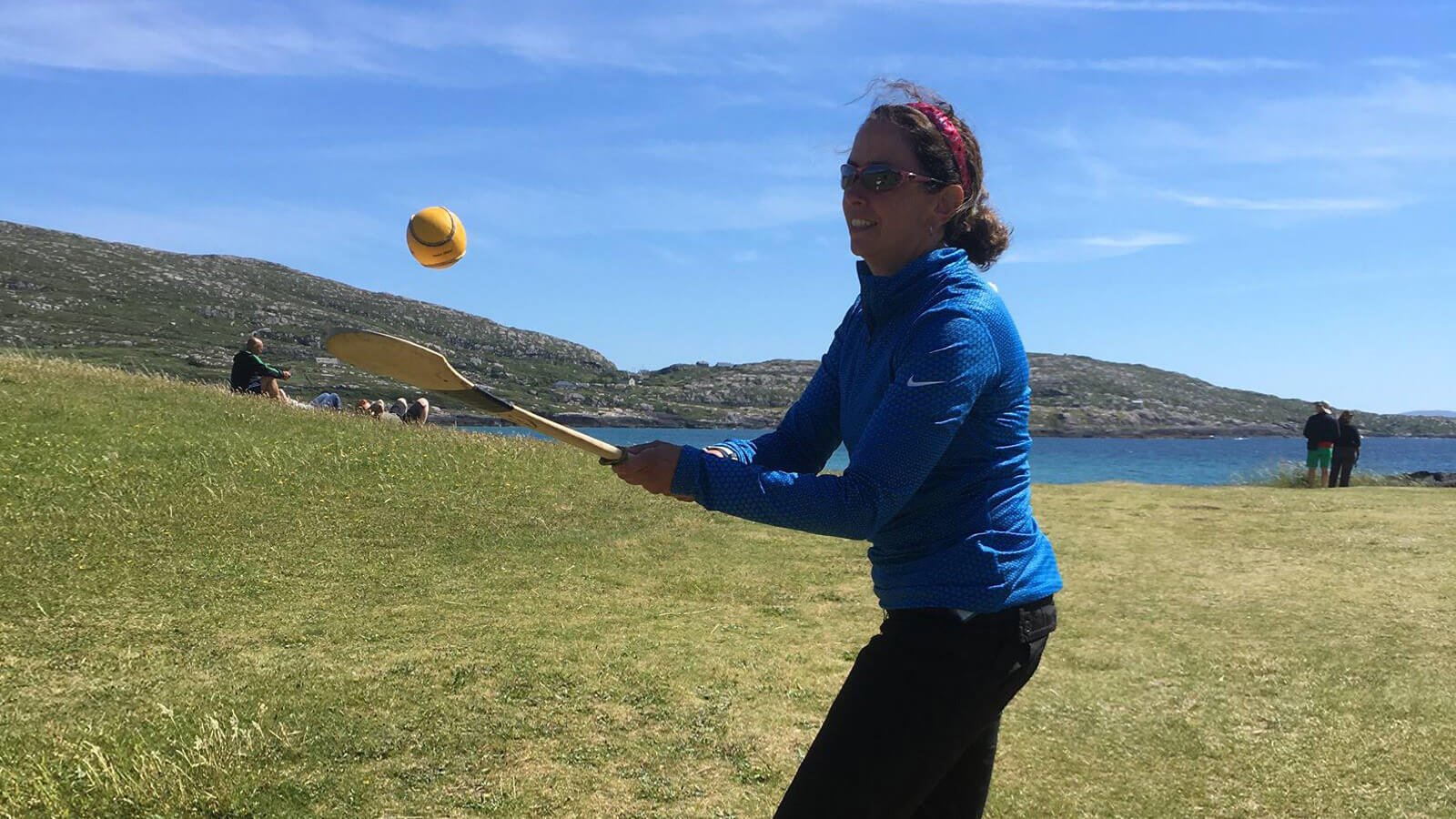 While leading Vagabond and Driftwood tours, I love to teach guests a little bit about Gaelic Games. They even get to try it for themselves! Here's a video of Americans discovering hurling for the first time.
"Irish History (and Really, Really Old Stuff)"
History nerd Tim is the VagaGuide most likely to be a future president of Ireland
As a VagaGuide, it's very important to be able to pass on Ireland's vast history in an accessible way. Guests come to Ireland to experience the stories of castles, sieges and unsung heroes. We're not just tour guides; we are also interpreters of Irish history.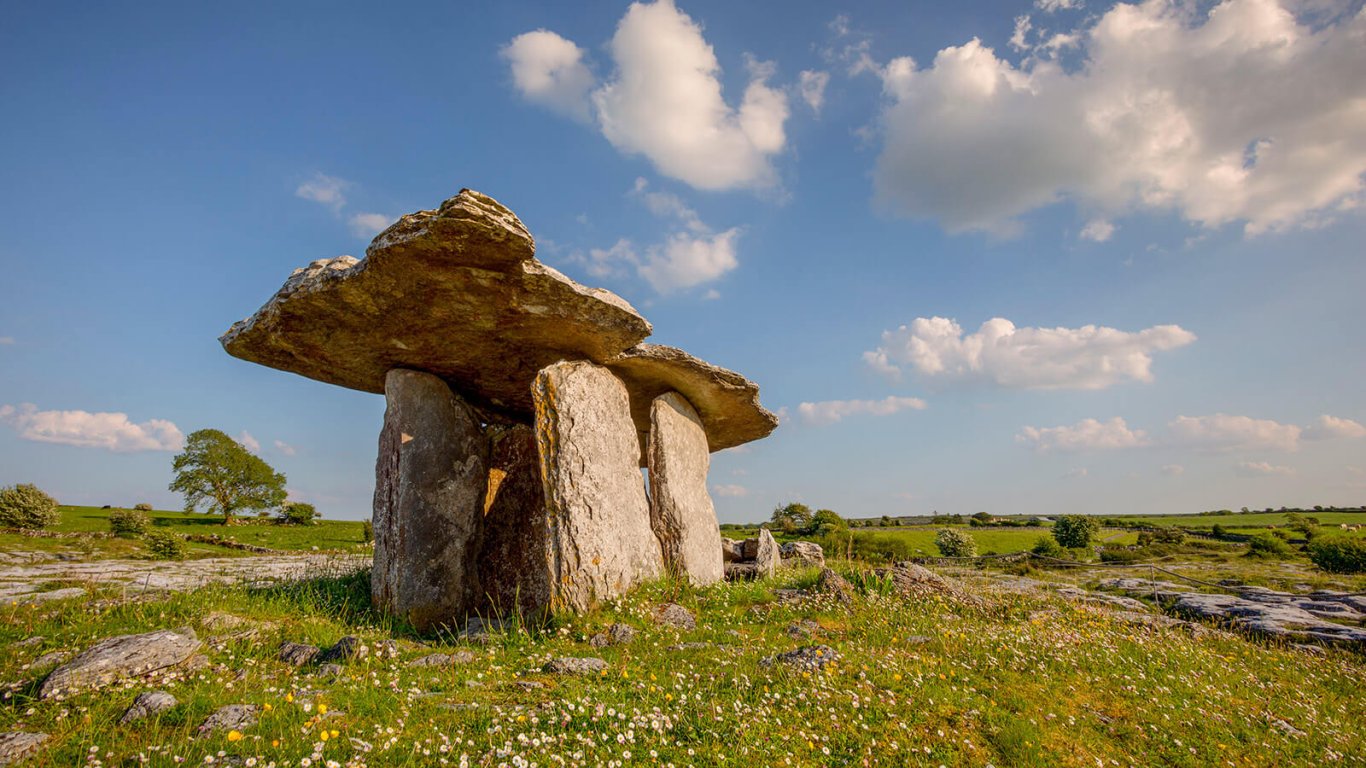 For research, I like to read books, watch documentaries and listen to podcasts about Ireland's dramatic past.
You too can learn about Ireland from the comfort of your own home. Get a headstart on history before embarking on your Ireland tours by watching this excellent documentary on YouTube. The Story of Ireland details Ireland's past from ancient times to recent decades.
Podcasts more your thing? Sit back in a comfortable chair to enjoy The Irish History Podcast.
"Ireland Has The Best Virtual Tours"
Vagaguide Behbó is Queen of Clare Island
We live in an ever-more digital world. Sometimes, this is not such a great thing. But during the current crisis, virtual tours allow us to visit Ireland's rich heritage and stunning natural scenery from the safety of our own homes.
Step out onto Ireland's edge with a virtual tour of the Cliffs of Moher.
Or climb to the top of Skellig Michael, Ireland's otherworldly island treasure.
Walk through the neo-classical building that houses the National Library of Ireland in Dublin.
I love museum.ie as it gives me online access to Ireland's four national museums; from archeology and decorative arts to country life and natural history.
Dingle is a consistent favourite destination among our tour guests. This wonderful drone footage captures the magic of the Kerry landscape:
Alternatively, take a sneak peak at where the Irish president lives… I'll be visiting Vagaguide Tim here in years to come!
So when we are stuck indoors, you can still visit the Eemerald Iisle.
"Irish Literature is Famous Around the World"
VagaGuide Edwina is our resident bookworm
I love a good book. From Swift to Shaw and from Joyce to Wilde, Ireland has an incredibly rich literary history to choose from. It's not all Nobel Prizes, though! Modern bestselling authors from Ireland include Sally Rooney, Frank McCourt, Roddy Doyle, Sebastian Barry and Maeve Binchy.
Admittedly, I am not always reading about Ireland. But one of my favourite Irish history books is Unsung Hero by Michael Smith. It's about the life of legendary Irish explorer Tom Crean.
You get to visit his hometown on many of our southwestern tours. You may even get to enjoy a pint in the pub where he was landlord! I feel proud every time I speak of Crean.
There are tons of other great books about Ireland. Dive right in and enjoy the magic that flows from this green patch of paradise.
Find some other great books to read about Ireland
"Ireland Boasts Some Of The World's Best Music"
VagaGuide Michael is our all-singing, all-playing virtuoso
I spent years learning the piano. Not with great enthusiasm back then, I must admit. Now that I'm older, I really appreciate knowing how to play an instrument. I play more guitar nowadays. I do like to sing – though I'm no Luke Kelly – some of my guests can stand testament to that!
One of the reasons I love being a VagaGuide is the chance to enjoy traditional Irish music being played live in local pubs. My guests adore Irish music. It's the perfect introduction to Irish culture. There is some real talent out there that you can enjoy for the price of a glass of stout. Happy days.