Who Wants A Seat On My Bus? 🙋‍♀️
I'm Edwina, a VagaGuide — and redhead — from Cork originally but now living in Mayo.
Jump aboard and join me to understand what happens on a fun and frolicksome small-group tour of Northern Ireland.
Now, read on for 6 days of twisting laneways, ruined castles and smiling craftspeople in the land of a 100,000 welcomes.
I know I can't wait...
Are you ready? Let's go!
All aboard and welcome on tour!
Our 6 Day Driftwood Northern Island tour is ready to go!
For the next 6 days, we will be touring the beautiful northern half of Ireland together.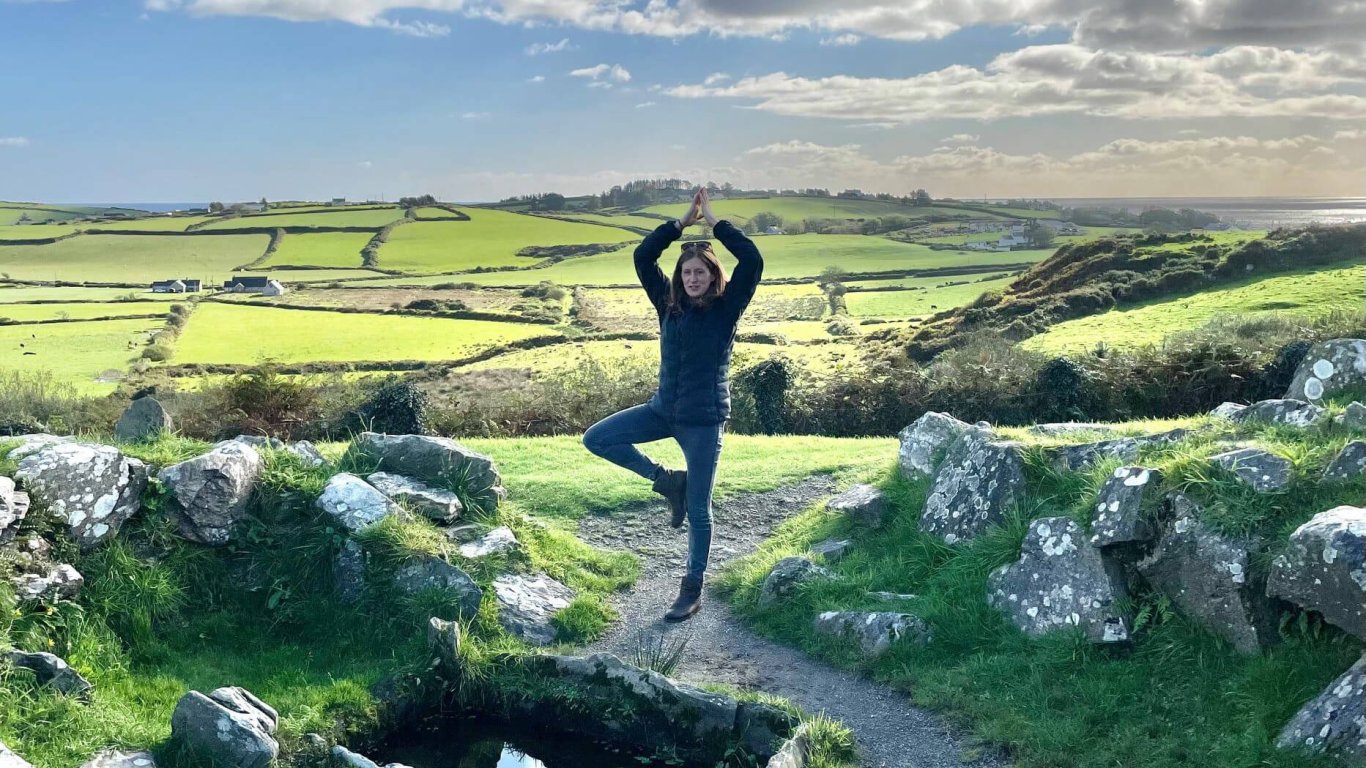 I'm Edwina — you can call me Ed! — and I'm your personal VagaGuide.
My job is to show you the very best of the northwest Wild Atlantic Way and Northern Ireland for the next 6 days.
Our comfortable Mercedes tour vehicle is full of excited faces and ready for launch.
Strap yourselves in and away we go! 🎉
🌷 Welcome to Mighty Mayo!
Funnily enough, we happen to be starting our tour in my adopted county: Mayo.
It's a less-visited part of Ireland, nestling in the northwest.
But Mayo is just as beautiful, if not more so, than more famous parts of Ireland.
Here's a map of our planned route across the island of Ireland: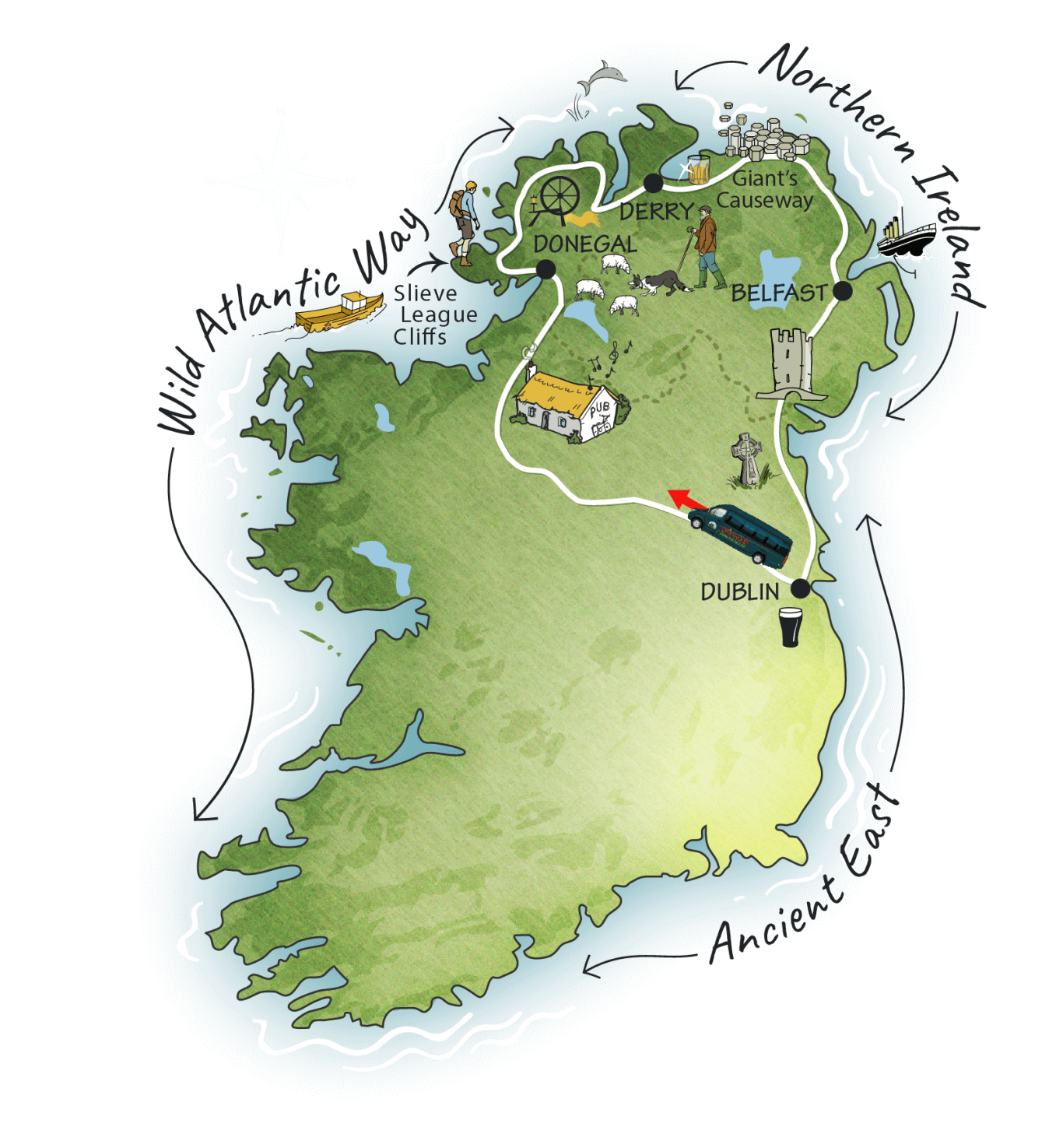 We're going to draw a semi-circle around the northern half of Ireland.
We'll start from Dublin, in the Republic of Ireland, and move in a counter-clockwise direction. After exploring Mayo, Sligo and Doneal, we'll dip into Northern Ireland for the second half of the tour, and then head south again to finish in Dublin.
🙋 Questions, Questions...
Our small-group tours often start with questions.
You've just touched down in Ireland, probably for the first time. Naturally enough, you're inquisitive.
A frequently asked early query is, what was life like in Ireland long ago?
Well, this afternoon you're going to find out.
One of our favourite Irish heritage sites to visit and a superb introduction to Ireland is the National Museum of Ireland - Country Life.
Exhibits cover topics like folk music, weaving, architecture and sports. It's the perfect introduction to daily life in historic Ireland.
This being a relaxed Driftwood tour, you'll enjoy plenty of time to explore the museum and wander its magnificent grounds.
You will also tuck into a hearty lunch here in the picturesque surrounds of mighty Mayo.
🦅 Relax Tonight At Mount Falcon
Your hotel tonight is at Mount Falcon Estate, a romantic and characterful 4 star hotel.
Choose a welcoming drink in the bar. Or change into your swimming trunks and relax in the spa before dining.
In the landscaped hotel grounds, you may get the chance to experience birds of prey first-hand with the hotel's resident falconer.
Supper is a sumptuous feast of some of the finest local food that Mayo has to offer.
Mount Falcon is the perfect way to unwind after an exciting first day on tour in Ireland.
After a restful night, we enjoy a hearty Irish breakfast at Mount Falcon before hopping onboard for our second day touring.
Today we travel from Mayo to Donegal in Ireland's remote northwestern corner.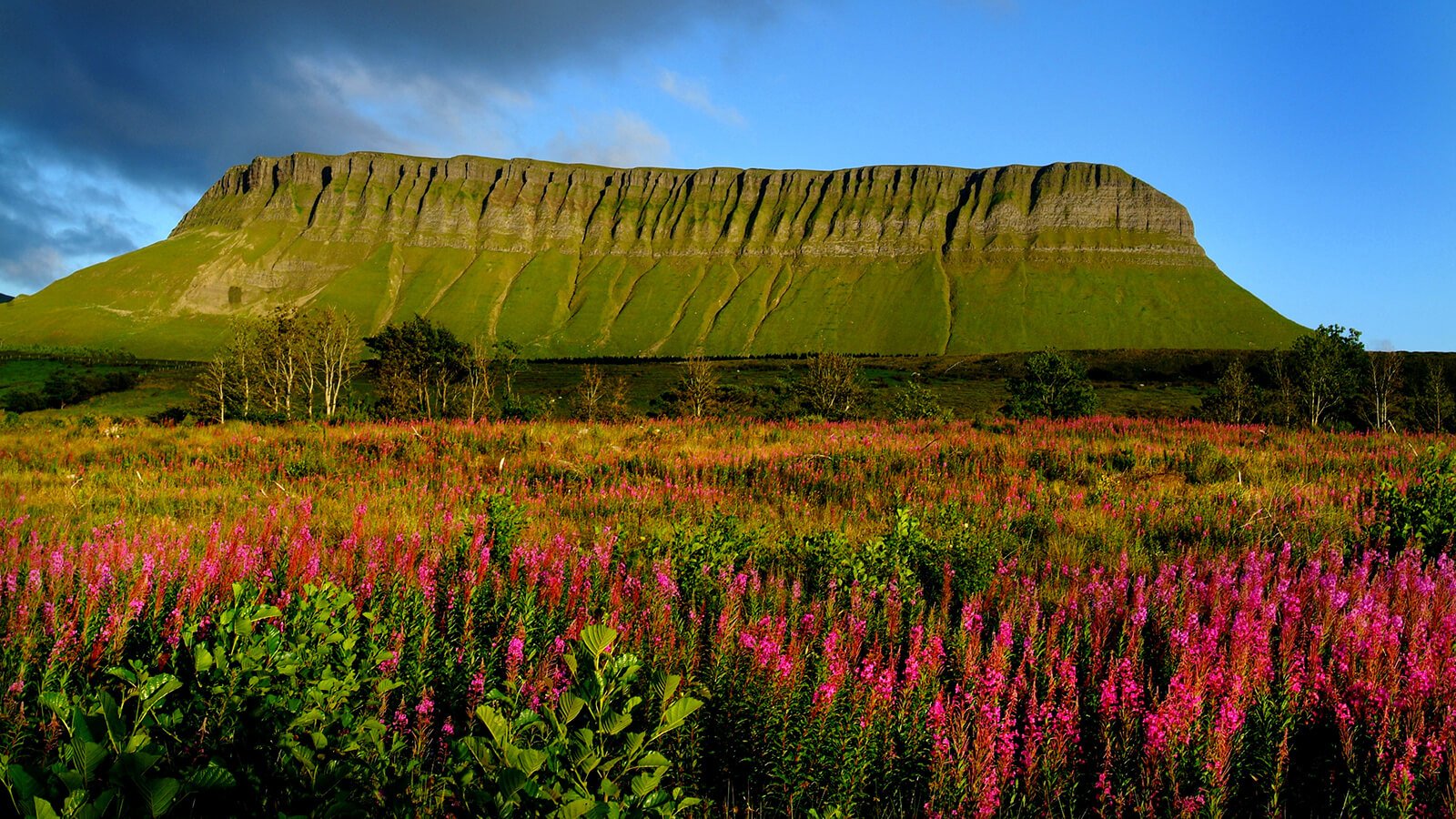 Our route hugs the coast and takes us through the county of Sligo.
Look to the left out of your Drifter tour vehicle and waves are crashing on the Atlantic shore.
To the right, dramatic mountainscapes emerge from the mist.
⛪ Soaking Up Sligo History and Culture
Our first stop is at the ancient village of Drumcliffe.
View the remains of a 1000-year old high cross and ruined round tower.
Listen as I relate the story of Saint Colmcille, one of Ireland's most influential early Christians. He founded a monastery on this very spot in AD 574.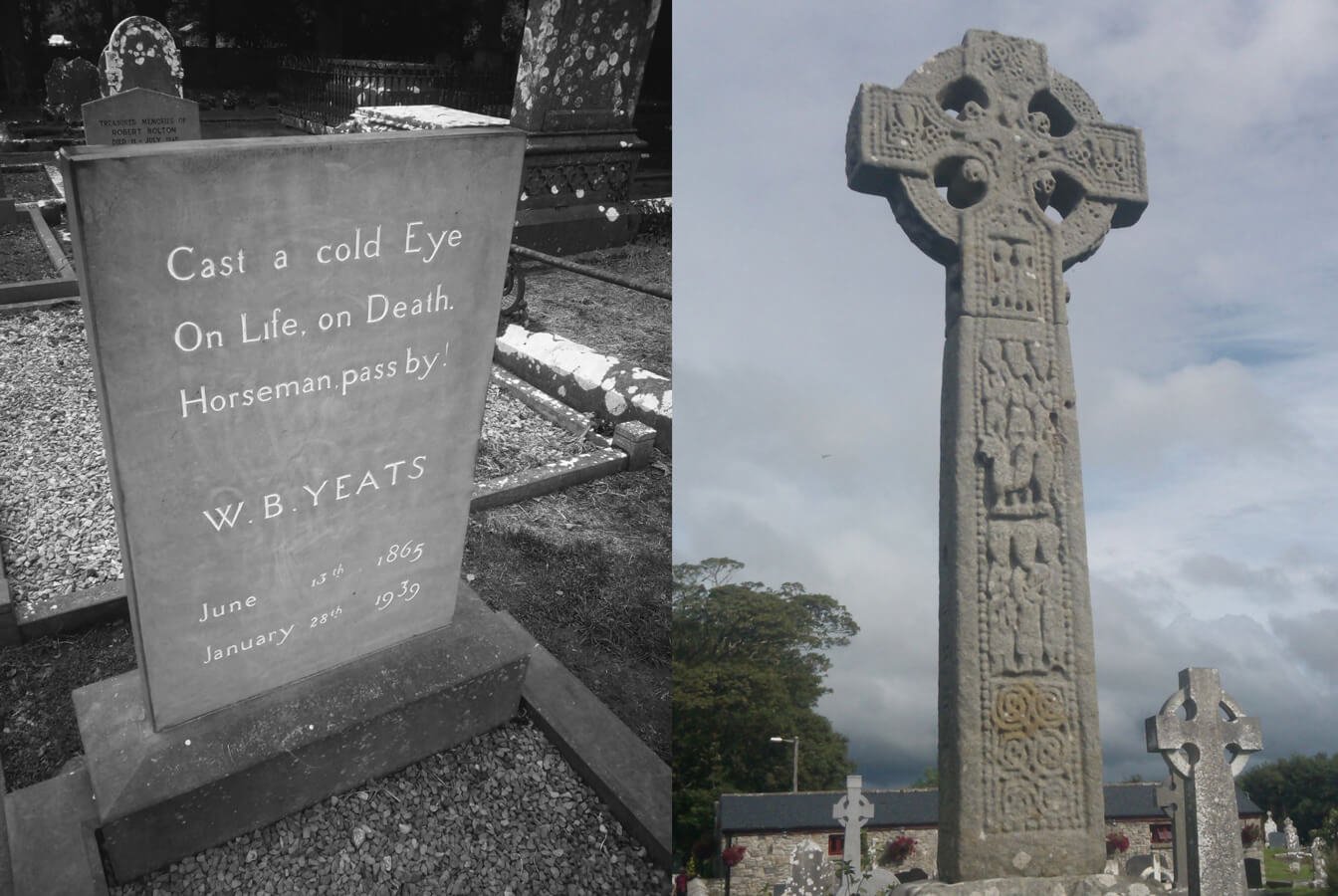 In later times, this graveyard has become famous as the final resting place of a literary giant; the magical and mystical W. B Yeats.
Indeed, all of this picturesque corner of northwestern Ireland is known today as Yeats Country.
🌊 Boat Trip To Slieve League Cliffs
How are your sea legs, me hearties?!

Slieve League Sea Cliffs is the setting for a fun and spectacular boat trip.
This being a flexible and easy-going Driftwood Tour, however, the boat trip is totally optional.
Donegal has so much more than scenery though.
We could take a guided tour of 15th century Donegal Castle, ancestral home of the O'Donnell chieftains.
Or we could enjoy some retail therapy in Donegal town, discovering the best of handmade local Donegal tweed, followed by a traditional Irish pub lunch.
🧶 Step Into An Irish Craft Studio
As the end of our second day draws near, we'll have the opportunity to meet a true master craftsman at work.

Eddie Doherty is one of Ireland's few remaining handweavers. 60 years experience means Eddie has a wealth of knowledge to share with you all.
Your stay in this part of Donegal is a great opportunity to sample live Irish music.
Talented musicians perform nightly in the small and authentic Irish country towns dotted around south Donegal.
A beautiful morning greets us on Day 3.
We drive north through gorgeous, green glens of Donegal. This route leads us to Glenveagh National Park.
Here we have time to explore the hauntingly beautiful Glenveagh Castle & Gardens, nestled on the shores of romantic Lough Veagh.
😲 Our Next Stop Will Take Your Breath Away...
One of our favourite — and most spectacular — places to visit in Donegal is the Grianán of Áileach.
This stone ringfort dates back to the 6th century. Some say Grianán even features on Ptolemy's 2nd century World Map.
From the top we'll look out over incredible 360° views across Lough Swilly and Lough Foyle at the very northern tip of Ireland
☘️ Our Tour Enters Northern Ireland
Crossing into Northern Ireland, remember to switch to using £ pounds sterling.
(That's because the island of Ireland has two countries and, therefore, two currencies).
Aside from differently-coloured licence plates on cars, that's about the most noticeable difference that you've just left the EU and the Republic of Ireland. There are no border controls and everyone looks and sounds the same!
Our end goal is the city of Derry/Londonderry. We actually have to drive under its still-intact 17th century walls to reach downtown.
The Maiden City enjoys a dramatic location on the River Foyle. It has been the setting for stories of siege and conflict for centuries.
We think the best introduction to Derry/Londonderry is on the famous walls, which had their 400th birthday in 2014.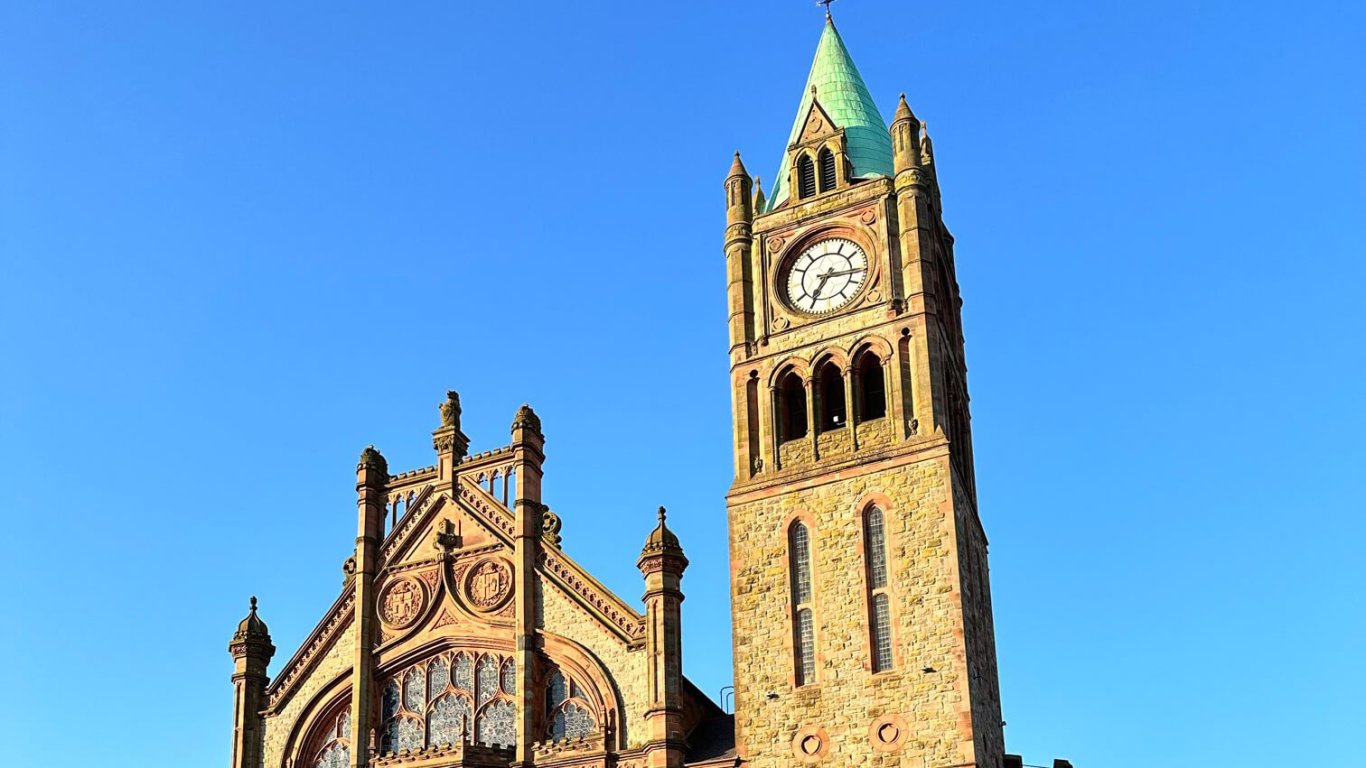 So we're going to leave you in the capable hands of Martin for an interactive, historical walking tour.
🌅 The Sun Sets On Another Day...
After soaking up the culture of Derry/Londonderry, how about retiring to your townhouse hotel for the evening?
Your accommodation tonight is at the charming Shipquay Hotel. It's conveniently located right in the city.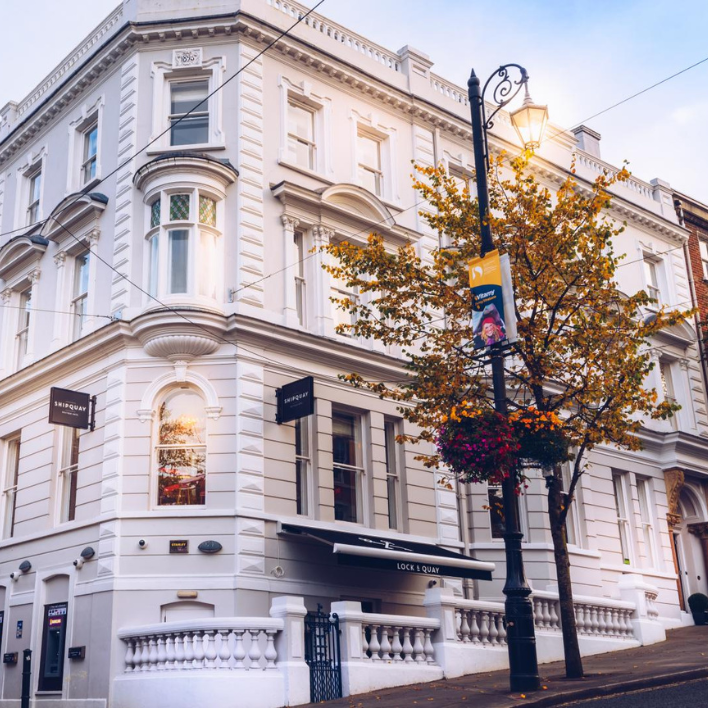 Day 4 dawns and we're about to cross the Giant's Causeway off our Northern Ireland Bucket List!
This UNESCO World Heritage Site is a geological wonder.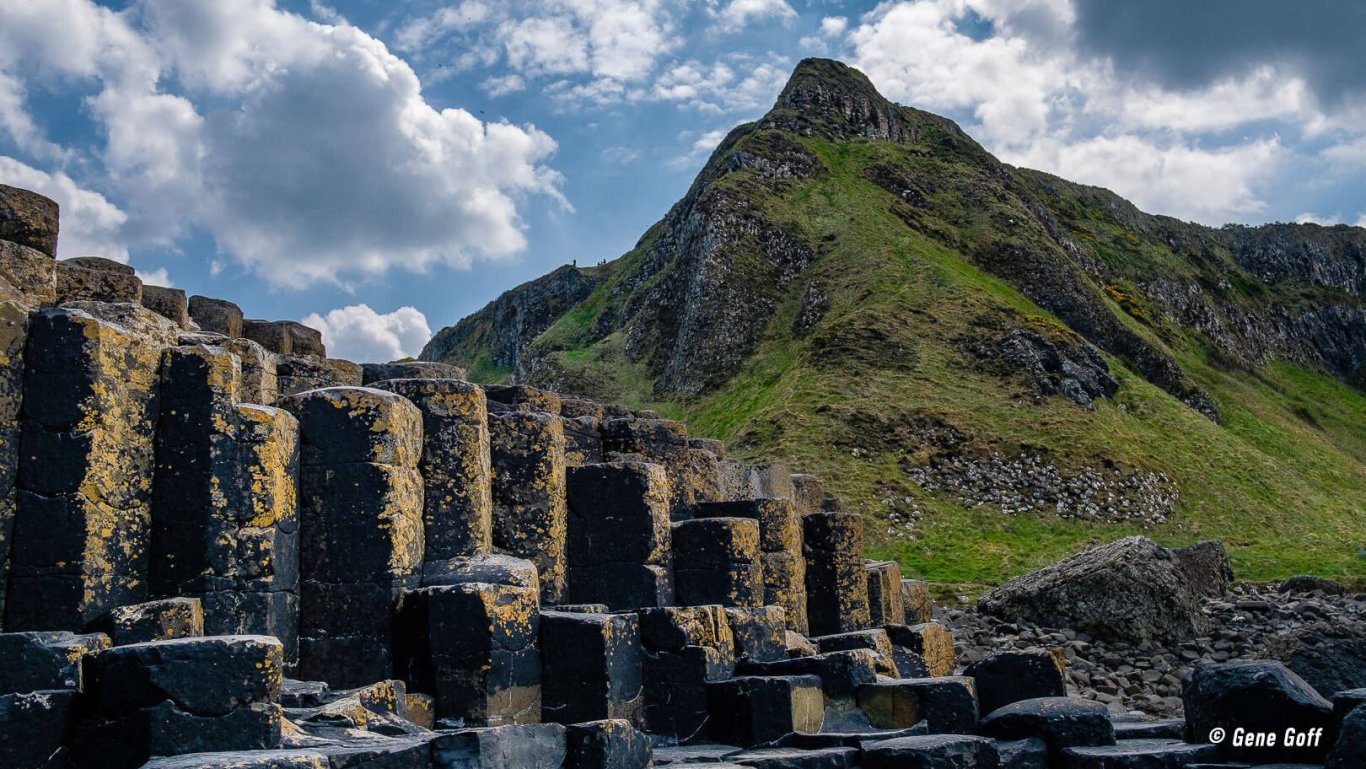 Science tells us it was formed millions of years ago.
Massive volcanic eruptions poured out magma, which then cooled into thousands of identical, hexagonal basalt columns.
Irish folklore, on the other hand, tells a different story.
According to the legend, Finn McCool and his giant-fighting ways are to blame!
🥃 Taste Irish Whiskey
This afternoon, you have the option to taste the produce of Bushmills Irish Whiskey Distillery.
Believe it or not, there has been smooth and sumptuous whiskey triple-distilled on this spot since 1608.
Raise a glass to the world's oldest licensed whiskey distillery.
👻 Ready For Your Haunted Castle Stay?!
BOO!!
Don't worry, only me, Edwina, jumping out at you from the haunted room at Ballygally Castle Hotel.
Ballygally — what a great name! — is located right on the gorgeous Causeway Coast.
Not only is it an excellent boutique hotel but it features a 17th century castle tower too, replete with ghost (allegedly).
Ballygally is just one of the castles you'll see on your Northern Ireland tour.
Others include the mighty 12th Century Carrickfergus Castle, clifftop Dunluce and the medieval Norman stronghold of Dundrum.
This morning, we're heading for the beautiful and historic city of Belfast.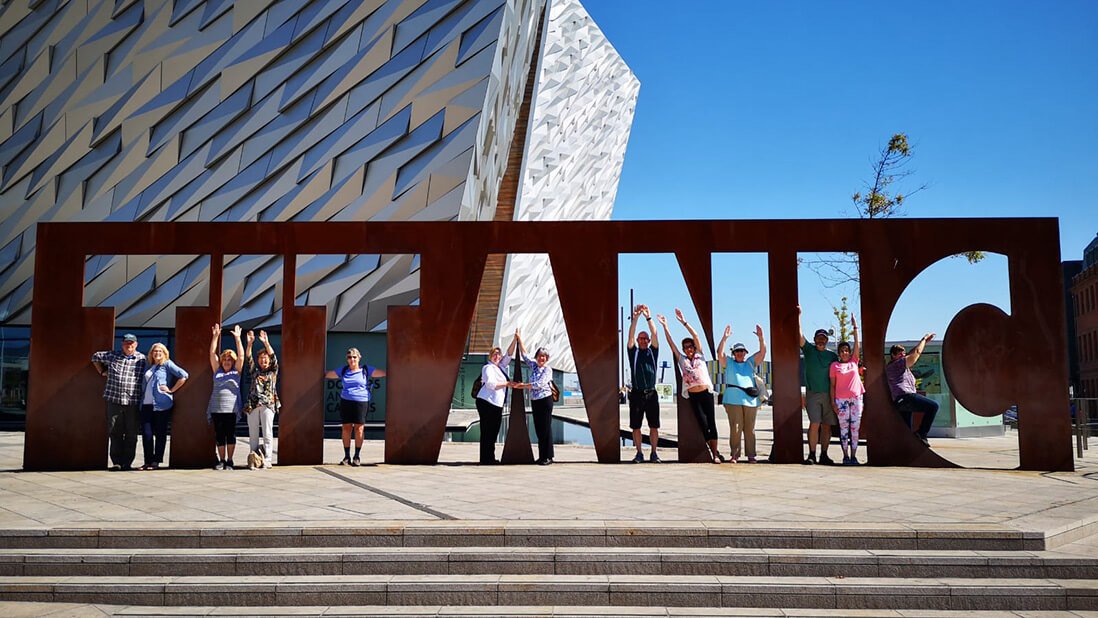 The capital of Northern Ireland is bursting with things to do.
Explore the city's vibrant history on a historical Black Cab Tour

Or visit the Titanic Centre, the world's largest Titanic visitor experience
Decisions, decisions...
Whichever you choose, you are guaranteed a great time.
After a delicious lunch in Belfast, we make a beeline for the countryside once again.
🤗 Not Another Quaint Village!
At Vagabond & Driftwood, we always prefer to head off the beaten path, to less-visited corners of Ireland.
This afternoon, we'll unearth the life and legend of Ireland's patron saint at the Saint Patrick's Centre and Down Cathedral.
But our priority on easy-going Driftwood tours is always to relax.
So I've planned an early arrival tonight at our hotel.
Welcome to Strangford, one of the most scenic but little-known coastal villages on the island of Ireland.
The Cuan is a boutique hotel with a charming atmosphere.
It's our final meal and get-together so we're looking forward to it.
The last day of our tour begins...
Today, we're headed due south from Strangford, in Northern Ireland, to Dublin, in the Republic.
Of course, there's still time for some amazing highlights on your final day.
We'll visit the historical burial place of Saint Patrick, Down Cathedral.
Time allowing, we could also imagine knights battling at Dundrum Castle.
The granite-topped Mourne Mountains offer a delightfully scenic route south.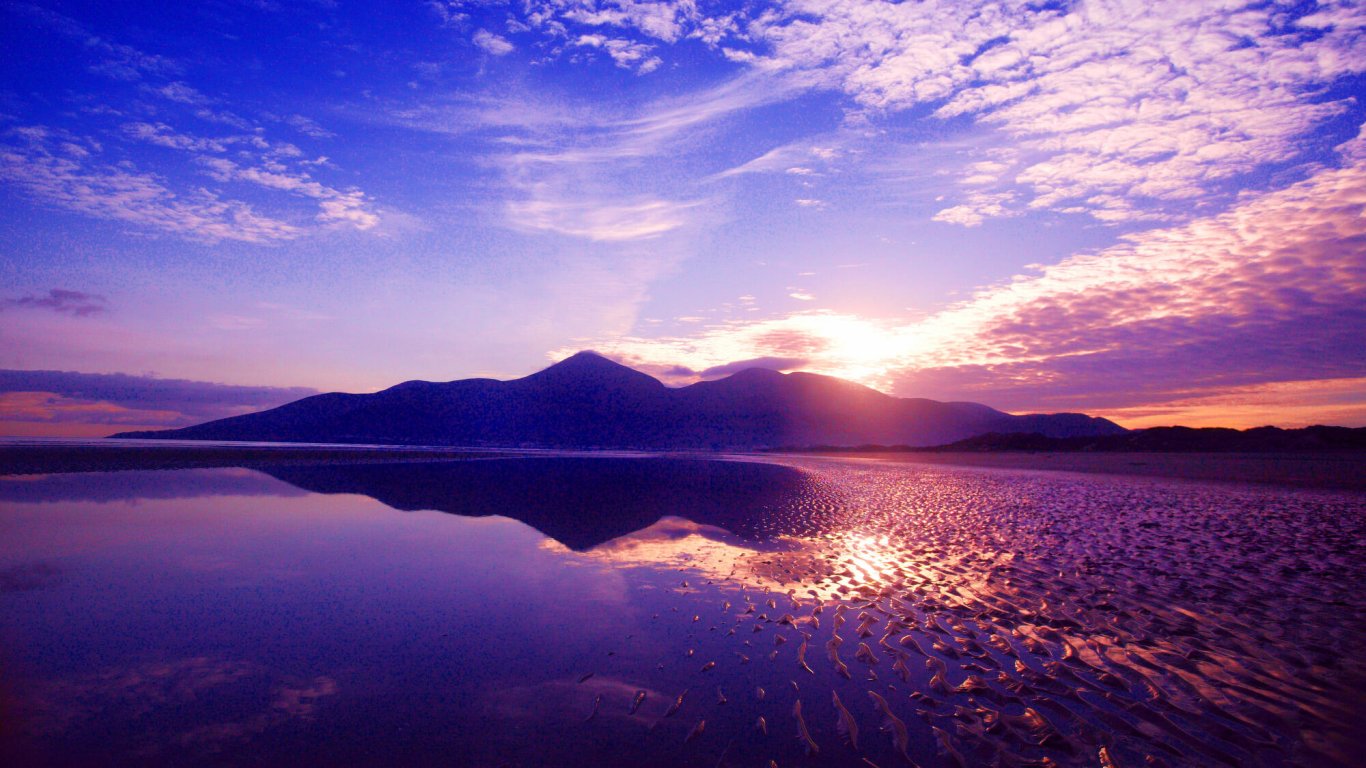 ✝️ A Fitting Finale
After crossing back into the Republic of Ireland — and the eurozone — we'll take a last step back in time.
Our appointment is with the ancient monastic settlement at Monasterboice.
Aside from the wonderful story of its patron saints, the clear highlight for us at Monasterboice are the collection of Celtic high crosses.
Muiredach's High Cross is arguably the best example in the whole of Ireland.
It's over 1000 years old and stands 5.5 metres high; that's nearly 19 feet tall!
Then it's back onto our Drifter tour vehicle for the last time.
We speed south to Dublin to disembark.
😢 A Sad Farewell...
For the past 6 days and nights, we've explore a less-visited corner of this incredible island together.
We discovered the ancient beauty of Northern Ireland. We dropped by Donegal, stepped onto the Giant's Causeway, boogied into Belfast and got merry in Derry. And so much more!
As a recent happy guest wrote in her TripAdvisor review,
"Small tours can get to places the big coaches cannot plus with a smaller group, you get to know people better and it takes less time getting on/off."
Edwina is my name. I'm proud to have been your driver, your expert Ireland guide, your resident storyteller/joker/choir leader and also — now — your friend in Ireland.
Please share this tour diary with your loved ones.
There's never been a better time to visit Ireland!
☘️ Want To Tour For Real?
What do you have to do to come tour with us for real?
A great first step is to get more details on the 6 Day Driftwood Northern Island Tour page.
You may also care to download and read the tour itinerary [pdf].
Check out our other easy-going Driftwood Journeys of Discovery.
Alternatively you can see which other tours visit beautiful Northern Ireland in our helpful FAQs section.