Meandering along 2,500 km of rugged Irish coastline, the Wild Atlantic Way should feature highly on any self-respecting 2022 Ireland bucket-list.
Kayaking through aquamarine seas. Horseback-riding along golden beaches.
You will fully embrace all the Wild Atlantic Way has to offer on our small-group adventure tours.
Now read on, intrepid Vagabond, to peruse our list of 9 Wild Atlantic Way sights you simply cannot miss.
📍 Location: County Clare
You've all heard of this place, right?
The iconic Cliffs of Moher are Ireland's most popular natural attraction with over one million visitors a year.
The cliffs stretch 8km along the coast in Clare. On a clear day you can gaze right out to the offshore Aran Islands, across Galway Bay and the distant mountain peaks of Connemara.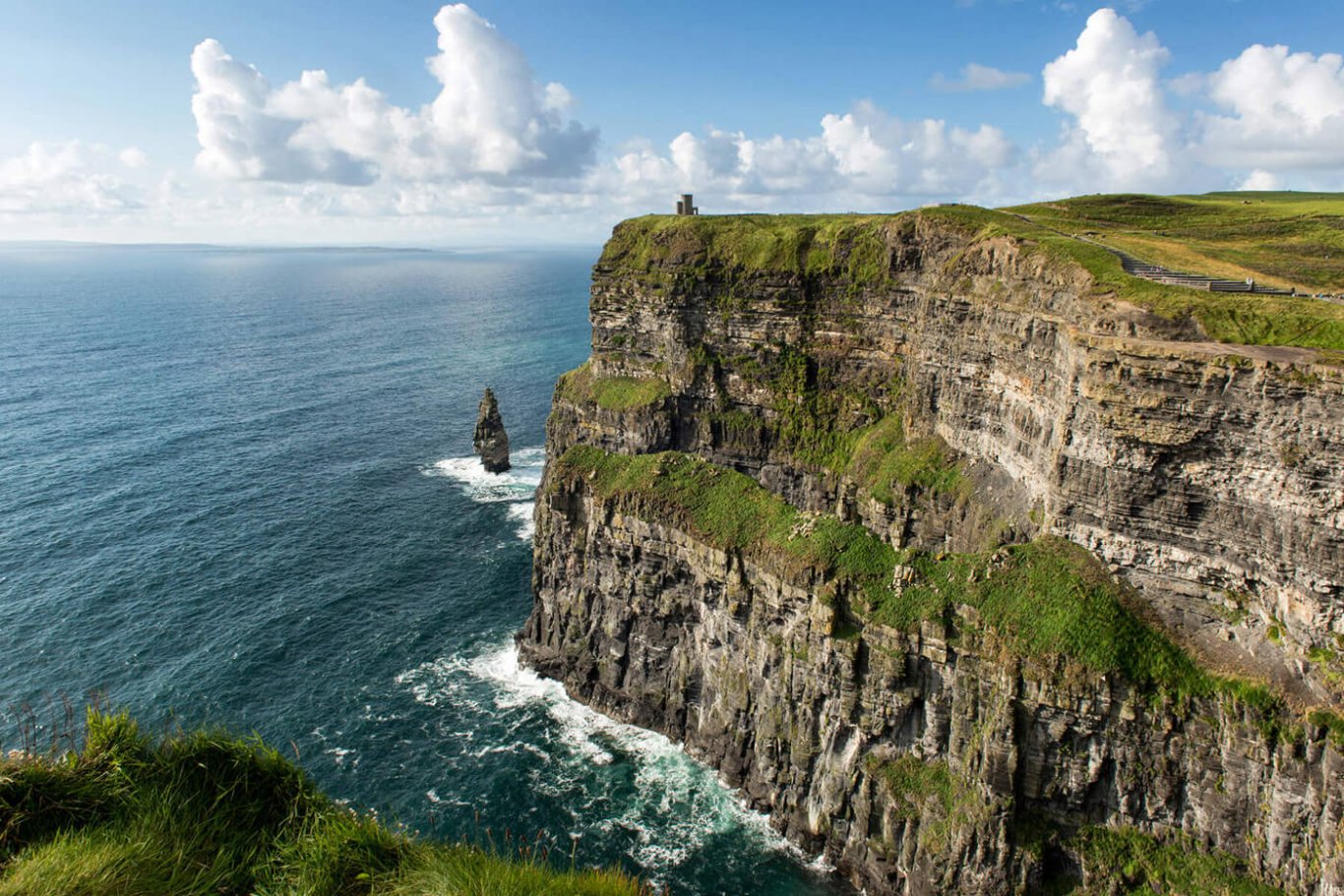 💡 Did You Know? The cliffs even made an appearance in Harry Potter and Half Blood Prince.
Bands of limestone combined with coastal erosion have shaped these cliffs over millennia.
The interpretive centre on site is excellent, and provides interesting info on the geology and history. You can take in this spectacular landscape on the viewing platform outside the centre, or along the numerous viewing points on the cliff walk.
See the Cliffs of Moher for yourself on many of our active Vagabond Cultural Adventures and gently-paced Driftwood Journeys of Discovery tours.
📍 Location: County Donegal
At 601 metres, the Slieve League cliffs are among the highest in Europe, let along Ireland.
Dropping straight from peak to ocean, facing due west, these quartzite sea cliffs catch the rays of the setting sun perfectly.
Stone slabs lead you to a series of progressively more impressive viewing points. It is possible to venture even higher, though good hiking shoes are a must.
Slieve League forms part of the International Appalachian Trail, sharing the same geological origin as the Appalachian Trail in Newfoundland Canada. We think that's pretty awesome!
💡 Did You Know? Slieve League Cliffs reach almost three times higher than the Cliffs of Moher.

Discover Slieve League on our 7 Day Magnetic North Adventure Tour
📍 Location: County Mayo
We bet you don't know this one!
Journey south beyond Louisburgh or north from Leenane in Connemara and you will uncover one of the true hidden treasures of the Wild Atlantic Way.
The serene Doolough Valley lies enclosed by the mighty Mweelrea mountain to the east and the Partry mountain range to the east.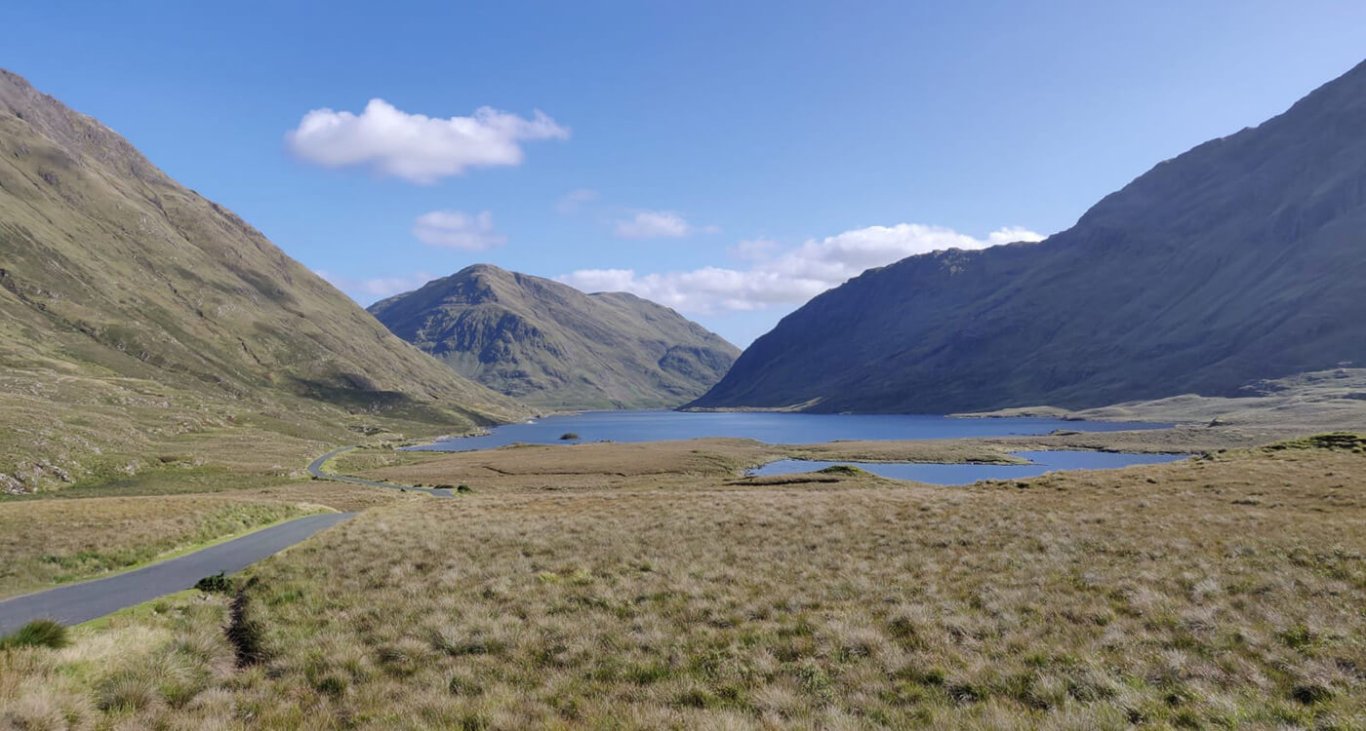 A narrow winding road meanders its way through lakes and rivers on the valley floor.
Like many places along the Wild Atlantic Way, it is best to be prepared to stop suddenly for ambling sheep!
💡 Did You Know? With such incalcuable beauty on all sides, you'll find it hard to believe that this was the site of the infamous Doolough tragedy of 1849.
Stand in awe at the magnificient valley and learn about its history on our 11 Day Driftwood Discover Ireland Tour
📍 Location: County Mayo
Lose a sin with every step as you conquer Ireland's holiest mountain.
The dramatic cone of Croagh Patrick remains a pilgrimage site, just as it has been for over 5,000 years.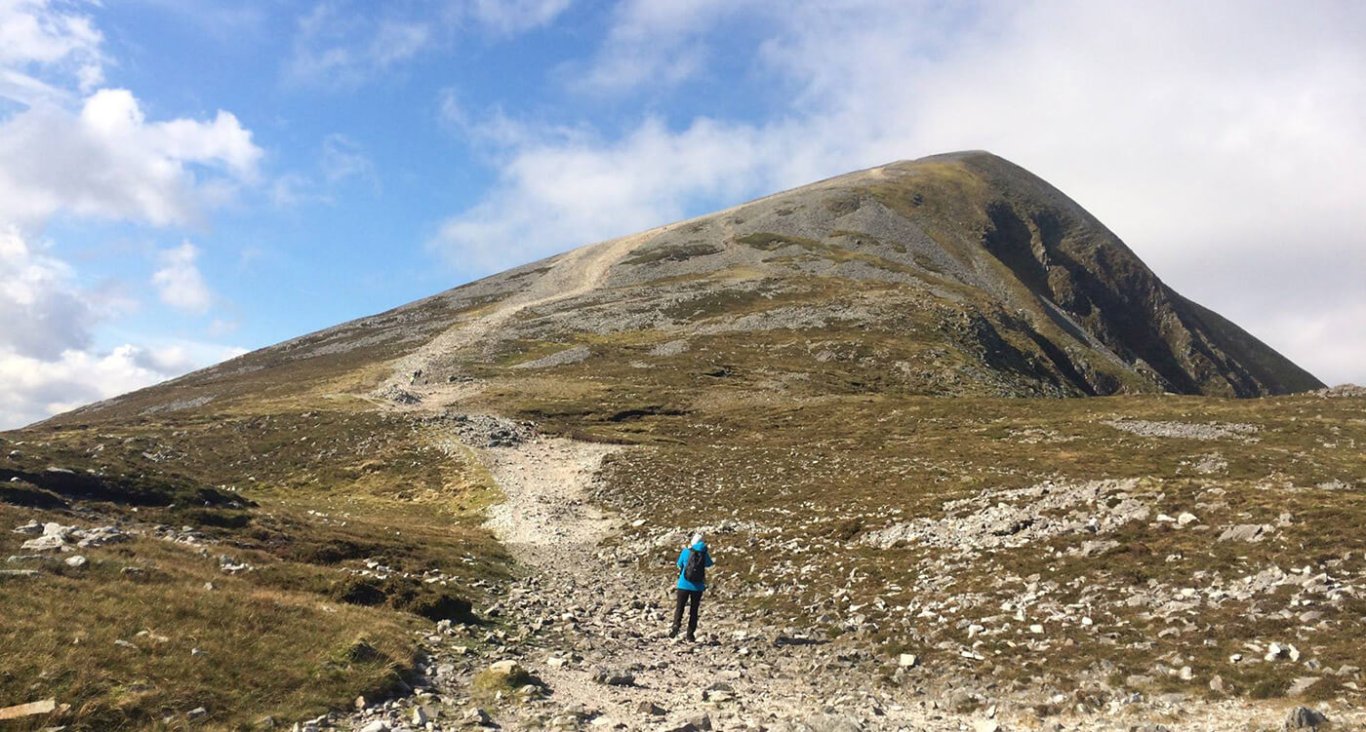 Enshrined first by pagans, then by Christians, Croagh Patrick is located just outside the picturesque town of Westport.
The path up the mountain is rocky and surprisingly challenging for a summit of only 764m (2,507 ft).
Even if you don't make it to the top, you can hike part of the way up the lower slopes of Croagh Patrick and still take in stunning views of Clew Bay below.
Look west and north for further vistas of Clare Island and Achill Island.
💡 Did You Know? They don't call it Croagh Patrick around here. The mountain is known locally as 'The Reek'.
Hike Croagh Patrick and admire the breathtaking views on our 7 Day Magnetic North Adventure Tour

📷 Photo credit: Vagabond guest Melissa Knipfel
📍 Location: County Kerry
A long and sandy beach that offers panoramic views of the Dingle and Iveragh peninsulas, a visit to Rossbeigh never fails to impress.
Although located along the famous Ring of Kerry, Rossbeigh is relatively unknown to overseas visitors and still retains a peaceful demeanor.
The beach is popular with surfers, horseback-riders and hikers alike.
Of course, at Vagabond Tours, we do Rossbeigh a little differently. Our 4x4 offroad touring vehicles bring you to a secret viewing point, high above the ocean, so you can really soak up all the breathtaking scenery.
💡 Did You Know? Unlike many similarly remote destinations along the Wild Atlantic Way, you'll find toilets, ample parking and even a children's playground at Rossbeigh.
Visit Rossbeigh on our 7 Day World Tour of Ireland
📍 Location: County Kerry
The Slea Head Drive takes our guests on an incredible tour of the Dingle Peninsula in Kerry.
This 50km stretch of road is best experienced by taking your time, and hopping out at scenic spots along the way.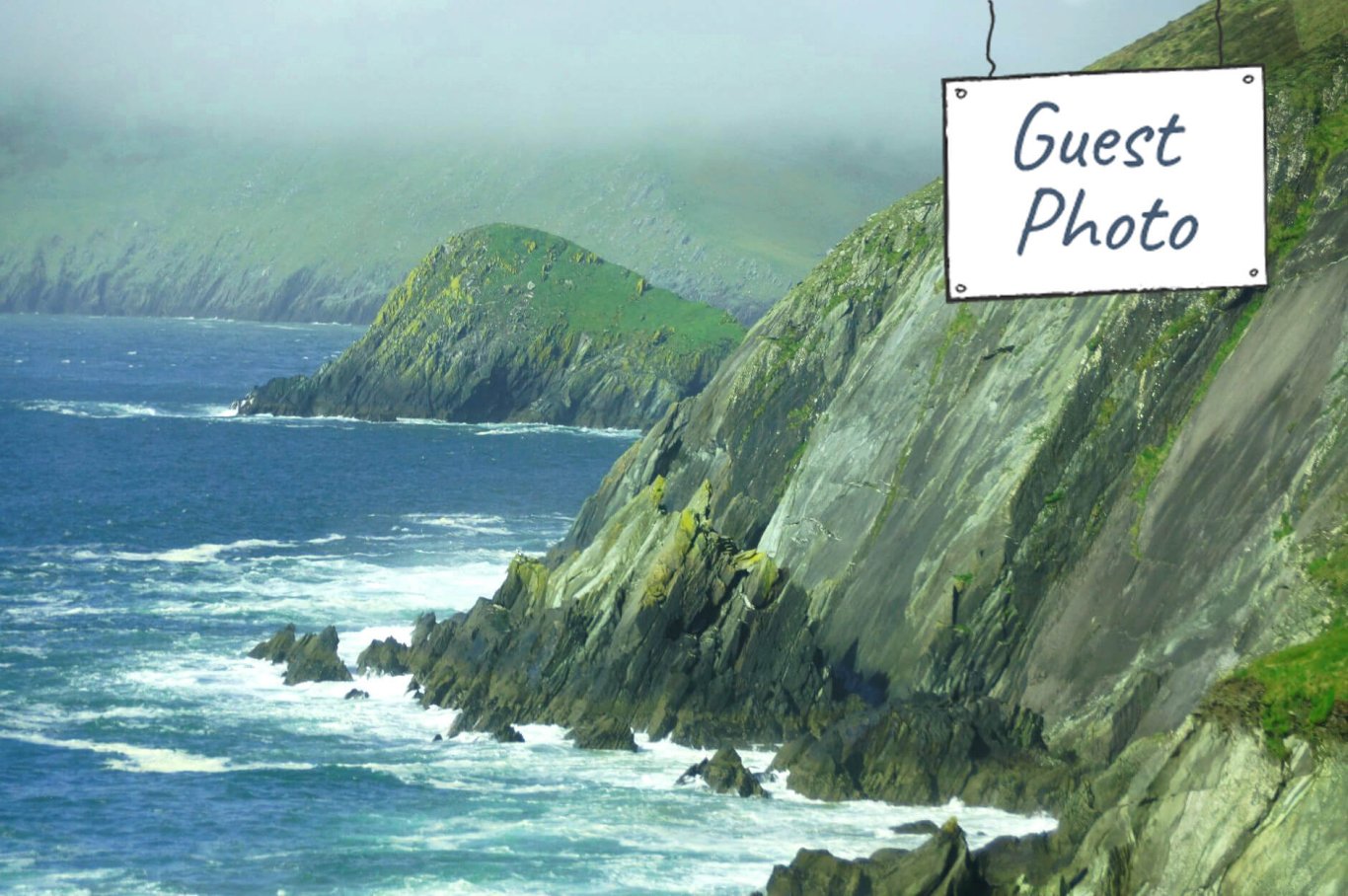 Experience one of the most beautiful drives in Ireland with Vagabond as we take you on a journey of rugged beauty and knife edge cliffs.
Must see spots include; the Gallarus Oratory, Dún Chaoin pier and Slea Head itself.
Slea Head makes a great alternative touring route to the Ring of Kerry. It's just as spectacular and not nearly as busy.
We explore Slea Head on many of our tours including our Vagabond 7 Day World Tour of Ireland and our Driftwood 11 Day Discover Ireland Tour
📍 Location: County Kerry
George Bernard Shaw described Skellig Michael as belonging "to our dream world. A sort of forlorn beauty, removed from civilisation."
The island is certainly far from the Kerry coast, located 12 km from the harbour village of Portmagee.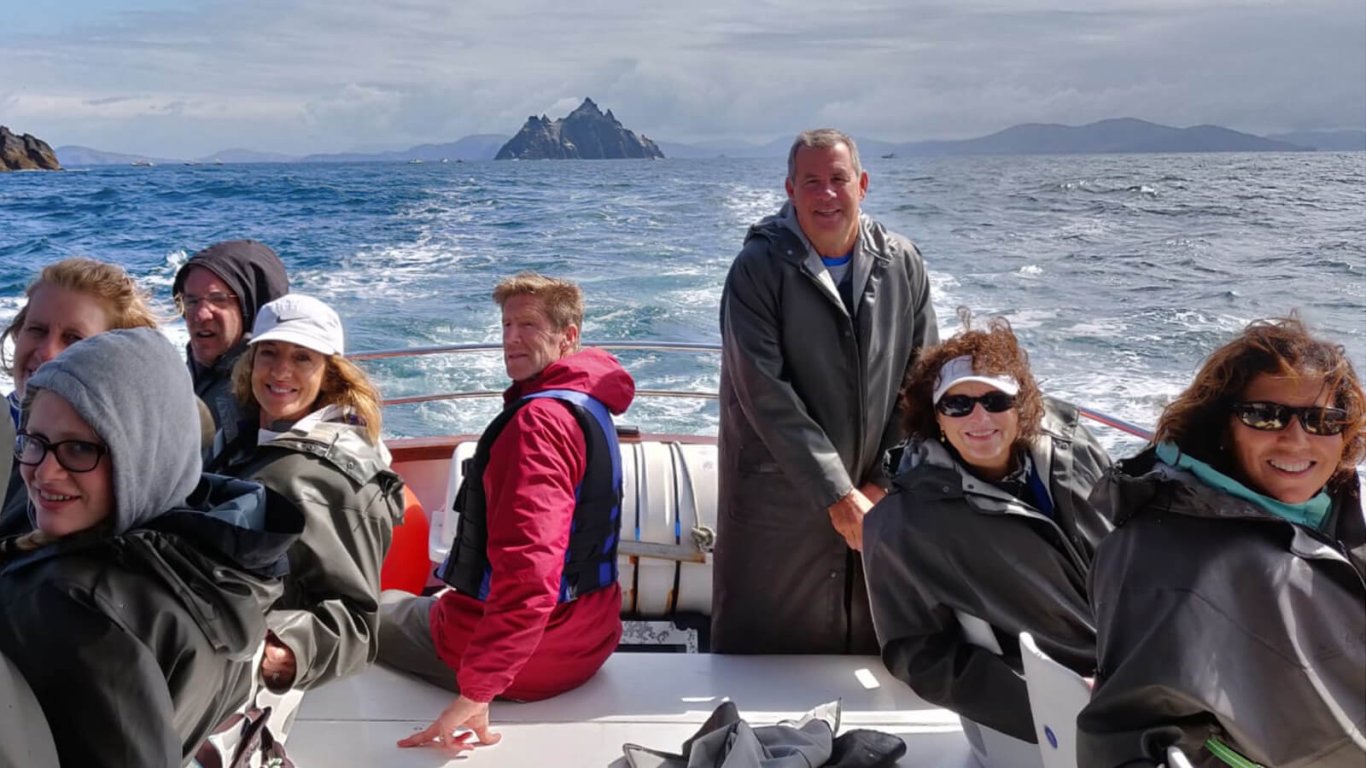 On the edge of the known world at the time, early Irish monks made Skellig Michael their home from the 8th century onward.
With its pointed pinnacle protruding from the ocean, you can certainly sense why being closer to their god is part of what attracted the monks to Skellig Michael.
Stone beehive huts have left behind clues about what life was like here centuries ago.
Passage to Skellig Michael can be challenging, at best. Get prepared Make sure you read our survival guide before going.
💡 Did You Know? Both Star Wars films 'The Force Awakens' and the 'The Last Jedi' were filmed at the islands in 2014 and 2015.
You can land on Skellig Michael on our 12 Day Giant Irish Adventure Tour
📍 Location: County Cork & County Kerry
The Beara Peninsula is known for it jaw dropping beauty, sweeping coastal views and patch work green fields.
Of the five peninsulas in Ireland's south west it is the least visited which gives it a a unique off the beaten track feel.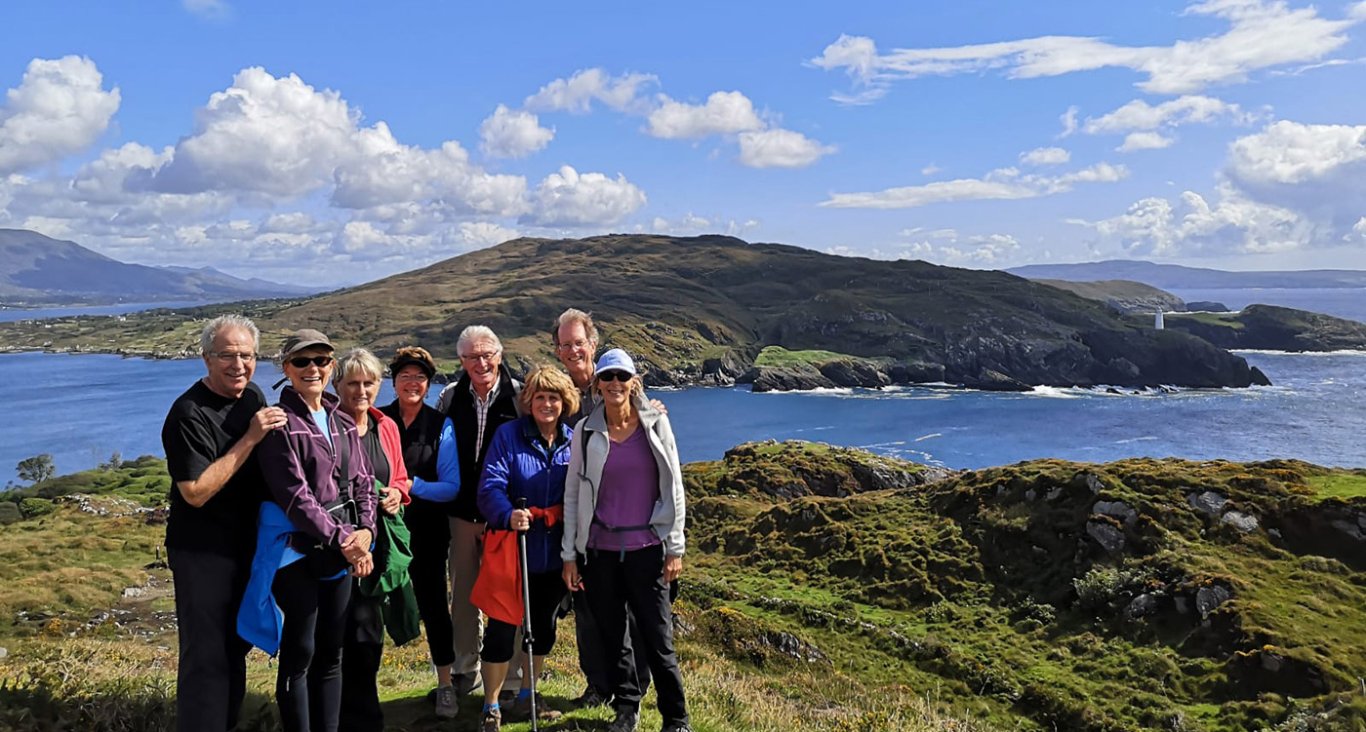 Garnish Island is home to a famous garden. Located in the sheltered harbour of Glengarriff at the top of Bantry Bay, Garnish is a haven for all sorts of native Irish and exotic flora.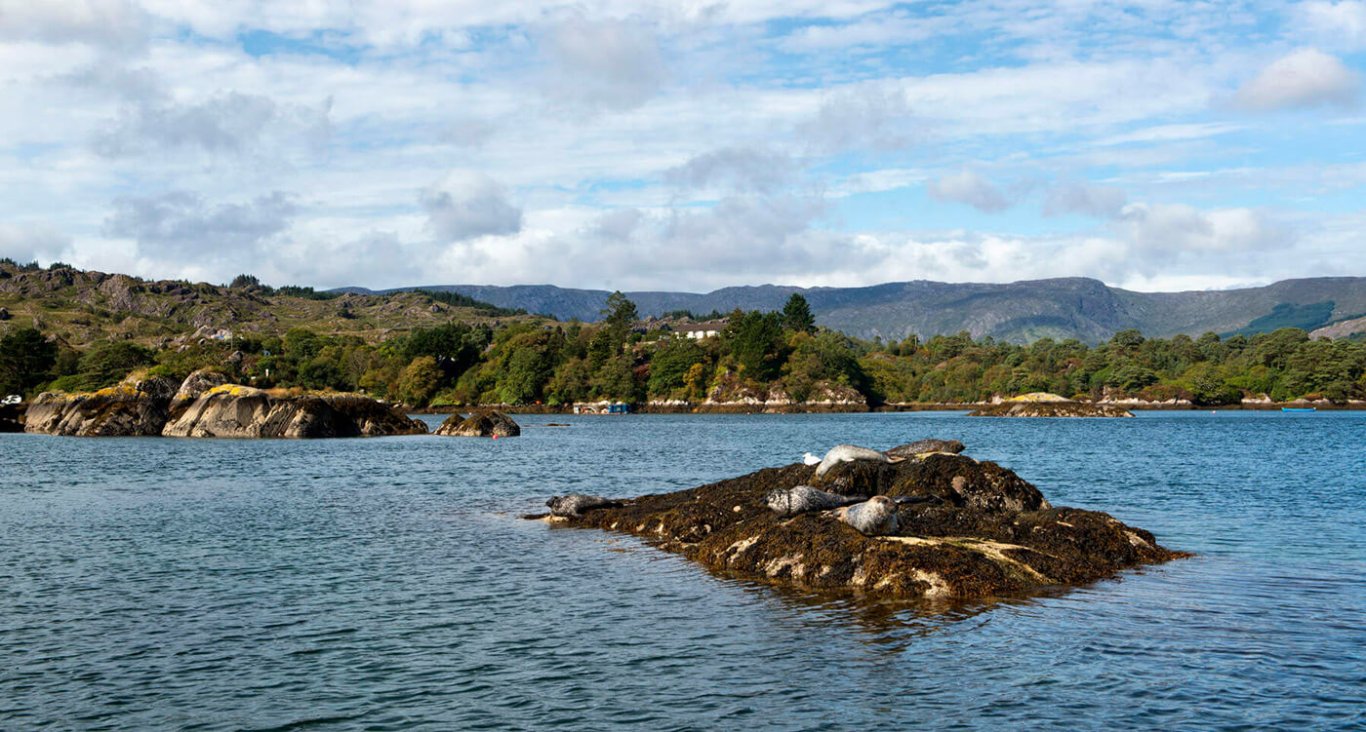 Gleninchaquin Park is a magnificent glaciated valley with a 140 metre (460 ft) high waterfall that streams down the back wall of the valley.
Standing in the centre of the valley is a mysterious, megalithic stone circle.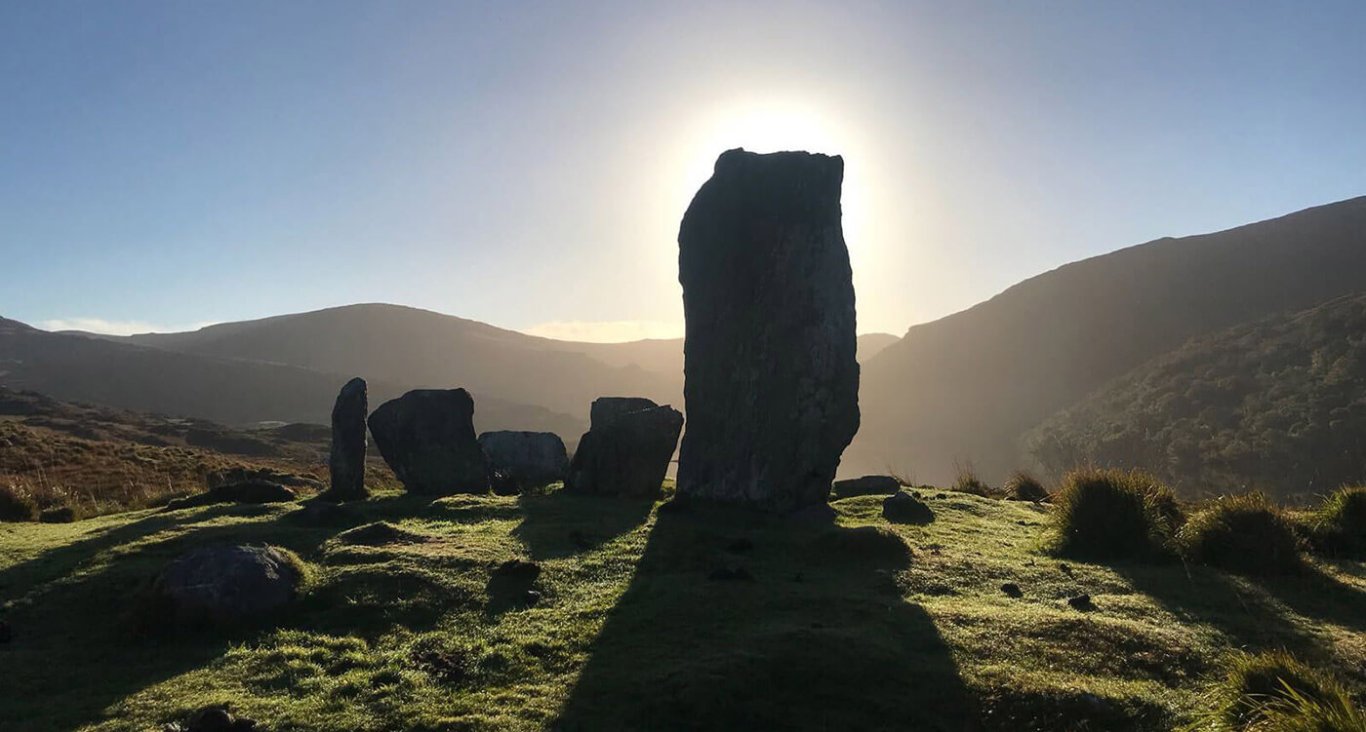 The Healy Pass twists and turns its way from west to east, Kerry to Cork, across the Beara peninsula.
The unofficial 'bendiest road in Ireland' passes through two of the highest peaks in the Caha mountain range and the views here certainly do not disappoint.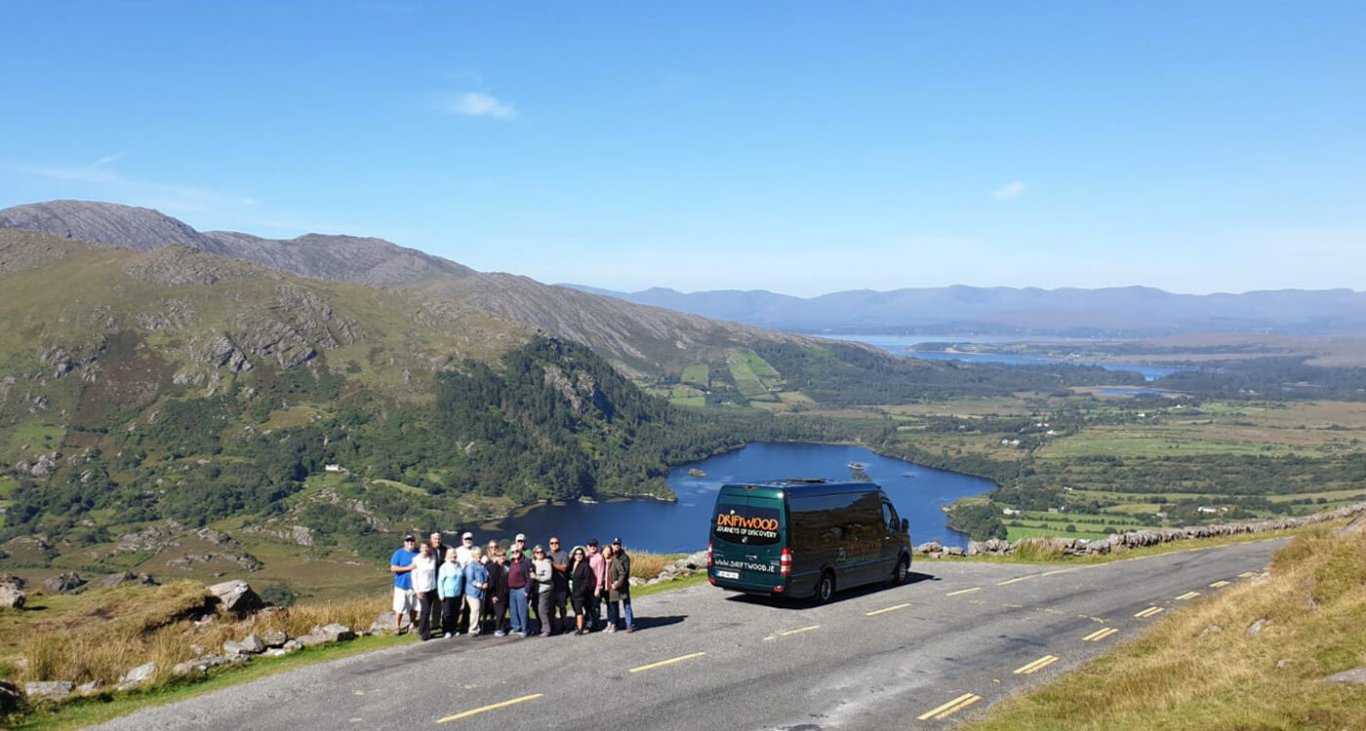 Explore Ireland's Wild Atlantic Way With Us!
If you're looking to explore Ireland's Wild Atlantic Way, but would like someone else to do the driving, send our friendly reservations team a message at enquiries@vagabond.ie