Anytime is the best time to visit Ireland! Saying that, when choosing a month to travel, there are some factors to consider: Airfare/ hotel prices, crowds, festivals, national holiday, the landscape and of course the weather.
What's The Climate Like in Ireland?
It's a well-known fact that the Irish love to talk about the weather,  mainly owing to its ever-changing nature. In reality though, overall the weather doesn't fluctuate by much, thanks to the Gulf Stream. This results in a relatively temperate climate year round.In fact there is only, on average, 14°F difference in temperature between summer and winter.

We'll admit – it does rain in Ireland, but usually the spells don't last very long. We always advise guests to bring rain jackets and layer their clothes. You can find details of what clothes to bring to Ireland here.
Below we've looked at each season in Ireland and what to expect.
Spring
This is when life starts to come back in to the landscape. Flowers shoot up, lambs amble around and that legendary greenness of the Irish landscape returns. There is also 10% off on all Vagabond and Driftwood Tours in March and April.
Temperatures on average range from 7°C (41°F) to 8°C (46°F).
When visiting Ireland in March, one initially thinks St Patrick's Day! In Ireland this is a week-long festival, running from 15th-19th of March. The main activity occurs in Dublin, with events and parades run countrywide.
April can be a pleasant Spring month, as the weather starts to warm up and even more colour returns to the landscape.
See our blog on Ireland in March and April
Summer
May is when summer starts in Ireland. Temperatures start to climb, as hotel and airline costs start the creep up too. You many want to look at getting your accommodation in Dublin sorted well in advance. The schools holidays haven't started, so sites won't be as crowded.
As we approach June, temperatures continue upward, with the Bloomsday festival on 11th-15th of June. June also sees the longest daylight, with up to 18 hours of light!
July and August is peak tourist season in Ireland, and also the warmest months. With average temperatures hitting 16°C (60°F) and sea temperatures around (15°C (59°F). Perfect months to hit the beach and surf!
Autumn
Autumn in Ireland can be pleasant. The crowds ease as the schools return the end of August, and cheaper deals on hotels and flights can be had. September usually is still a warm month, which makes it popular for our tours.
Temperatures on average range from 14°C (57°F) to 11°C (52°F).
As we approach October even better deals can found, including 10% discount on all Vagabond and Driftwood Tours. The countryside is now blushing with autumnal colours, ideal for enjoying a walk in the crisp autumn air. Some heritage sites start to close in this month, so check in advance the ones you want to visit:  http://www.heritageireland.ie/en/
Winter
Although our tours don't run during the winter months (November – February), Ireland in Winter can be a charming place, just make sure to wrap up! The wind does pick up, particularly in the west, though this makes taking cover in a cosy pub by a warm fire all the more appealing.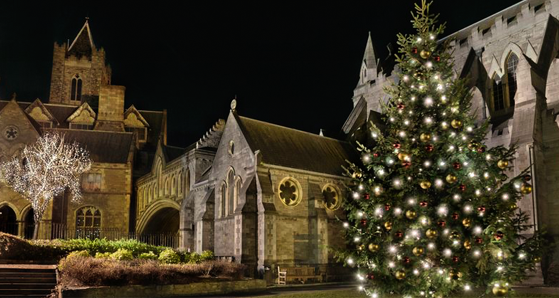 Temperatures on average range from 8°C (46°F) to 5°C (41°F).
Irish National Holiday
Ireland has several national holidays, spread throughout the year. This can effect opening hours and crowd size. So it's worth knowing before booking your trip.
1st January – New Years Day
17th March – St Patrick's Day
First Monday in May
First Monday in June
July 12th (Northern Ireland)
First Monday in August
Last Monday in October
25th December – Christmas Day
26th December – St Stephen's Day
It's worth mentioning that on Good Friday (the Friday before Easter), which falls on the 30th of March in 2018, all pubs are closed. In Northern Ireland Bank Holidays fall on the first and last Monday of May and the last Monday in August.
Irish Festivals 2018
There has been an explosion in festivals in Ireland in recent years. Celebrating everything from seafood, craft beer, to comedy and literature. Below are just a few noteworthy festivals.
25th-29th January – Temple Bar Trad Festival
15th – 19th March – St Patrick's Day Festival
19th – 27th May – International Literature Festival Dublin
1st – 4th June – Cat Laughs Comedy Festival Kilkenny
11th – 15th June – Bloomsday Festival
22nd June – 1st July – Indie Beer Week
17th -21st August – Rose of Tralee Festival
31st August – 31st September – Lisdoonvarna Matchmaking Festival
8th – 10th Sept – Dingle Tradfest
8th – 23rd Sept – Dublin Fringe Festival
For more festivals: www.ireland.com
Ready to Start Planning Your Trip to Ireland Yet?
Check out our blog on 'Planning Your Trip to Ireland', it details what you need to do in the months leading up to your trip and just before.
Have Any Questions?
Why not get in contact, we'd love to hear from you! The best way to contact us is by email: info@vagabond.ie. Alternatively check out our tours listed below.