Hi there, I'm Rob Rankin, founder of Vagabond & Driftwood Tours 👋.
Welcome your go-to resource for planning an unforgettable trip to the Emerald Isle!
Perhaps you've already booked a Vagabond or Driftwood tour for 2024 or 2025?
Whatever you're planning, I'm sure you're excited to learn Ireland travel tips and tricks.
Read on, intrepid traveller, Ireland awaits you!
🗺️ Ireland - The Basics
Ireland is a small but mighty country located in the northwestern corner of Europe.
We're located quite close to Scotland and the rest of the United Kingdom (UK) — but on a separate island.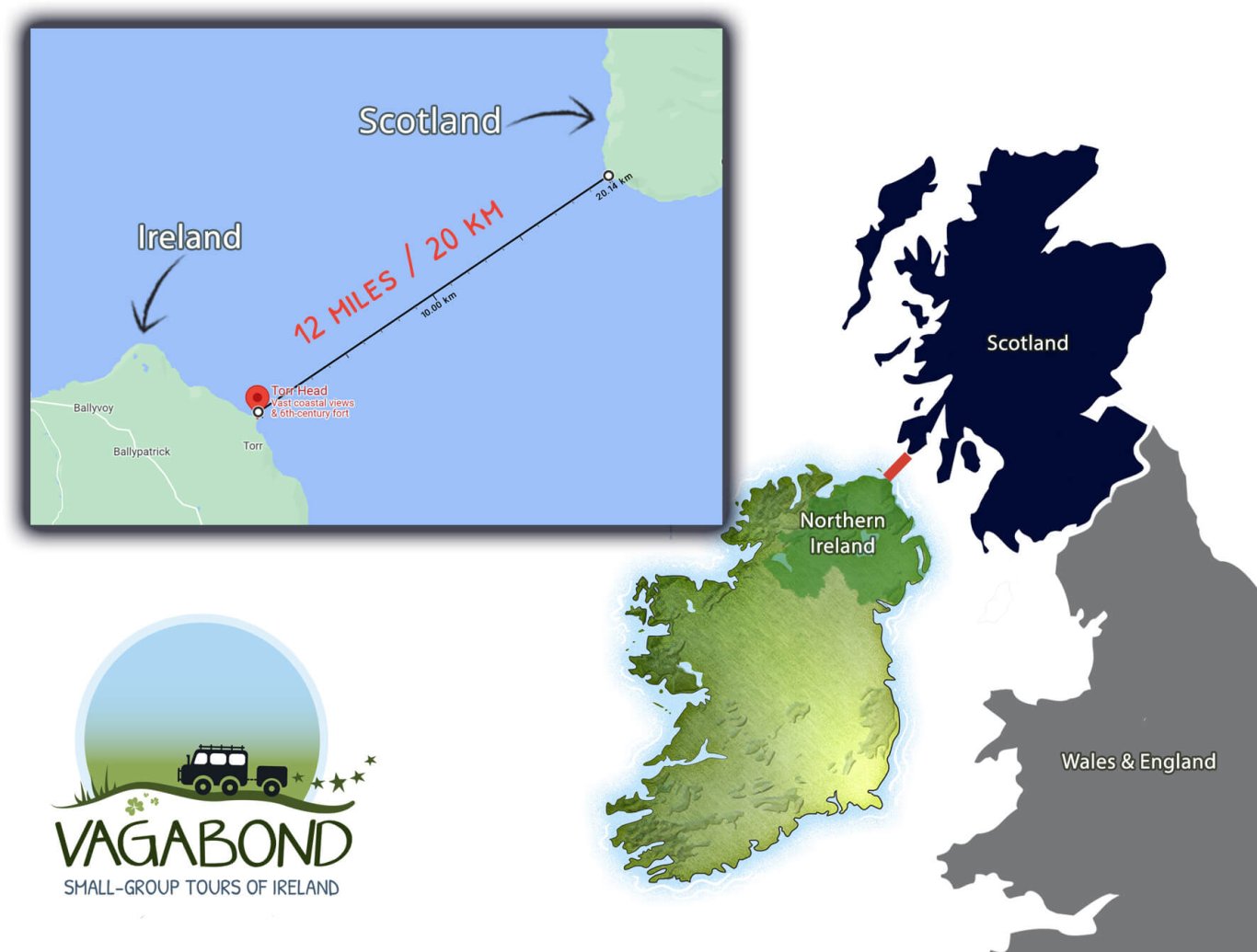 Ireland is roughly the size of the state of Indiana. You can drive from the northerly tip to the southernmost peninsula in about 8 hours; east to west takes roughly 4 hours.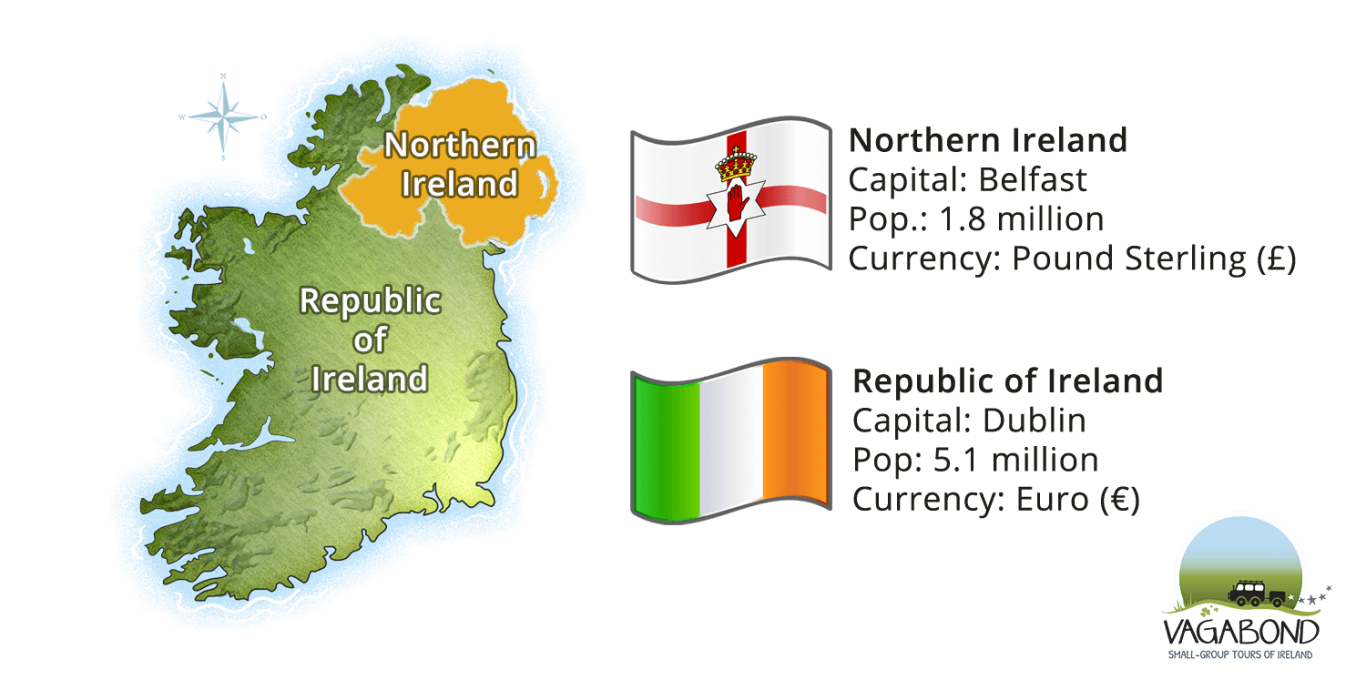 The island is divided into two countries: the Republic of Ireland, which covers most of the island, and Northern Ireland, which is part of the UK.
Known for its stunning landscapes, friendly people, and rich culture and history, Ireland is a must-visit destination for anyone who loves travel.
🤔 What Type Of Ireland Trip Should I Take?
When it comes to planning a trip to Ireland, the seemingly limitless options out there can get confusing.
There's the option to self-drive; that means renting a car, developing your own daily itinerary, booking your own hotels and familiarising yourself with Irish road rules.
You can also go private. In this case, you and your travel buddies rent the entire tour vehicle and have 100% of the guide's attention and skills to yourself. The itinerary can be completely bespoke or — in the case of Vagabond private tours — a lightly customised version of established tour routes.
Finally, of course, there are our scheduled small-group tours. Our vacation packages have a maximum of 15 guests. Because of this small-group approach, you will be on first-name terms with all of your fellow travellers, not to mention your tour guide.
We book your hotels for you, include all of our favourite attractions in the price and suggest a range of optional activities for you to choose from.
Another choice you'll have to make concerns the level of physical activity. Do you want to experience Ireland's great outdoors — hiking, biking, surfing and horseback-riding?
Or are quaint villages, crafts, culture and castles more your thing?
Thankfully, we offer both types of tour. Our friendly sales team will help you find a tour style that matches your interests and abilities.
Whether you're in a family group or travelling solo, we can help. In fact, our Frequently Asked Questions are an excellent place to start your journey.
Lastly, make sure to read our latest TripAdvisor reviews to ensure Vagabond & Driftwood are the right fit for you.
📅 Best Time To Visit Ireland
There's no bad time to take a small-group Ireland tour!
The Irish climate remains mild all year round. So the best time to visit Ireland depends on what you want to see and do.
Summer in Ireland (June-August) is the most popular time for visitors, with long hours of daylight and often prolonged periods of sunshine. However, popular attractions can be crowded in the summertime and flights are at their most expensive point.
Visiting Ireland in March or April is increasingly popular. Not only is Saint Patrick's Festival in full swing, there are wonderful wildflowers blooming and often surprisingly pleasant weather. All scheduled tours departing in March and April are discounted by 10% versus the May to September rate.
Fall/Autumn is also a great time to explore the Irish countryside and visit cultural attractions. September boasts mild temperatures but fewer crowds than in summer.
In October, the firesides are cosy and the autumnal food on offer is wonderful. Even better, we offer a 10% discount across all scheduled tours versus the May to September rate.
Winter is the quietest time of year, with shorter days and colder temperatures. We take a break from touring between November and February.
Airline prices could have a major bearing on your choice of when to visit Ireland. Check out our guide to booking cheap flights as well as our list of direct flight connections between North America and Ireland.
Lastly, hotels in Dublin raise their rates around major concerts and events. Avoid them for best value. Check our 2024 event guide before you settle on a time to visit.
🧳 Planning for Ireland: Money, Phone, Hotels, Packing
Great, you've decided when to take your small-group tour of Ireland.
Now, what do you do?!
It's time to start planning of course!
Deciding how much money to bring to Ireland should be your very first step. Contact your bank or card provider to check on fees and where is best to exchange currency.
We recommend bringing a limited amount of euros in cash with you. Remember, if you're visiting Northern Ireland, you'll need some sterling (£) in cash too.
Your cellphone is probably the next area to concentrate on. Let your network know that you'll be travelling well in advance of your departure date. You won't want to arrive in Ireland without the ability to call or text home.
Check with your network about roaming fees. Some providers offer roaming deals which work out significantly cheaper than regular bills. Finally, download our recommended free travel apps.
Choose the location of your Dublin hotel carefully if you're taking a tour with us; some hotels and areas of Dublin are more convenient than others for our tour departure point.
Our past guests are very generous with their hard-won travel tips, useful advice and experience. Unsurprisingly, 'What to Pack' is probably the most frequently asked question on our friendly Facebook group. That's why we've suggested this comprehensive packing guide.
🏞️ Where To Go In Ireland
Ireland has something for everyone.
Beautiful islands, off the beaten path peninsulas, vibrant cities, quaint villages and ancient castles.
Our small-group tours visit all corners of Ireland,
Our 5-6 and 7-8 day tours focus on specific regions:
Our 11-15 day tours encompass entire circuits of the island, including Northern Ireland and much of the Wild Atlantic Way.
The Wild Atlantic Way is an extensive touring route. It stretches down the west coast from Donegal to Kinsale and includes many of Ireland's most well-known counties and sights:
While in Northern Ireland, we recommend visiting the Causeway Coast; this northern coastline is less-visited but rivals Ireland's more famous destinations.
Read our 7 Day Tour Comparison to get a feeling for some of the shorter itineraries.
Our 11 & 12 day tours offer a more comprehensive overview of the country, taking you on a full lap of the island.
🏔️ The Best Scenic Places in Ireland
🏝️ Our Favourite I Off The Coast of Ireland
🏰 The Most Amazing Historical Places in Ireland
🌄 The Wildest, Purest, Furthest-Away Places in Ireland
😎 South Ireland's Top Visitor Experiences
Travel Guide To The Wild Atlantic Way
It's arguably the world's most beautiful touring route; the Wild Atlantic Way boasts almost 4000km of coastal highway, stretching from Donegal in the north to Cork in the south.
Along the way, you'll be staggered by all the scenic beauty on show!
🏞️ The Most Beautiful National Parks of the Wild Atlantic Way
😯 9 Jaw-Dropping Sights Along The Wild Atlantic Way
🌳 Top Must-See Sights on the Beara Peninsula
🛥️ Your Essential Skellig Michael Survival Guide
😎 Is Donegal The Coolest Place On Earth?
🌼 Sligo: Normal People & Extraordinary Places
🏞️ Ring of Kerry: Your Ultimate Guide
Travel Guide To Northern Ireland
Northern Ireland is a little piece of heaven!
This heavily underrated destination has everything: incredible music and history, scenery and wilderness, great food and cosmopolitan cities.
🚐 Northern Ireland Tour: Darran's Causeway Coast Diary
👪 One Family Who Saw It All On Their Private Tour of Northern Ireland
🎵 Top 10 Songs and Artists from Northern Ireland
🛂 Brexit and Northern Ireland: Business As Usual
Guide to Nature & Wildlife in Ireland
People LOVE Ireland because of its green hills and clean air.
Understand why Irish nature and wildlife is so endearing with these handy guides.
🐑 Meet These Adorable Animals in Ireland
🐊 Is There Dangerous Wildlife In Ireland?
🌼 Spot These 7 Irish Wildflowers On Your Ireland Trip
🚜 VagaGuide Kim Tells Us About Farming in Ireland
Unmissable Things To Do in Ireland
We love going off the beaten track to get active in the fresh air!
You simply won't beat these amazing things to do around Ireland.
🛶 Fun Outdoor Things to Do in Ireland
👣 Go Adventuring in Ireland - The Easy Way
🏄‍♀️ Aisling's Guide To Surfing on the Wild Atlantic Way
🚵‍♂️ Ronan's Guide To Cycling In Ireland
🧶 Visit Authentic Irish Craft Studios
🎉 Weird and Wonderful Local Festivals In Ireland
🦐 Delicious Irish Food Festivals
Best Irish Movies, TV Shows and Books
Irish literature is world famous and the island has also been the subject of many films.
Your trip is the perfect opportunity to understand Irish culture better through the best Irish movies, books and TV shows.
📚 Books to Read Before Going to Ireland
🎥 12 Of The Best Irish Movies to Watch At Home
📺 9 Movies and TV Shows Shot in Ireland
All About Irish Music
You can't talk about the Irish without mentioning music.
So don't you dare leave here without experiencing a traditional Irish music session!
🎵 10 Irish Songs You Need To Know
🎻10 MORE Irish Songs You Need To Know
🎼 9 Incredible Songs You've Probably Never Heard Before
🪕 The Best Irish Sing-Along Songs
🎶 Where Did Irish Music Come From?
🥁 Bebhinn's Diary: The Role Played By Irish Music in My Life
📸 Travel Guide to Dublin Ireland
Arriving in a new country can be daunting. Luckily, Dublin is one of Europe's friendliest and most compact capitals.
Even more fortunately, all of our small-group tours depart and return to Dublin.
We've answered your most common questions about Dublin.
✈️ How Do I Get From Dublin Airport to Dublin City Centre?
📸 Non-Touristy Things To Do In Dublin
🚉 7 Easy Day Trips From Dublin By Dart
🍻 5 Best Traditional Pubs in Dublin
🍽️ Best Places To Eat in Dublin City Centre
😀 Fun Things To Do Near Grand Canal Hotel in Dublin
😉 What Are Irish People Like?
There's a lot to learn about Irish people and our everyday habits.
We might appear to be normal human beings at first glance.
However, on further examination, lots of us talk funny and abide by eccentric rules for tipping, eating and drinking.
💬 Funny Irish Phrases and Sayings
⛔ 10 Irish Food Rules You MUST NOT Break
🍹 Your Essential Irish Pub Etiquette Guide
🏰 What Are Some Things The Irish Do Best?
👩‍🦰 Are All Redheads From Ireland?
🥔 What's Irish Food Like?
The simple answer is: AMAZING!!
There's never been a better time to experience Irish food.
Start your days on tour with Vagabond by eating the food of kings; a full Irish breakfast. Even better news? All hotel breakfasts are included in our tour prices.
Another food we're famous for is the humble potato.
Nowadays, of course, Ireland has other vegetables too! It's easy to eat healthy, vegetarian or vegan food while touring.
Just like most other countries, Irish people stick to some pretty strict rules when it comes to eating.
For example, in Ireland, we always get together at Christmas time to eat ourselves silly. It's just what we do.
🍲 Best of Irish Cuisine From Around Ireland
🍔 Five Burgers You Must Try When in Ireland
More Food! Easy Irish Recipes
Get a taste of Ireland at home by trying out our simple and traditional recipes from Ireland.
🐟 How to Make Seafood Chowder in 8 Easy Steps
🍞 Authentic Irish Soda Bread Recipe
🍏 Seasonal Irish Apple Crumble Recipe
☘️ Tracing Irish Roots
Everyone's got a little Irish in them!
Would you like to learn how to trace your Irish ancestry or discover if your Irish ancestors lived in a castle?
Unearth Irish genealogy before you arrive in Ireland with our in-depth articles.
Discover Our Small-Group Tours of Ireland